10 Holiday Gift Ideas for RV Owners
Get Christmas gift ideas for the RV owner on your list!
Gift lists can be daunting. Especially when there's only a handful of weeks left before Christmas. It's a mad dash to get it all done, and the lists are unusually long compared to a mere birthday or anniversary celebration. Plus, it's hard to be a creative gift giver when you're giving so many gifts at the same time. Yet, we do acknowledge that it's better to give than to receive. (Is it, really?)
So here's the deal: We can't solve all your gift-giving dilemmas, but if you've got an RVer on your list, then we've got ten ideas that will make finding that person's gift a mere layup.
1. Thermacell's Patio Shield Mosquito Repeller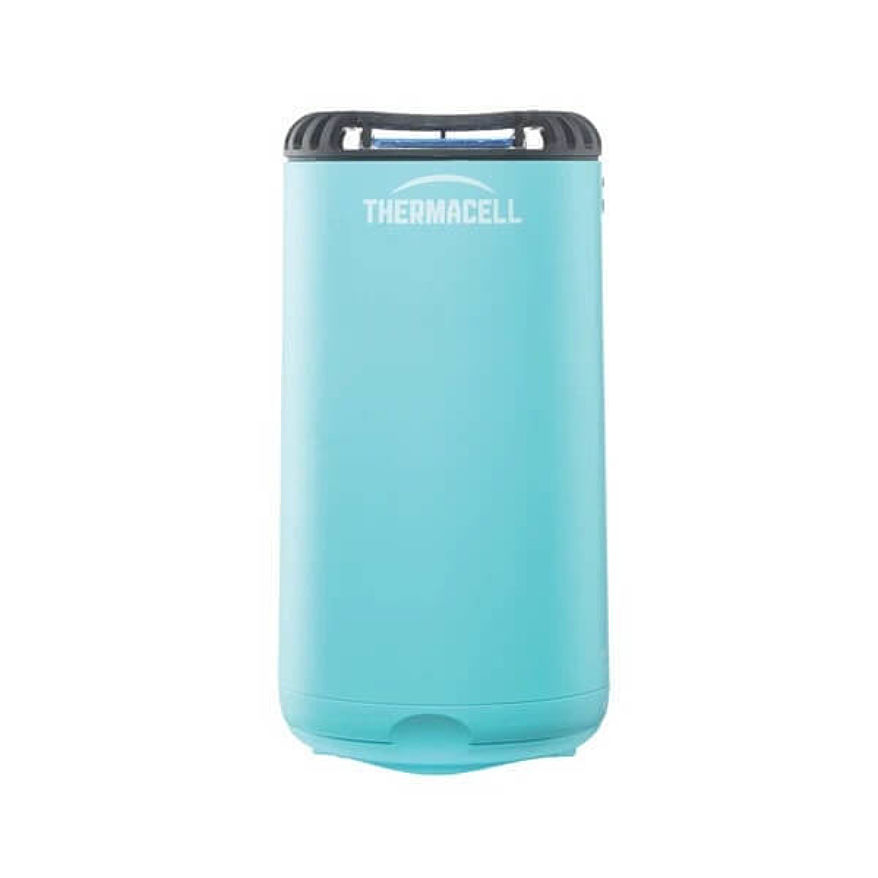 This is a great gift because there's no way you'll completely strike out with it. Everyone is a lure for mosquitos, which means everyone can use a high-quality mosquito repeller. This is especially true for motorhome owners who log many nights at RV parks and campsites, spending time relaxing and dining outdoors. We've highlighted Thermacell's Patio Shield (pictured above). It comes in seven colors, and retails for $24.99.
2. Custom RV Mats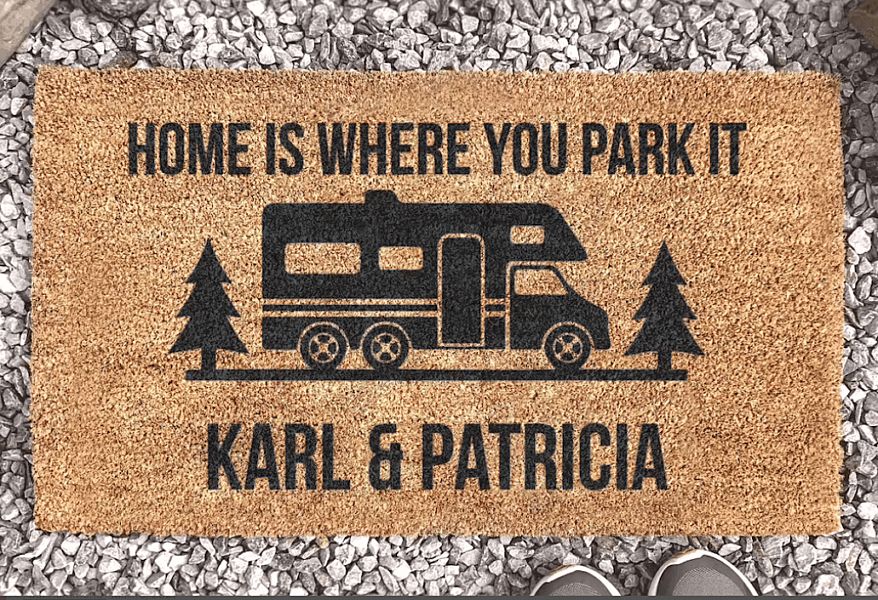 A custom gift shows effort. Right? And it's thoughtful because purchasing a custom gift takes a little more time and planning. You can't just walk into a big-box store and pick it up. But there are many options for purchasing a custom RV mat. The "House is Where You Park It" mat, pictured above, is made by Customat on Etsy. You can find it here. Or check out a larger selection of Etsy's custom RV mats here.

3. Ambient Weather Station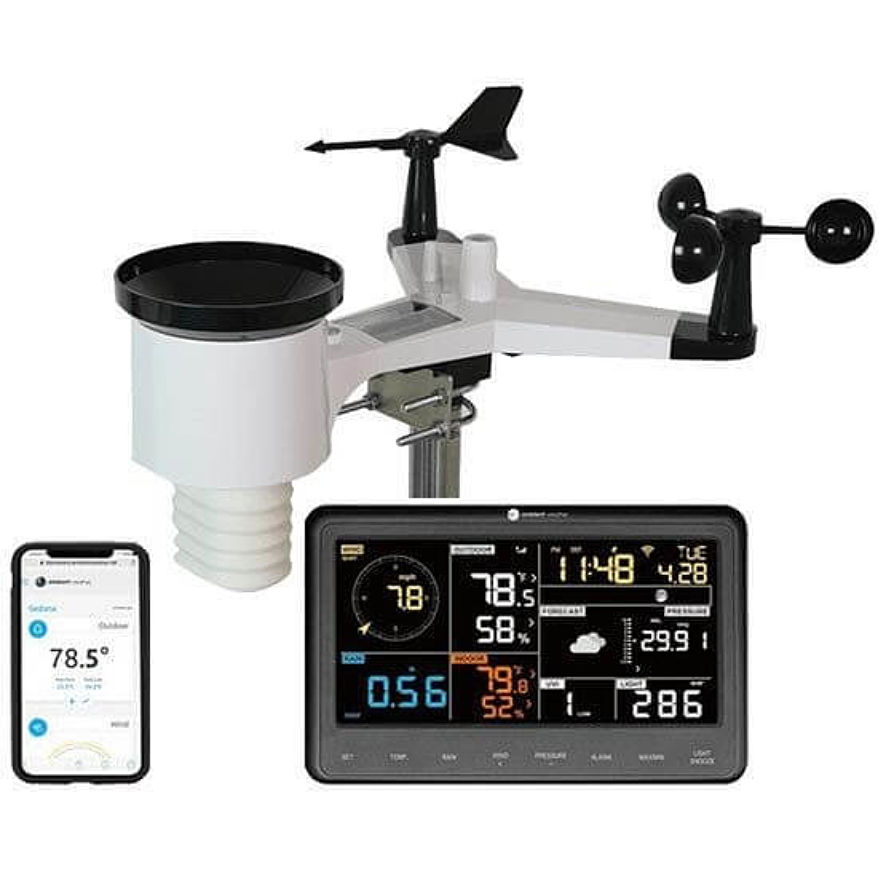 Our team reached out to Tiffin owners on Instagram and Facebook, and you offered some great gift ideas of your own. One such gift idea, submitted by Instagram user @martinichuck, is an ambient weather station. These systems allow RVers to have their own personal weather station. While on the road, monitor what's going on at home from backyard weather conditions to elements like rainfall and wind speeds. The Ambient Weather WS-2902C Smart Weather Station, which is pictured above, can be purchased at ambientweather.com. It's listed at $169.99. If you're not familiar with ambient weather stations or you need help with how to set up these stations, check out ambientweather.com's Holiday Gift Guide.
4. Throw Pillows for Sofas and Theater Seating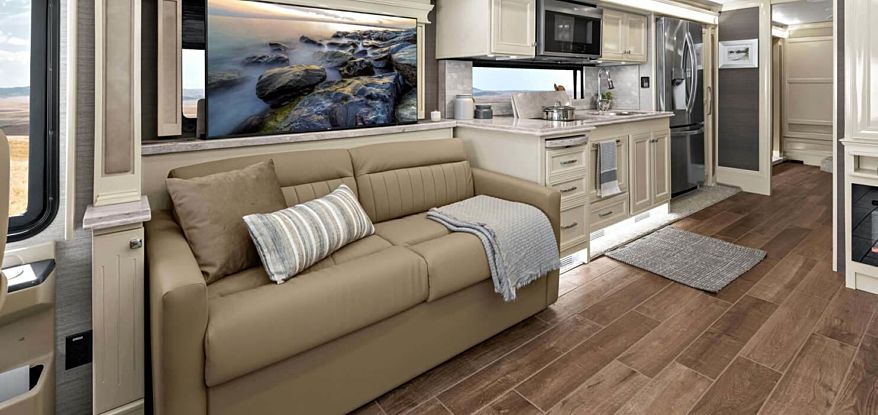 Decorative couch and throw pillows fall into the category of those details that make the interior of a motorhome truly home. It's an expression of style and personality, and it's an affordable and non-committal way to inject shots of color into an RV's living space. Pier 1, the home furnishings store, has an expansive selection and, if you choose to order pillows from their online store, you can filter your search by color, room, style, shape, material, dimensions, and season.
5. Blackstone Griddle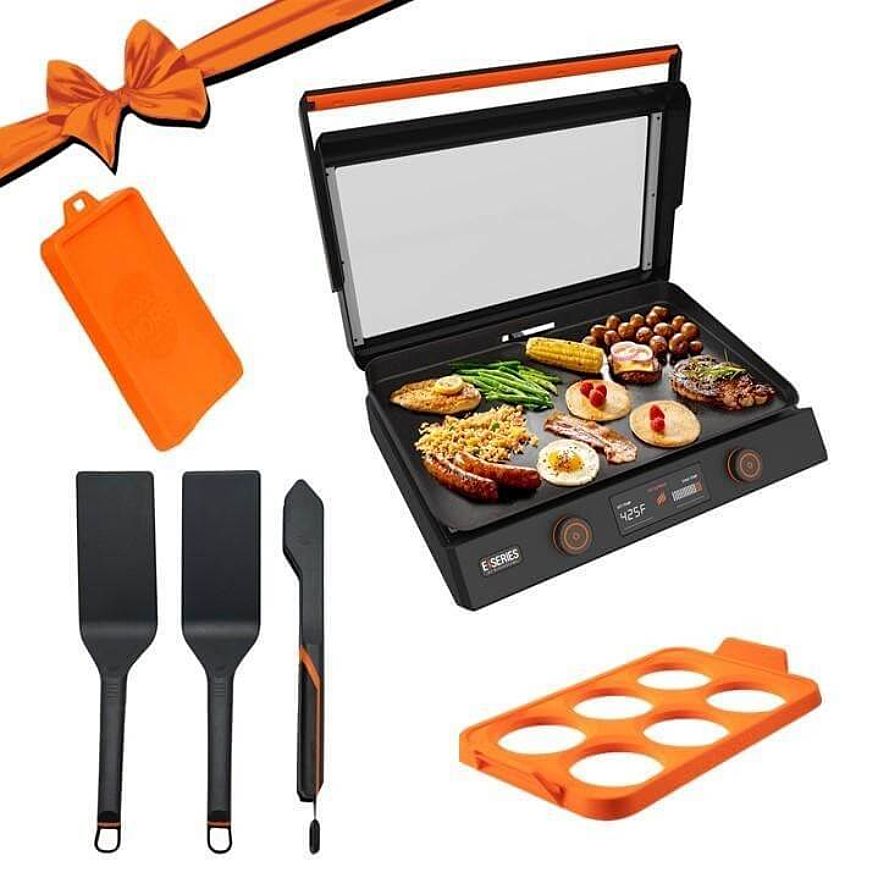 The Blackstone Griddle is another Tiffin fan favorite. When we reached out to you guys on social media for gift-list ideas, nearly a third of all responses touted the merits of the Blackstone Griddle. We've spotlighted this fantastic griddle before, but let's run it back. At the time of this writing, Blackstone was offering a special holiday gift package, the E-Series 22" Holiday Bundle, for $269.00.
6. Tiffin Cold-Weather Apparel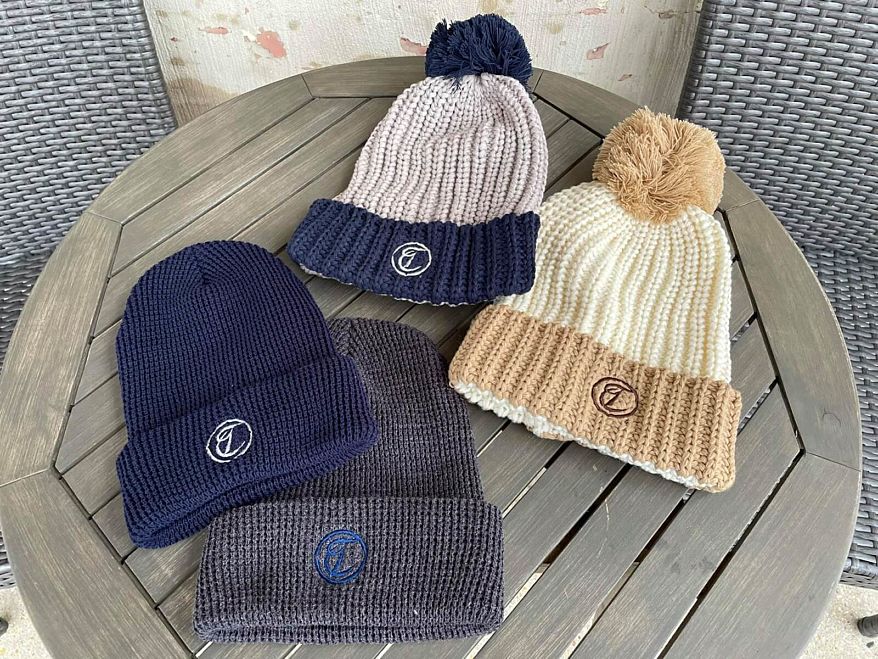 We thought about slipping this one even further down the list. Not because this idea isn't awesome, but just as an effort to avoid bias or partiality for the Tiffin Motorhomes brand. Yet, we are partial. We're partial to the brand, and we're also objectively fond of the stylish and unique merchandise available for purchase at Tiffin's Hospitality Center in Red Bay, Alabama. If you'll be in town before the holidays, swing by and check out our branded winter apparel like the selection of Tiffin stocking caps (pictured) and a new shipment of logoed sweatshirts. Or you can give the center a call to find out about shipping merchandise for the holidays. Reach the Hospitality Center at (938) 223-7023. See their Facebook page for images of what's new.
7. Cuisinart SS 5-Cup Single Serve Coffee Maker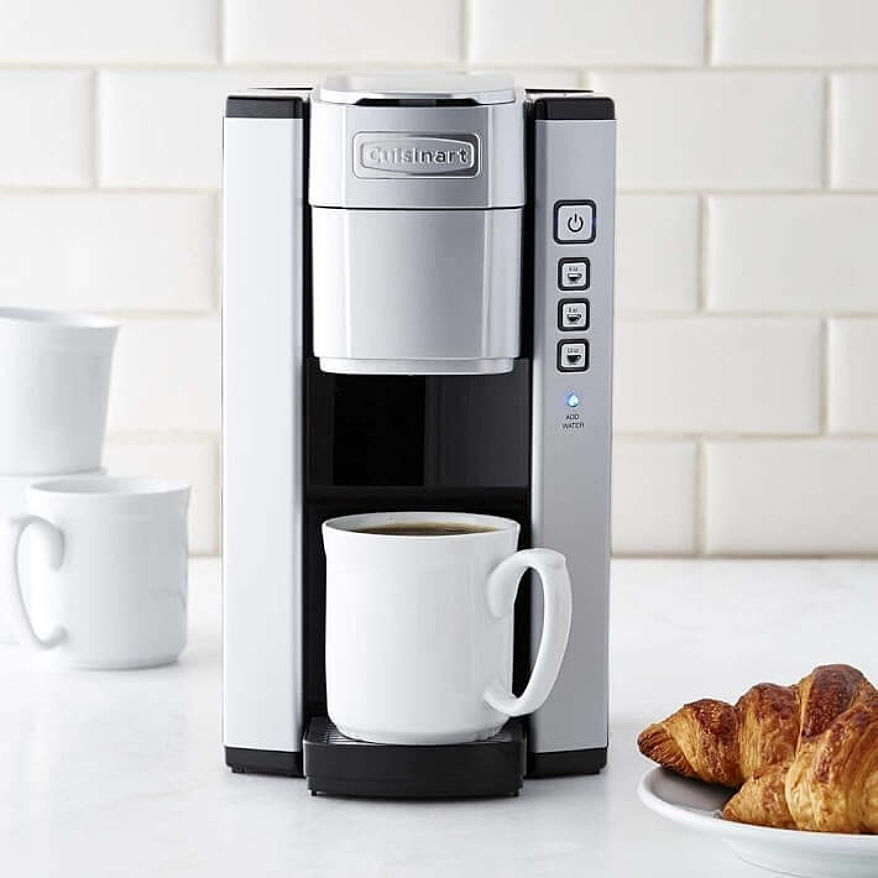 This, like the Blackstone Griddle, is a higher-end gift. So maybe it's not best suited for, say, your second cousin's fourth wife. But this Cuisinart Single Serve Coffee Maker IS ideal for someone whose gifts fall into that $100 range. We chose it because it's sleek and slender. It's K-Cup compatible and can quickly brew a single cup of coffee. Dimensions are 12 1/2" x 7 1/4" x 11 1/4" high, and it weighs slightly over 5 lbs. It retails for $99.95.
8. National Parks Pass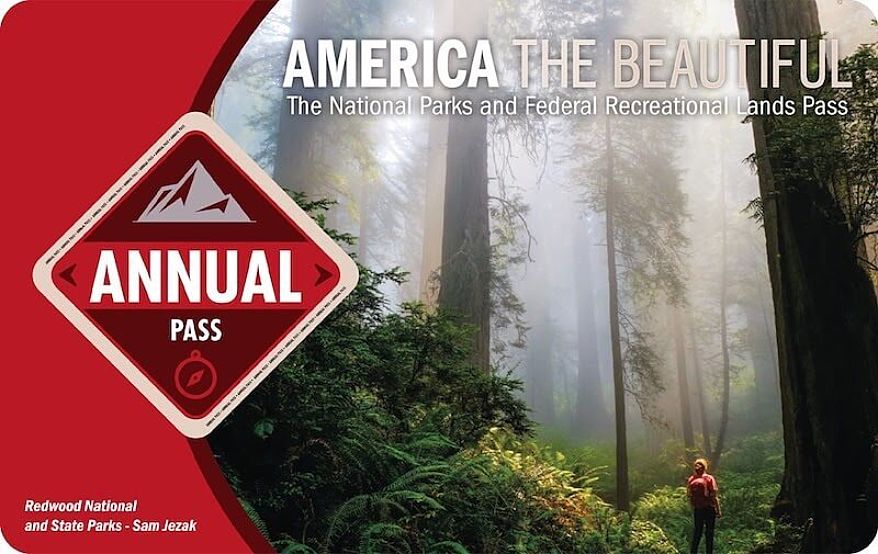 If the RVer on your list frequents our country's national parks and refuges, or if they'd like to start, this is an incredible deal offered by the U.S. National Parks Service. Their annual pass grants access to more than 2,000 federal recreation sites. View a list of all federal recreation sites, or get details about each pass available. There's a senior park pass for those age 62 or older for only $20 annually or $80 lifetime. You can purchase a pass at designated federal recreation sites or purchase online.
9. Travel Board Games: The Family Grab-and-Go Bundle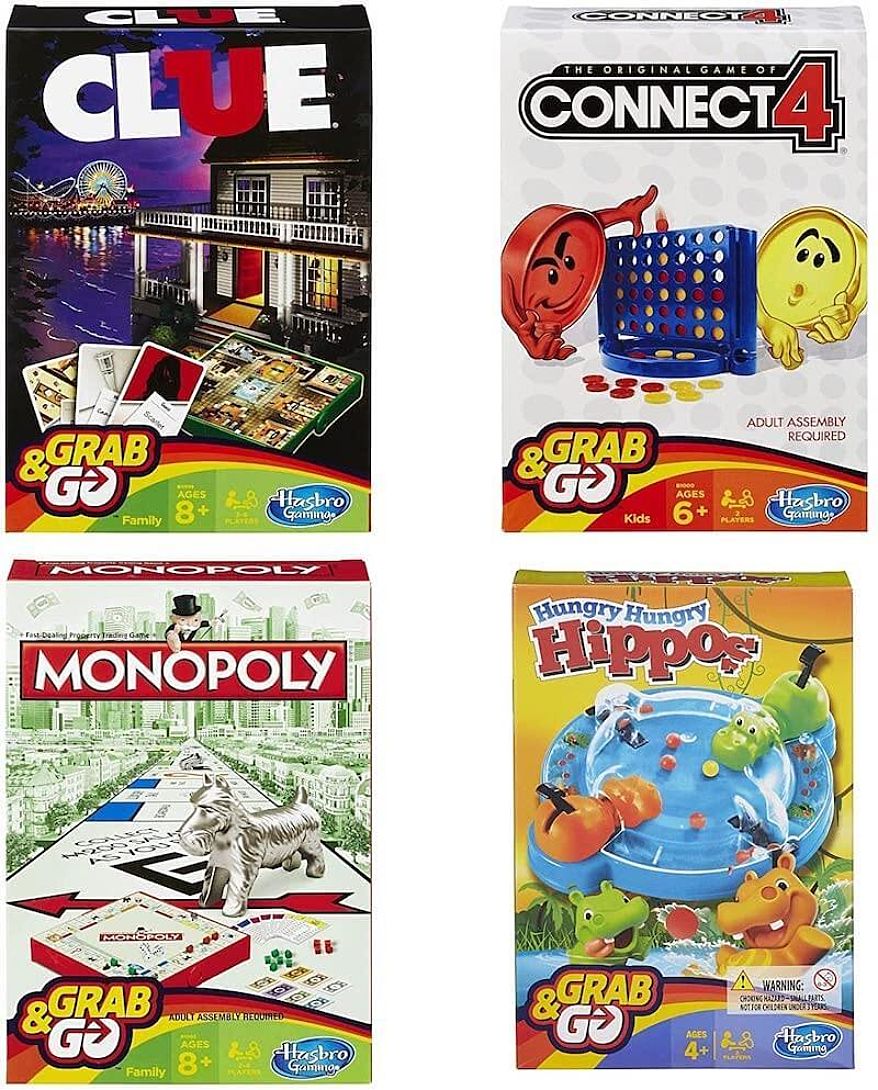 Board games and card games are a staple at campgrounds and RV parks across America. It's just one of those things you do. This is especially true if there are kids or grandkids in tow. But space is always a consideration, which is what makes this travel variety pack by Hasbro pretty cool. The games are smaller, so it's easy to store them in a cabinet or drawer without taking up too much room, and the nuances and quality of the games aren't compromised by each game's smaller size. This pack includes four mainstays: Clue, Monopoly, Hungry Hungry Hippo, and Connect 4. It retails for $38.
(Pro tip for the recipient of this gift: Play Hungry Hungry Hippo and Connect 4 on a cookie sheet or tray so the pieces won't fly. If not, these games can end on a downer, especially if you're outdoors playing by the light of a lamp, and otherwise surrounded by darkness.)
10. Lodge Cast Iron Cookware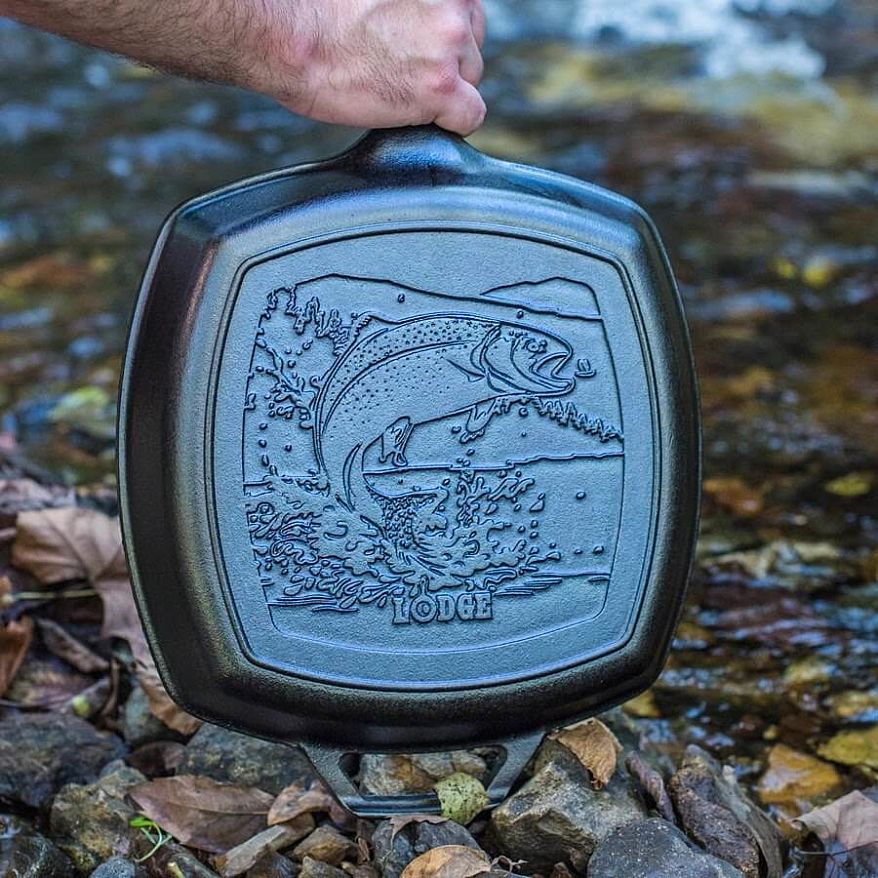 Cast iron cookware is always a nice gift for those who enjoy camping. It's versatile too. It can be used inside an elegant RV cook space like the kitchen featured in Tiffin's 2022 Zephyr, or it's just as useful outdoors over an open fire. Lodge Cast Iron offers unique pieces that reflect a touch of personality. Here, we've featured a 10.5-inch square cast iron grill pan for our final gift idea. On the underside of the pan is an embossed trout leaping from a coldwater stream. As a gift giver this holiday season, you'll use a unique feature like the trout artwork to tell your Uncle Jim or maybe your mom Margie something like this: "It's not only a useful cast iron pan, but look (flips pan to showcase wildlife scene). It's a symbol of your passion for trout fishing!" See what we did there? It retails for $29.95, and it's part of Lodge's Wildlife Series. Each piece is already seasoned and ready to use.
If you'd like to browse more products uniquely suited for RVs and RV owners, go to our blogs at tiffinmotorhomes.com. We've curated lists of RV storage hacks and ideas and must-have RV essentials. If you'd like to learn more about Tiffin's motorhomes, check out our 2022 models: Class A, Class B, Class C.