Storage Hacks for Your Tiffin RV
Get storage hacks and ideas to optimize your Tiffin RV's storage space.
Before you dive in and start purchasing accessories that help organize your RV, there's a little work that must come first. And who wants to hear that? Not us! Still, reorganizing your storage space and buying items to enhance your space is no good without doing two things first:

Take inventory and purge.

Commit to the "One In, One Out" rule.
So, about No. 1. Make a list of everything you have in your RV. Everything. Most of the storage hacks and tips we read in preparation for writing this blog jump directly into the list of cool things you can buy to create more room or use space more effectively.
But a blog posted by The Wandering RV leads with these two steps. It makes sense. The blog concedes that this is a monstrous task but taking inventory forces you to answer questions like, "do I really need 25 plates," or "how many junior legal pads and pens are truly necessary?"
Let's stop hauling around what we don't need. Purge to surge, we say!
Bonus Tip: All work feels less like work when you're blasting good tunes. Before taking inventory and starting your purge, make good use of Tiffin's Soundbar by connecting it with your Bluetooth, and select some music that can get you in a groove. If you have a workout playlist, use that one.
The No. 2 thing is less of a task and more of a commitment. It's a simple rule that goes a long way. When you bring something new into the RV, take something out of the RV. Let's say you travel with board games. You get a new one and add it to your collection. Well, don't do that. At least don't do it unless you're gonna remove a game. Preferable one you rarely play. Trust us, there's always at least one game you haul along and never play.
Once the inventory and purge is complete, and you're all set to be mindful about the "one in, one out" rule, it's time to consider how to make storage easier and how to most effectively use the ample storage every Tiffin floor plan features.
Hanging basket or hammock for fruit
Maybe you'd like to free up counter space or pantry space and these hanging baskets or hammocks for your fruit work for you. Maybe you don't want round fruit rolling around your RV. Or, maybe you don't need one of these at all! Tiffin RVs come equipped with thoughtful kitchen storage, plenty of cabinetry, and, in many models, slide-out pantries.
Still, sometimes we don't need things. We want things. So let's start with a want. These fruit hammocks are just fun, and the look has a boho, nomad vibe. A colorful bowl of fruit has served as a beautiful, vibrant, and natural table centerpiece for ages. For RVers, maybe the fruit hammock is the nomad's version of this classic, decorative embellishment.
This hammock, sold on Amazon, is pretty cool because you can mount it under your cabinets but also remove it and fasten it elsewhere once you're parked and set up. Move it to your outdoor kitchen or, in the photo below, it's shown fastened to a boat once anchored on a beach for a lakeside cookout.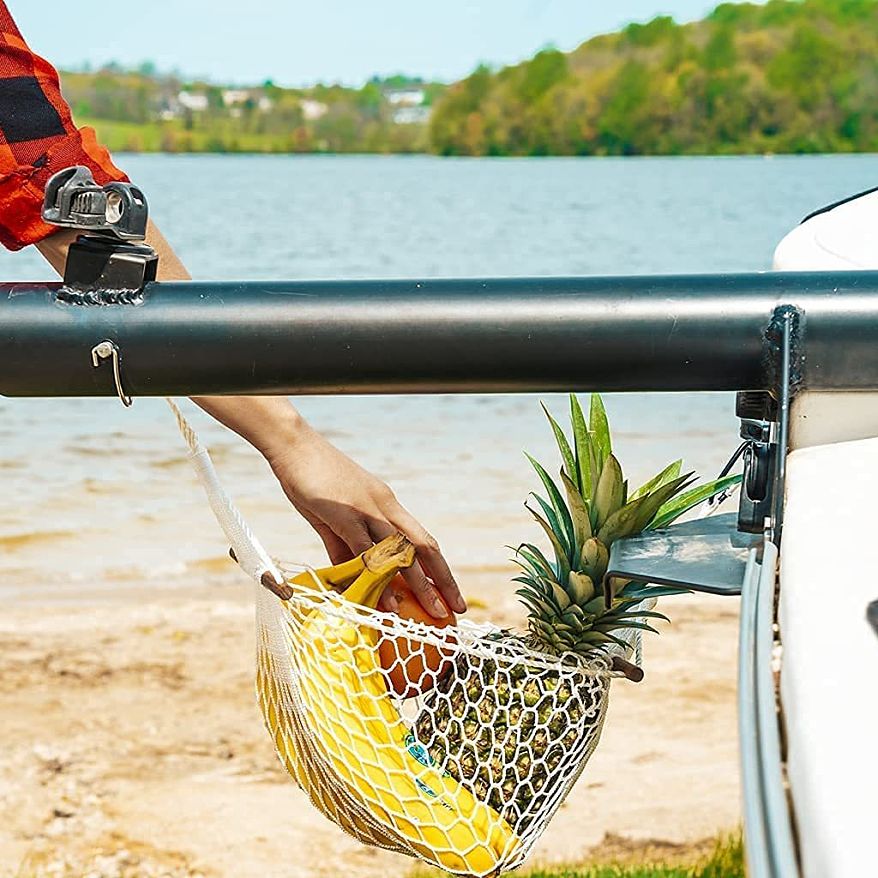 Stackable canisters
This hack isn't rocket science, and you may already use these air-tight canisters in your home pantry. But simple solutions can offer great satisfaction. There's something to be said for opening chip bags, dumping the chips in these canisters, and throwing away the bags. The chips stay crunchy, and you're not stuck with untidy, unstackable bags in your cabinets or pantry. There's satisfaction in tossing the cracker boxes and inside plastic packaging (think Ritz tubes) you can't seal.
Plus, square or rectangle canisters stack well. The Container Store offers airtight kitchen canisters in plenty of different sizes. The OXO Good Grips Rectangle Canisters are pictured below.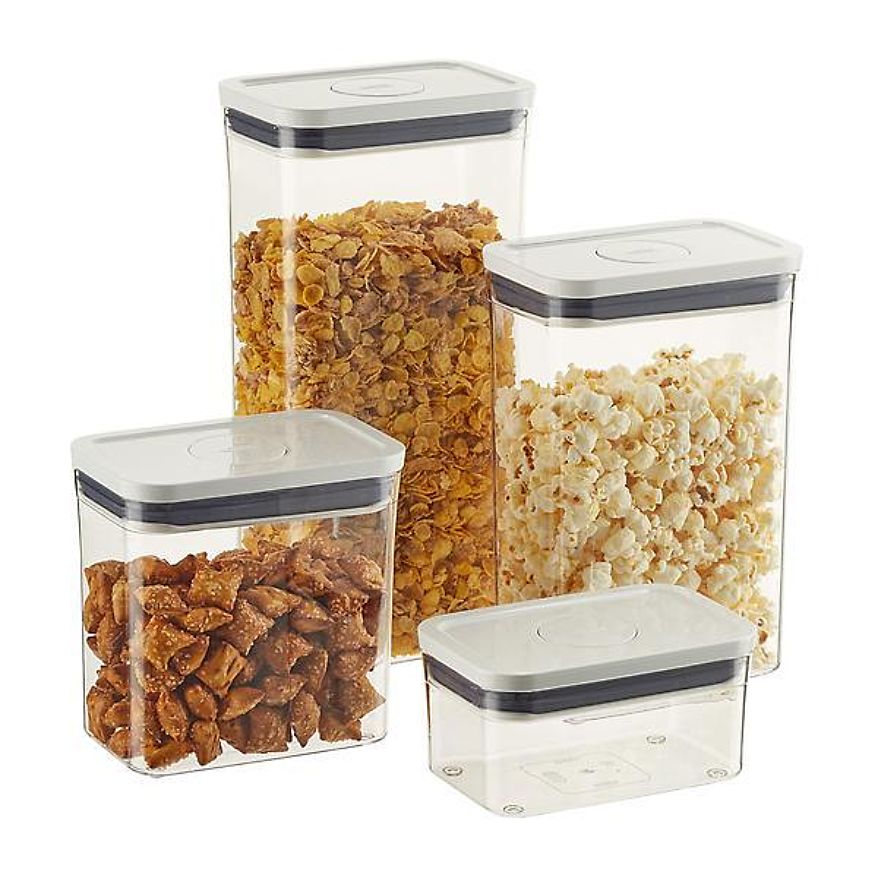 Container storage
Even more, this approach isn't limited to your kitchen space. Containers, bins, and other stackable storage boxes can make the most of any space. Some of Tiffin's floor plans offer generous under-bed storage that lends itself to bins that can allow storage for smaller items, clothing, and other necessities that need a bit of order and itemization within a larger storage area. Tiffin owner @howweroll2019 says, in an Instagram reply, she uses "these amazing bins" she found at the Container Store as well.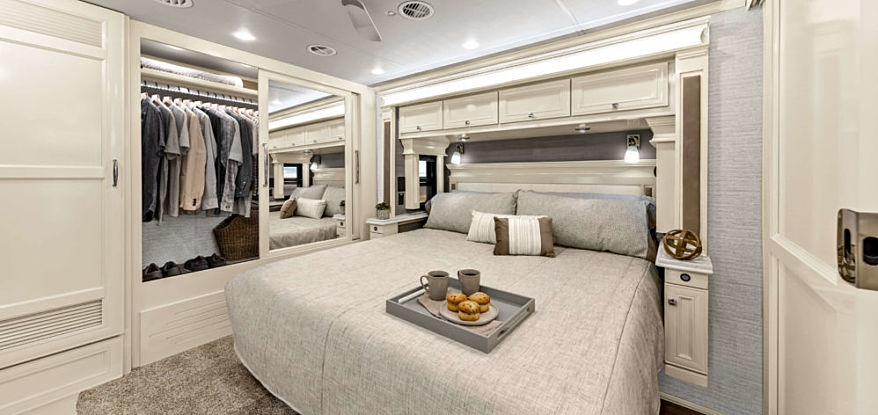 Slide-out pantry
Slide-out pantry shelves hold items in place when the shelves are inside the pantry, because of the added side brackets. And the slide-out feature means there is no item that's truly placed in the back of the pantry. Access is easy. Tiffin offers slide-out pantries in all of its models including its Allegro RED 340.
When it comes to organizing your pantry, the key thing is to stick to the plan you've chosen. Usually whatever plan you choose works great. But over time, we deviate because we get in a hurry and just shove something back in the pantry without placing it on its assigned shelf.
If you do go with air-tight canisters, those usually come with labels. And the labels are invaluable. For groupings, some like to organize based on container type. So your canned goods go on one shelf, chips and crackers on another. Or you can organize by food groups: veggies, pastas, chips and crackers, and so on.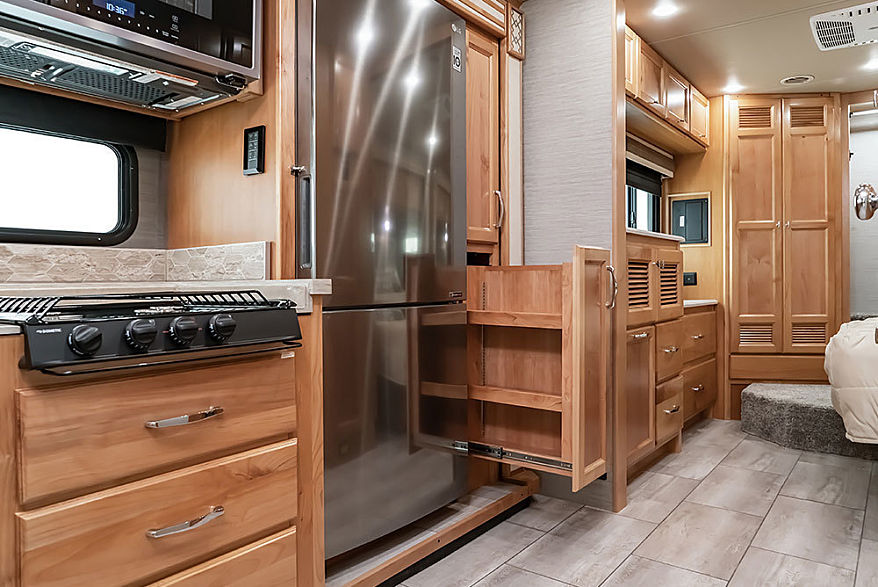 Fold-Out Spice Racks & Pull-Out Shelving
Many of the RV-specific storage hacks list pull-out shelving and spice racks as small additions that make storage and organization way better. Usually the designs are compact or the racks or shelving fold so they can be minimized, preserving valuable space. Tiffin offers overhead pull-out shelving in its Allegro Bus 35 CP. The shelving is nestled next to the microwave, over the stovetop. The pull-out shelving allows for easy access when you're cooking, but can also keep small jars and spice containers in place when you're not.
You might also consider a fold-out spice rack that can be mounted under a cabinet. You can get details and pricing on the spice rack pictured below by going to Amazon. Walmart sells a 2-shelf, pull-out spice rack, while Target offers this slide-out. Target's slide-out spice rack is a narrow and small option, which may actually be ideal for travel. Of course, as with all products, they're in stock and available at the time of this writing, but are subject to change as retailer inventories change.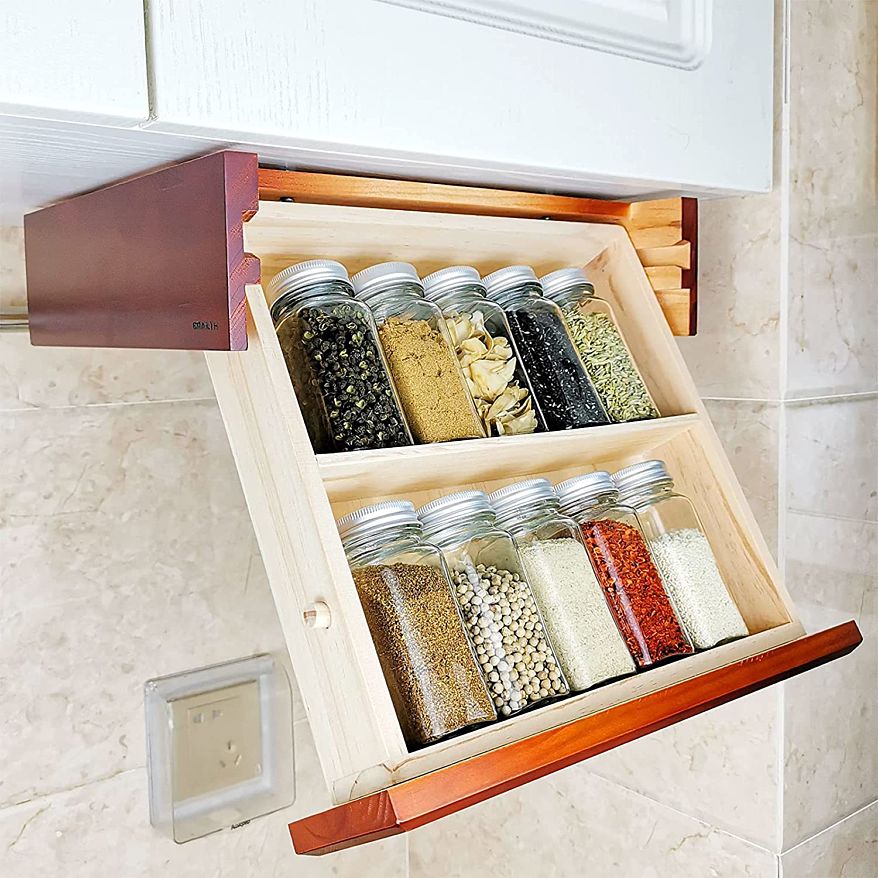 RV Workspace Accessories
We posted a blog earlier in the year listing tips for working remotely from your RV. While some employees are returning to the workplace since the COVID-19 vaccine has become widely available in the U.S., many have not. Others may never return to the office Monday through Friday as they once did. That means an RV's workspace continues to be in high demand.
Tiffin motorhomes offer options ranging from dinettes with computer workstations to dining bars featuring a cabinet, printer shelf, and file drawer below the bar. Ergonomics is a critical component of any workspace, but so is proper storage.
Office supplies need designated space, and office equipment — monitors, laptops, external keyboards, mouse, and mouse pads — need space for storage when not in use. Tiffin's dining-bar workspaces come with a flip-up countertop and, depending on floor plan, a Lift TV with HDMI port so the TV can be used as a monitor.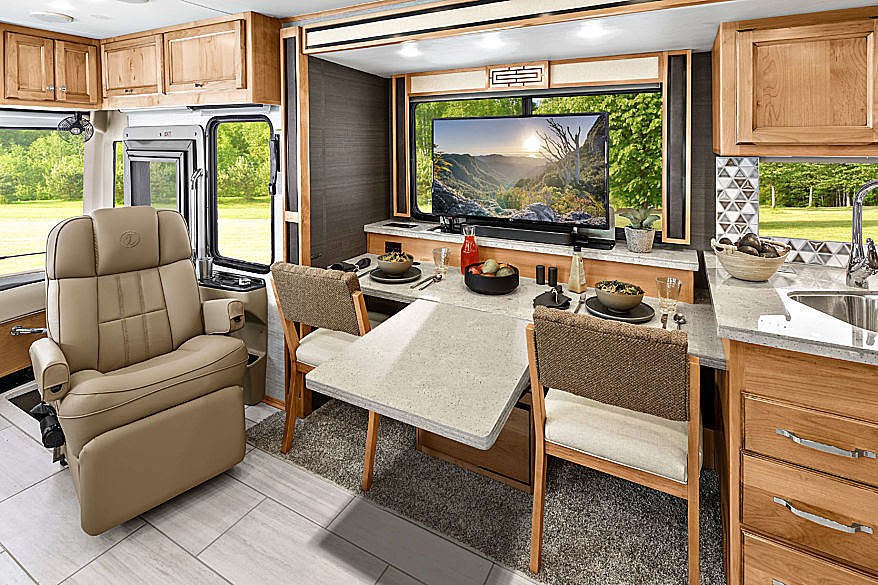 For your workstation's printer shelf, there are plenty of compact, portable printers RV owners can consider for purchase. The compact nature and light weight of these printers is a storage hack in and of itself. They can be easily stored when not in use. Best Buy offers the Epson Workforce wireless inkjet. It's 8.5 inches x 12.2 inches and weighs only 3.5 pounds. Meanwhile, Techradar has published a ranked list of best portable printers in 2021.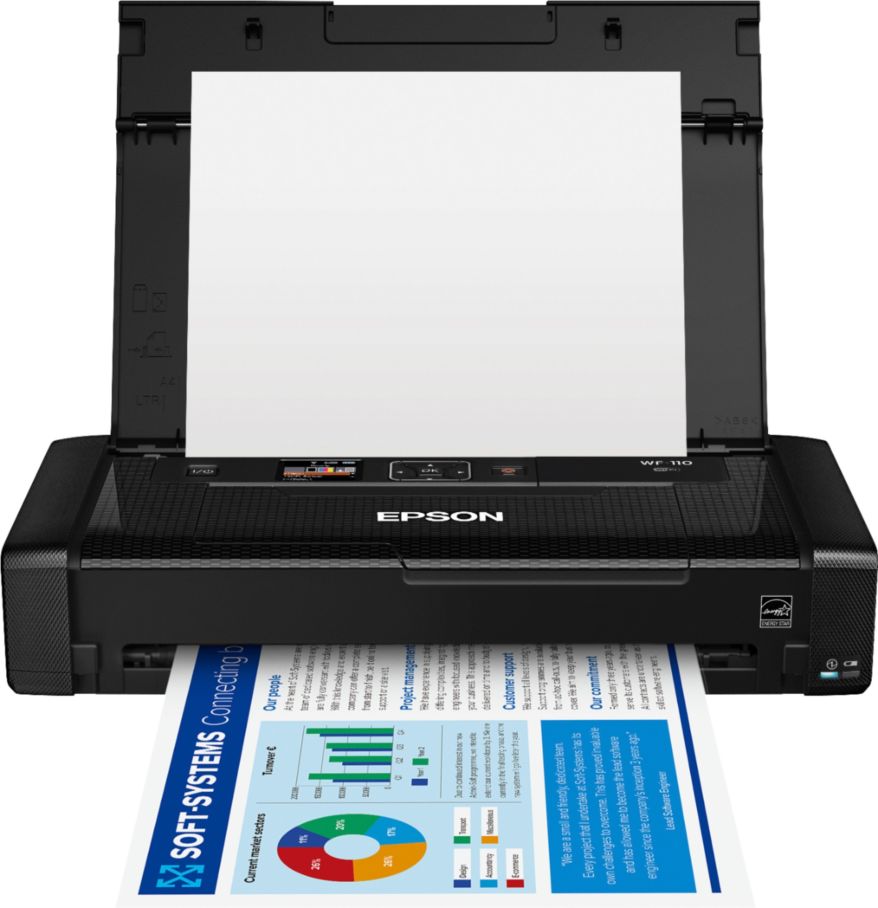 You can view the list of Tiffin models featuring workspaces. (The list was captured for all 2021 models, so reference our model pages to cross-check current features.)
If you'd like to learn more about Tiffin model features and the built-in storage space each coach already offers its owners, take a look at each of our models. Each model page provides floor plans, features and specs, and exterior and interior detail. You'll also find a link for downloadable model brochures.