Tips for Working Remotely
Pictured: The Allegro Bus featuring the dining bar with cabinet, printer shelf, and file drawer below the bar.
America's professional workforce is experiencing historic shifts in how it's getting work done. Since the global pandemic, this cultural shift has affected everything from how companies are using technology to where we work. And that choice of "where" — the one absolute that, for many, once wasn't a choice at all — includes work spaces ranging from the kitchen table, the garage, the car and, yes, your RV.
According to an article published by the Wall Street Journal, Tiffin's parent company THOR Industries reported increased RV sales last summer. "One new trend we are seeing is an evolution from 'work at home' to 'work from anywhere' as RV buyers use their new RVs as their office wherever they are," said THOR's Chief Executive Bob Martin.
For context, Pew Research found that 20% of employed U.S. adults worked from home all or most of the time before the pandemic. Since the spread of COVID-19, 71% currently work from home all or most of the time, while 54% say they'd like to continue working from home once the COVID-19 outbreak ends.
All of this suggests that, by now, you may have worked remotely from your RV or have plans to do so in the near feature. To aid in this newfound work-life freedom, we're offering tips, suggestions, and a few best practices to elevate your experience.
1. You're Only As Good As Your WiFi
Over the past year, technology and online connectivity were largely responsible for allowing companies to carry on, quite impressively in fact. Platforms like the messenger app Slack, Zoom and Google Meet for video conferencing, and an array of other tools proved to be invaluable.
Still, all are useless if you're not connected to the internet. And all are significantly less effective if your internet connectivity is on the slow side.
That brings us here: If you're considering working from your Tiffin motorhome, access to reliable WiFi is numero uno. Tiffin offers the Wifi Ranger Denali Pack and the Open Road Mobile Freedom LTE. The latter is known for its use in the marine industry, but Tiffin is the first to adopt its use among motorhome manufacturers. Other WiFi options range from mobile hotspots like Verizon's Jetpack to AT&T's Mifi. Plus, FMCA has teamed with Sprint to offer its members a benefit package that brings a truly unlimited data plan. There's also T-Mobile's Magenta unlimited data plan. We compared data plans and carriers in a Tiffin blog last fall. If you missed it, there's enough detail provided in the blog to get you going down the right path.
Apart from the traditional mobile carriers and their portable WiFi hotspots, there's also mobile routers. These create a local area network that feeds off cellular data or nearby WiFi. The upside? These devices offer increased reliability and extended WiFi range while in-motion. The downside is cost. They're typically not as affordable as other WiFi-related hardware like Verizon's Jetpack, for instance.
2. Your RV's Workspace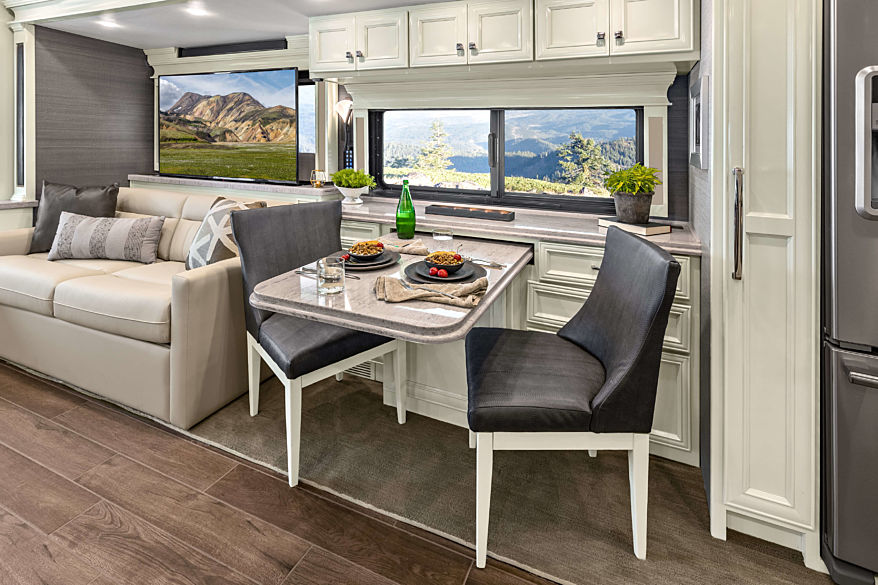 Your workspace must be an area that allows you to fall into your work, without distraction. One way of ensuring this type of work environment is through physical comfort. Without it, focus is hard to come by. For those who participate in frequent video conferences: a professional appearance and tidy background are equally important. Although, with filters like Google Meet's background choices, even a sink full of dirty dishes is forgiven when it's hidden by a faux backdrop.
To address the "physically comfortable" characteristic of an ideal workspace, you'll need to ensure your RV's floor plan can accommodate a proper workspace. At Tiffin, workspace options range from dinettes with computer workstations to dining bars featuring a cabinet, printer shelf, and file drawer below the bar.
The dining-bar workspaces also come with a flip-up countertop and, depending on the floor plan, a Lift TV with HDMI port so the TV can be used as a second monitor. Alternatively, the TV can be lowered so a window and view of the outdoors are visible from your workspace.

Numerous Tiffin models feature workspaces. Those are listed below.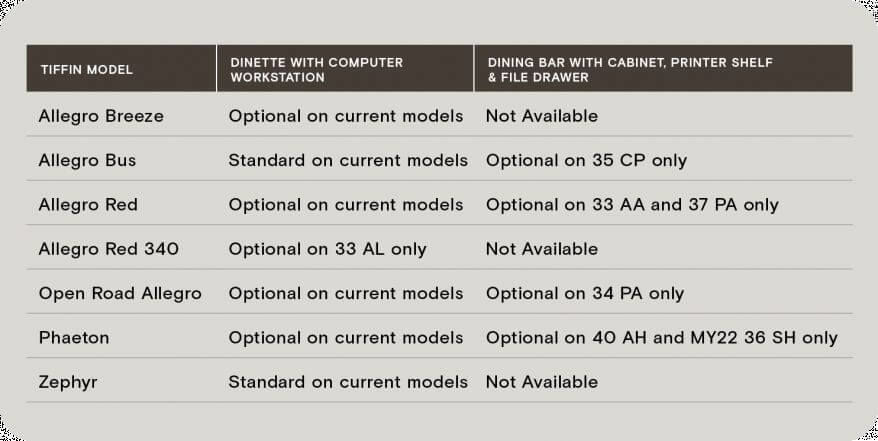 3. Enhancing Your Workspace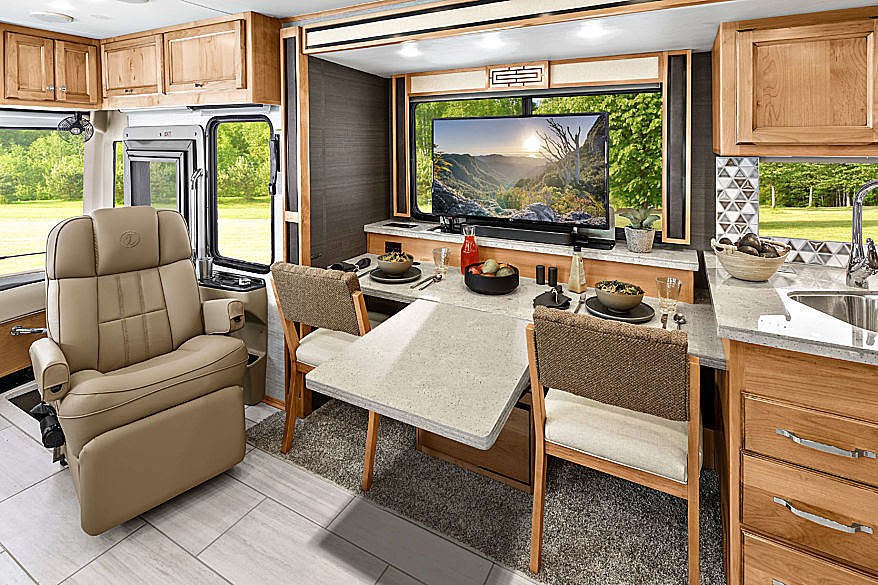 To enhance an RV's workspace and your own comfort, you might also consider accessories that raise a laptop to eye level. This is especially important if you're prone to neck or back pain from looking down at your device's screen or monitor. And, even though you're enhancing and adding a few accessories for comfort, you're still keeping everything portable. Setup is easy whether you're working from inside your RV or outside enjoying fresh air and a natural landscape.

Apple offers a HiRise Adjustable Stand for MacBook Pro and MacBook Air. It retails for $79.95.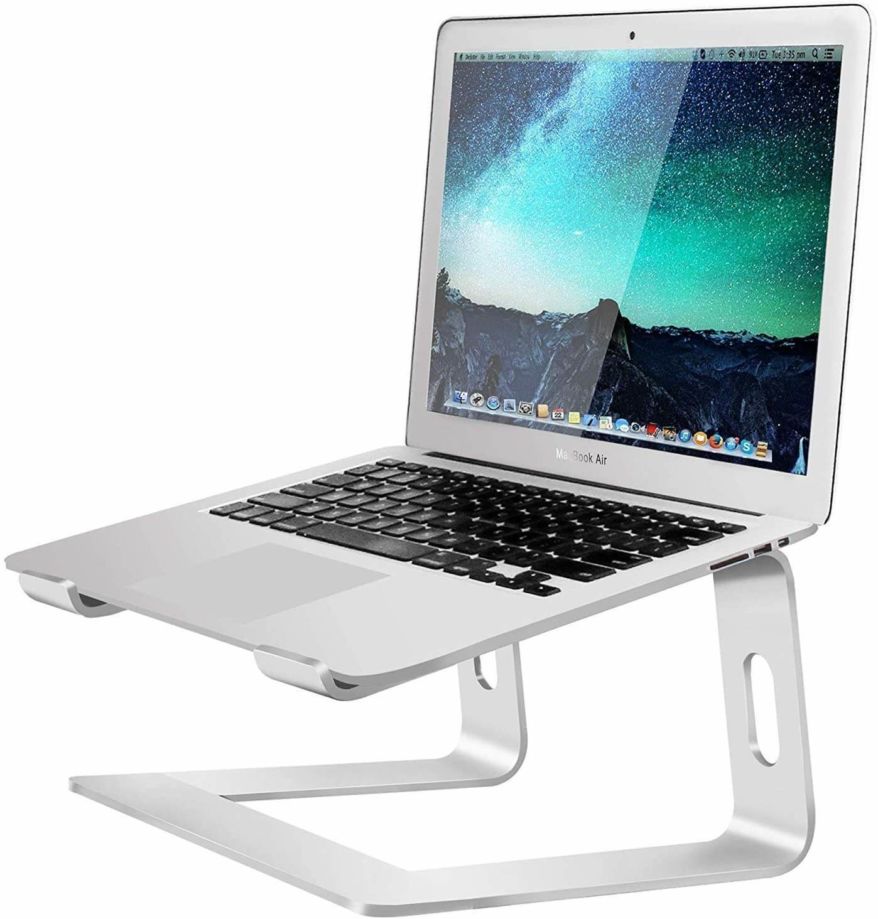 If you do choose to elevate your laptop to eye level, you'll also need to invest in an external laptop and mouse, otherwise you're reaching up to type and navigate. Choose those with Bluetooth connectivity and you'll avoid the cumbersome, messy addition of more cords running here and there across your workspace. Options for both are endless.

Here's Amazon's Choice for Bluetooth keyboard: It's an ultra-slim Arteck compatible with most any device from iPads to Apple or PC computers. It retails for a reasonable $16.99.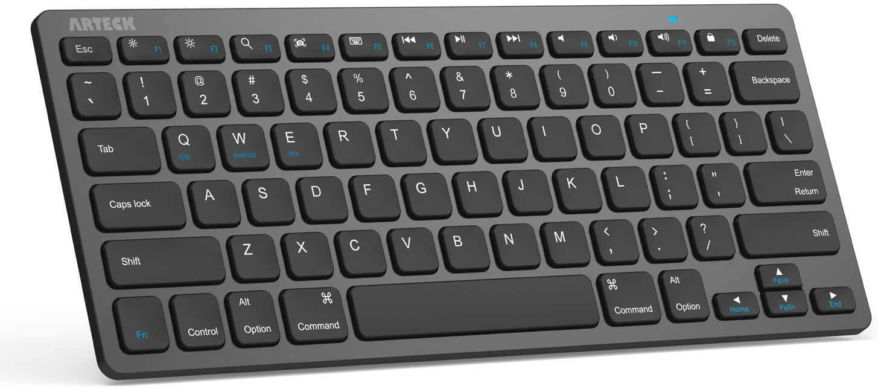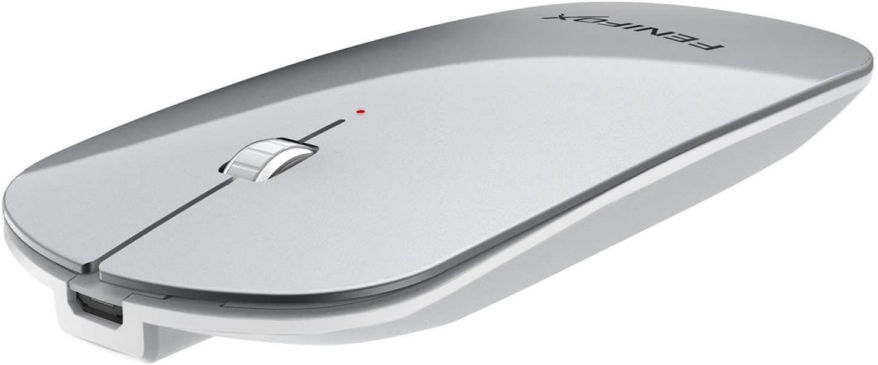 Other accessories you might consider:
A. Noise-canceling headphones like this or this.
Both links feature over-the-ear headphones. In-ear pods are just as effective. However, the nice thing about over-the-ear headphones is their visibility. Headphones can signal to family members that work is happening when the headphones are on, and your RV "roommates" must let the worker work. That means, save chit-chat and non-urgent thoughts and questions for later. Kids must rough-house outside and, perhaps, get their own breakfast.
B. Art supply box or tackle box like this or this.
These are great for storing paper clips, sticky notes, stapler, staples, binder clips, envelopes, stamps, and pens. You can retrieve the box, and have it on your desk or workstation counter while working, and easily fasten the lid and store your supplies away when not working or paying bills.
4. Shape Your Work Processes
The thing many professionals, RV-based employees, and business owners have learned through the experience of working remotely is the remarkably effective technologies available. These online tools have been invaluable in bridging the distance between you and your coworkers or clients.
Here are a few fundamental tools you'll want to adopt if you're not using them already.
Business Messaging Apps
For many, messaging apps for business correspondence has been a revelation. For one, there's no inbox. At least not in the sense of our email inboxes. Messages don't stack up. And because of how the platforms work, users are compelled to write in short, quick dispatches instead of the long, multi-paragraph email "letters" some are accustomed to writing.
Even more, you can set the app so messages are received on your smartphone or laptop, depending on which device is in use. For those working from their RV, where you may be in and out of your workspace or on the road, these dispatches are invaluable. You can step away and block the time that's needed to do your heavy-lifting thought work, but also be assured you're available and within reach so your absence isn't delaying an employee or co-worker's progress on an assignment or shared project.
Slack is a powerful team messaging app, and one of the most well-known apps of its kind. But there are many from which to choose. PC Magazine offers their top nine picks for 2021, which is worth checking out.
Google Docs and Sheets
The adoption of online, shared documents like those offered by Google, have become commonplace at many companies across the country. Still, others favor applications that operate on a computer's hard drive like Microsoft's Word or Excel programs. And, thus, those documents are saved to your computer's hard drive.
The hindrance of these harddrive-centric applications is in the lack of shareable information. Sure, you can upload these documents to a shared server or email the documents to employees or coworkers. But in our current climate — where most aren't sharing physical office space — documents that live on shared servers allow for collaboration. Any number of people can have access to a shared document (though the document is protected and its author chooses who to "invite" to collaborate).
This level of access — whether multiple people are providing input and detail to a spreadsheet or written report, for instance — allows work to continue in a fluid and flexible style that aids the remote worker and those working from their RV. A common deadline is shared for the completion of collaborative work, but each contributor can access and add to the shared documents when it's convenient for each individual.
For an RV-based remote professional, maybe your best time to get work done is at 5 a.m., on the east coast, before you breakdown and hit the road for the day. That pre-dawn work, for instance, could then be waiting for your team when they log on. From there, the work continues.
Standing Meetings
Standing meetings aren't a new invention, but they've proven to be particularly helpful for those who work remotely. For one, a standing meeting can cut down on knee-jerk correspondence that's not urgent. Let's say you have a weekly meeting on Wednesdays to check in on a project. Small issues, questions, or new developments can be banked and shared if each team member knows they'll gather once a week at a set time. It creates a less-reactive, day-to-day environment that allows for flexibility. You'll find you aren't required to be "on" at all hours to put out the proverbial office "fires" that really isn't a fire at all.

While we hope our tips are useful, there are many more that you may find helpful based on your own unique situation. The internet is full of recommendations for remote workers and plenty are tailored to the RV-based professional. We've also posted an inquiry on our Tiffin Facebook page, seeking input from our community. Tiffin owners just like you have shared their own tips and hacks for a successful work life on the road. Check them out, and if you've got tips of your own, please share what you've learned and keep the conversation going.