How to Install Satellite TV in Your RV
Take a guided tour of how to stay connected to your favorite shows on satellite TV in your motorhome.
Tiffin Electronics Service Technician Nick Brewer was a helpful resource for this information. He's a go-to contact for Audio/Visual setup and troubleshooting at Tiffin. He's also an authorized Winegard dealer and has his own side business, RV Electronics. If you need assistance with satellite installation or other A/V matters, feel free to reach out to Nick directly at his RV Electronics business at 256-460-5245. Of course, you're also welcome to contact our Service Department to get in touch with Nick and other Tiffin experts for assistance: [email protected], 256-356-0261.

When it comes to cheering on their favorite sports teams, the Tiffin family makes sure they never miss a game, and they don't want their owners to either, even if they're on the road. That's why Tiffin Motorhomes is on the forefront of innovation when it comes to satellite TV; so no matter where the journey takes you, you'll never have to be far from home field.
There are many options for streaming a satellite service in your motorhome. In this blog, we'll outline these options and provide detailed information for each one.
Tiffin Standards - DISH Network®
All Tiffin Class A and Class C motorhomes come pre-wired for in-motion satellite and come standard with a Dish Wally HD Receiver. Our 2021 Allegro Bus and Zephyr models come standard with the In-motion Low-profile Satellite Dish with DISH Network® Receiver already installed, while the other models include the In-motion Satellite DISH as an optional feature. These domes, made by Winegard®, not only autofind the dish but also offer in-motion viewing, which means you can stream satellite TV while on the road. Our 2021 models are equipped with the Winegard RoadTrip T4 In-Motion RV Satellite Antenna.
Starting in 2019, our domes were exclusively pre-wired for DISH Network. DISH Network is the only affordable option for in-motion High Definition (HD) and is extremely motorhome friendly, with the option to pay-as-you-go and the ability to subscribe to local channels as you change locations. Along with the dome, all Tiffin motorhomes manufactured in 2019 or later also come standard with a DISH Network Wally HD Receiver.
High-definition programming is not available on a domed satellite antenna unless you subscribe to DISH Network. If you already have a DISH subscription, all you need to do is add Pay-As-You-Go programming. These are month-to-month TV packages that you can easily turn on and off, which makes them ideal for part-timers. With the exception of a $7 monthly fee to add a new receiver to your account, there is no commitment required and no fees. When you are no longer in need of the service, you must contact DISH at 1-800-333-3474 and let them know that you want to disconnect your pay-as-you-go services. If you only have Pay-As-You-Go programming, all you need to do is not pay your next invoice. This will automatically disconnect your services. If you are not already a DISH customer, you can still take advantage of DISH's pay-as-you-go satellites.
Before you set up your TV, call DISH at 1-800-472-1039 or visit DISH's website to activate your receiver. Once it's activated, follow these step-by-step instructions for setting up your DISH subscription in your motorhome.


Steps For Setting Up Older-Style Receivers
(You can also view this video for step-by-step instructions.)
1. Turn on your TV.
2. Press the Input button, select Satellite, and select OK.
3. Turn your DISH Network receiver on.
4. Press the Menu button on your DISH Network remote.
5. Press 6 for System Setup, press 1 for Installation, and then press 1 for Point Dish.
6. On the next screen, click on Check Switch.
7. Check that the Switch says SW64 and check if all three satellites have a green OK in the Trans row. If not, continue to the next step.
8. Select Test to download the information for all three satellites, which is necessary for High Definition on DISH Network. At this point, you'll want to make sure that your satellite switch is in the on position.
9. Once the check switch is complete, you'll see a green OK for all three satellites. Select Done.
10. You'll then return to the Point Dish screen from #5. From there, select Done.
11. Once it has located all the satellites, select Done.
12. On the next screen (Installation), select 0 for Cancel, select 0 for Cancel on the System Setup screen, and 0 for Cancel on the Main Menu.
13. Then, you'll see a screen that says Acquiring Signal which will take about 5 minutes.
14. Then you'll see another screen that says Downloading Program Guide, which will take about 10 minutes. After this is completed, all the channels for your subscription will be loaded.

Steps For Setting Up Newer-Style Receivers
1. Turn on your TV.
2. Press the Input button, select Satellite, and select OK.
3. Turn your DISH Network receiver on.
4. Press the House button on your DISH Network Wally remote.

5. From the Home tab at the top, select Settings.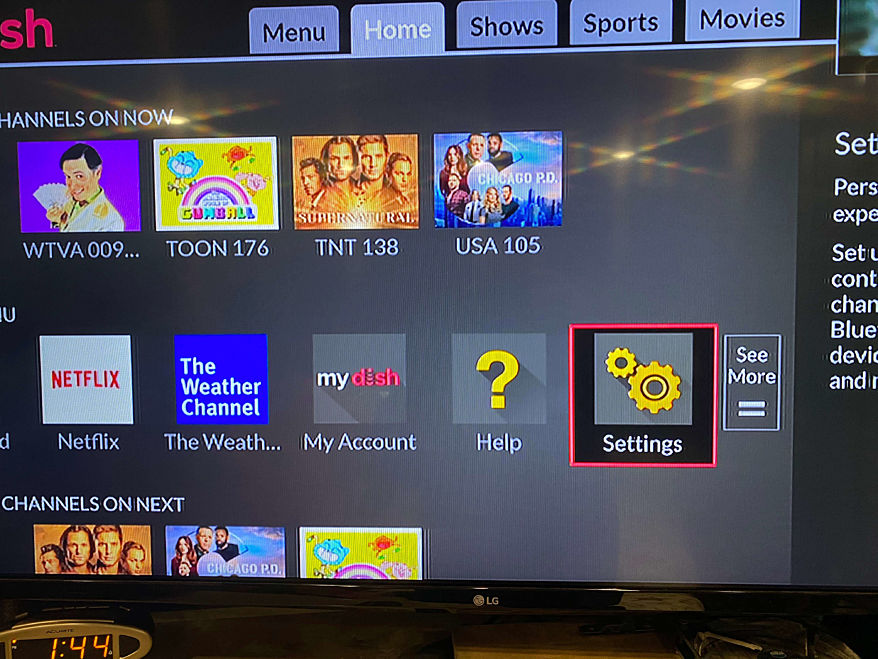 6. Within Settings, select Diagnostics.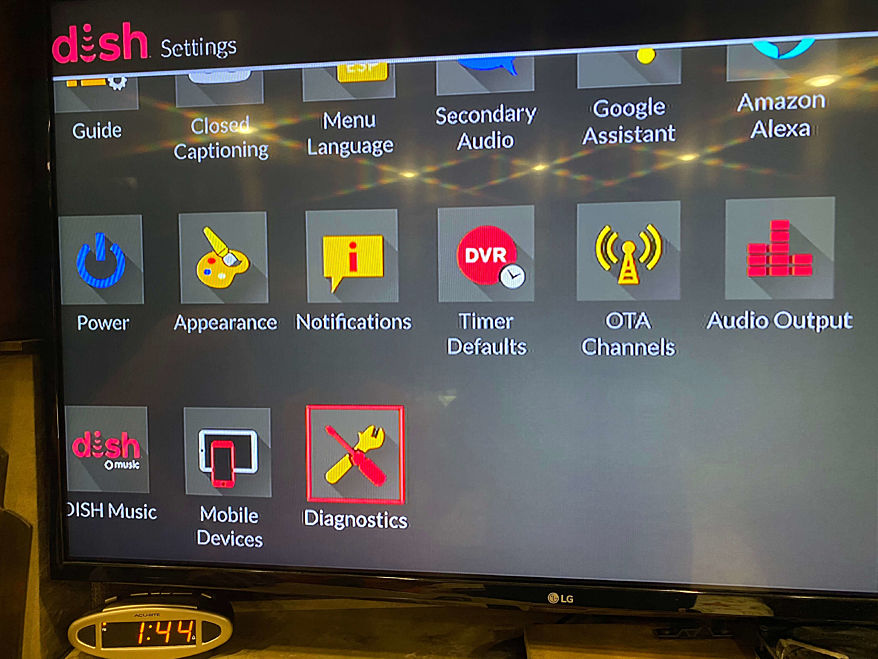 7. Within Diagnostics, select Dish.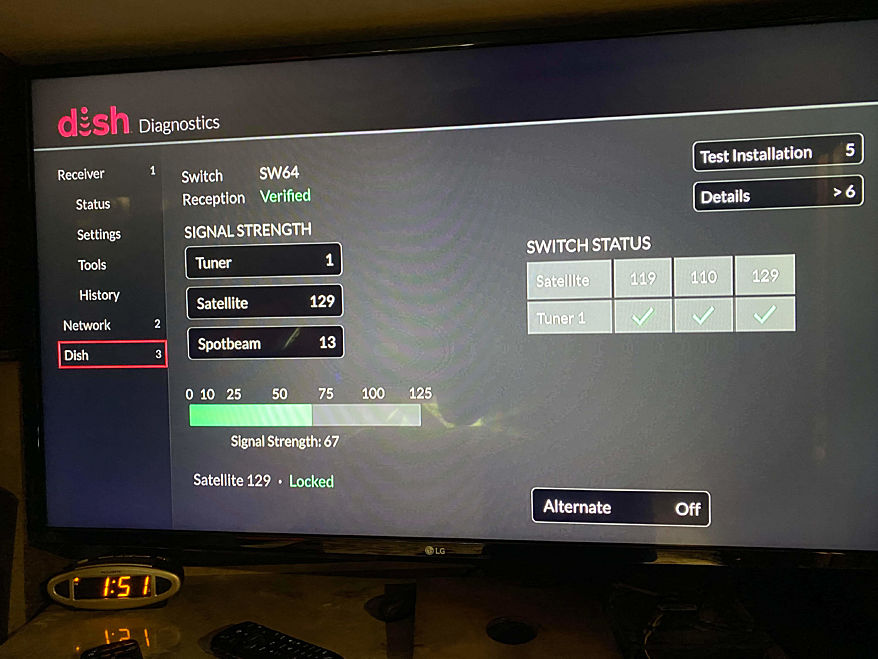 8. At the top right of the screen, select Test Installation.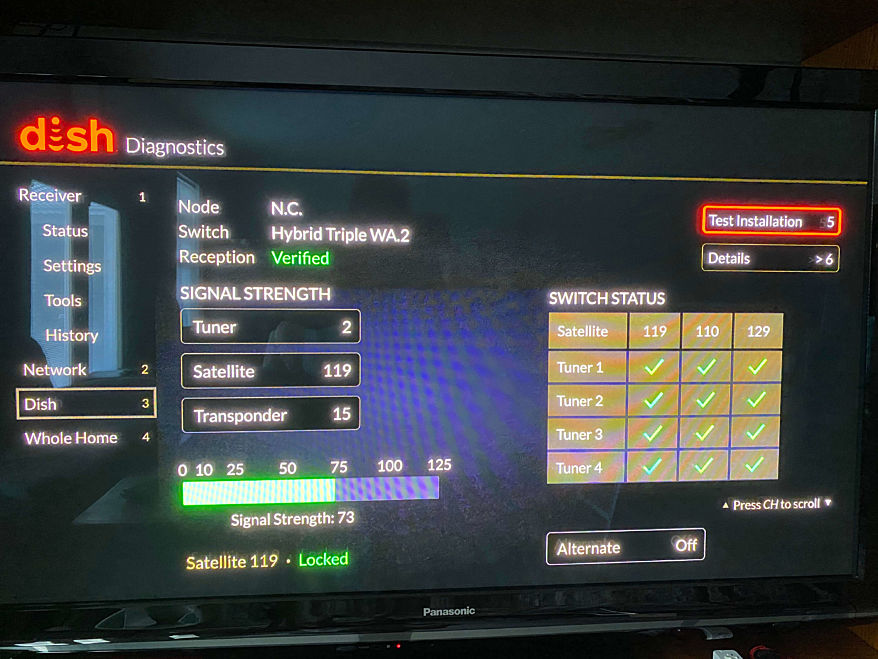 9. Once you see SW 64 appear on the screen, exit out and the program will start to download.
If you have any issues with this process, contact the Service Department at 256-356-0261.
Connecting to Another Satellite Service
While the domes that come standard on every Tiffin motorhome are pre-wired for DISH, you do have the option to connect another type of service. In the United States, you can connect to DISH (HD) or DirecTV (Standard-Definition, or SD). In Canada, you can connect to Bell TV (SD and HD). If you already have a DirecTV subscription, you simply have to adjust the DIP (dual in-line package) switch on your dome. Just remember that you will not be able to stream HD with DirecTV.
Here are step-by-step instructions on how to reset your dome for a specific satellite provider:
1. Take all 6 screws out of the dome with a screwdriver and remove the top.
2. Rotate the dome around to where to coaxial cable goes into the board.
3. On top of the board, it shows the different settings. Always use the Mount Option A setting because the wires go toward the back of the motorhome.
4. To set it to either DirecTV or DISH, you must adjust the DIP switch. This changes the operating mode of the dome. 0 represents up, 1 represents down. The dome will be set to DISH, so number 4, 7, and 8 will be down. To change it to DirecTV, use an ink pen to switch numbers 4 and 7 up, and switch number 8 down.
5. Return the cover and put all 6 screws back in.
6. Follow the instructions in your satellite service's manual for setting up your TV.
Carry-Out Tripod Mount
If you're planning on docking in a remote area or in the midst of tall trees and still want to receive satellite, you can also purchase a carryout unit. This is a tripod-mounted, portable, automatic satellite dish that's a perfect back-up for when you need an added boost. You can set it up outside your RV and manually align it to the satellite at each stop. The power inserter allows you to switch between DirecTV and DISH with the flip of a switch.
Non-Subscription Options
Don't want to pay for a subscription? You've still got some options for watching the local channels.
All Tiffin motorhomes come standard with a Digital TV Antenna which will allow you to automatically search for channels that are active in your current area by editing and scanning channels on your remote control. Here are step-by-step instructions on how to do this:
1. On the Antenna/Cable Switch, select Antenna.
a. The location of this switch depends on your model. Check your user manual for exact location under the Entertainment setting.
2. Press the power button to turn the television ON.
3. Press Settings.
4. Go to Channels, press OK.
5. Go to Auto Tuning, press OK.
6. Press OK on Start.
7. After Auto Tuning is complete, press the EXIT button.
NOTE: The Antenna/Cable Switch must be on for ANT (red light will appear) and off for the cable. The location of this switch depends on your model. Check your user manual for the exact location under the Entertainment setting.
Many campgrounds also offer cable hookups to receive local channels.
1. Locate the cable hookup on your motorhome (usually located in the water/plumbing bay or the electric bay, depending on the model) and use a coaxial cord to plug into the cable hookup.
2. On the Antenna/Cable Switch, select Cable.
a. The location of this switch depends on your model. Check your user manual for the exact location under the Entertainment setting.
3. Go to each individual TV, select Live TV from the menu, and then go into the Settings under Channels and it will scan your channels for cable.
There are also other subscription options, such as Netflix, Amazon Prime, and Hulu, or devices such as Apple TV, Amazon Fire Stick, Roku, and Sling that require an internet connection. You can read about internet packages and devices for your motorhome on our blog.
Note for Older Models
Satellite settings in the sky have changed over the years and the current software is not compatible with the older domes. If you have a coach that was built before 2013 that came with a dome, there is a chance it is outdated. Here are two options if you have an older coach:
1. Purchase an updated dome and receiver and have it installed by a retailer or service center. You will have to subscribe to a satellite service in order to have satellite connection.
2. Use a Carry-Out unit or external satellite for stationary (not in-motion) satellite connection. These units are similar to the domes, but instead of sitting on top of your motorhome, they attach to a tripod that plugs into the cable compartment. These units require a subscription to a satellite provider.
Have any additional questions concerning satellite and cable? You can contact our Service Center at 256-356-0261.