2024 Zephyr 45 FZ Floor Plan Spotlight
Indulge in unparalleled comfort, luxurious amenities, and state-of-the-art technology - all wrapped in the grace of the 2024 Zephyr. With the power to command most of your Zephyr's functions right from your smartphone, you'll have the world at your fingertips. Immerse yourself in the opulence of quartz countertops, top-tier kitchen appliances, and four high-definition flat-screen TVs that elevate comfort and entertainment to new heights. Elevating your experience further, you can opt for Starlink® Pro internet, providing an unmatched realm of entertainment.
As you venture outdoors, discover a basement freezer, a power slide tray, the choice of an exterior grill, and multiple awnings that collectively craft an idyllic outdoor haven. Set forth on your luxurious journey with the Tiffin Zephyr.
Best of all, you now have the option to include factory delivery for your Zephyr, giving you an exclusive 2-3 day training with a Tiffin expert before leaving Red Bay in your new 2024 Zephyr. Read more about the factory delivery program at the end of the blog!
Features listed below are on model year 2024.
At a Glance:
Zephyr Model Features
In the table below, we've called out the Zephyr's headlining features.
| Notable Floor Plan Feature on the MY24 Zephyr | Standard or Optional |
| --- | --- |
| Factory Delivery Program (NEW) | OPT |
| PowerGlide® Raised Rail Rear Engine Diesel Chassis | STD |
| Cummins® X15 605 HP Diesel Engine | STD |
| Adaptive Cruise Control | STD |
| Steel Basement Construction | STD |
| Spyder Controls Multiplex System | STD |
| Firefly Integrations Eclipse Module | STD |
| Starlink® Pro (NEW) | OPT |
| Girard® Roof-mounted Powered Patio Awnings with Integrated LED Lighting and Dual Pitch Feature | STD |
| Wolf® Induction Cooktop | STD |
| 12" Beverage Center | OPT |
| JBL® Sound System | STD |
| Passenger Console Wireless Phone Charger | STD |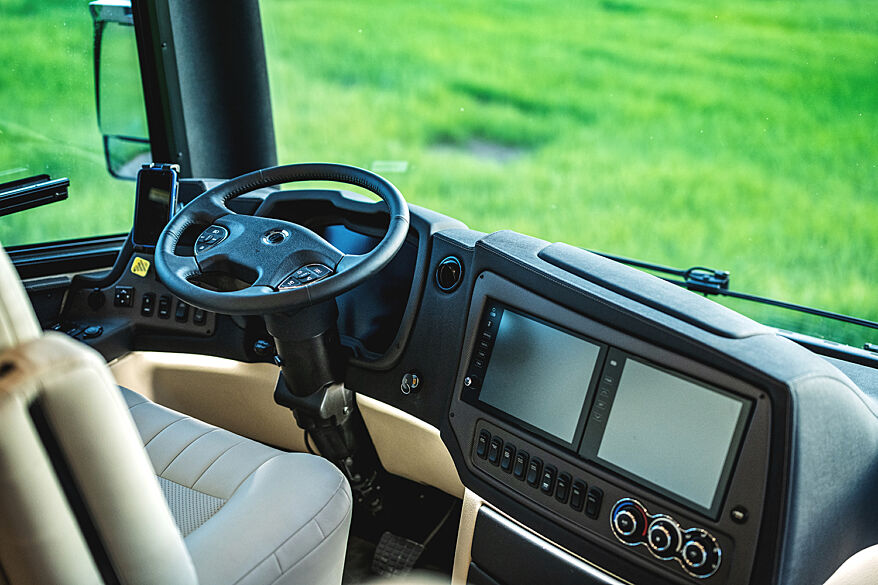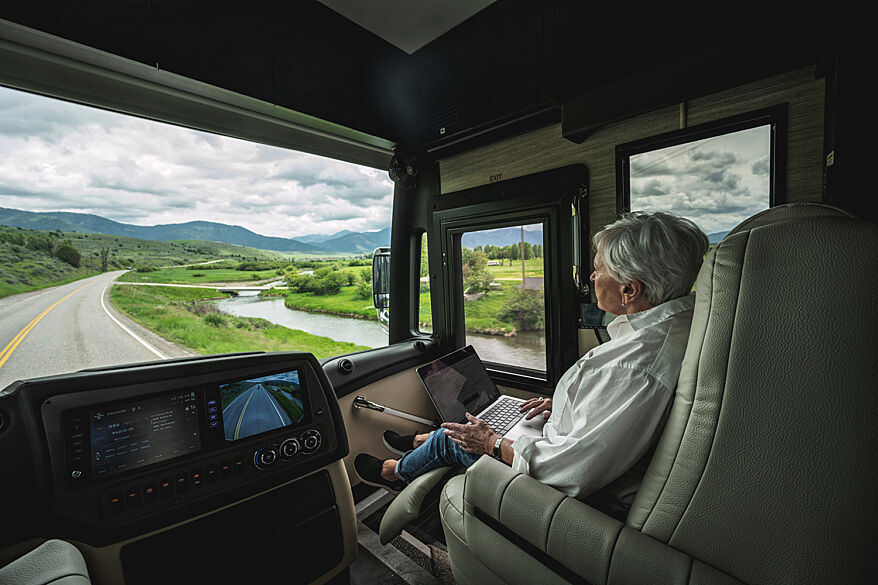 Deep Dive:
45 FZ Floor Plan
Introducing the 2024 Zephyr's exclusive floor plan, the 45 FZ. Join us on a captivating journey to uncover the marvels that await you within this remarkable model!
Measuring 45 feet in length, the 45 FZ floor plan grants you an expanse of space within your RV. This generously designed layout provides a myriad of furniture options, allowing you to customize your living area with meticulous precision. Be it your selection of seating, dining configurations, or sleeping arrangements, you have the freedom to fashion a motorhome that perfectly aligns with your personal preferences.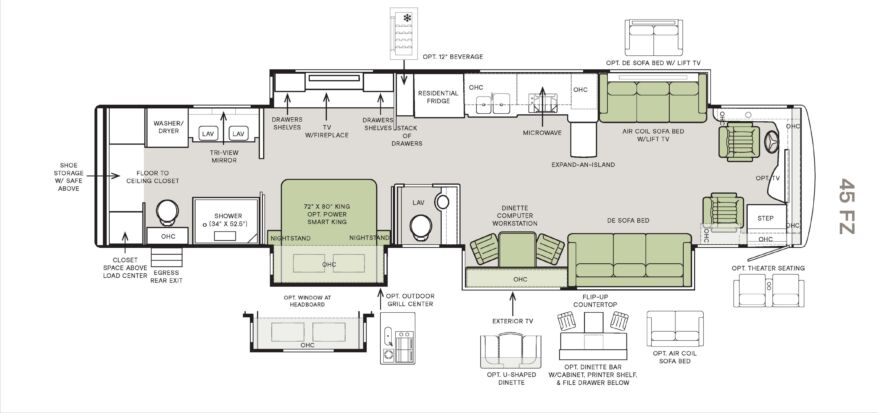 Upon entering this luxurious coach, you are greeted with rich materials and amenities that captivate the essence of a Tiffin Motorhome. The 2024 Zephyr offers a plethora of choices, with four distinct décor options, seven cabinetry finish variations, and two tile flooring selections, ensuring your Zephyr is tailor-made to suit your preferences. The expansive panoramic windows running along the length of the coach not only flood the interior with abundant natural light but also offer picturesque views, creating an inviting ambiance within your motorhome.
Featured here is the exclusive Blue Delta® Rocker Chic décor package, coupled with the sleek Black Truffle cabinetry finish, a fresh addition for 2024, and adorned with elegant Gunmetal glazed porcelain tiles. With the presence of adjustable LED lighting throughout, you hold the power to craft the perfect ambiance to suit your mood and moment.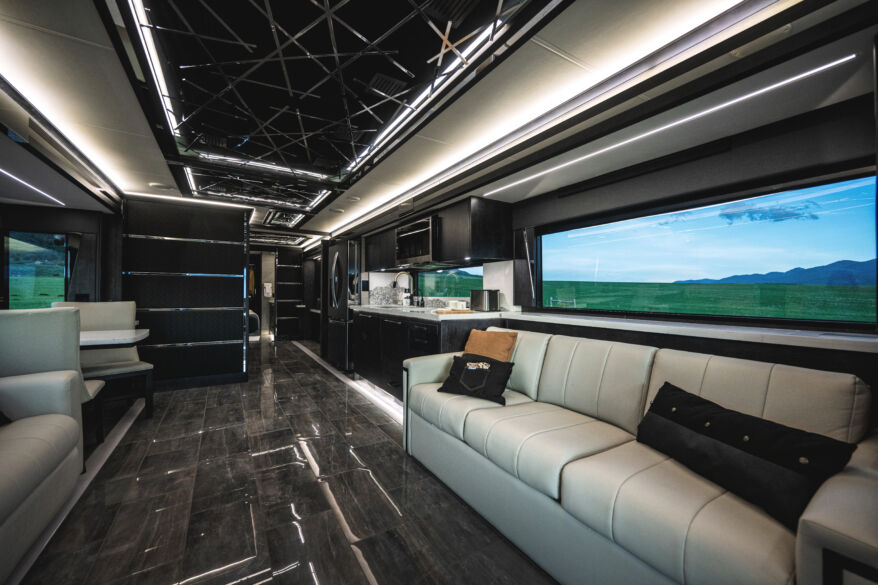 In the Zephyr's living room and dinette area, you'll find a range of versatile options to suit your preferences. The standard configuration boasts an 80-inch air coil sofa bed with a lift TV on the driver's side, while the passenger side is equipped with a dinette and an 88-inch DE Sofa Bed.
These well-appointed amenities provide a multifunctional space where you can unwind, entertain, dine, or even set up a productive workspace as the need arises.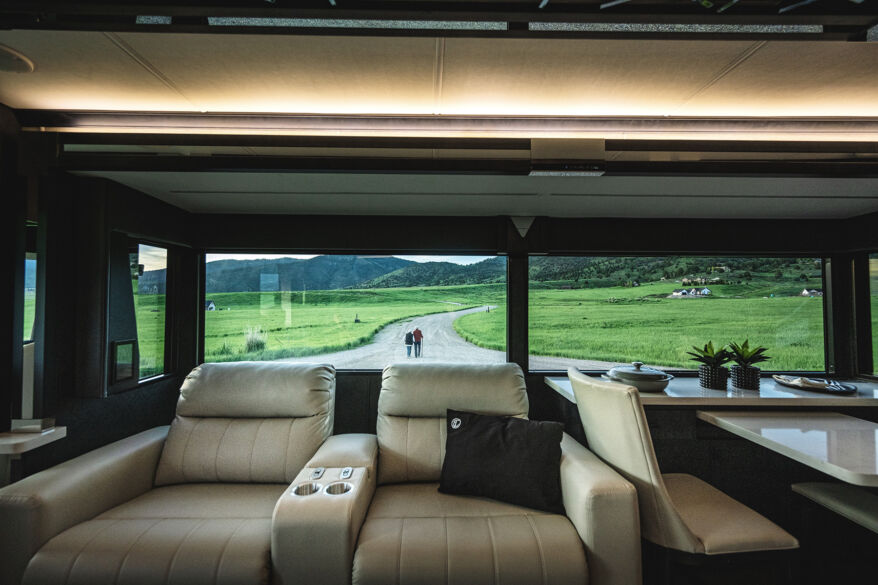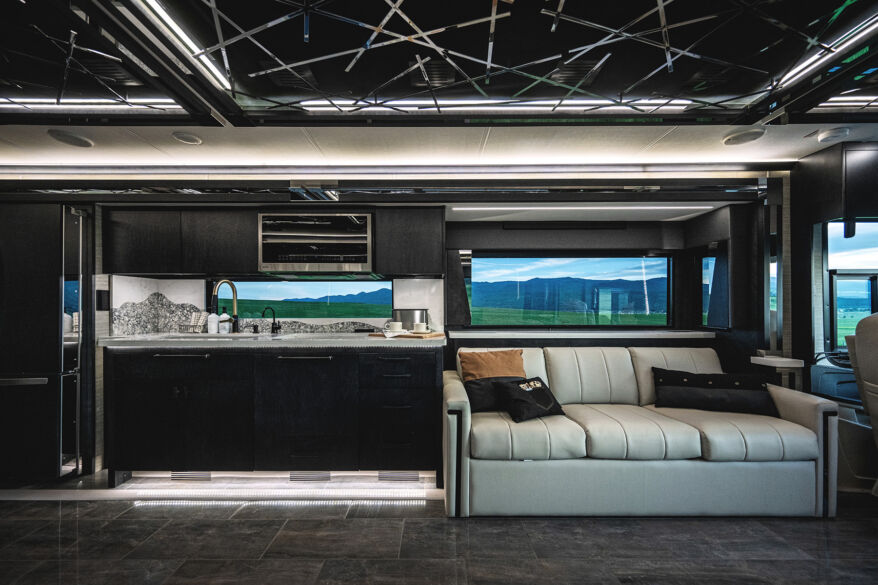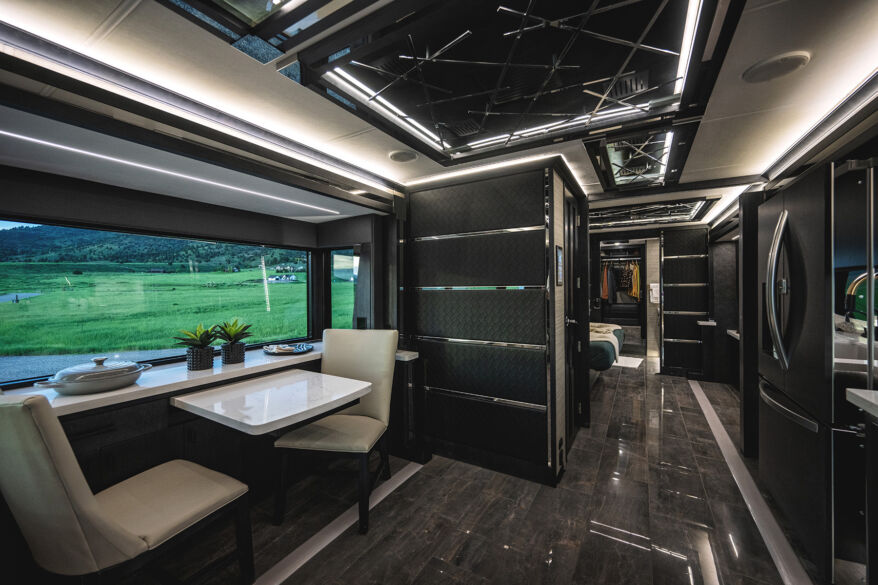 Step into the Zephyr's kitchen, a haven of contemporary design and gleaming stainless steel appliances. Standard features include a smart convection microwave with an air fryer, a high-performance Wolf® induction cooktop, a spacious single-bowl kitchen sink with a built-in soap dispenser, a drawer-style dishwasher for effortless cleanup, and galley overhead cabinets equipped with convenient pull-out drawers.
The kitchen also boasts an electronic release expand-an-island for additional prep space and beautiful quartz countertops and backsplash that seamlessly blend into the design. Enjoy the natural beauty outside with the panoramic galley window, and elevate your culinary experience with the optional 12" beverage center. This top-of-the-line kitchen combines convenience and luxury, making it the heart of your travels.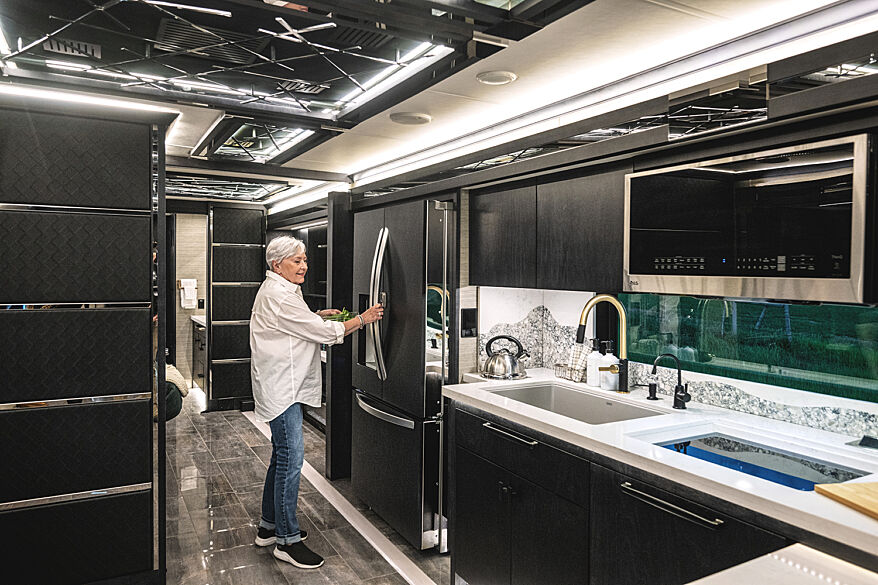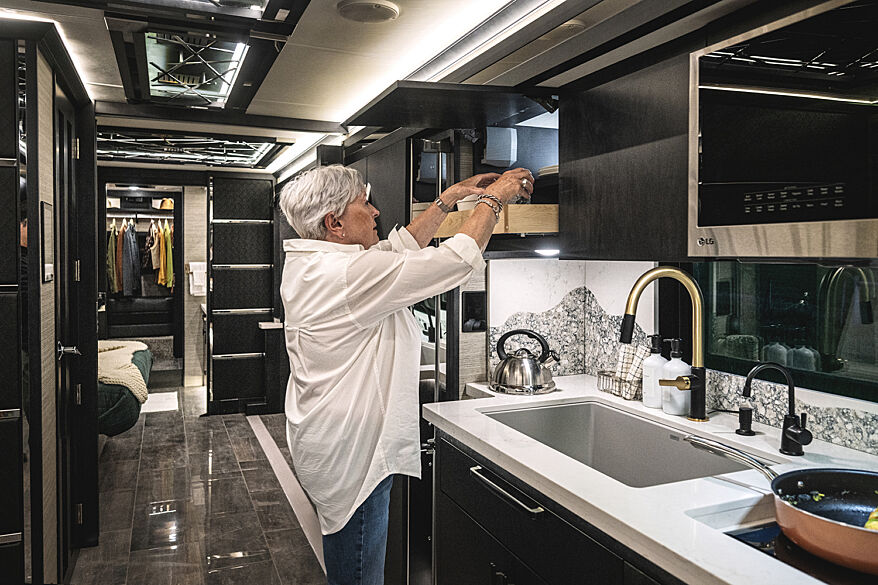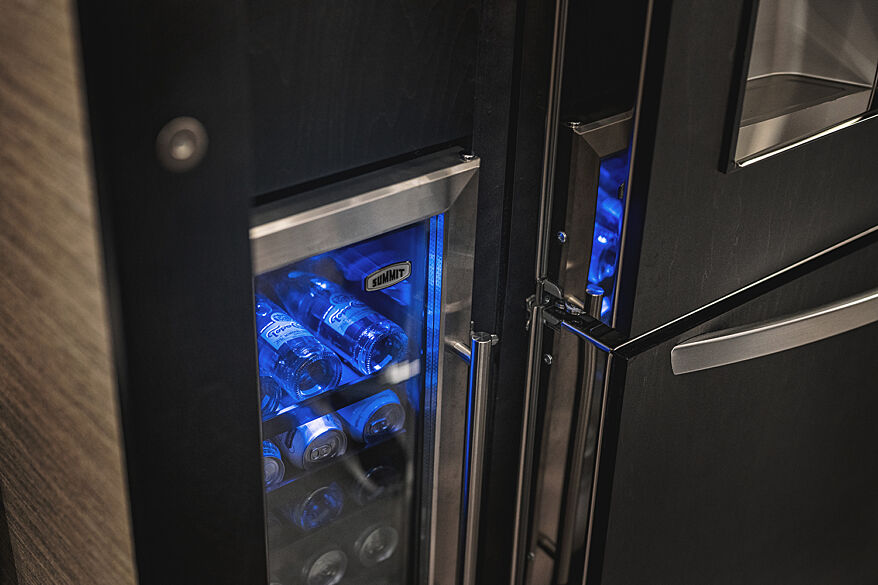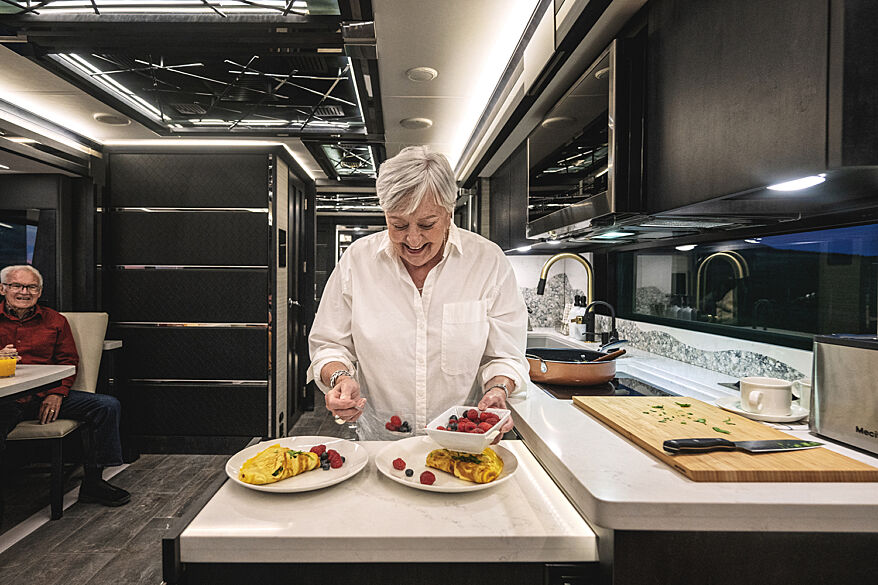 As you step into the master bedroom and bathroom, you're greeted with a space designed for instant comfort. The bedroom, complete with a cozy fireplace, exudes warmth and relaxation. It's not just about comfort; it's about convenience too. With overhead cabinets, underbed storage, ample floor-to-ceiling closet space, and a handy shoe rack, you'll find plenty of storage solutions for all your personal belongings. Enjoy entertainment at the centralized entertainment center and mounted bedroom TV, creating a perfect spot to unwind. And when it's time to rest, sink into the memory foam king mattress, with the option to add a power smart lift for that extra touch of luxury.
Step into the bathroom, and you'll discover your own private sanctuary. Featuring a practical double vanity with base cabinets and a medicine cabinet equipped with a tri-view vanity mirror, preparing for your day is a breeze. The spa-like experience continues with a 34" x 52.5" solid surface shower adorned with inlaid tile, complemented by a residential glass door and a shower skylight that fills the space with natural light. Enjoy the convenience of a shower head with a detachable hand-held shower wand and a teak folding shower seat, transforming your bathroom into a personal oasis within your home on wheels.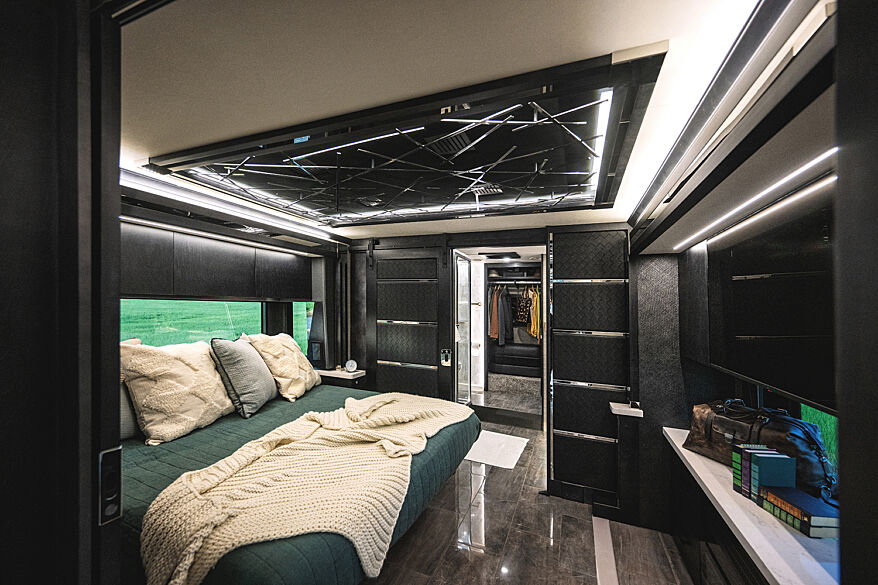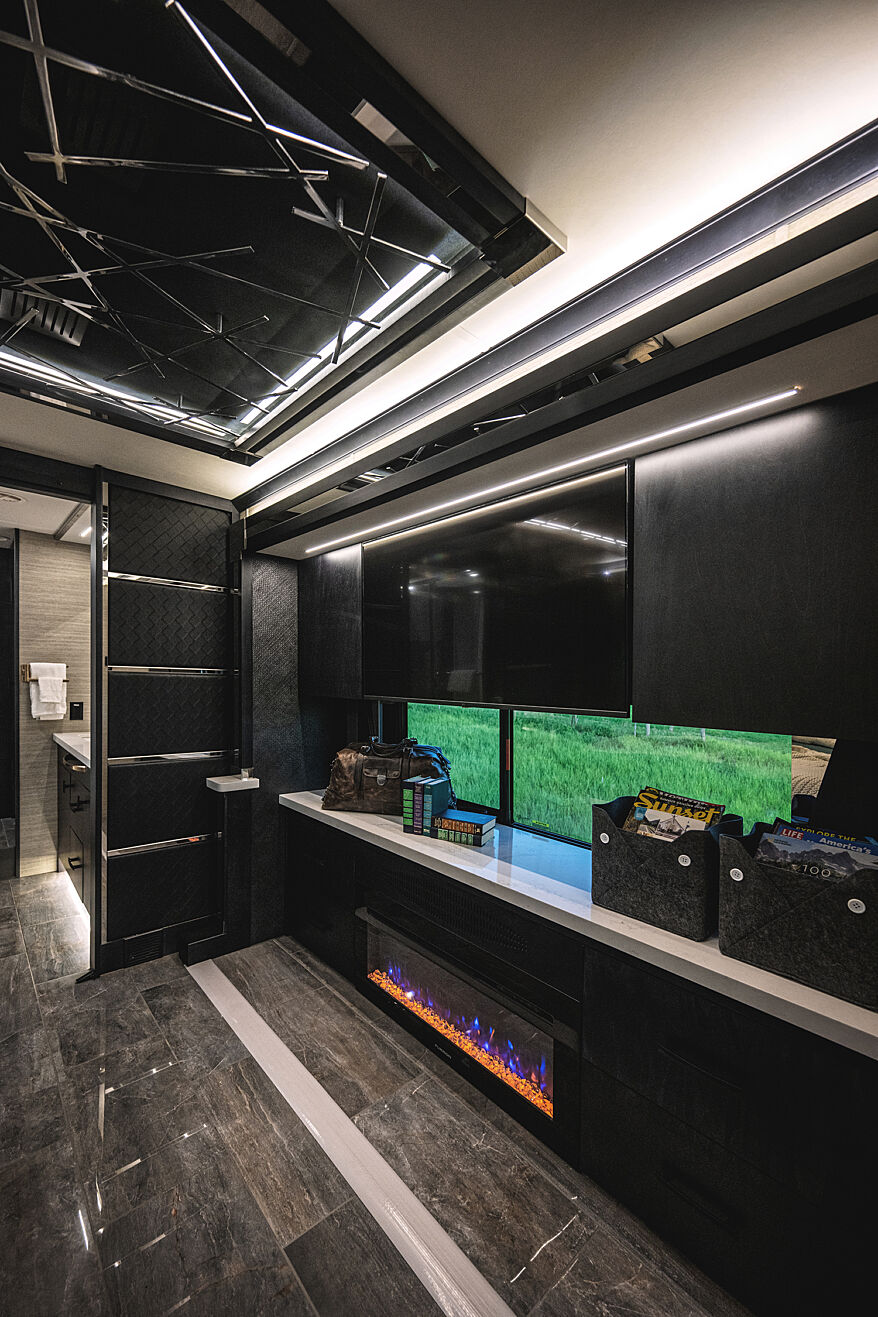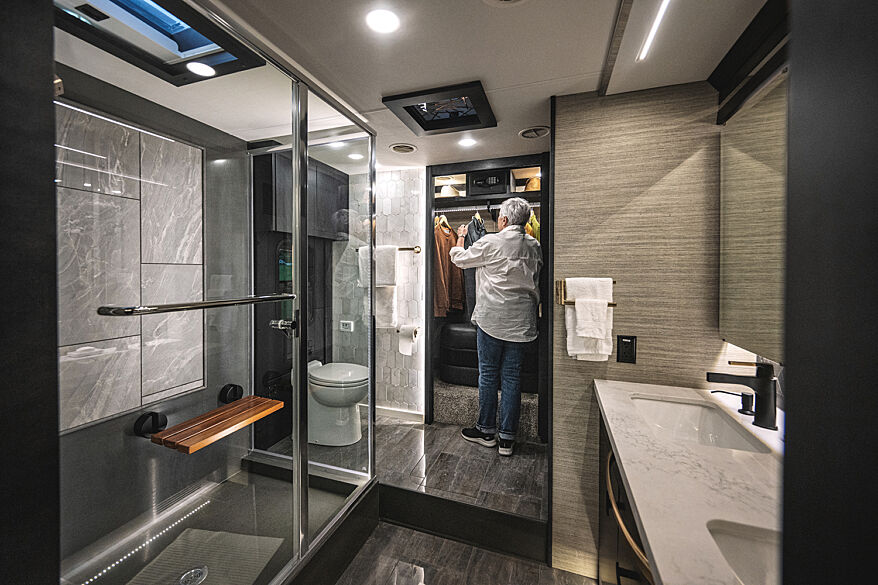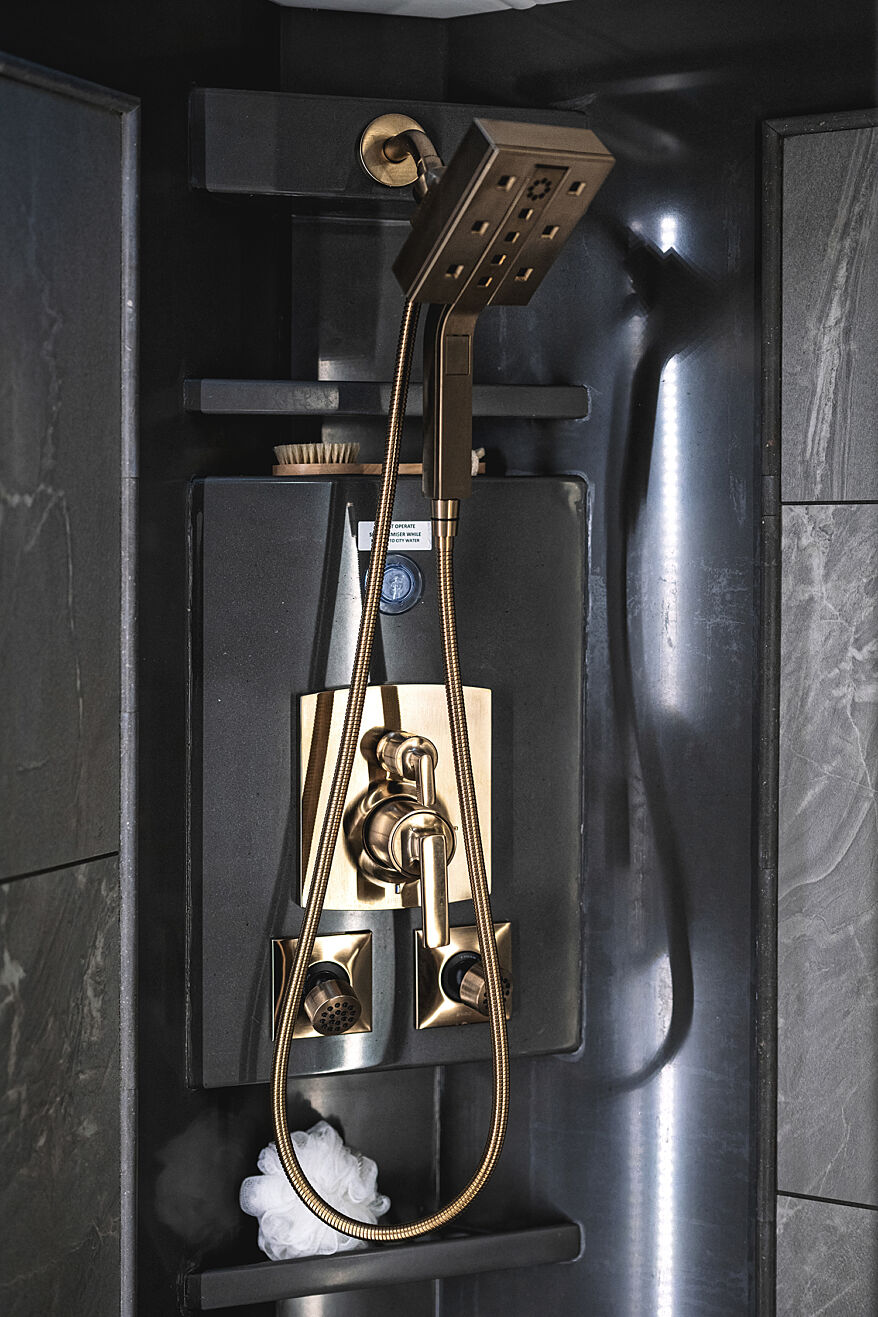 The exterior of the Zephyr is truly in a class of its own. With a remarkable selection of twelve distinct paint options, including the brand-new Cardinal and Voltage choices, you're destined to stand out as one of the most striking RVs on the open road. Step into a world where standard features take your RV experience to a whole new level. Imagine basking under the elegance of Girard® roof-mounted powered patio awnings, where integrated LED lighting creates a mesmerizing ambiance, and the dual pitch feature lets you tailor your outdoor space with ease. Access your favorite snacks from the conveniently located basement freezer, and enjoy the practicality of a powered storage compartment slide-out tray. Treat yourself to outdoor entertainment with an exterior TV complemented by a high-quality sound bar. These are the details that turn your RV into a stage for adventure and relaxation.
Additionally, you have the option to elevate your outdoor culinary adventures with an optional outdoor electric grill, perfect for Summer grilling and Fall tailgating!
The Zephyr's exterior is more than just a sight to behold; it's a testament to your travel lifestyle!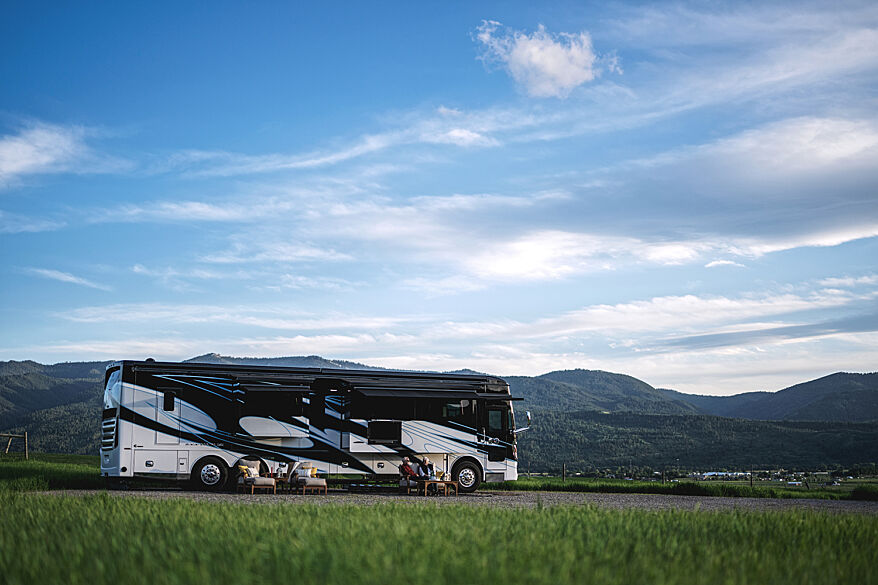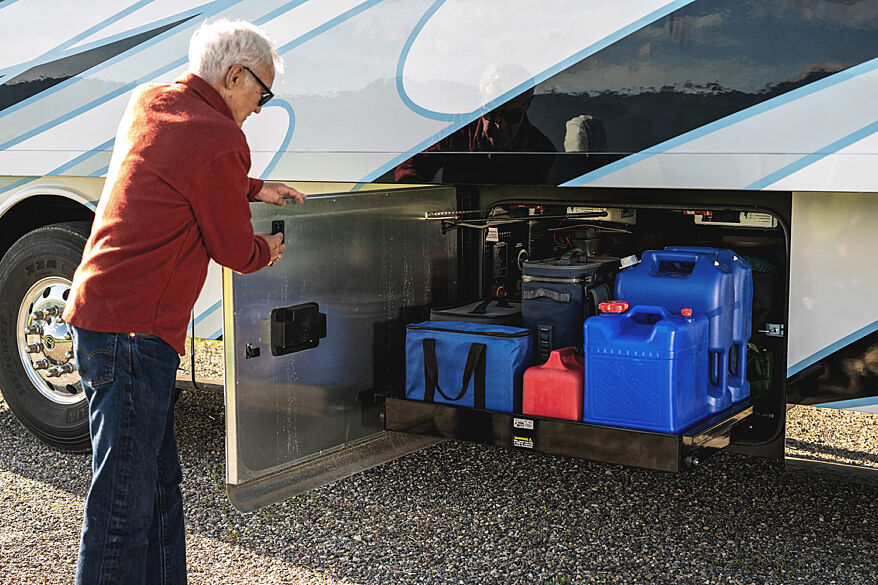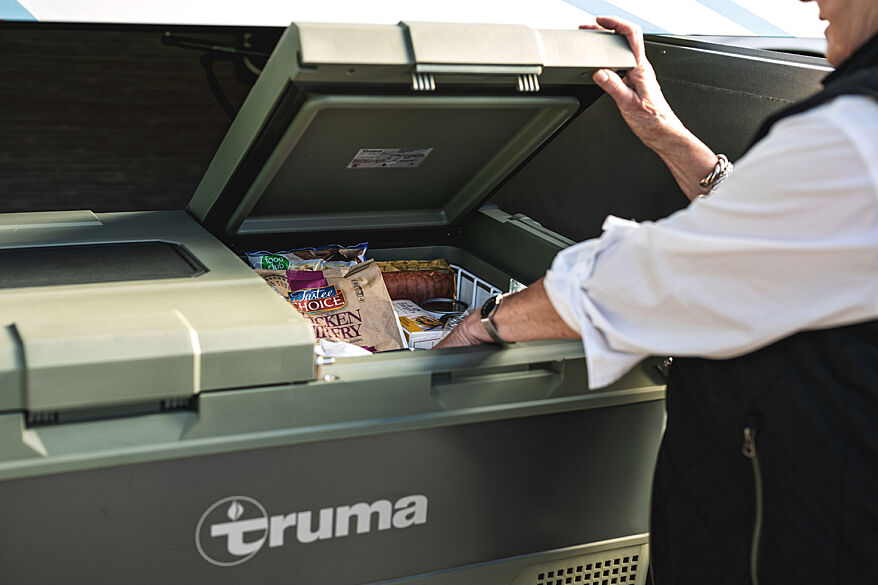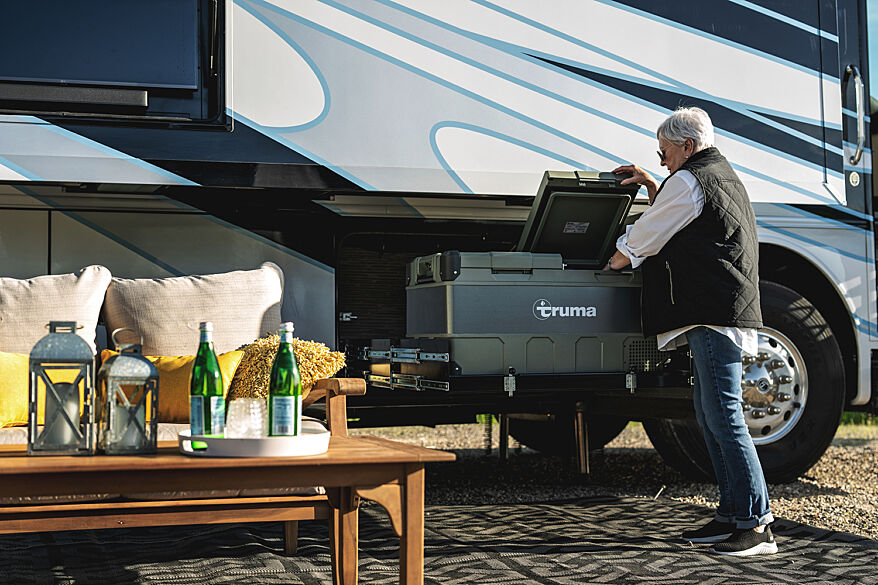 The Tiffin Factory Delivery Program
Imagine taking order of your 2024 Zephyr, and having the most knowledgable people walk you through every feature and function of your RV before driving it off the lot, ensuring you become an expert before you leave.
With the new Tiffin factory delivery program, an exclusive and dedicated team will prepare coaches for VIP delivery and will provide you with what we hope will be the best coach delivery experiences ever. Factory delivery is available as an option on ordered Tiffin Zephyr units.

Typical factory delivery takes 2-3 full days, not just a couple of hours. During your delivery appointment, you will get to walk through each and every operating system and compartment in your motorhome. Your walkthrough will be at your pace and with a Tiffin expert guiding you along the way. It is our goal that before you leave the factory, you will understand how your coach operates from top to bottom, and know the 'why' behind every feature and function.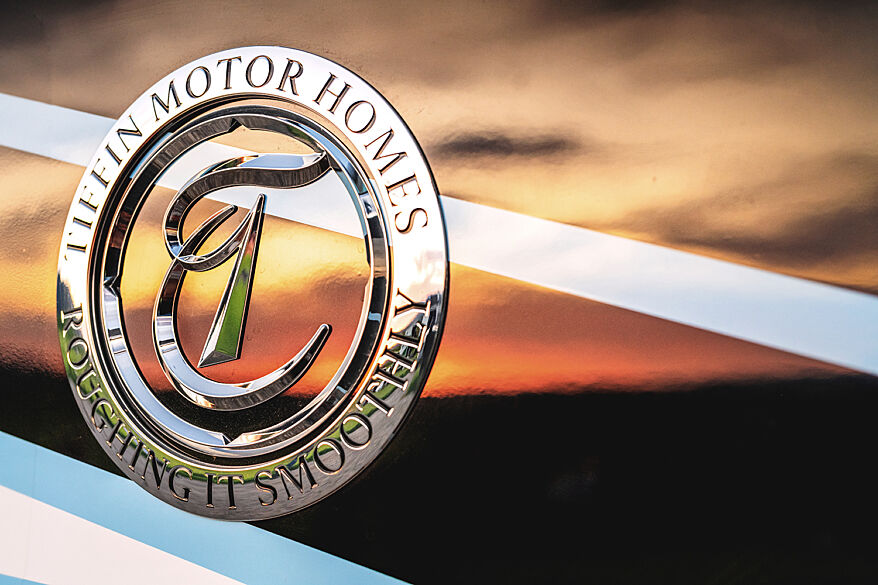 Take a virtual tour of the 2024 Zephyr 45 FZ floor plan. This floor plan features Sandstone stained cabinets, Haiku décor suite, Tatami Mat Ultraleather, and Gunmetal tile flooring.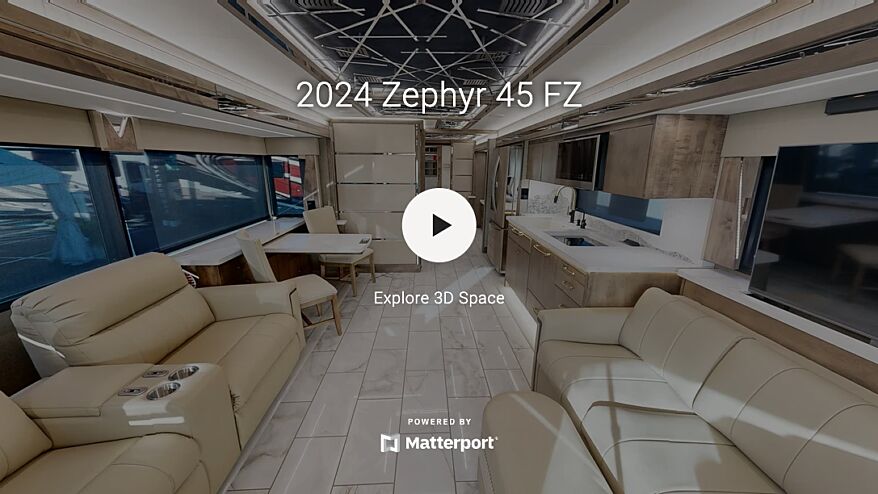 For more information about this coach and its features, visit the Zephyr model page on our website. For more information about the Factory Delivery Program, contact our Main Office at (256)356-8661, and ask to speak with Inside Sales.
BUILD YOUR OWN:
Where adventure meets personalization. Tailor your dream RV by selecting from a wide range of paint schemes, floor plans, interior décor packages, and add-on features, creating a personalized home on wheels that suits your unique travel style. With the Build Your Own option, embark on a journey that reflects your tastes and preferences, making every road trip and unforgettable experience tailored just for you!