2024 Wayfarer 25 LW Floor Plan Spotlight
Step into the 2024 Wayfarer, and you'll be greeted by an abundance of everything you've ever wanted in a Class C motorhome, complete with the luxurious style and top-notch amenities that Tiffin is famous for. It's not just a vehicle; it's a finely crafted experience, designed to meet your every need. With roomy interiors, top-of-the-line safety features, and impressive performance on the Mercedes-Benz® chassis, it's an easy standout choice.
The Wayfarer is all about embracing those spur-of-the-moment adventures and immersing yourself in the beauty of nature. What's even better is that all four floor plans are smartly designed to give you plenty of space for all your gear. So, while you're out enjoying the great outdoors, you won't have to leave behind the comforts of home!
At a Glance:
Wayfarer Model Features
In the table below, we've called out the Wayfarer's headlining features.
| Notable Floor Plan Features on the 2024 Wayfarer 25 LW | Standard or Optional |
| --- | --- |
| Mercedes-Benz® 3500XD Dual Wheel Cutaway Chassis | STD |
| Mercedes-Benz® 3.0-Liter V6 Turbo 188 HP Diesel Engine | STD |
| Active Lane Keeping Assist | STD |
| Spyder Controls Multiplex System | STD |
| Mercedes-Benz® Wireless Internet Access | STD |
| Girard® Side-mounted Powered Patio Awning with Integrated LED Lighting and Built-in Speakers | STD |
| Central Vacuum System | OPT |
| Swivel Bases for Driver and Passenger Seats | STD |
| Smartphone Integration For Apple Carplay® and Android™ Auto | STD |
| Front Overhead Bunk | STD |
Deep Dive:
25 LW Floor Plan
The 2024 Wayfarer offers you 4 custom floor plans, including the 25 LW. Let's take a look at a few features that our customers love!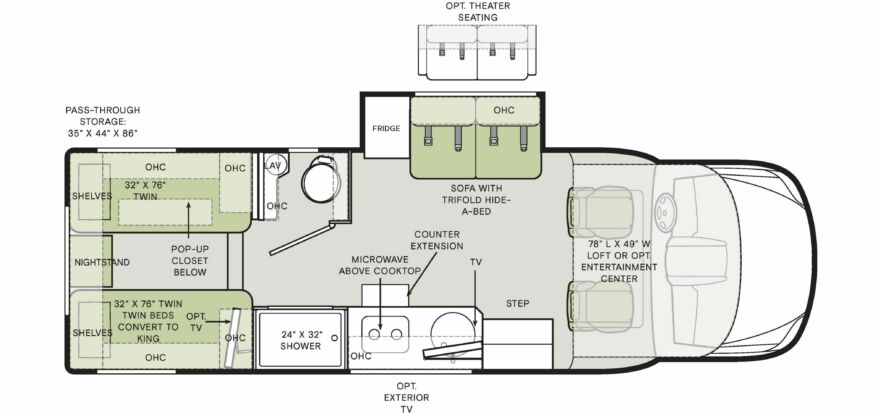 You'll immediately notice the generous and open layout that seamlessly connects the driver's cab to the cozy living room. Furthermore, in this specific model, you'll get a glimpse of the warm, Champagne décor option, just one of the two fantastic décor packages offered with the Wayfarer.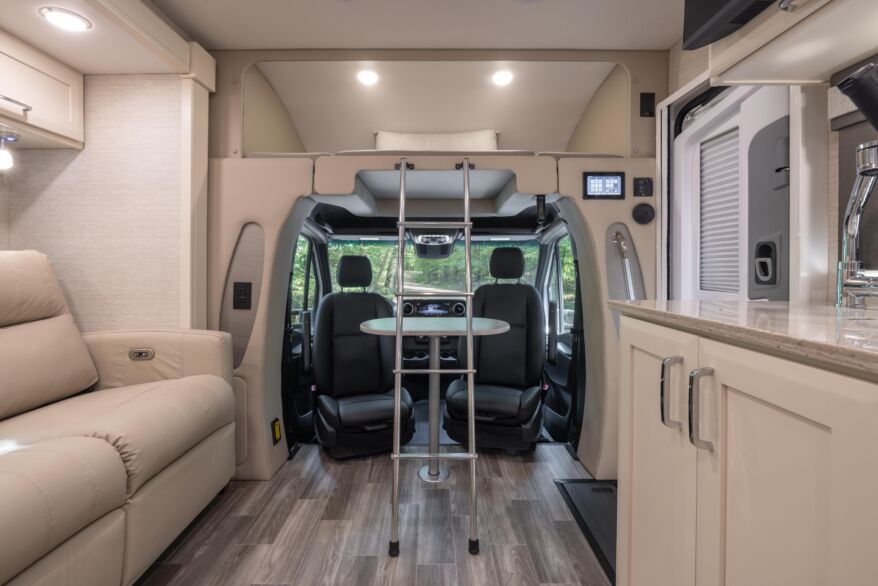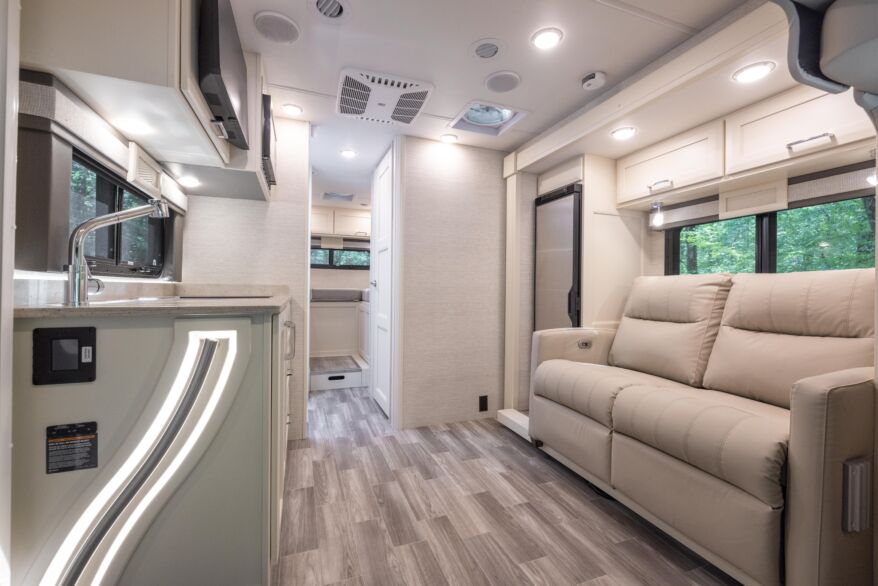 As you step inside the Wayfarer, you'll be welcomed into a space designed for your ultimate comfort and enjoyment. When you're not out exploring the great outdoors, the Wayfarer ensures that life indoors is just as delightful.
The 25 LW floor plan offers you a standard 52-inch tri-fold sofa bed, with the option to choose a 50-inch theater seating sofa. In this versatile space, the kitchen is equipped with top-notch stainless steel appliances, convenient galley overhead cabinets, a sliding countertop extension within a drawer, a refrigerator, and a cooktop. These thoughtful features are designed to elevate your many adventures and make life on the road more convenient and enjoyable.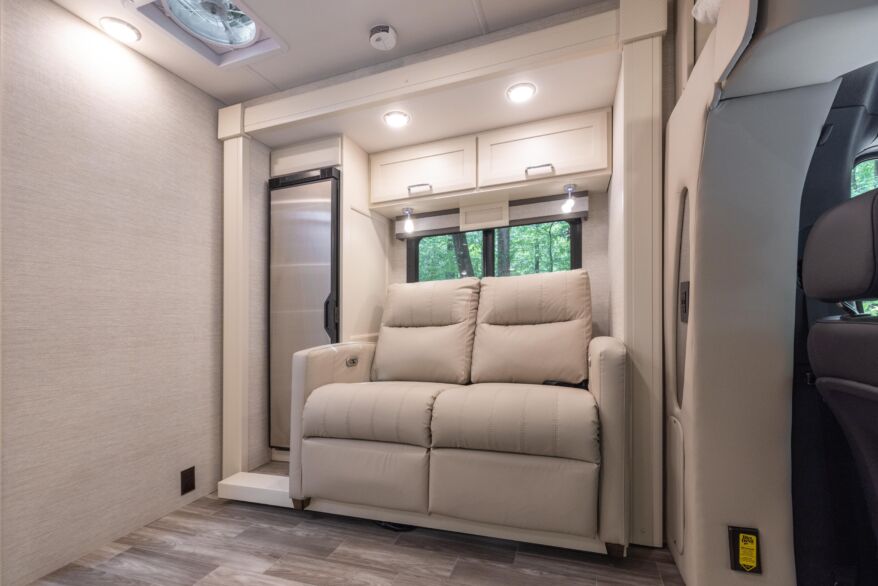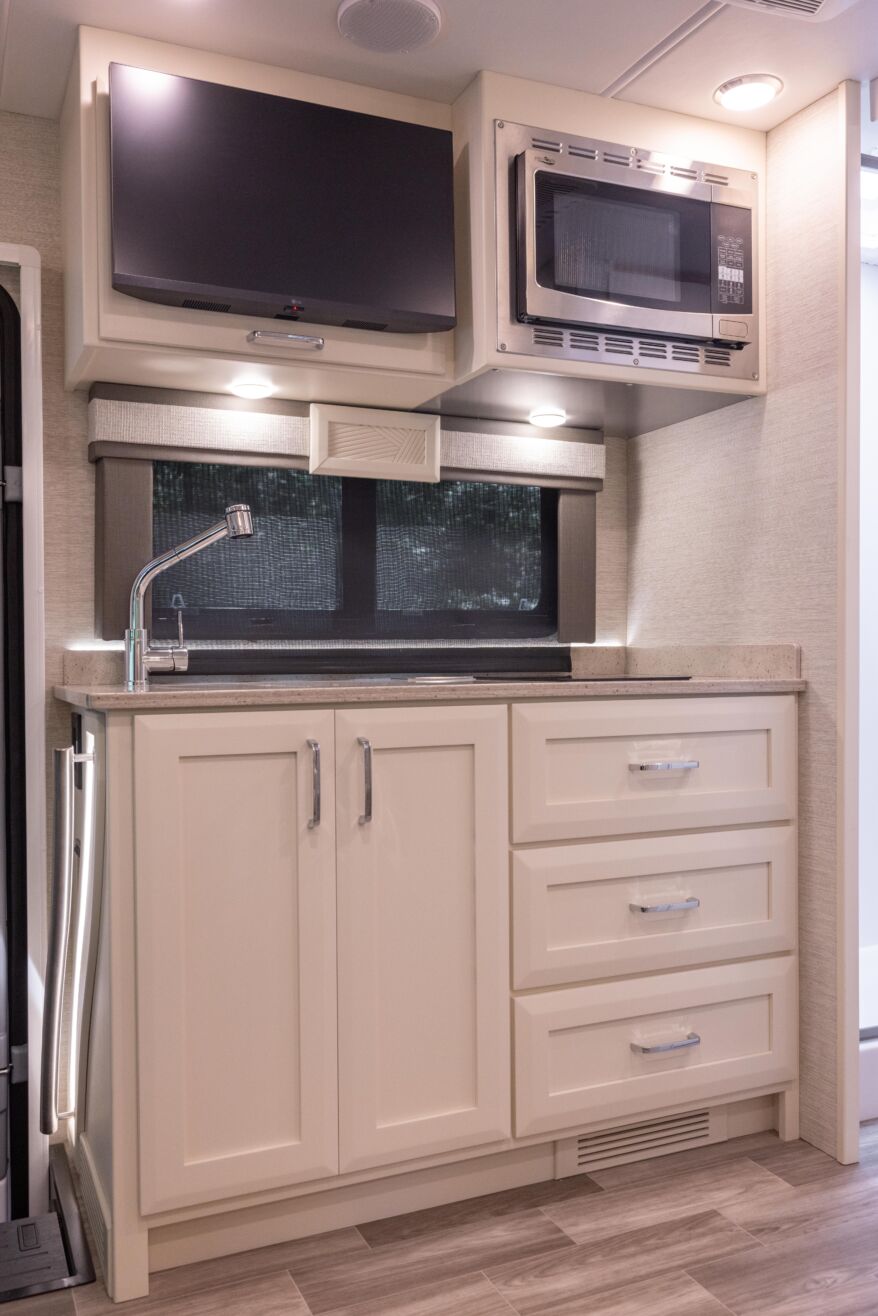 The bathroom provides a spacious 24-inch by 32-inch fiberglass shower, complete with a convenient handheld showerhead and a strategically placed shower skylight that infuses the space with natural light, giving it a more expansive feel. Additionally, it is equipped with an LED-lit mirror and base cabinets, creating a delightful and functional environment for your daily rituals.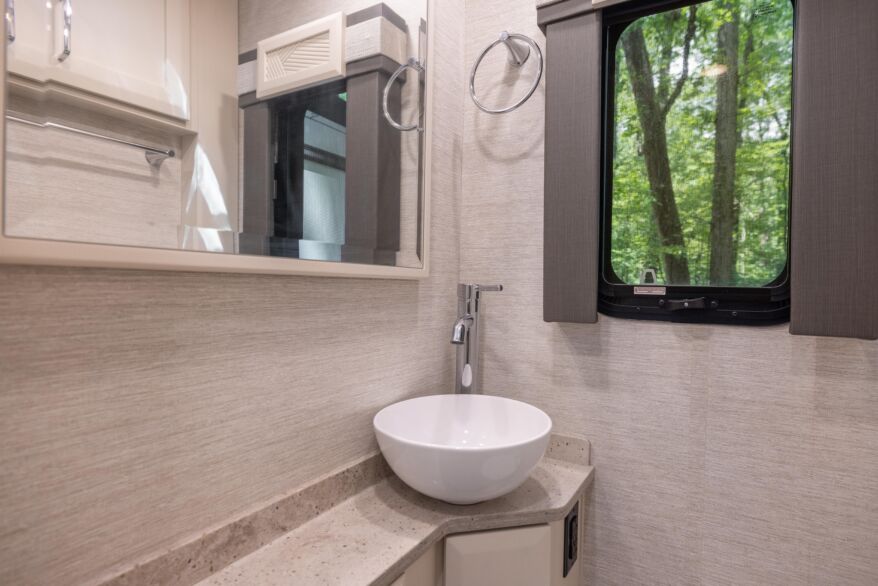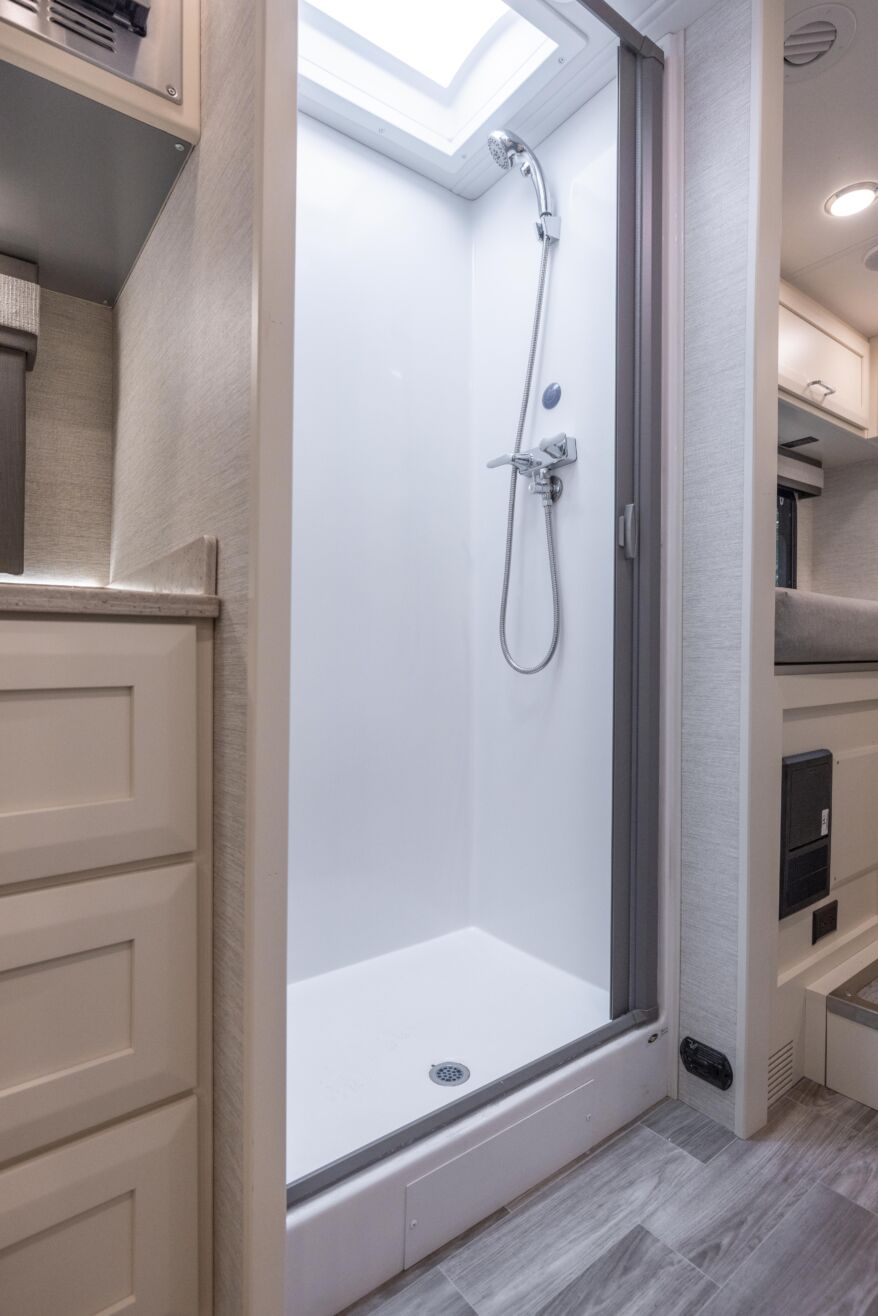 In the back, the bedroom is furnished with twin mattresses (each measuring 32" x 76"), which seamlessly combine to create a spacious king-sized bed (measuring 86" x 76") for a supremely comfortable and relaxing experience. It also boasts built-in LED reading lights, overhead cabinets, and a wall-mounted TV, making it a well-appointed and functional space for rest and relaxation. At the front of the coach, above the cab, is an overhead bunk that comes standard in the 25 LW floor plan with the option to add an overhead entertainment center. This floor plan will sleep anywhere from 2-4.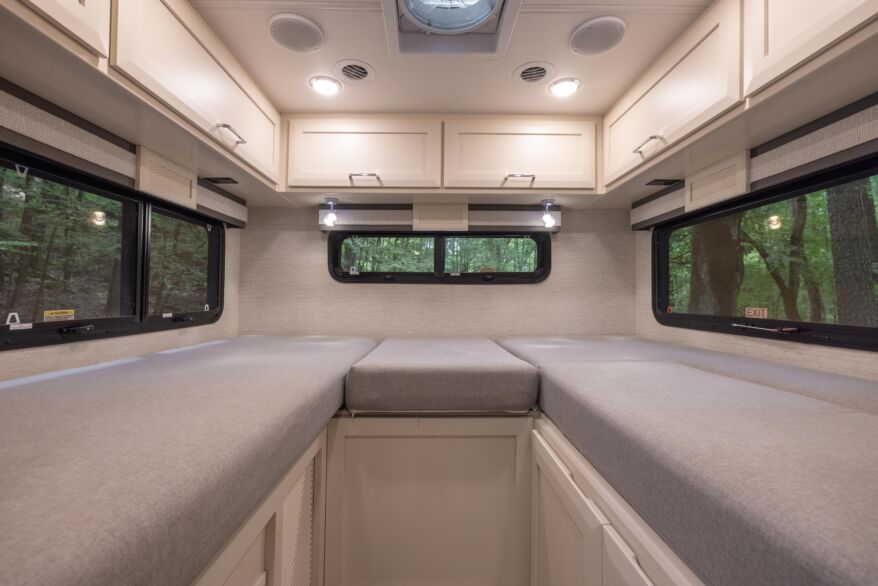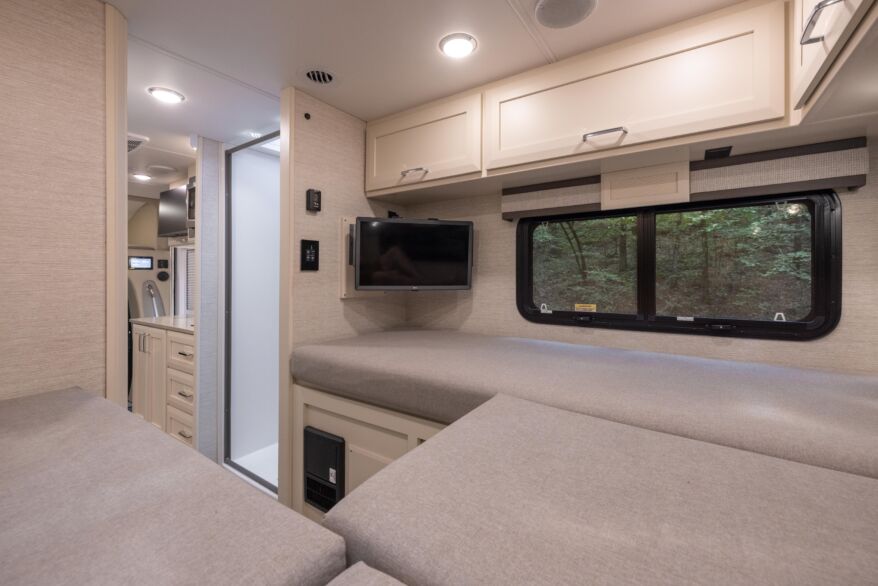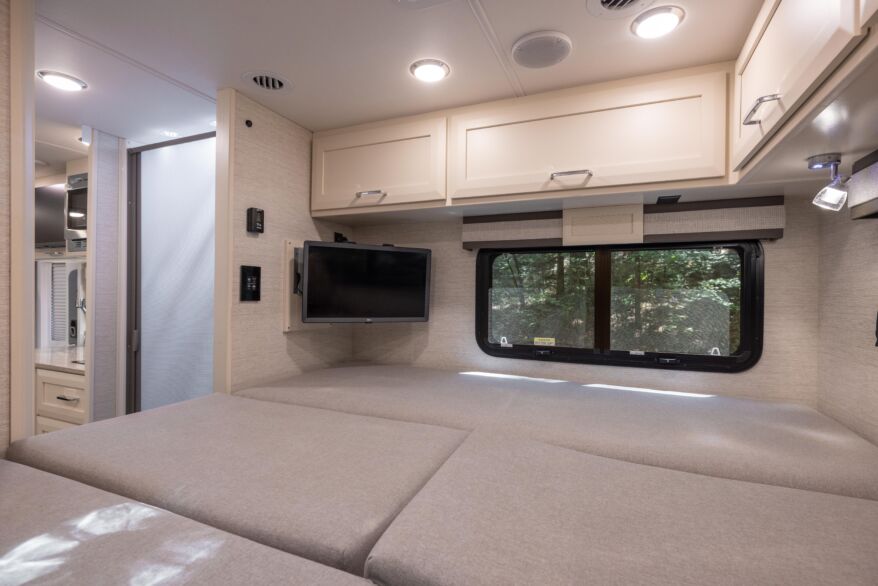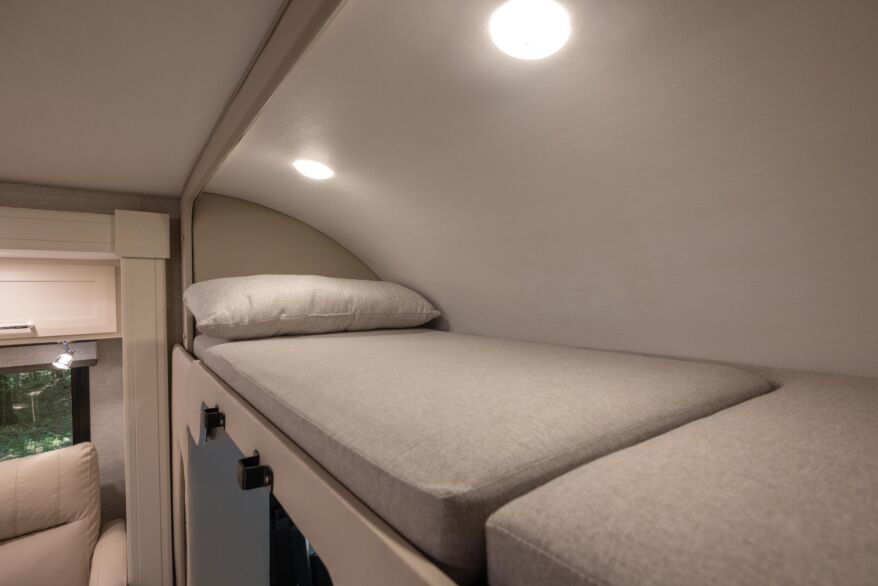 The exterior of the Wayfarer offers standard features like the Girard® side-mounted powered patio awning, complete with integrated LED lighting and built-in speakers. Additionally, you have the option to include an exterior TV, elevating your outdoor entertainment experience to a premium level. The Wayfarer also features flush-style tinted windows with a tip-out feature and provides four exterior paint color options, ensuring you'll catch everyone's eye wherever you travel.
Furthermore, this RV offers ample underneath storage with the added security of lockable handles, giving you peace of mind about the safety of your belongings while you're on the road.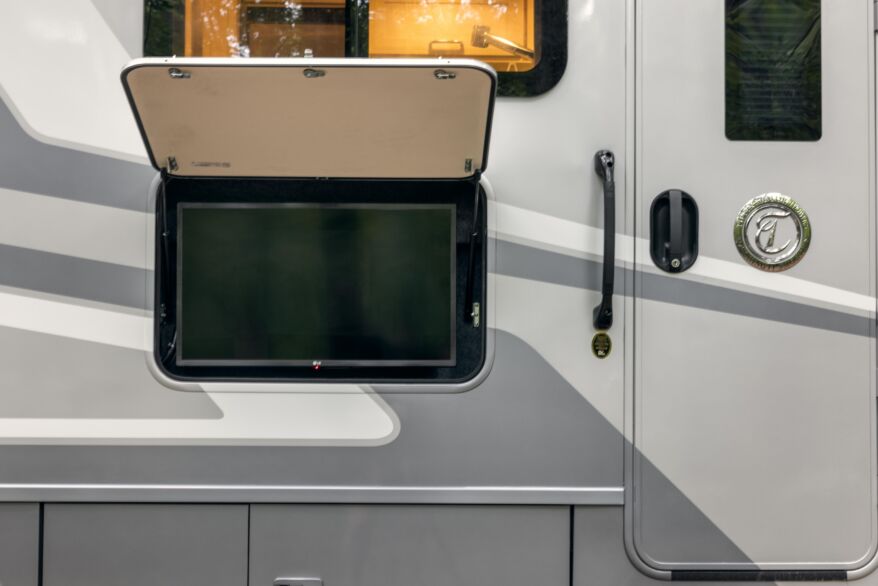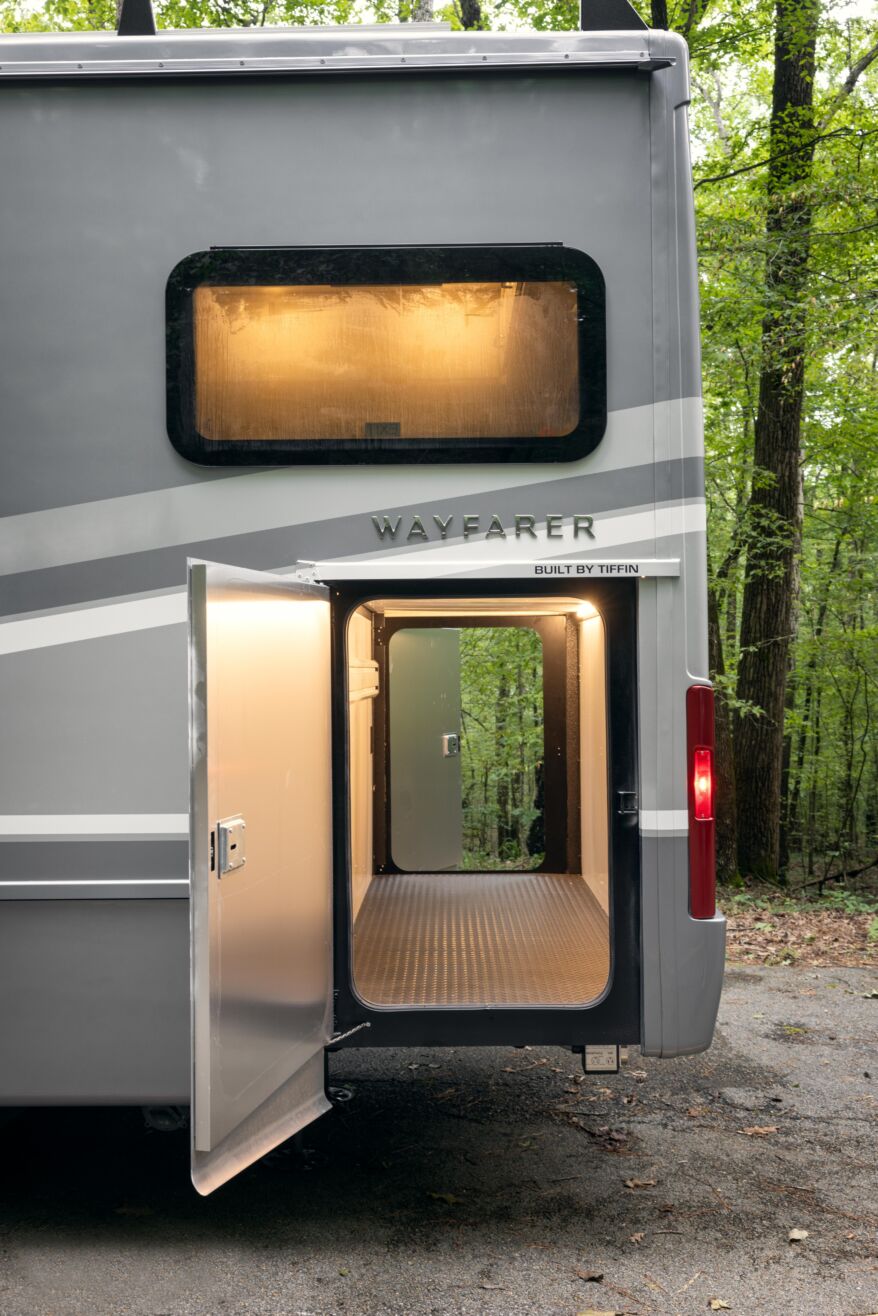 Take a virtual tour of the Wayfarer 25 LW floor plan. This floor plan features the Champagne décor suite, Etna Linen Leatherette on theater seating, and linen cabinets.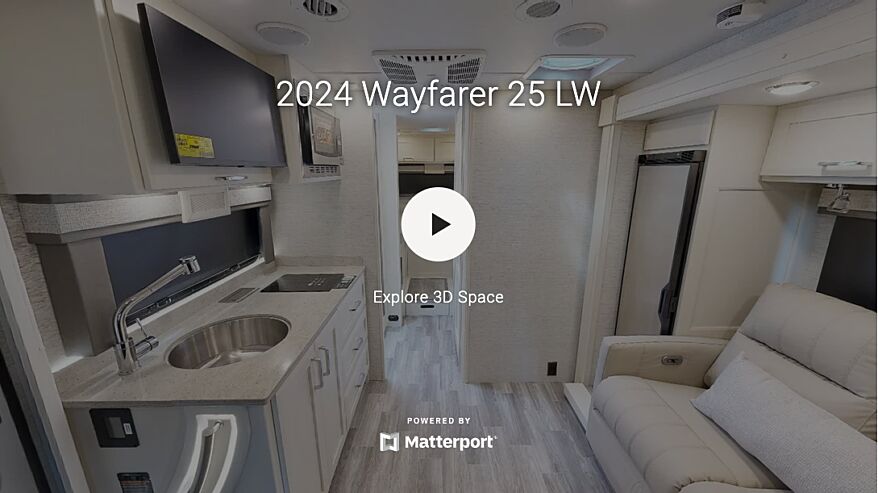 Looking to get in touch with nature or escape the daily hustle? The Tiffin Wayfarer is your ticket to those destinations! For more information about the 25 LW, its features, and other floor plans, visit the Wayfarer model page on our website.
BUILD YOUR OWN:
Where adventure meets personalization. Tailor your dream RV by selecting from a wide range of paint schemes, floor plans, interior décor packages, and add-on features, creating a personalized home on wheels that suits your unique travel style. With the Build Your Own option, embark on a journey that reflects your tastes and preferences, making every road trip and unforgettable experience tailored just for you!