2024 Phaeton 37 BH Floor Plan Spotlight
Introducing the 2024 Tiffin Phaeton—a true masterpiece on wheels. With an impressive selection of four distinct floor plans, three interior décor options, and a wide range of finishes and add-ons, the Phaeton offers the ultimate in customization, catering to every taste and lifestyle. A robust Cummins L9 450 HP engine now comes standard across all Phaeton floor plans, ensuring a powerful and efficient journey. Moreover, all four floor plans now feature a raised rail chassis, eliminating the step up to access the bathroom. For added convenience, you can opt for the power front bunk, extending over the cockpit area, providing a little extra sleeping space. Inside, you'll discover a world of luxuriance with new interior wood colors, captivating ceiling treatments, and decor that elevates Tiffin's best-selling diesel coach to unprecedented levels of luxury. And for those who crave connectivity on the road, there's the option for Starlink Pro Wi-Fi, granting you unlimited satellite internet access wherever your travels take you.
The 2024 Tiffin Phaeton is not just an RV; it's a sanctuary on wheels, tailored to exceed your expectations.
Features listed below are on model year 2024.
At a Glance:
Phaeton 37 BH Model Features
In the table below, we've called out the Phaeton's headlining features.
| Notable Floor Plan Feature on the MY24 Phaeton | Standard or Optional |
| --- | --- |
| Cummins® L9 450 HP Diesel Engine | STD |
| Allison® 3000 MH 6-speed Automatic Transmission | STD |
| Starlink® Pro | OPT |
| Girard® Manual Window Awning Package & Slide-Out Toppers | STD |
| Exterior TV with Soundbar | STD |
| Storage Compartment Within Entry Steps | STD |
| Side-view Cameras | STD |
| In-dash Navigation System | OPT |
| Recliner and Lift TV with Fireplace | OPT |
| Gravity Flush Toilet and Macerator Toilet | STD |
Deep Dive:
37 BH Floor Plan
The 2024 Phaeton offers four impressive floor plans, including the 37 BH. Embark with us on a journey to see all the glorious Phaeton has to offer!
Measuring 38 feet 2 inches in length, the 37 BH floor plan offers ample space for a comfortable life on the road. This floor plan provides a range of furniture choices, allowing you to customize your living space to your liking. You'll have various seating options in the living room area and a selection of dining table options to choose from, ensuring a tailored and enjoyable experience.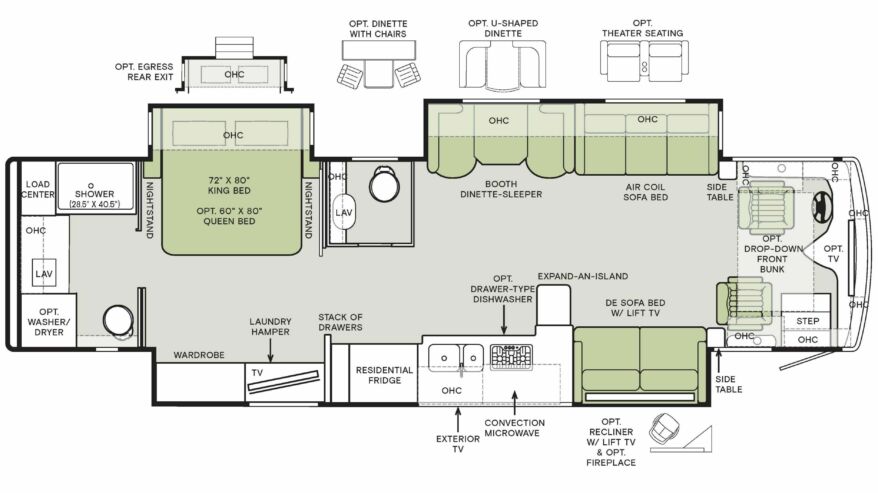 As you step inside the Phaeton, you'll immediately appreciate the generous expanse of seating and cabinetry, providing ample room for both socializing and storage. The specific Phaeton showcased here boasts the Stallion Décor Suite, just one of three exquisite décor suites available for all Phaeton floor plans. The cabinetry color shown is Shadow, while the luxurious Sweden Alps glazed porcelain tiles add a touch of warmth and comfort to your coach. To further enhance your environment, adjustable LED lights are included, allowing you to create the perfect ambiance to suit your preferences.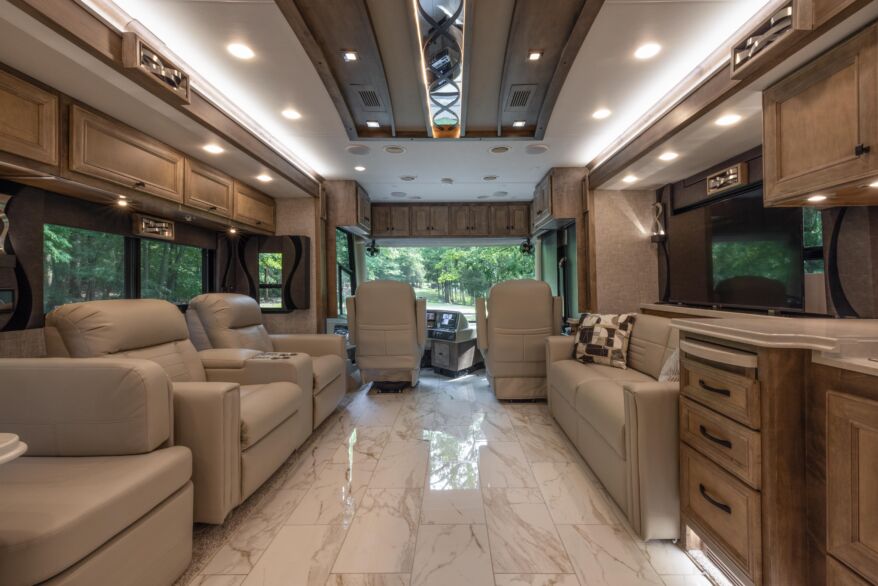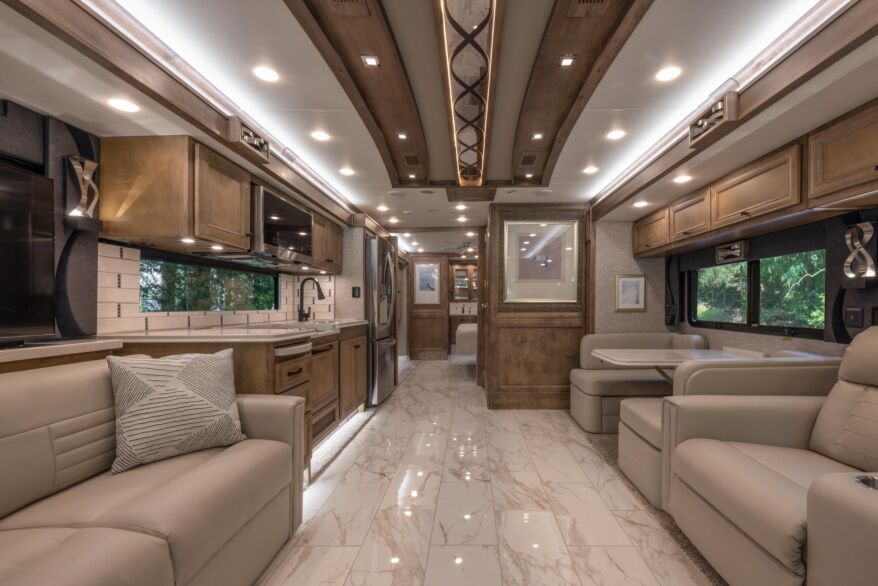 The living room and dinette area in this coach are truly a work of art. In the case of the 37 BH model, it offers a standard 75" booth dinette-sleeper that's not only functional but also spacious enough for various activities, whether it's sitting down for a meal, working at a desk, or transforming it into an additional sleeping space by adding the back pillows.
On the driver's side, you'll find a standard 74" air coil sofa bed, but you have the option to choose a 74" theater seating arrangement, as showcased below. Meanwhile, on the passenger side, the standard configuration is a 64" DE sofa bed paired with a lift TV, as featured. These choices ensure that your indoor experience is not only enjoyable but also versatile, offering the perfect setting for gatherings and relaxation.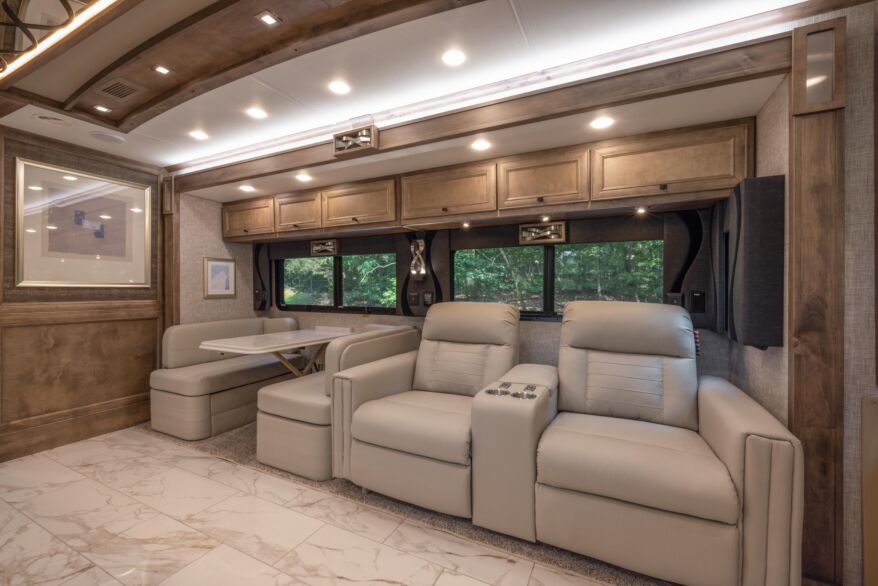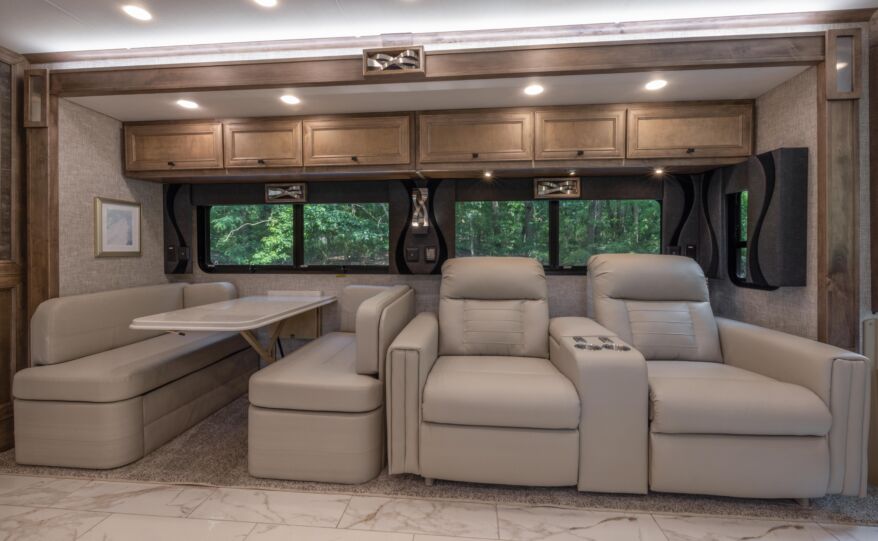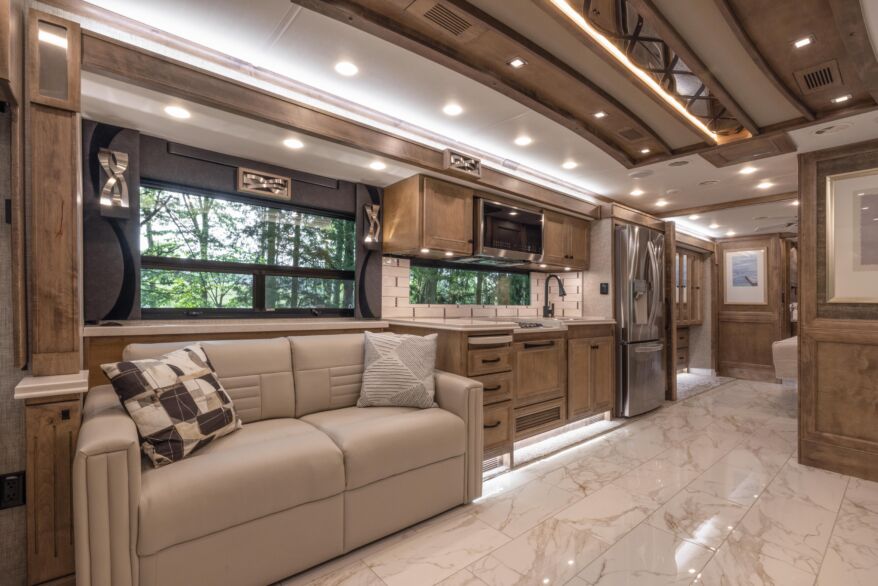 As you step into the kitchen, you'll immediately sense the meticulous attention given to creating a welcoming and functional space. The clever combination of task lighting and toe kick lighting wraps the area in a warm glow, ensuring you have the necessary visibility for both safe and enjoyable food preparation, allowing you to effortlessly tackle all your culinary tasks.
Within the 37 BH model, you'll discover a range of thoughtful standard features designed to make this kitchen a hub for everyday living. The manual release expand-an-island provides extra counter space, making it an inviting spot for gathering and cooking. You also have the option to include a convenient drawer-style dishwasher with your gleaming stainless steel appliances. The galley overhead cabinets and pull-out drawers offer ample storage, while the double-bowl kitchen sink and pantry enhance functionality. This kitchen is meticulously designed with your comfort and convenience in mind, creating a space where cooking becomes a delightful experience.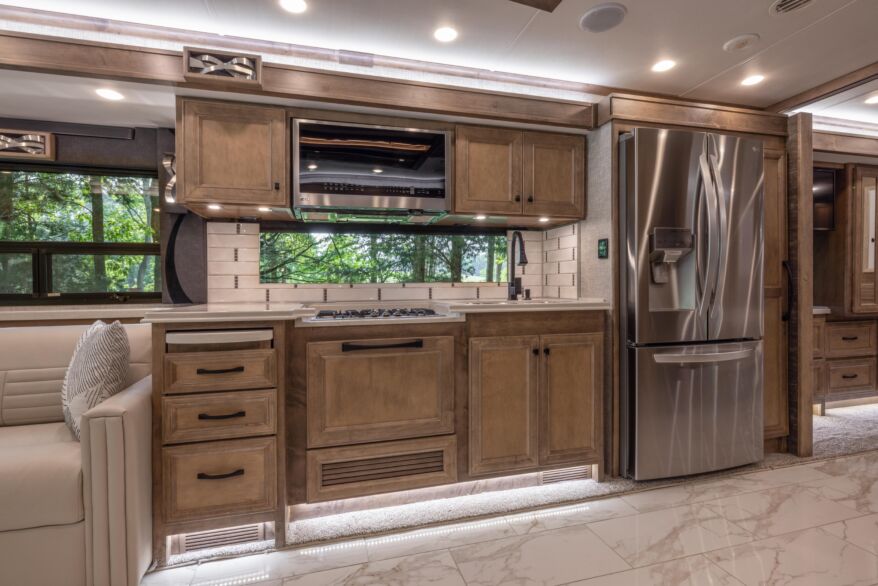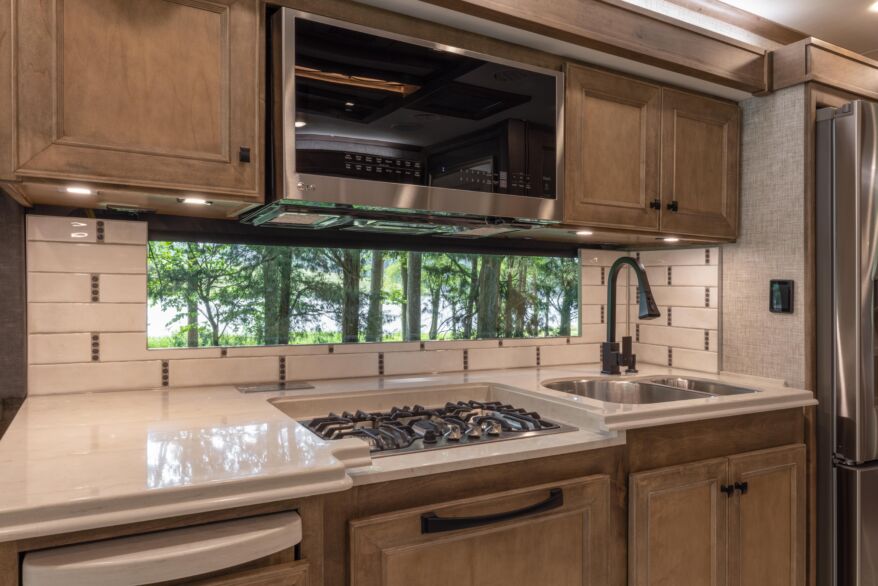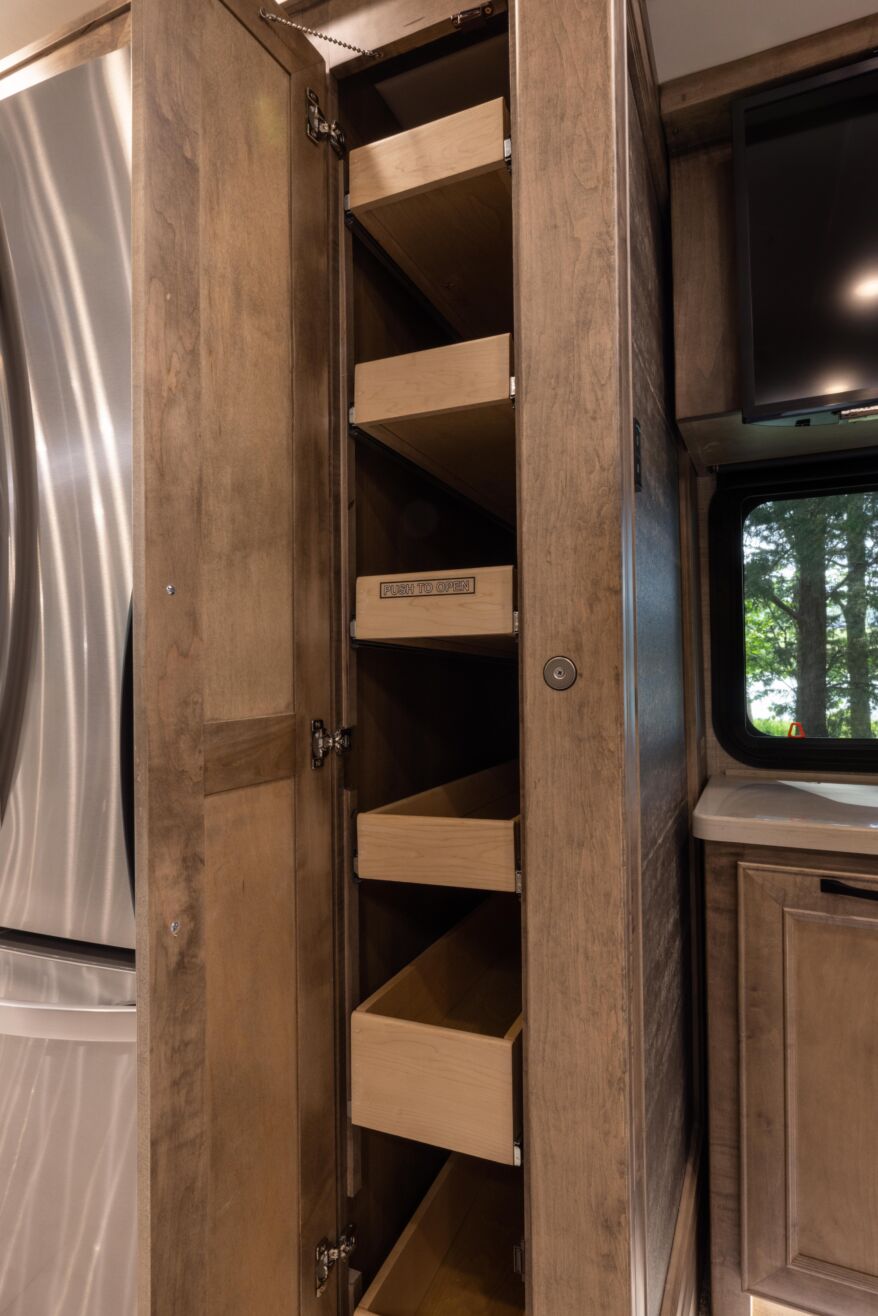 The Phaeton 37 BH floor plan features a bath and a half. The half bath is located between the living/kitchen area and the bedroom.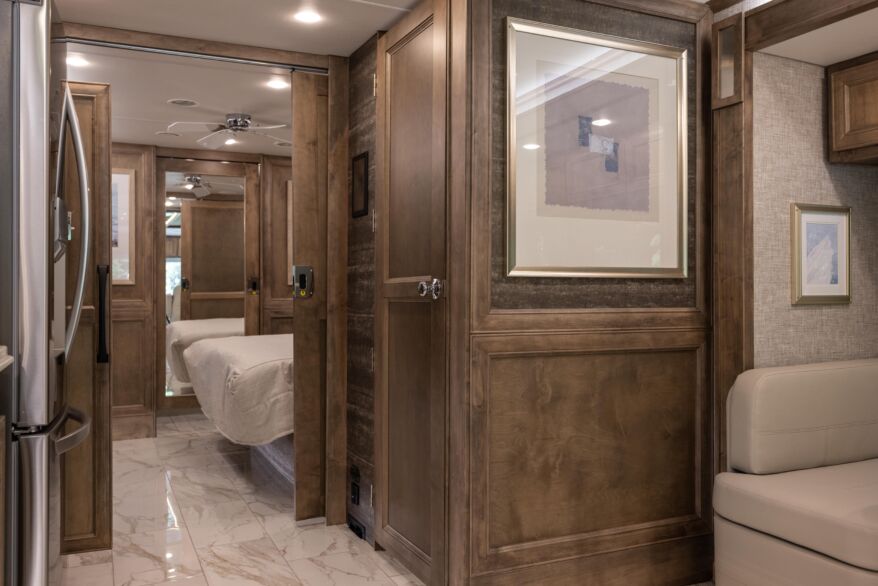 As you enter the bedroom, you'll step into a sanctuary of relaxation. In the 37 BH model, you'll discover a standard memory foam king mattress (72" x 80") that guarantees a rejuvenating night's sleep, with the option for a queen-size mattress if preferred. This room offers abundant cabinetry to neatly organize all your belongings and wardrobe, featuring overhead cabinets, under-bed storage, a centralized entertainment center, and the thoughtful addition of a built-in laundry hamper. It's a space thoughtfully crafted to ensure your comfort and convenience, creating an environment where your master bedroom truly becomes a place to live in and enjoy.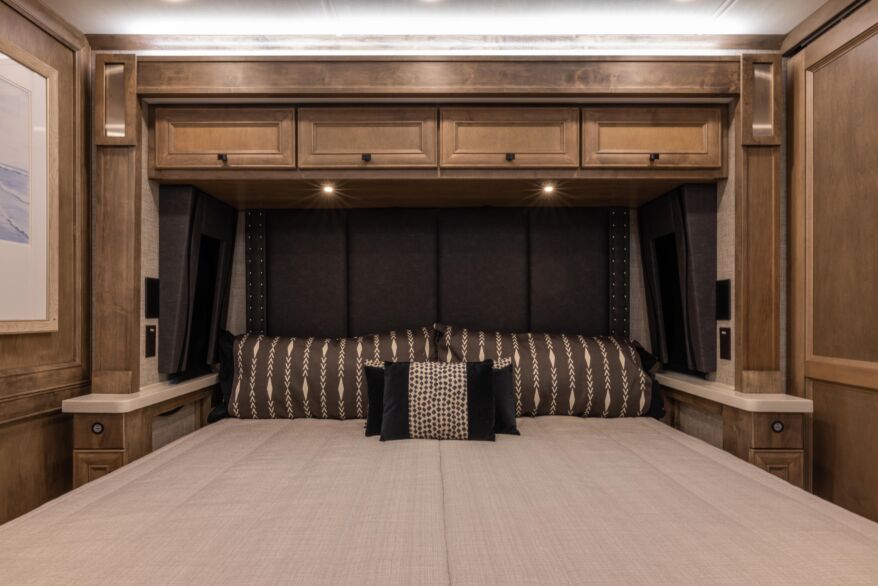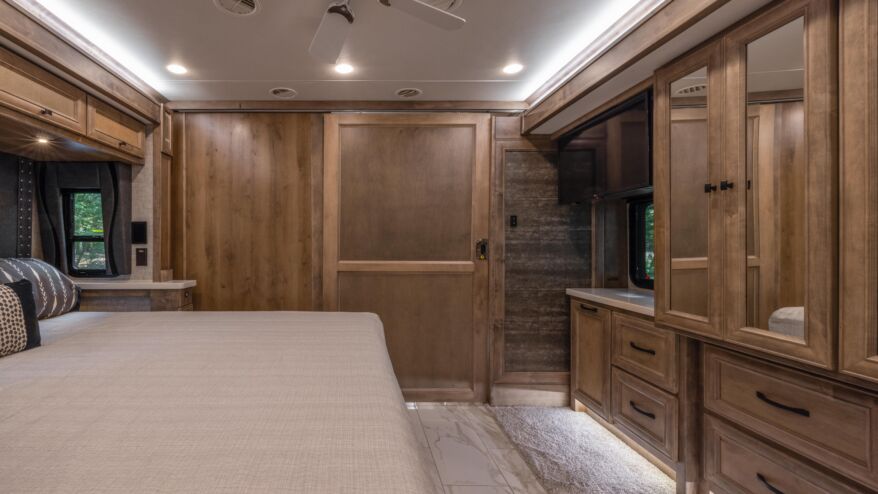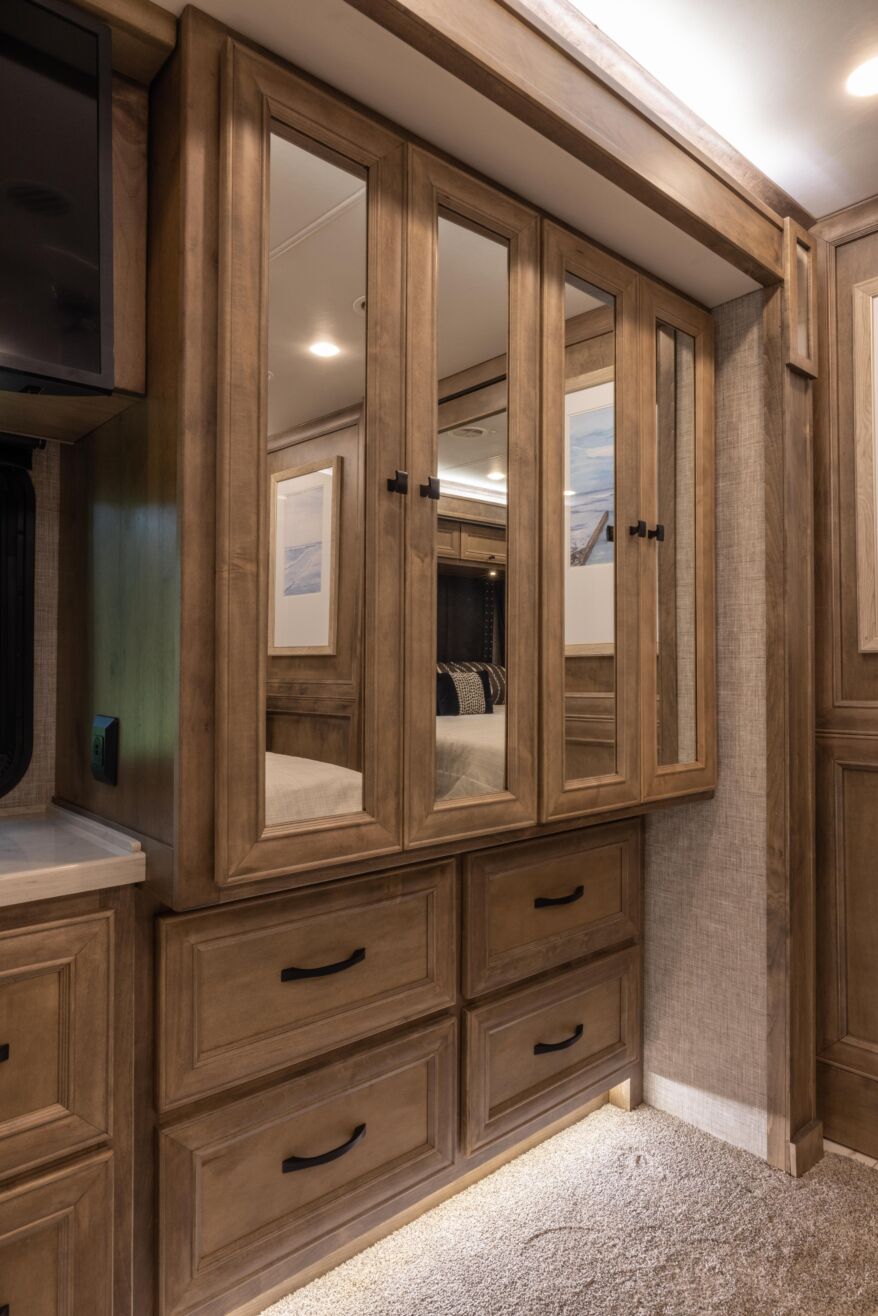 As you step into the bathroom, you'll find a thoughtfully designed space that combines functionality with comfort. It's equipped with a mirrored medicine cabinet, a vanity with a porcelain sink and base cabinets to keep all your toiletries organized. The generously sized fiberglass shower comes with a shower skylight, adding a touch of natural light to the space.
In the 37 BH model, you can include an optional washer and dryer, making this bathroom not only inviting but also highly functional. It's a master bathroom designed to meet all your practical needs while maintaining a welcoming atmosphere.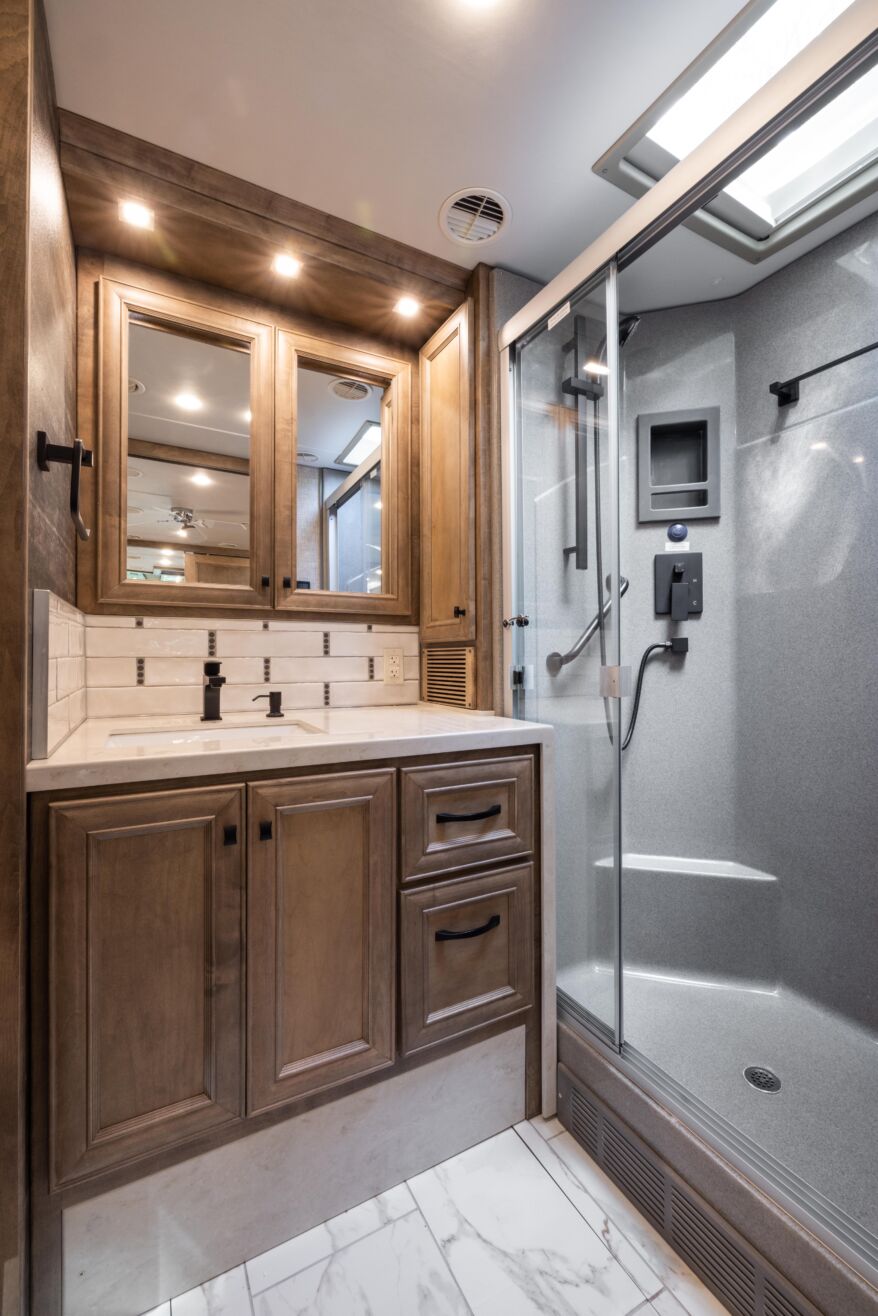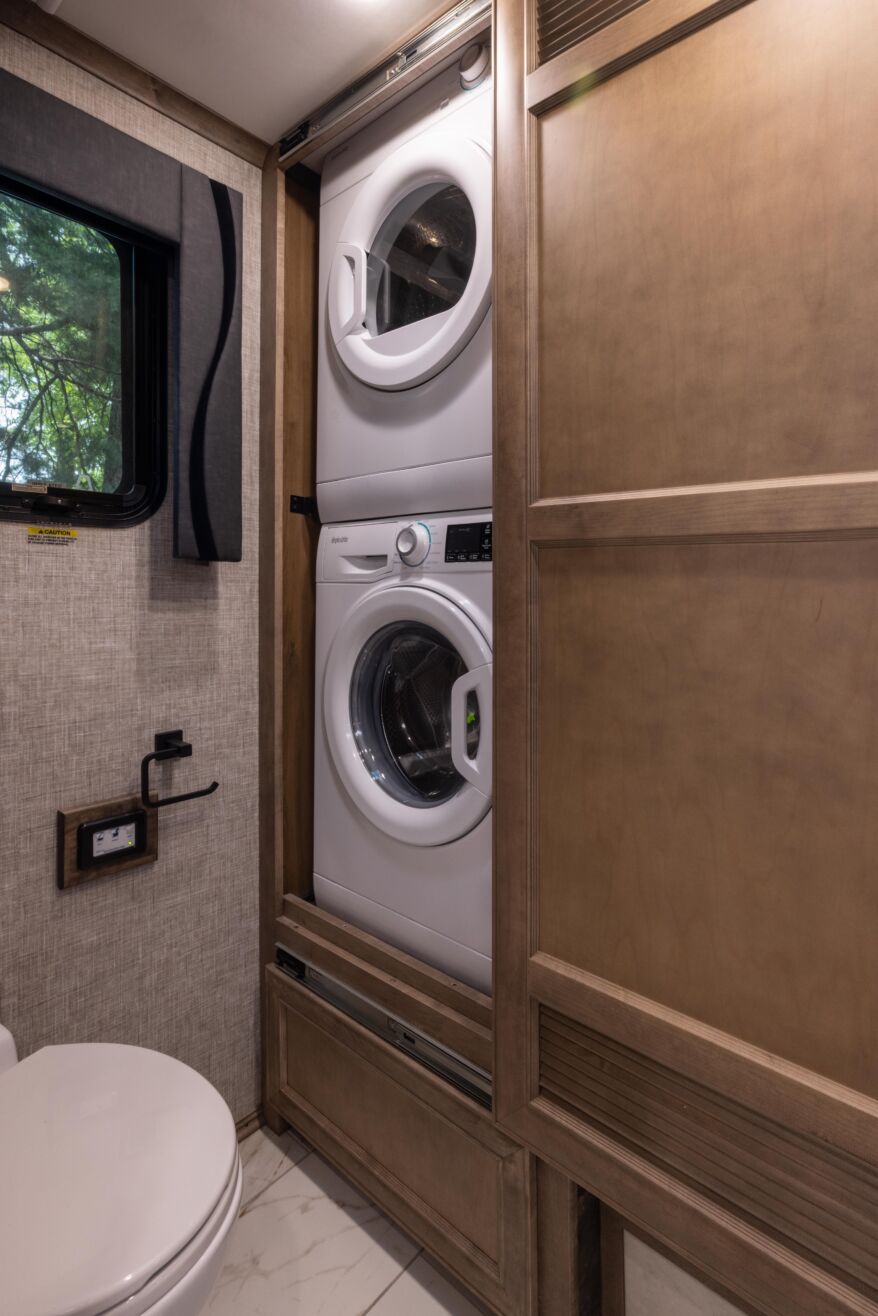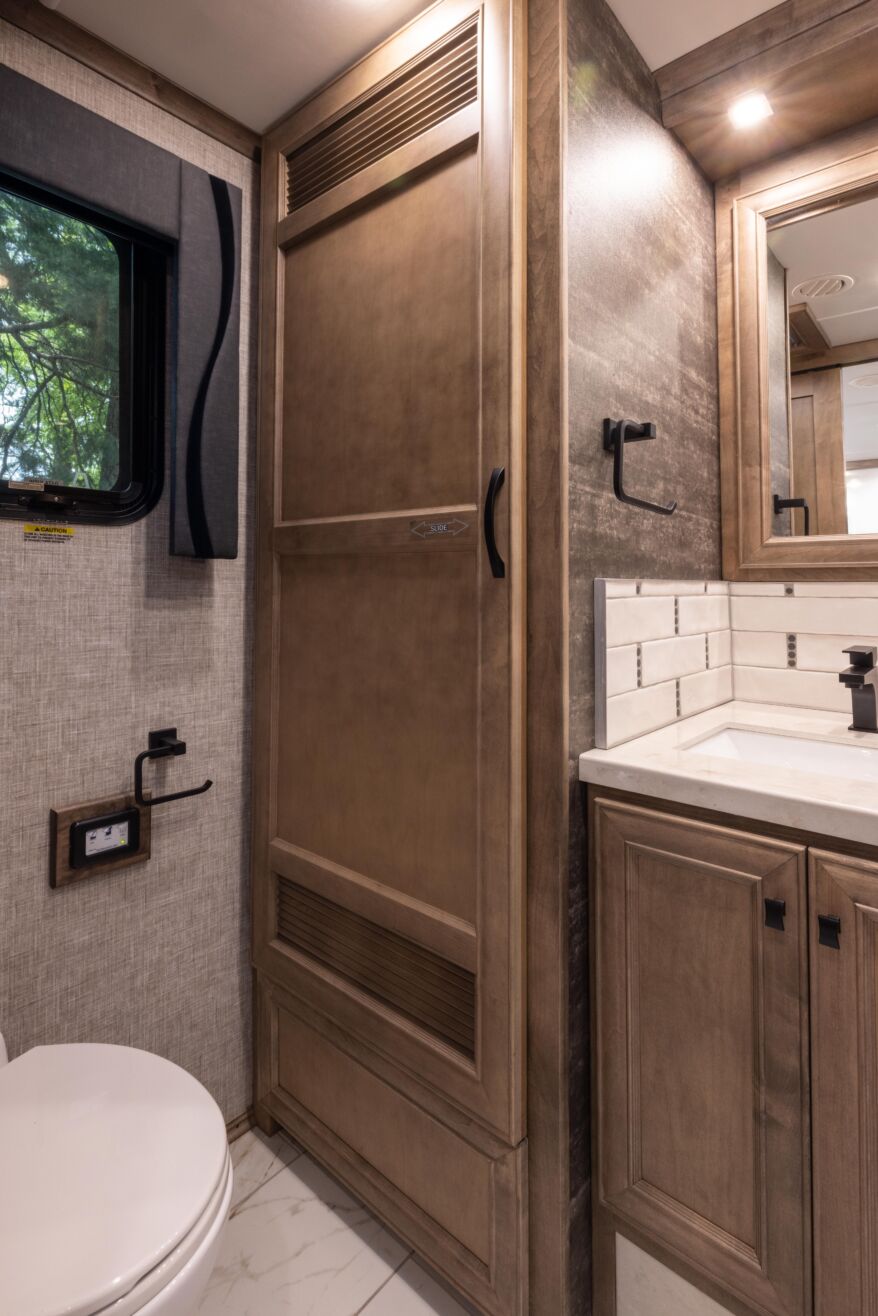 The exterior of the Phaeton is a perfect match for its interior allure. Offering a choice of 15 distinct exterior paint options, this Class A is tailored to your personal preferences. In the case of the 37 BH model, you'll find standard features that include a Girard® side-mounted powered patio awning complete with integrated LED lighting, an exterior TV accompanied by a soundbar, as well as fast-charging USB ports thoughtfully placed within the exterior TV compartment. These amenities are designed to elevate your outdoor entertainment and enjoyment to the highest level.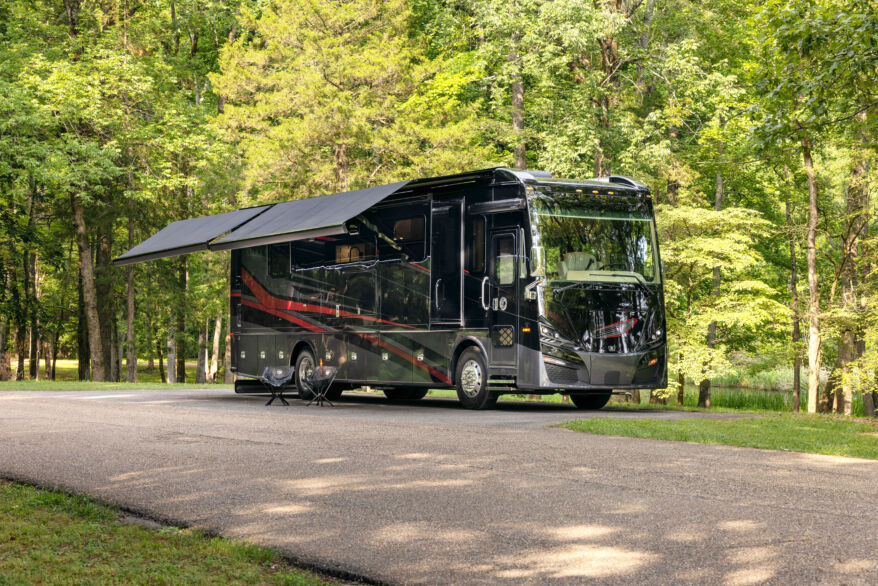 Take a virtual tour of the Phaeton 37 BH floor plan. This floor plan features the Stallion décor suite, Rice Paper Ultraleather, Sandstone stained cabinets, and Sweden Alps flooring.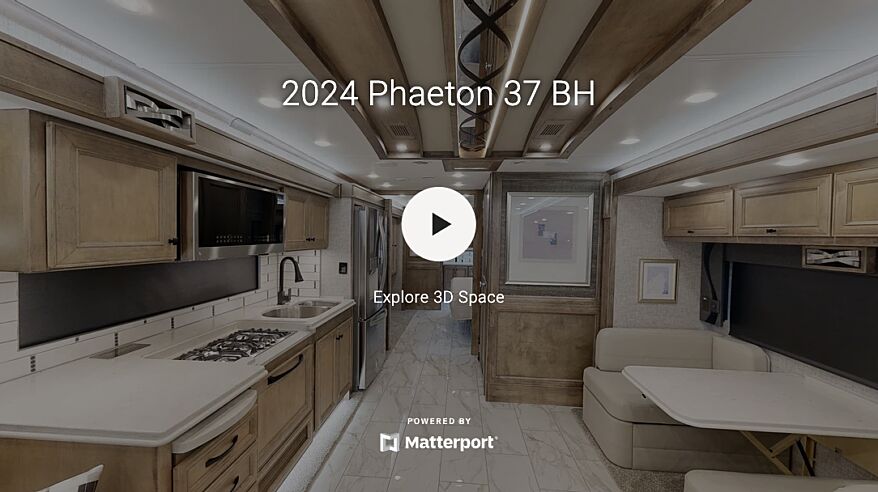 For more information about this coach, its features, or its floor plan, visit the Phaeton model page on our website.
BUILD YOUR OWN:
Where adventure meets personalization. Tailor your dream RV by selecting from a wide range of paint schemes, floor plans, interior décor packages, and add-on features, creating a personalized home on wheels that suits your unique travel style. With the Build Your Own option, embark on a journey that reflects your tastes and preferences, making every road trip and unforgettable experience tailored just for you!