2024 Allegro Bus 40 IP Floor Plan Spotlight
Welcome to the 2024 Tiffin Allegro Bus, where luxury meets the road. This beauty rolls on the regal PowerGlide Chassis, giving you a smooth and stable ride that feels like gliding on a cloud. Safety is a top priority, and this coach has you covered with top-notch features to keep you protected on your journey. But it's not just about mechanics; we're diving into the world of high-tech marvels here. Every floor plan comes with the game-changing Eclipse module, giving you control over most of your coach's systems from your smartphone. Imagine controlling your lighting, climate, and more from the comfort of your seat – pure luxury! And then there's the Starlink Pro Wi-Fi, your lifeline to the digital realm. With unlimited satellite internet access, you'll stay connected no matter where your travels take you. Work or play, you'll have seamless connectivity while surrounded by luxury. Step inside, and you'll find a world of artistry waiting for you. Hand-crafted cabinet colors that could rival masterpieces set the tone. Heated porcelain tile floors welcome you with warmth, both literally and figuratively. The interior is a blend of elegance and extravagance, capturing the essence of Tiffin's legacy.
In the 2024 Tiffin Allegro Bus, you're not just traveling; you're embarking on a journey through luxury, innovation, and capability. This isn't just a coach; it's a reflection of your refined taste and an adventure into pure opulence.

Features listed below are on model year 2024.

At a Glance:
Allegro Bus 40 IP Model Features
In the table below, we've called out the Bus's headlining features.

| Notable Floor Plan Feature on the MY24 Bus | Standard or Optional |
| --- | --- |
| Cummins® L9 450 HP Diesel Engine with 1,250 lb-ft Torque | Standard |
| 450 HP Diesel Engine | Standard |
| Starlink® Pro Wi-fi | Optional |
| Girard® Roof-mounted Powered Patio Awning with Integrated LED Lighting and Dual Pitch Feature | Standard |
| Driver Console Stationary Mount Phone Charger | Standard |
| Electronic Release Expand-An-Island | Standard |
| Front and Rear Disc Breaks | Standard |
| Firefly Integrations Eclipse Module | Standard |
| Powered Storage Compartment Slide-out Trays | Optional |
| InSinkErator® Instand Hot Water Faucet | Optional |
Deep Dive:
40 IP Floor Plan
The 2024 Bus offers four impressive floor plans, including the 40 IP. Join us as we explore the continuous evolution of the Allegro Bus!
Measuring a generous 40 feet in length, the 40 IP floor plan offers ample space for a comfortable life on the road. This floor plan provides a range of furniture choices, allowing you to customize your living space to your liking. You'll have various seating options in the living room area and a selection of dining table options to choose from, ensuring a tailored and enjoyable experience.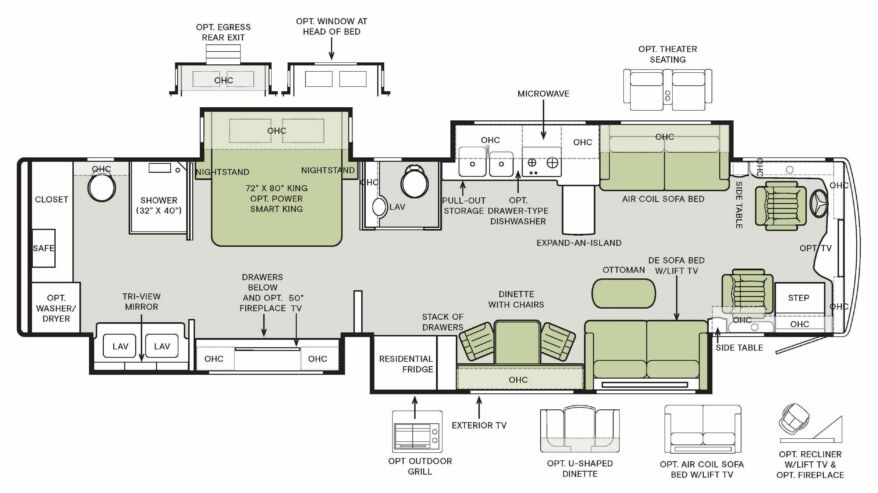 Below, you'll notice the additional storage space situated above the driver's cab. This handcrafted cabinetry is showcased in the striking Glazed Honey Natural Cherry finish option, this is one of six of our cabinetry color options. Throughout the entire Bus, you'll find cabinetry seamlessly integrated to offer comprehensive storage solutions, ensuring that your storage needs are met from every angle. This Bus also features the Catalina Maple glazed porcelain tile, one of our two tile options.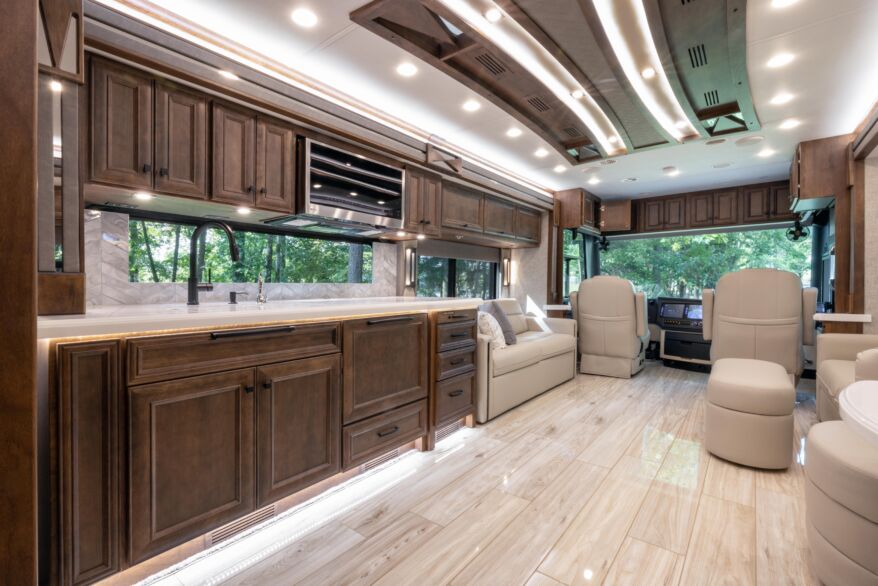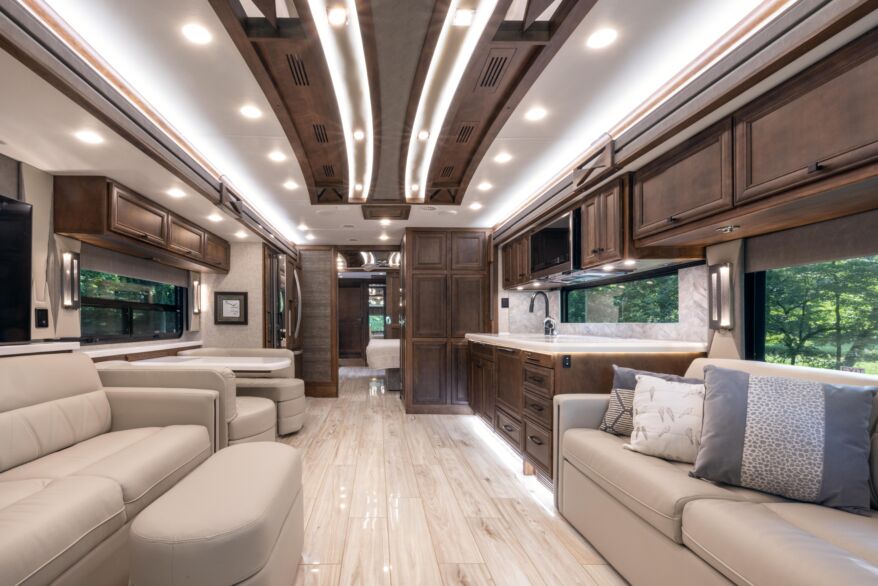 The 40 IP floor plan comes equipped with the standard 74" Air Coil Sofa Bed; however, you have the flexibility to select from alternative options. With choices of Ultrafabrics® upholstery in either Tottori Rice Paper or Tottori Tatami Mat, allowing you to tailor your seating experience to your preferences.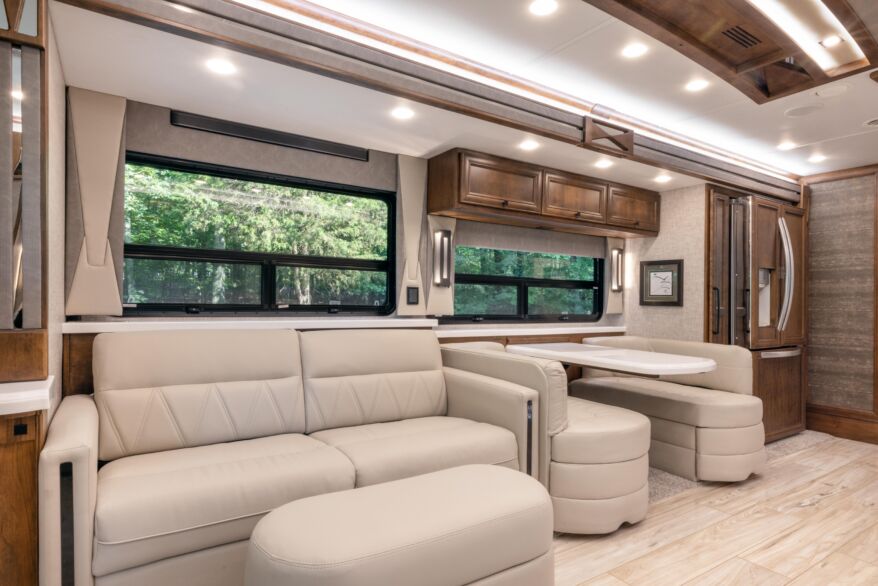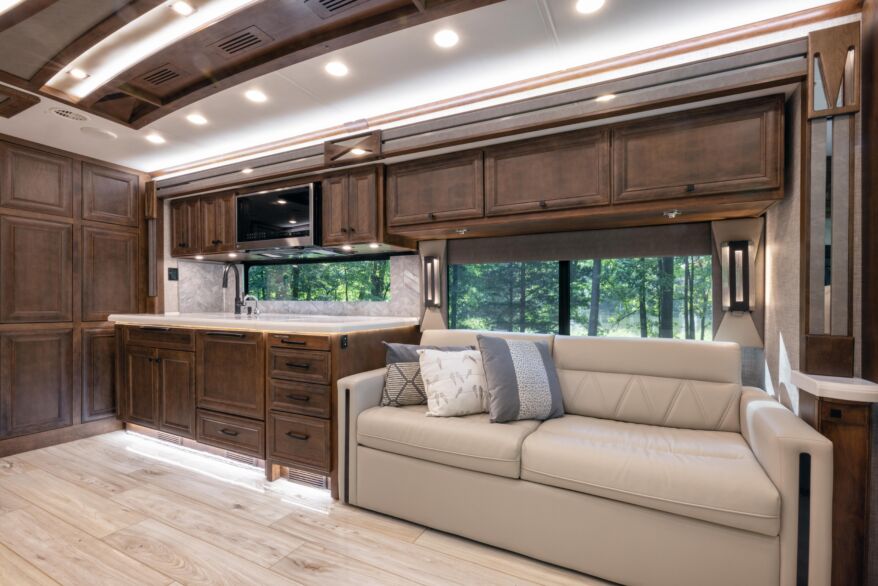 In this 40 IP floor plan, featured below is optional 75" U-shaped dinette. This provides an abundance of room not only for dining but also for creating a comfortable work-from-home office space, giving you the flexibility you need for a versatile living experience. However, we also offer the standard option of the 75" dinette with chairs.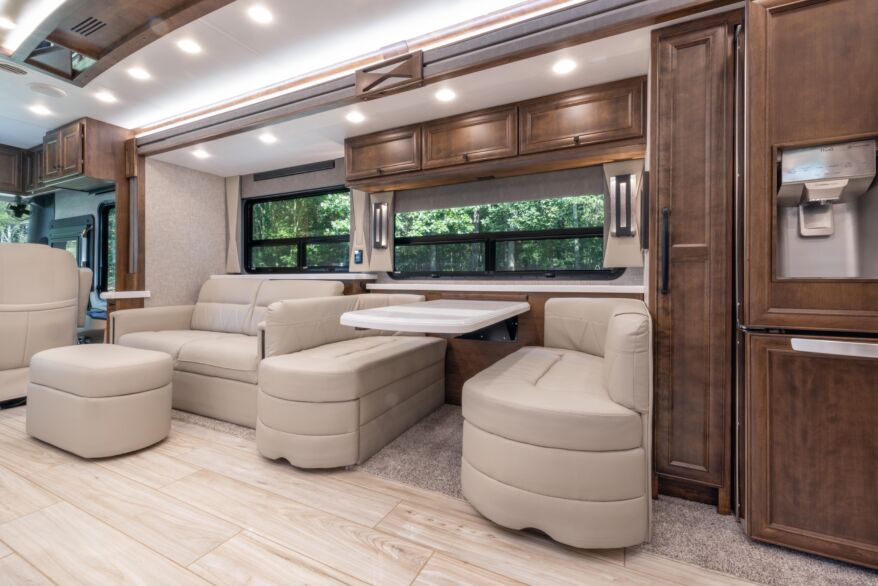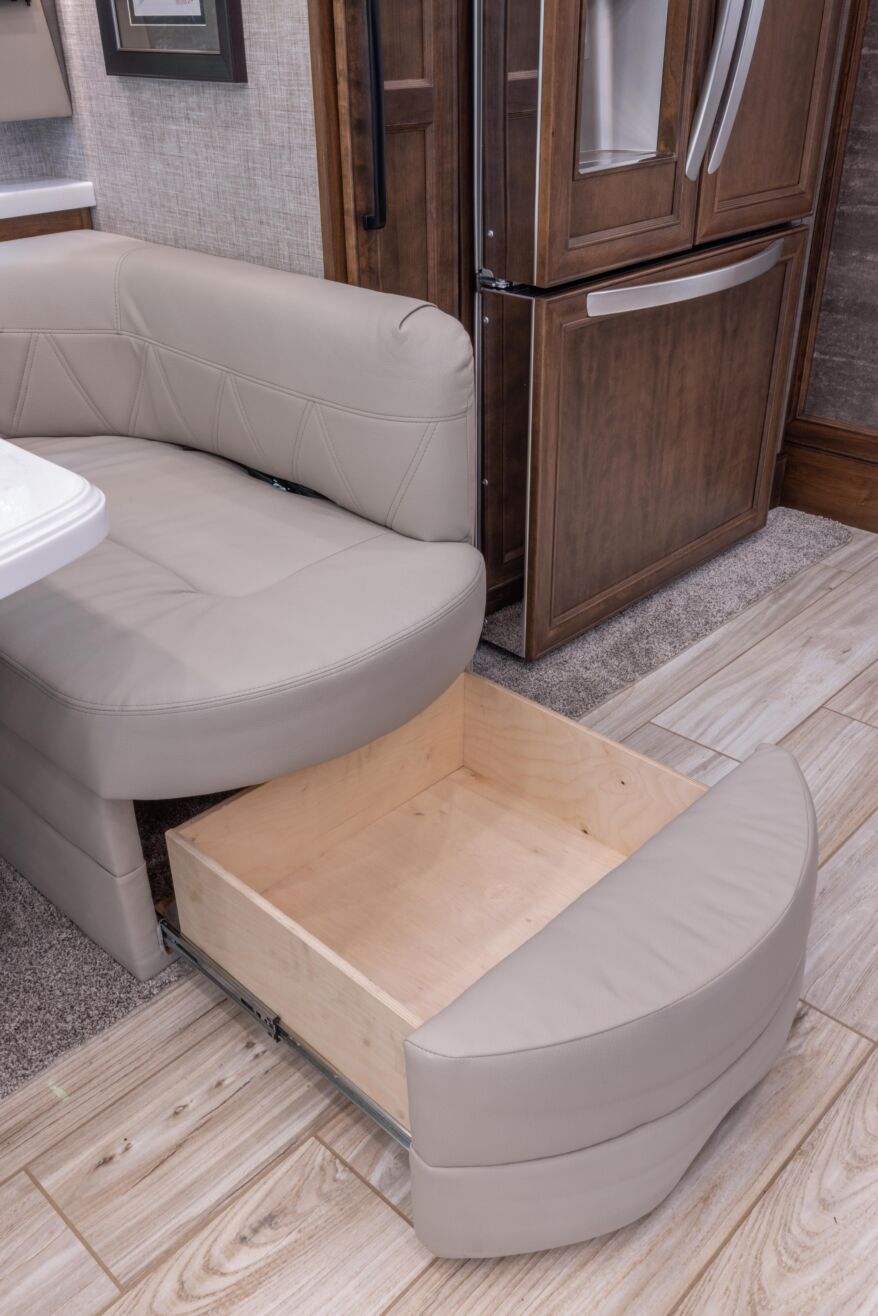 This Bus's kitchen features several conveniences, including an electronic release expandable island, which grants you additional countertop space for all your culinary needs. Equipped with stainless steel appliances, pull-out drawers in the pantry, and overhead galley cabinetry, it provides both functionality and style. Enjoy a scenic view through the panoramic galley window while ample lighting illuminates the entire space, ensuring a well-lit and inviting environment for your culinary endeavors.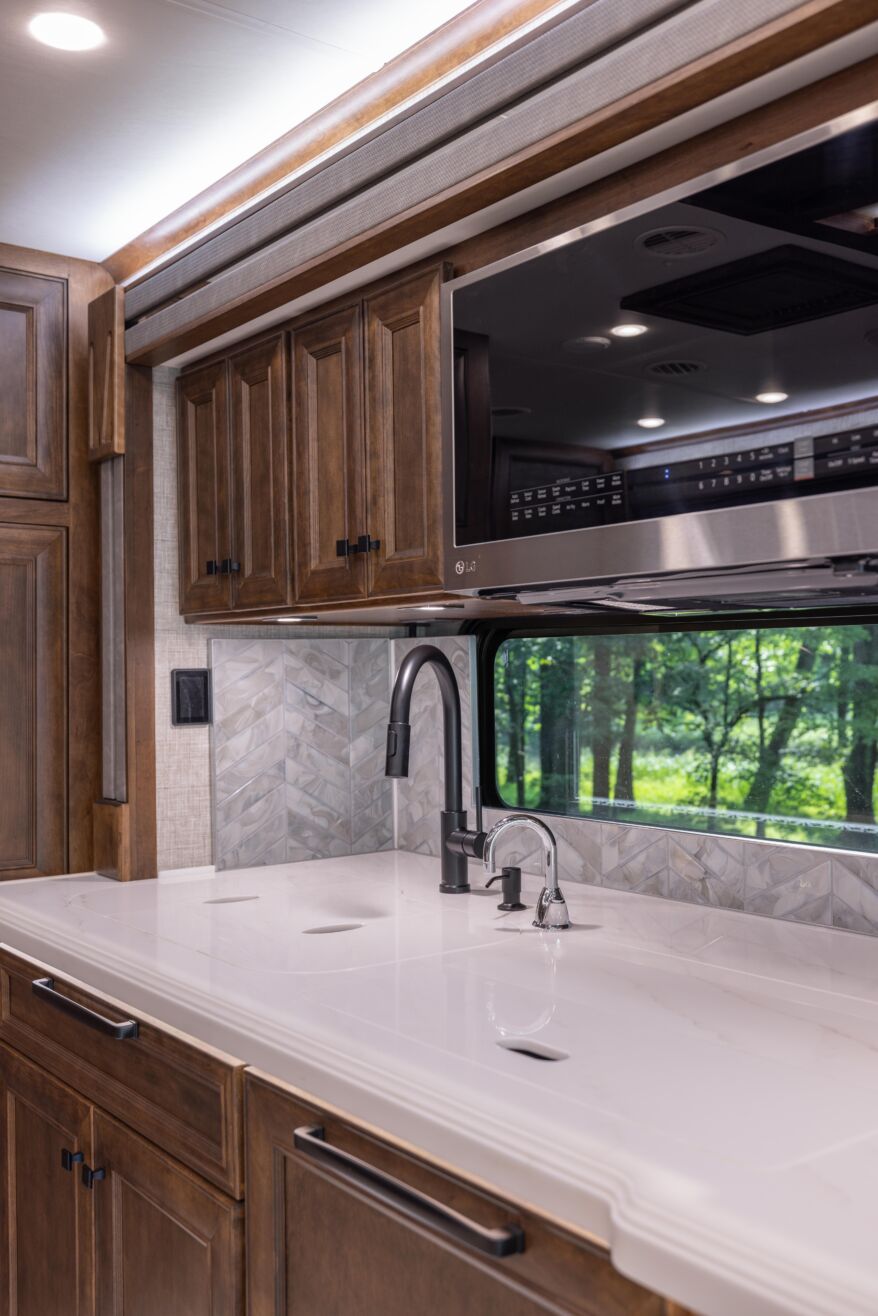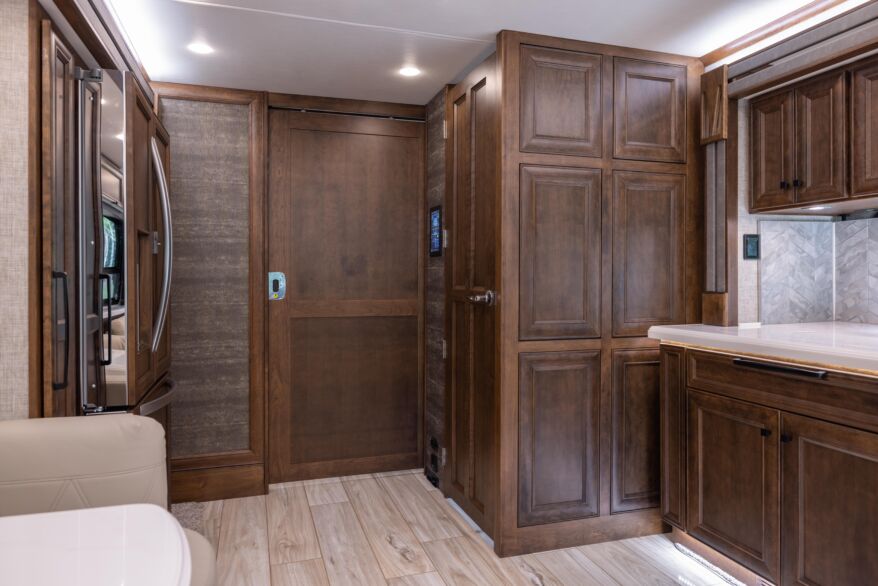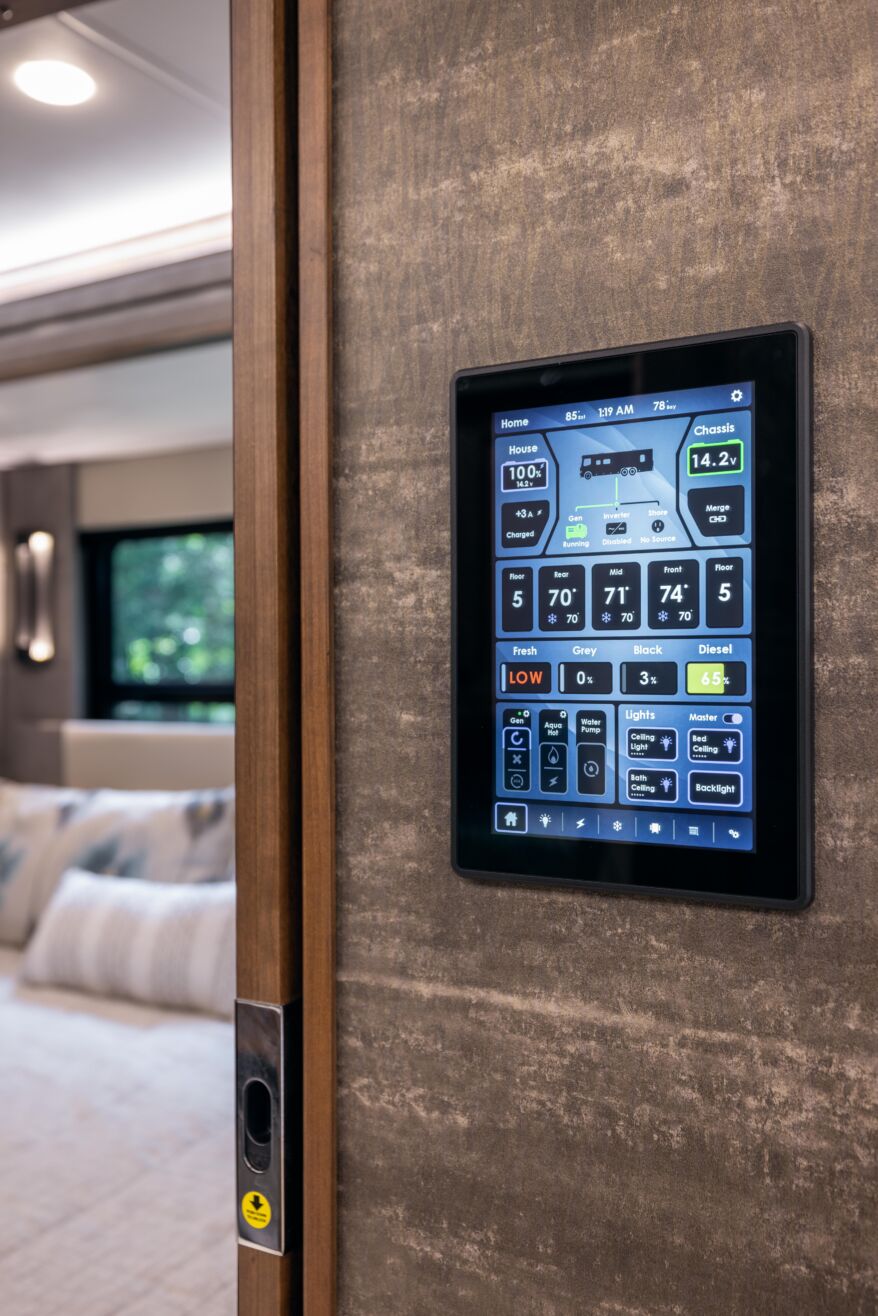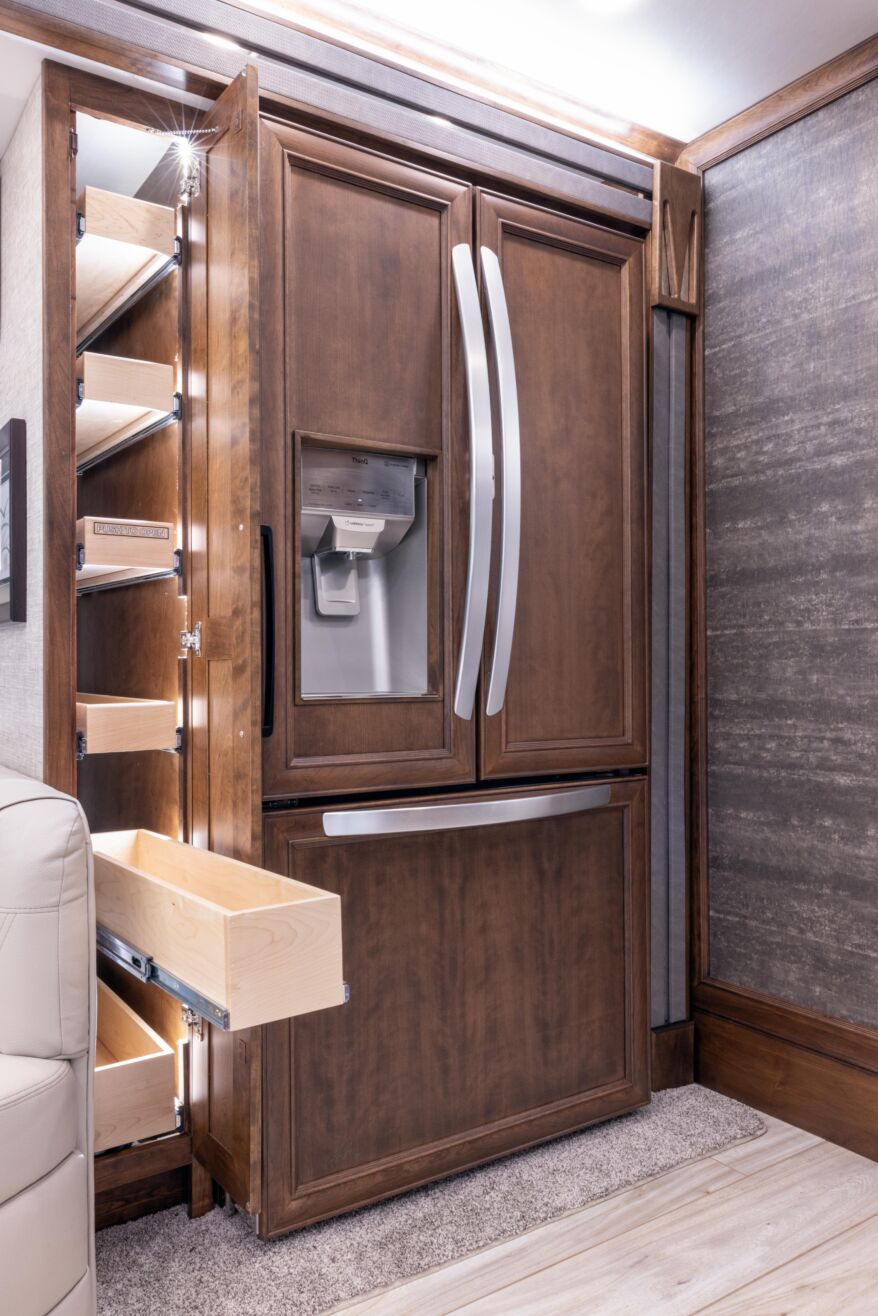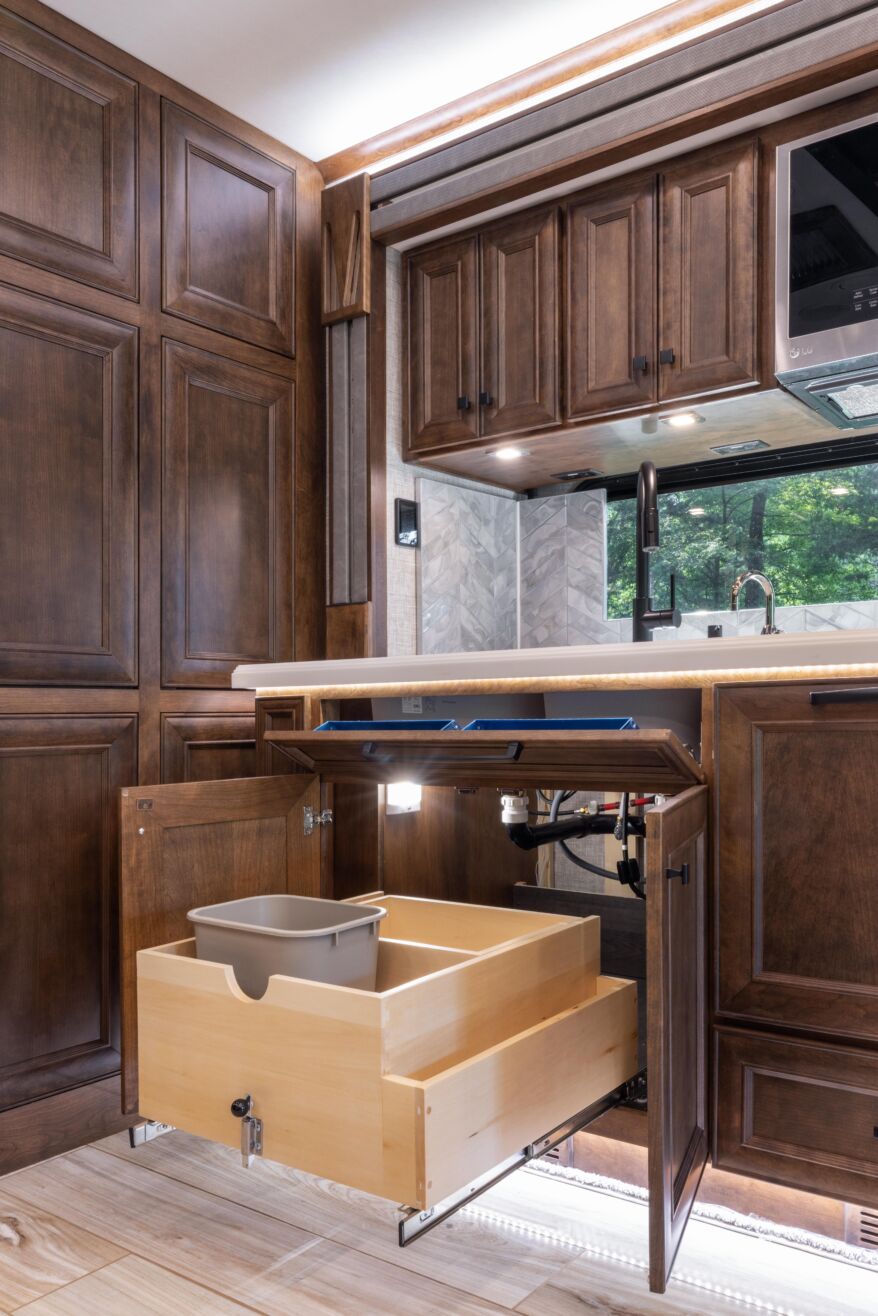 The master bedroom in the 40 IP is a luxurious retreat, complete with a king-sized memory foam mattress, accommodating a comfortable night's sleep. It also offers practical storage solutions, including under-bed storage, overhead cabinets with a built-in headboard, and a centralized entertainment center. Additionally, you'll find a spacious walk-in closet with a dedicated shoe rack, and solid surface countertops seamlessly integrated within the storage spaces for added convenience and style. This suite features the Silver Lake interior décor package, one of three décor package options to choose from.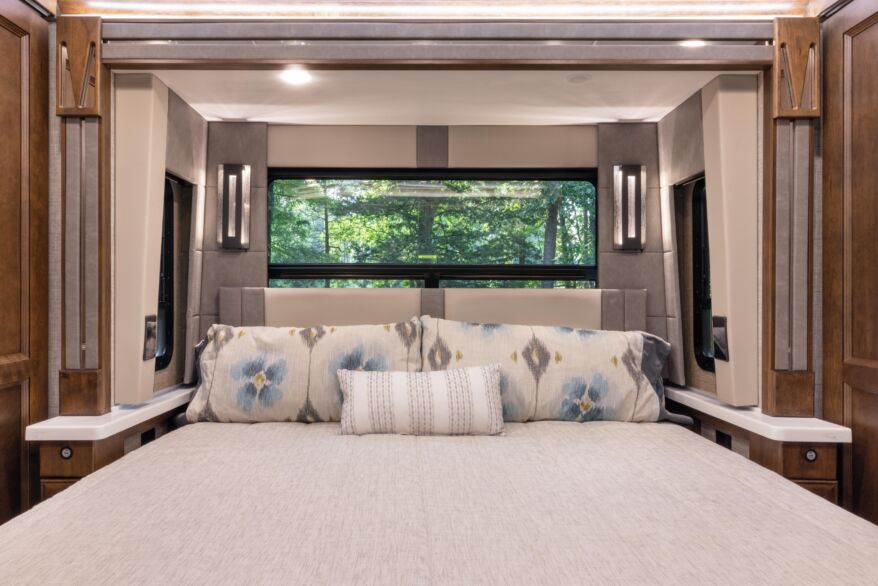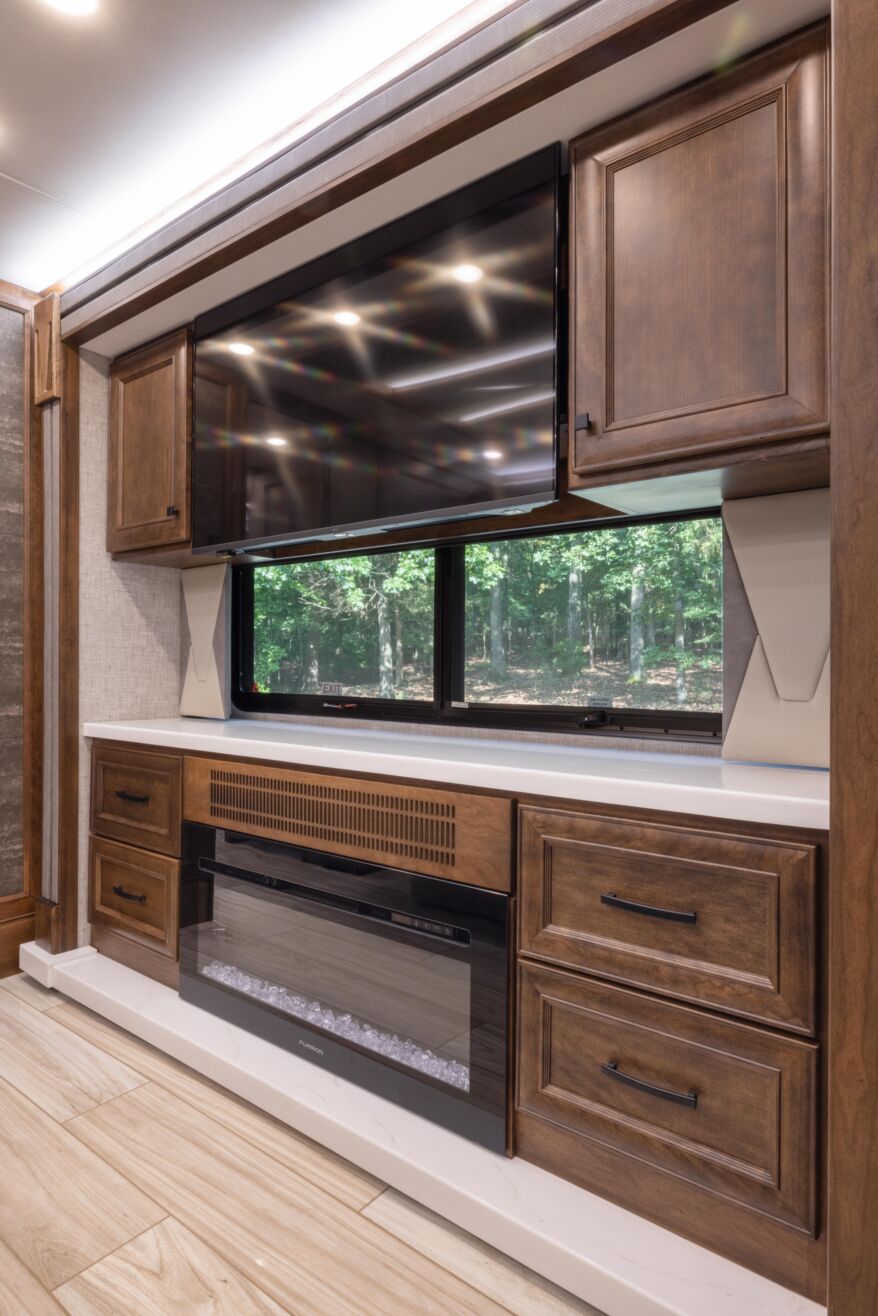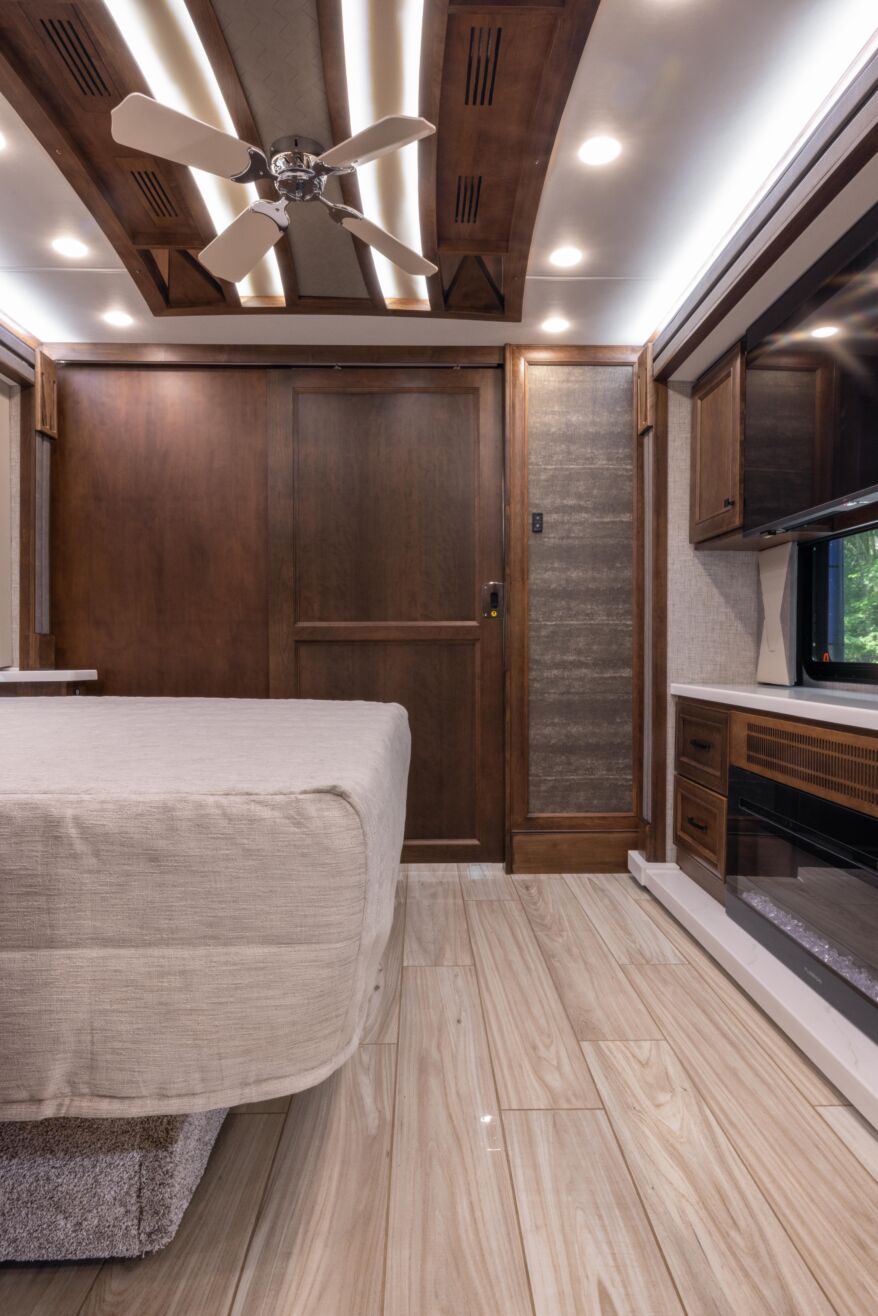 The master bathroom offers a luxurious experience with its two elegant porcelain sinks, a stylish solid surface shower adorned with beautiful inlaid tile and a residential glass door measuring 32" x 40". For added convenience and comfort, it includes a convenient folding shower seat and a shower skylight that fills the space with natural light. The bathroom also features a spacious medicine cabinet with a tri-view vanity mirror and base cabinets, providing ample storage for your personal items. Additionally, you have the option to include a stacked washer and dryer, making your daily routine more efficient and seamless.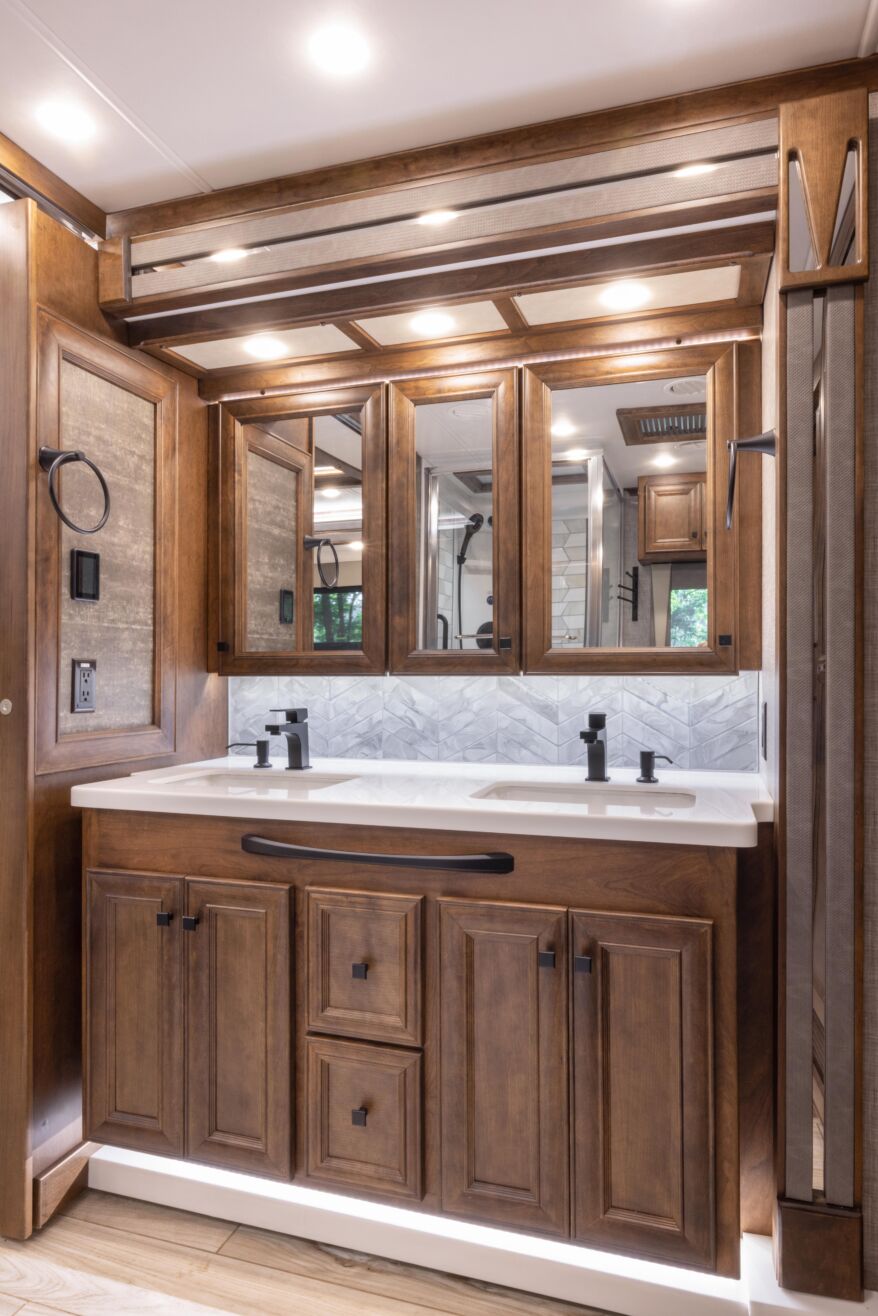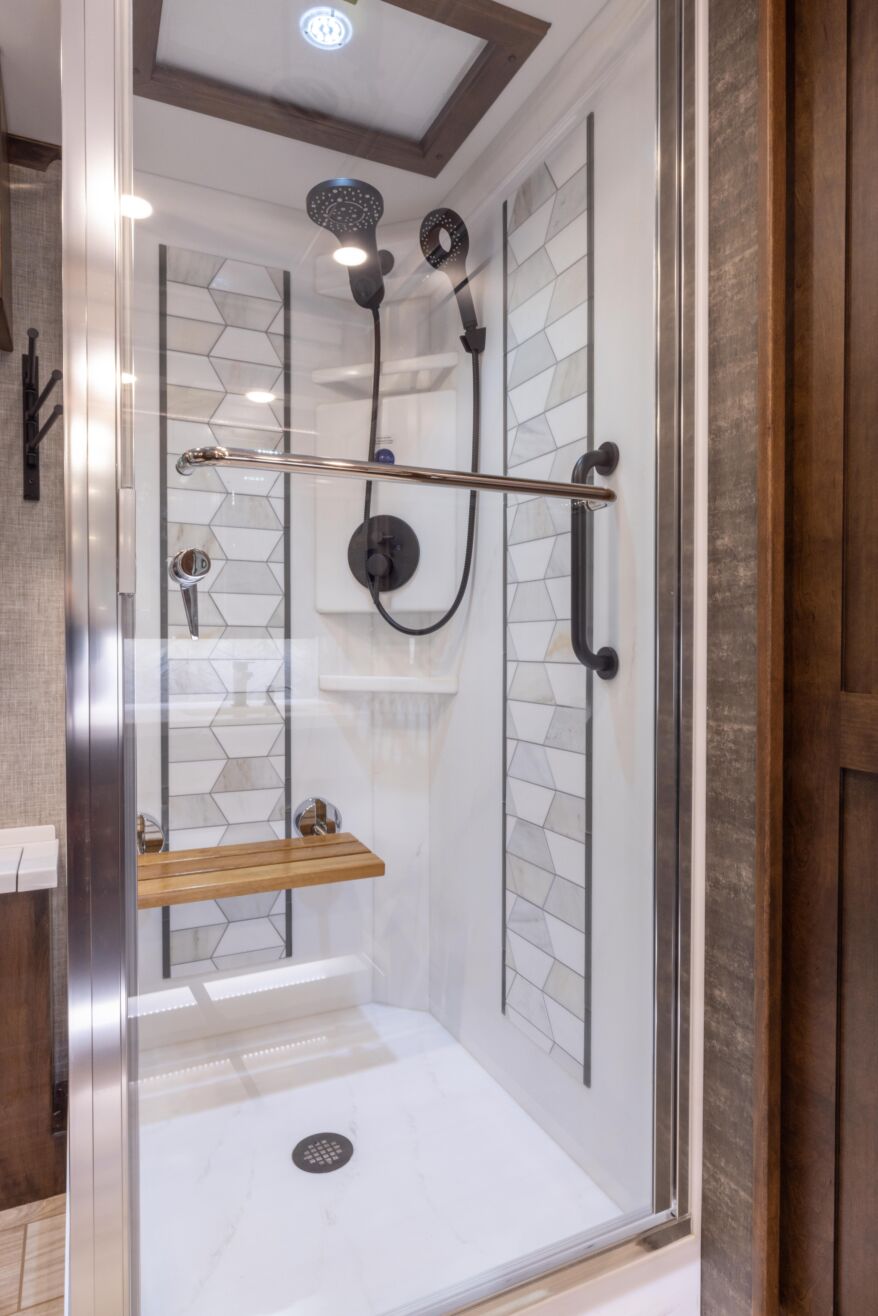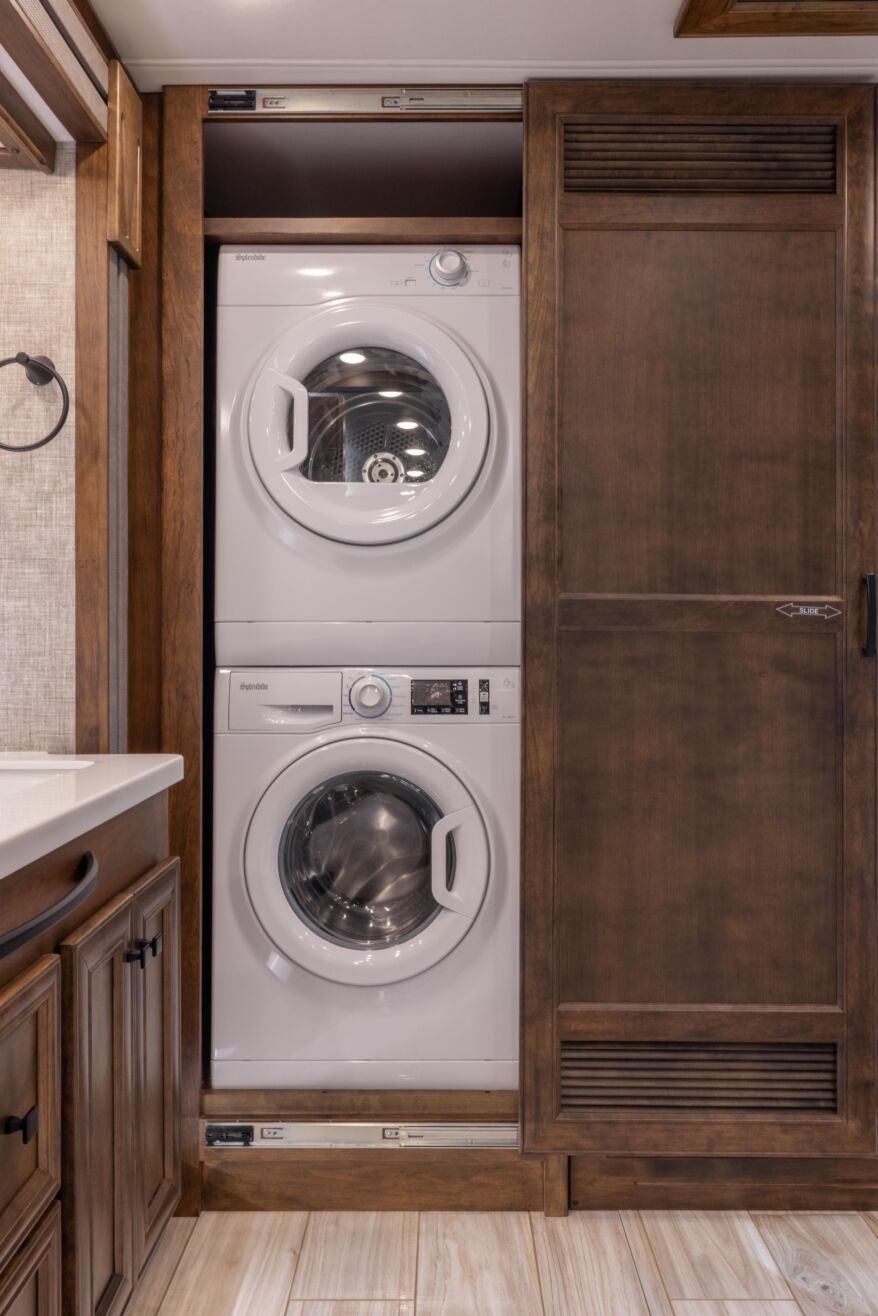 Take a virtual tour of the Allegro Bus 40 IP floor plan. Imagine walking through this coach as if it were your own. This floor plan features Glazed Canyon Cherry stained cabinets, Silver Lake décor suite, Rice Paper leather, and Catalina Maple glazed porcelain flooring.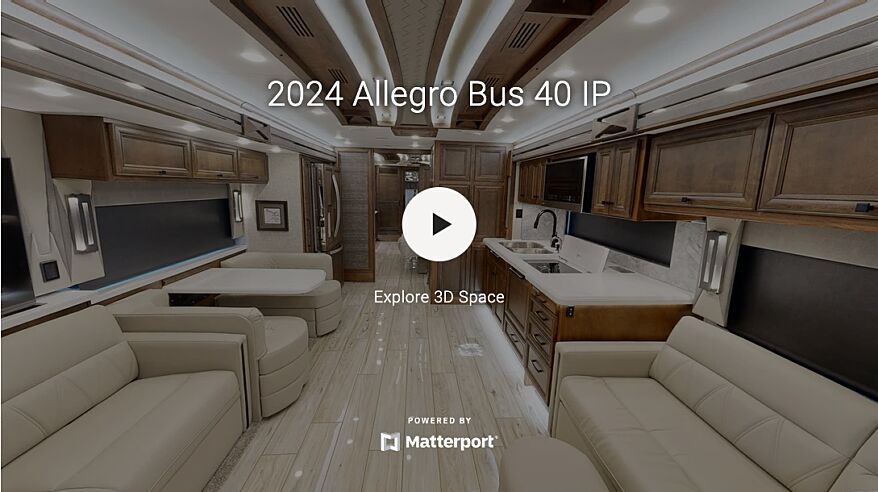 BUILD YOUR OWN:
Where adventure meets personalization. Tailor your dream RV by selecting from a wide range of paint schemes, floor plans, interior décor packages, and add-on features, creating a personalized home on wheels that suits your unique travel style. With the Build Your Own option, embark on a journey that reflects your tastes and preferences, making every road trip and unforgettable experience tailored just for you!