2024 Allegro Bay 38 CB Floor Plan Spotlight
When it comes to the 2024 Allegro Bay, you're looking at a top-tier Super C built on the dependable Freightliner S2RV chassis, and it's all powered by a robust 360 HP diesel engine that offers a whopping 12,000 lbs. of towing capacity. What's more, the Allegro Bay is equipped with standard air brakes and air suspension, making the process of connecting to a towed vehicle or trailer a breeze. With the Allegro Bay, you've got the freedom to choose from three distinct floor plan options. One of these options even features bunk beds, opening the door to comfortable accommodations for up to seven people. As if that weren't enough, this RV is loaded with premium entertainment features that are sure to keep you and your fellow travelers thoroughly entertained throughout your journey. Safety is a top priority, and the 2024 Allegro Bay certainly doesn't skimp on it. It's equipped with cutting-edge safety features that provide you with the peace of mind you need while on the road.
Combine all these fantastic features with the reliable performance the Allegro Bay delivers, and you have the perfect choice for a camping experience that's not just comfortable but also incredibly enjoyable.
Features listed below are on model year 2024.

At a Glance:
Allegro Bay Model Features
In the table below, we've called out the Allegro Bay's headlining features.
| Notable Floor Plan Feature on the MY24 Allegro Bay | Standard or Optional |
| --- | --- |
| Freightliner® S2RV Chassis | STD |
| Cummins® B6.7 360 HP Diesel Engine | STD |
| Black Aluminum Wheels | OPT |
| Spyder Controls Multiplex System | STD |
| Firefly Integrations Mira Module | STD |
| Liquid Propane (LP) Coach | STD |
| Wi-Fi Booster | OPT |
| Girard® Side-mounted Powered Patio Awning with Integrated LED Lighting | STD |
| Exterior TV with Soundbar | STD |
| Living Area TV | STD |
| Detachable Touchscreen featuring Media Center, AM, FM, and Satellite Radio, Bluetooth®, Navigation, and Camera Monitoring | STD |
| Flip and Fold Countertop Extension | STD |
Deep Dive:
38 CB Floor Plan
The 2024 Allegro Bay offers three impressive floor plans, including the 38 CB. Join us on an adventure to explore the wonders that the Allegro Bay has in store for you!
Measuring 39 feet & 4 inches in length, the 38 CB floor plan opens up a world of space within your RV. This expansive layout offers an array of furniture options, enabling you to tailor your living area precisely to your preferences. Whether it's your choice of seating, dining arrangements, or sleeping arrangements, you can craft a coach that's perfectly suited to your tastes.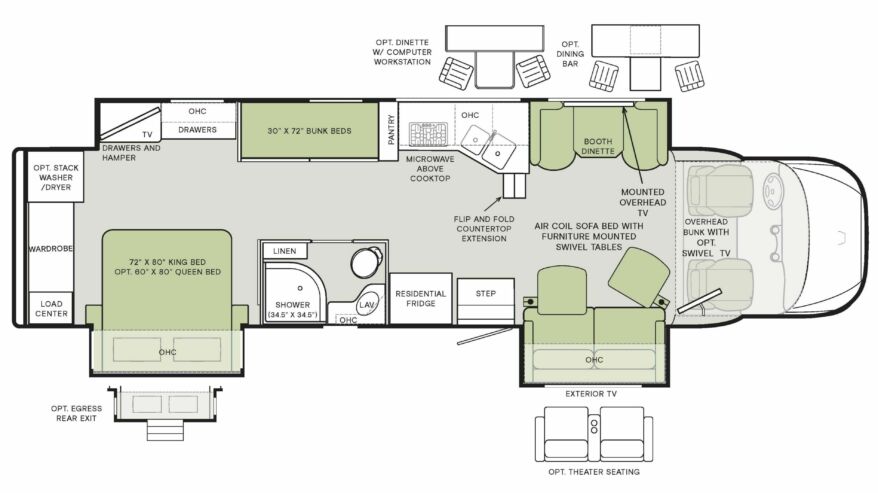 Stepping inside this Super C beauty, you're greeted with a generous expanse of open floor space, designed to facilitate gatherings and effortless movement. The 2024 Allegro Bay has received a stylish interior upgrade, radiating warmth and comfort throughout. Presenting the Stoney Creek décor package, it seamlessly blends modern flair with classic charm. Crafted with precision, the handcrafted cabinetry graces every corner of this coach, offering ample storage for all your travel essentials. Thanks to dimmable LED lights, you have the power to set the ambiance to your personal preference, allowing you to create the perfect atmosphere for any occasion! At the front of the coach, there is a front overhead bunk with privacy curtains for an additional sleeping space or storage area!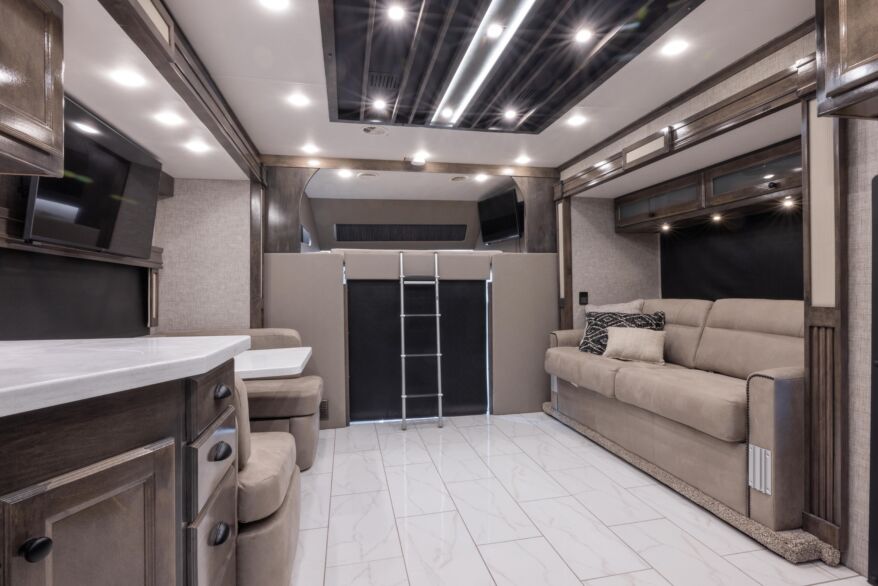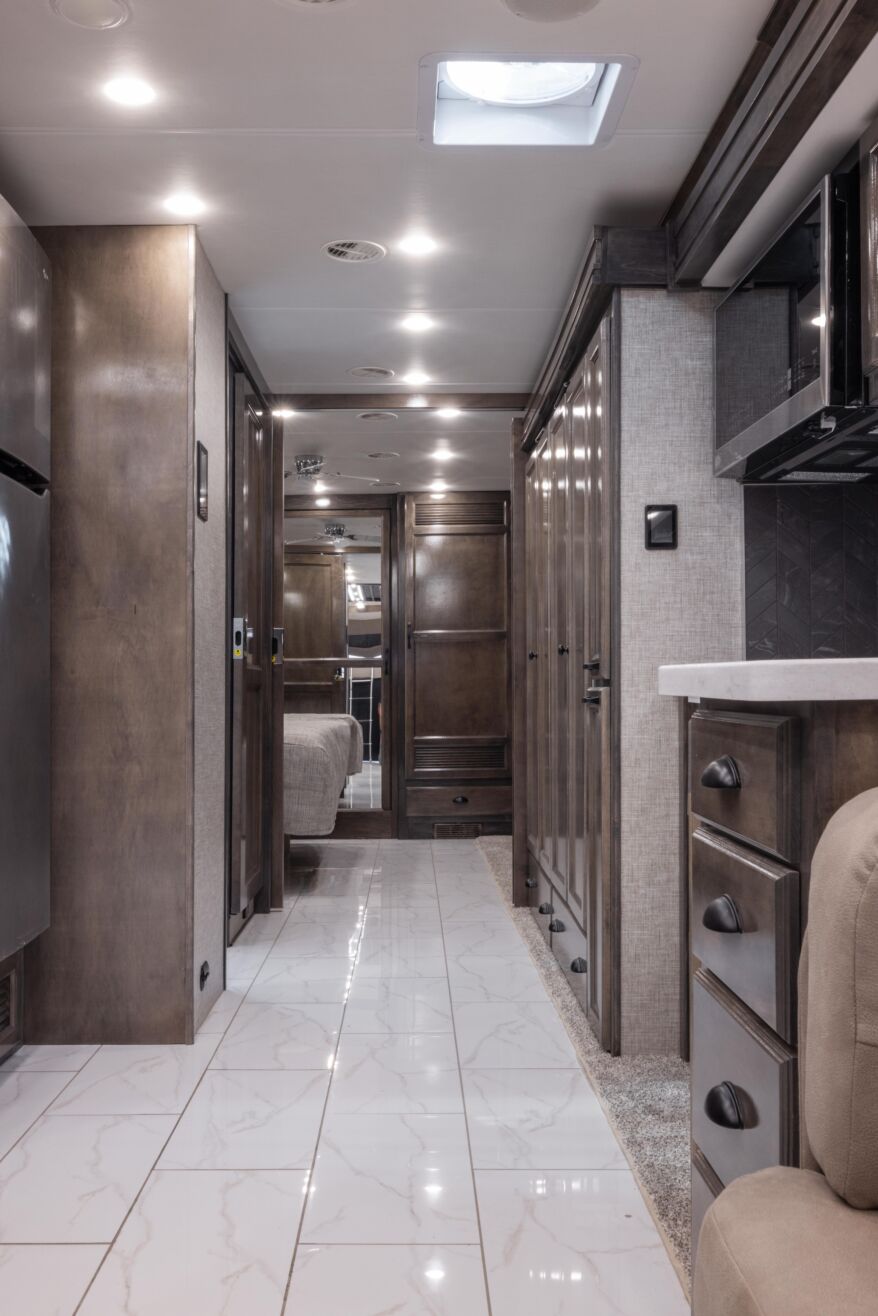 The living room and dinette area in this coach are expertly designed to offer utmost convenience and comfort. You'll find a 74" air coil sofa bed equipped with furniture-mounted swivel tables, along with a standard 75" booth dinette-sleeper, both seamlessly integrated into the layout. These thoughtful additions serve a dual purpose by effortlessly transforming into two separate sleeping areas, ensuring that everyone on board enjoys a restful night's sleep. The 2024 Allegro Bay now includes a mounted TV above the dinette area in all its floor plans, providing you with a perfect source of entertainment, making your RV experience even more enjoyable.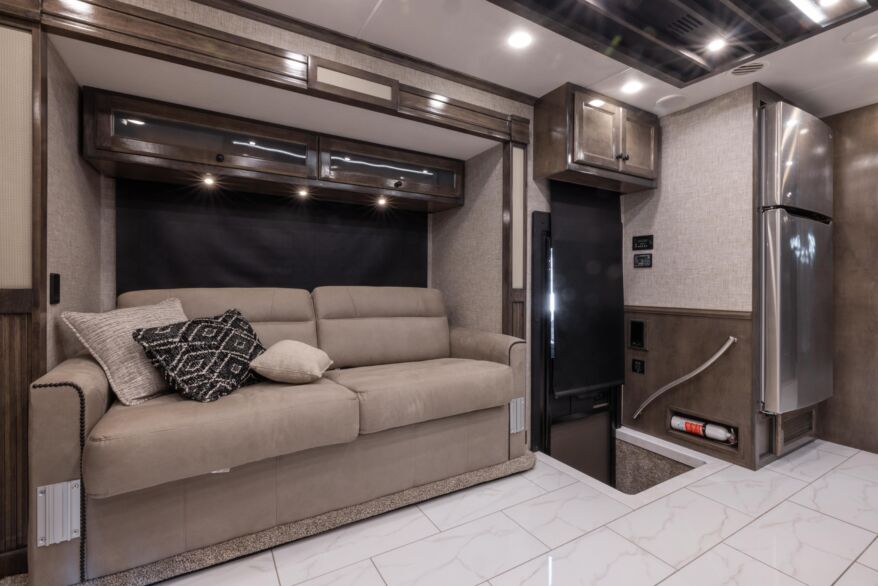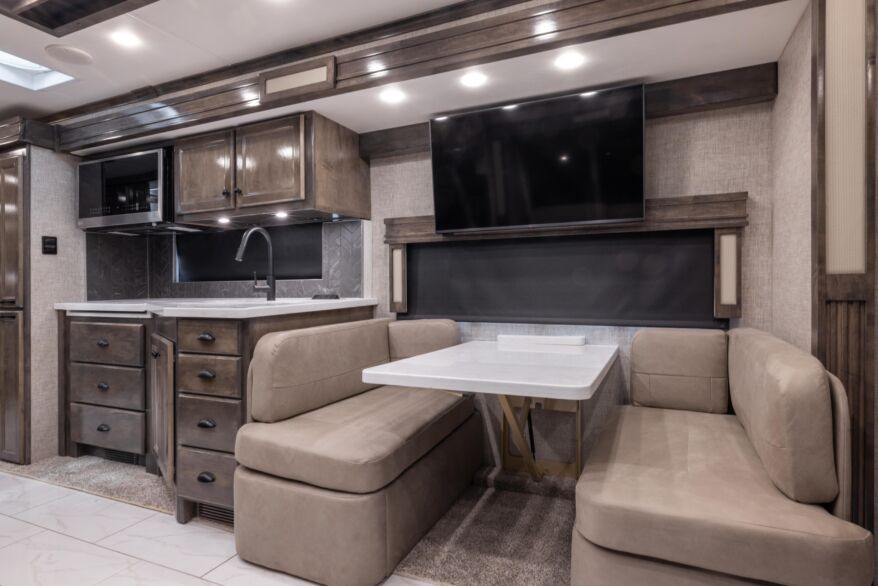 The kitchen in this coach was meticulously designed with the chef on board in mind. It features a suite of stainless steel appliances, including a smart convection microwave with air fry capabilities. Additionally, there's a double bowl kitchen sink equipped with a convenient single lever faucet and pull-down sprayer. A captivating panoramic galley window floods the space with natural light, and the cleverly designed flip and fold countertop extension adds extra prep space when needed. And if that's not enough to love, there's even an optional drawer-style dishwasher available for your convenience!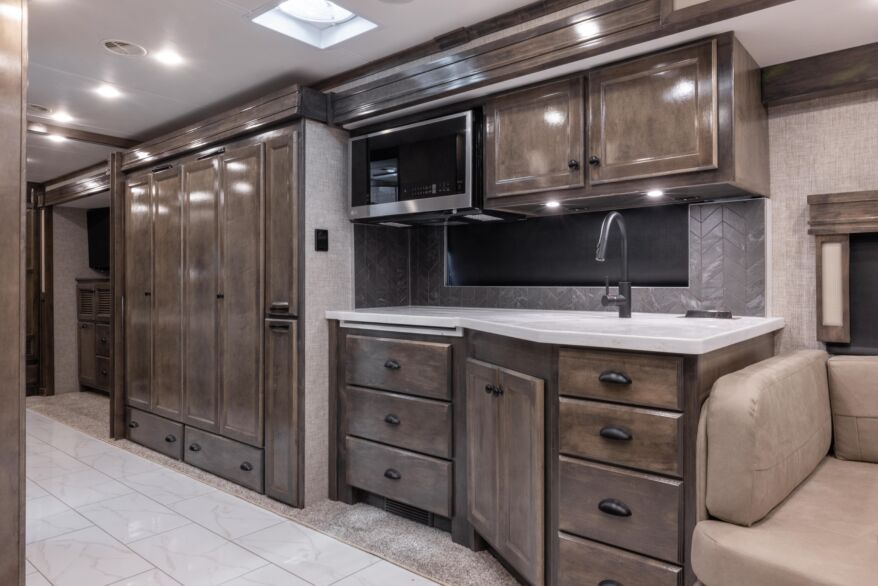 The bedroom and bunk beds in this coach have been thoughtfully designed to ensure a restful night's sleep or a peaceful day of relaxation. Nestled between the kitchen and the master bedroom, you'll find the bunk bed area. These driver-side bunk beds, measuring 28" x 70", are perfect for accommodating extra guests and even offer added storage space with convenient drawers underneath for personal belongings.
Toward the rear of the motorhome, you'll discover the master bedroom, a haven filled with abundant natural light and ample storage options. Standard features in this space include a mounted TV, a centralized entertainment center, a bedroom ceiling fan, built-in nightstands, and a sumptuous memory foam king mattress. Below the bed, you'll find under-bed storage, while overhead cabinets, a dedicated shoe rack, and a floor-to-ceiling closet space round out the offerings, ensuring that every item and need is accommodated with ease. The option for a stackable washer and dryer is available for the 38 CB.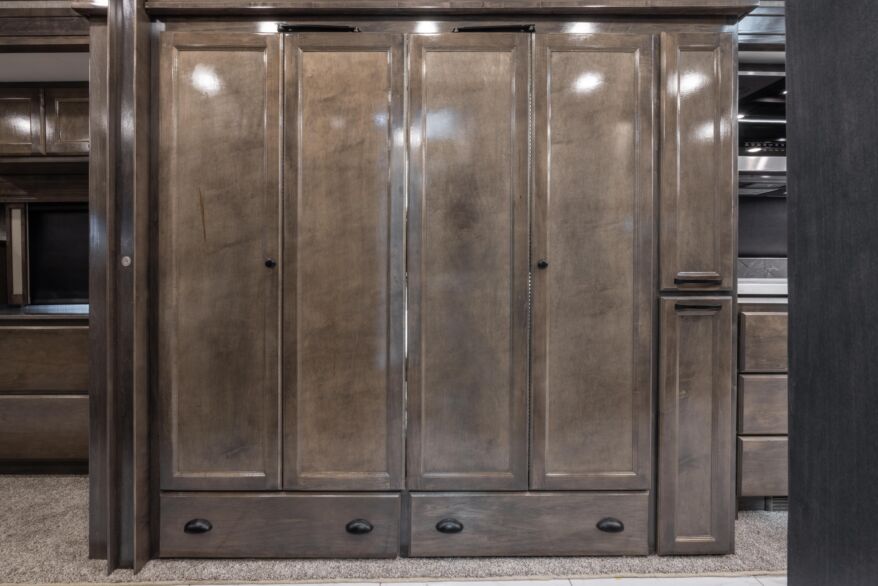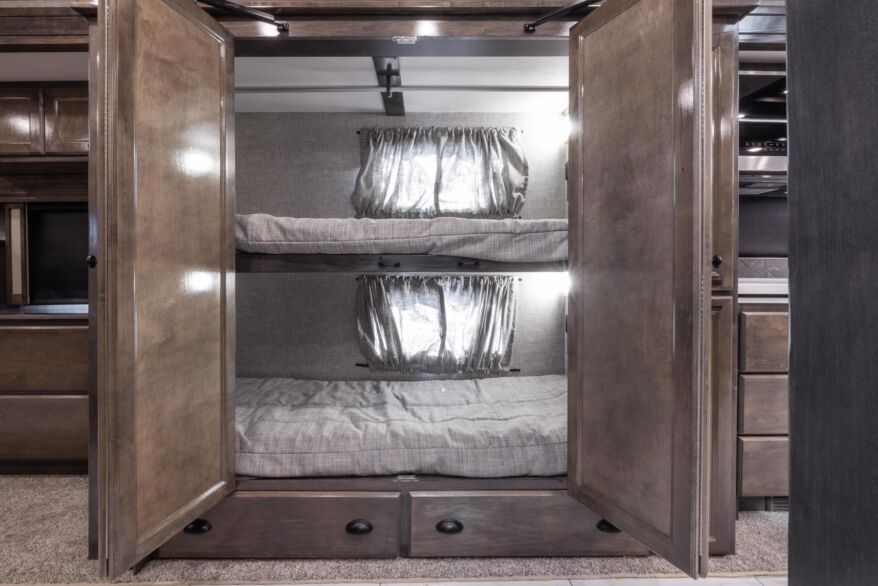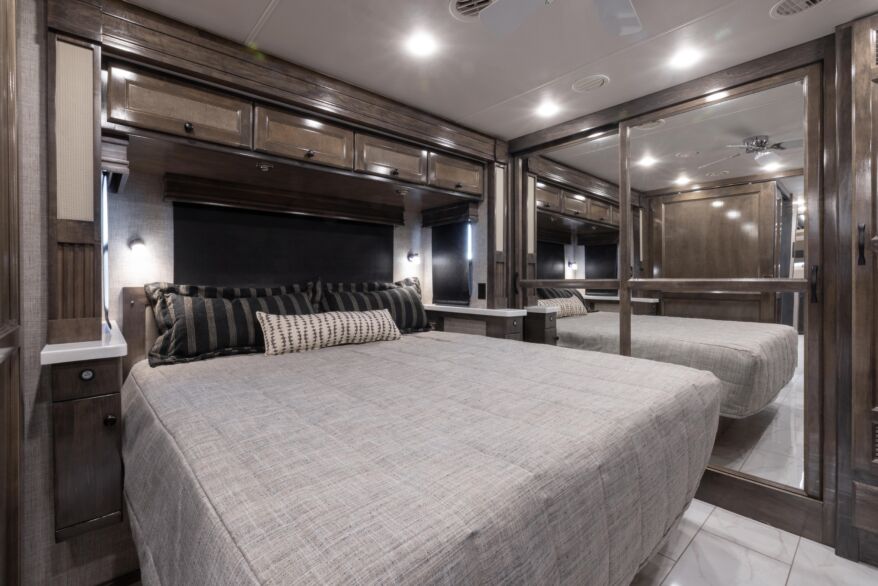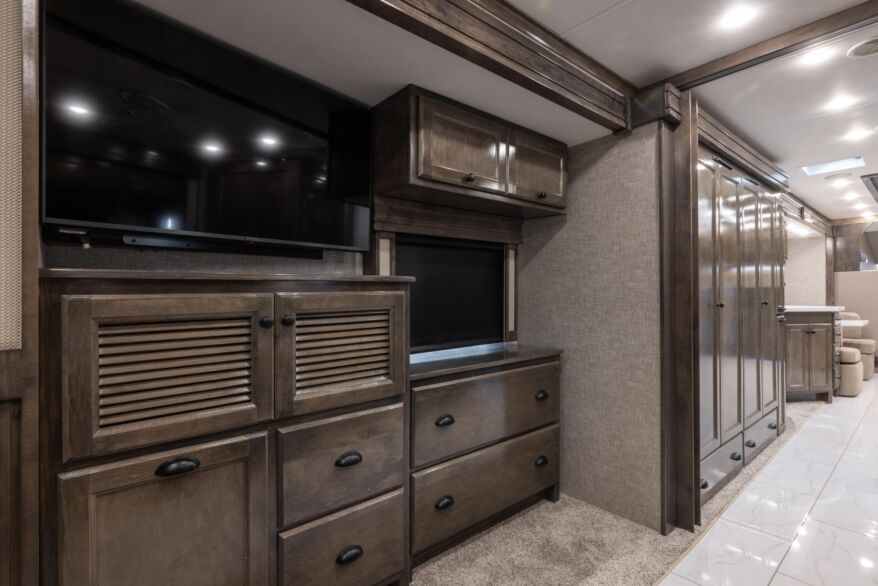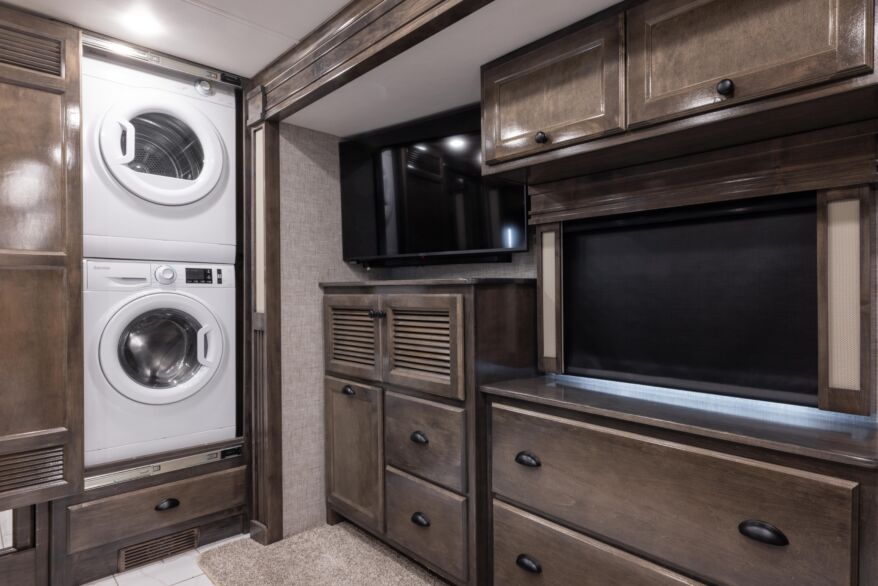 In the bathroom, you'll discover a host of amenities designed for your comfort and convenience. This well-appointed space includes a sleek porcelain sink, a shower with a bright and airy skylight, a mirrored medicine cabinet, a functional base cabinet, and a spacious 34.5" x 34.5" fiberglass shower. Completing the picture is a reliable gravity flush toilet, making your bathroom experience in this coach a seamless and pleasant one.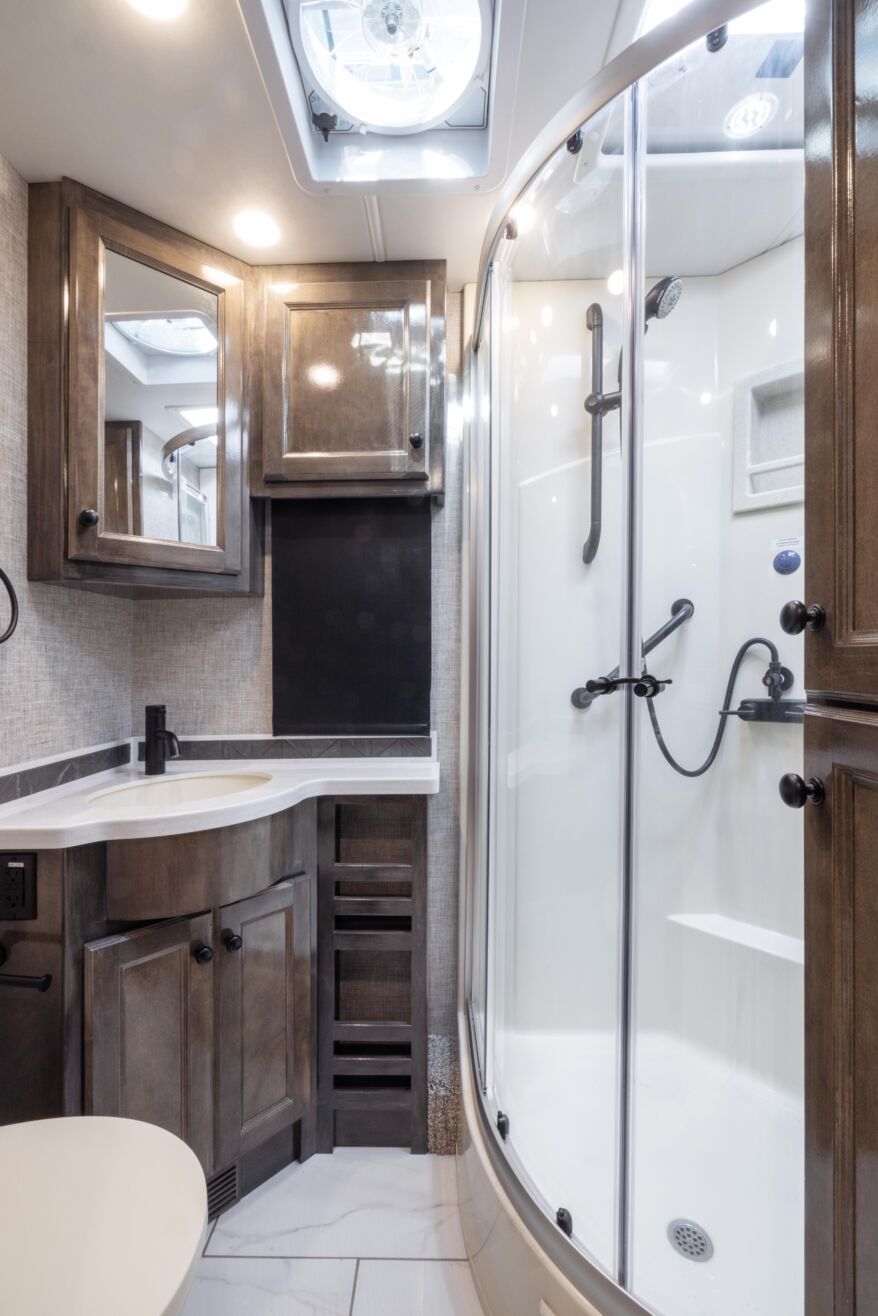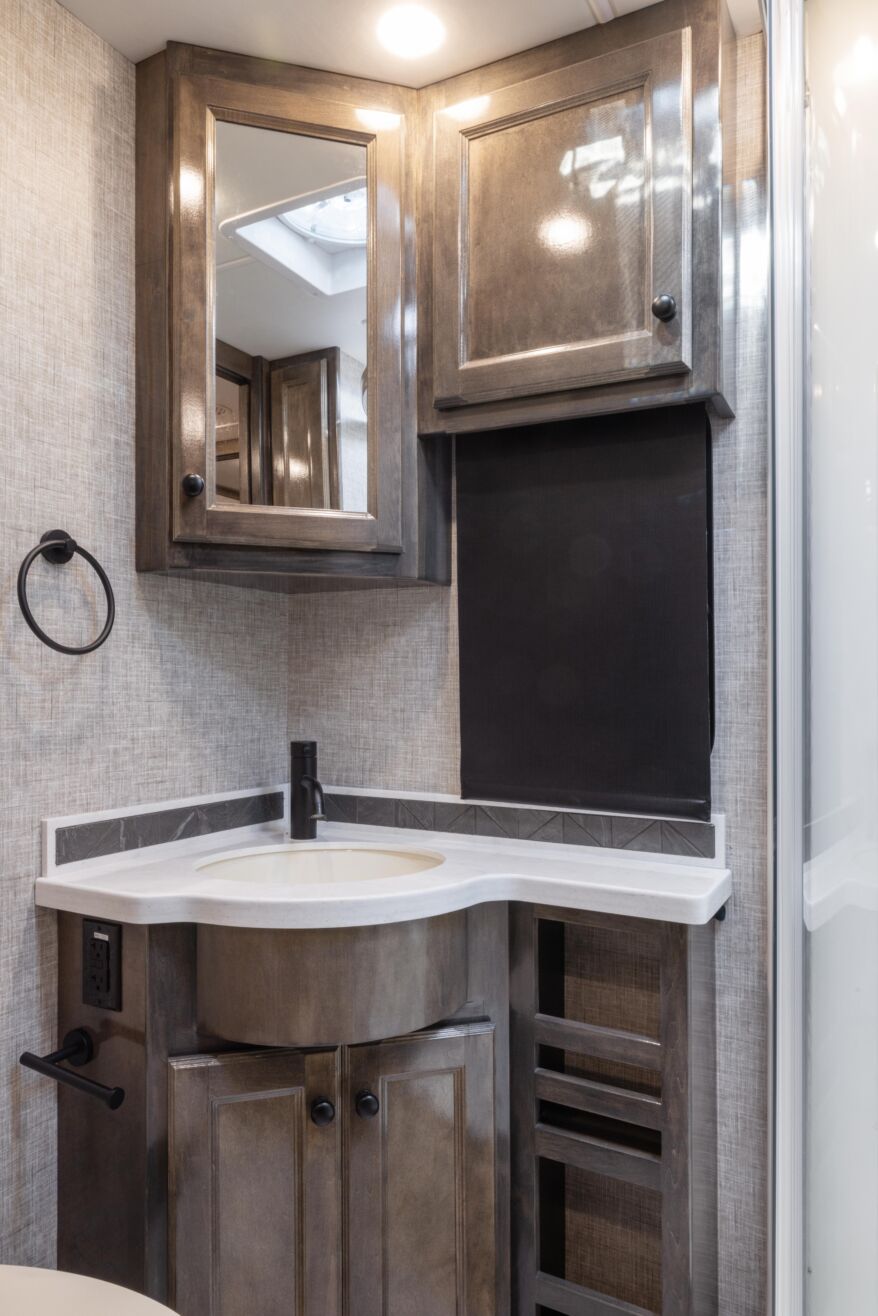 The exterior of the 2024 Allegro Bay showcases a striking array of new-generation paint schemes, offering you a choice of seven distinct options. The paint scheme you see pictured here is the stylish Midnight option, complemented by sleek black aluminum wheels.
This Super C beauty comes equipped with a Girard® side-mounted powered patio awning, complete with integrated LED lighting, making it the ideal spot to relax and entertain outdoors. The coach is adorned with frameless tinted windows, which not only enhance its aesthetic appeal but also contribute to a streamlined look.
For those who love outdoor entertainment, an exterior TV paired with a soundbar provides an excellent setup, whether you're at a tailgate, camping, or just unwinding outside. And don't forget the convenience of the Lippert™ On-The-Go™ telescoping ladder, allowing you to put it out of sight when it's not needed.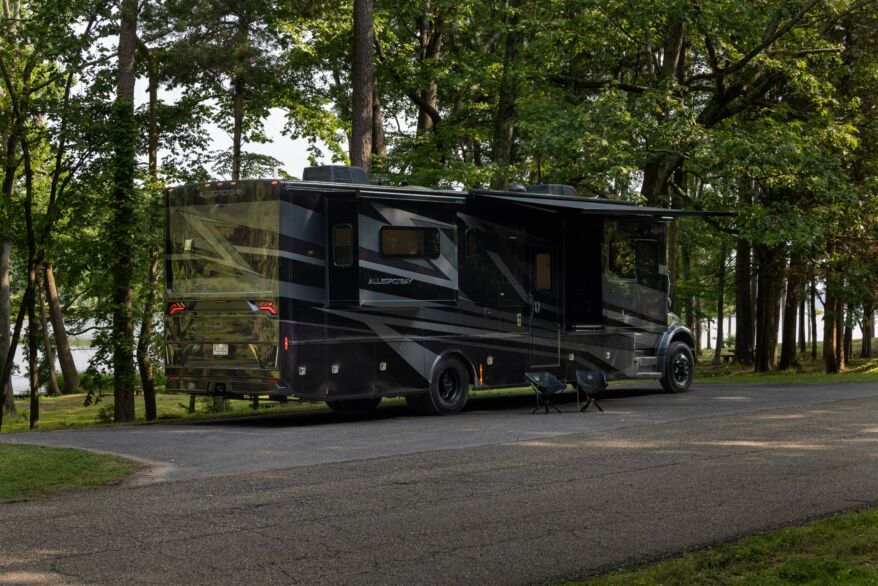 Take a virtual tour of the Allegro Bay 38 CB floor plan. This floor plan features the Stoney Creek décor suite, Landscape Ultraleather, Shadow stained cabinets, and Marble Obsess flooring.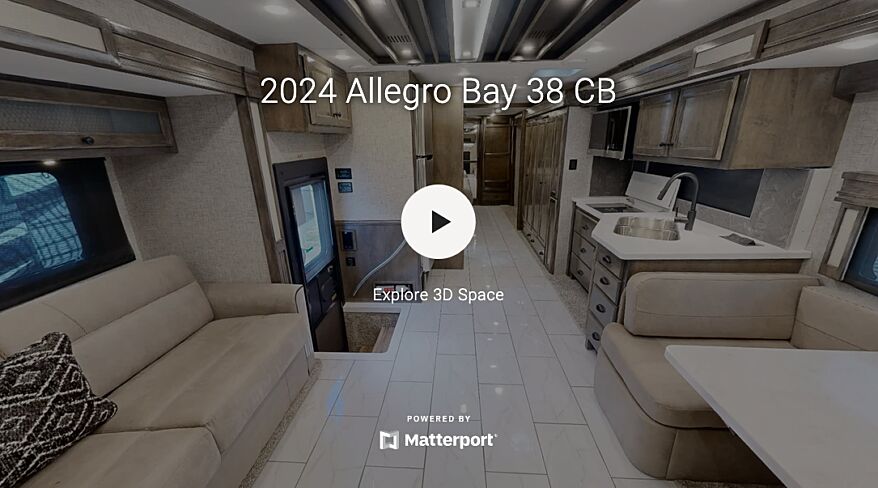 For more information about this coach, its features, or its floor plans, visit the Allegro Bay model page on our website.
BUILD YOUR OWN:
Where adventure meets personalization. Tailor your dream RV by selecting from a wide range of paint schemes, floor plans, interior décor packages, and add-on features, creating a personalized home on wheels that suits your unique travel style. With the Build Your Own option, embark on a journey that reflects your tastes and preferences, making every road trip and unforgettable experience tailored just for you!