2023 Zephyr 45 FZ Floor Plan Spotlight
Features listed below are based on model year 2023. To view the most current Zephyr features, visit the Zephyr page or contact Tiffin by calling (256) 356-8661.
As the pinnacle of craftsmanship and the flagship of the Tiffin lineup, the 2023 Zephyr is redefining luxury.
The Zephyr has always been known for its indulgent comfort, premium amenities, and modernized technology, and this year is no different. On the road or at your destination, the 2023 Zephyr is unlike anything you've ever seen before.
At a Glance:
Zephyr Model Features
In the table below, we've called out the Zephyr's headlining features.
| Notable Floor Plan Feature on the 2023 Zephyr | Standard or Optional |
| --- | --- |
| Cummins® X15 605 HP Diesel Engine with 1,950 lb-ft Torque | Standard |
| 12.5-Kilowatt Onan® Quiet Diesel Generator | Standard |
| Combination Valid™ Air Leveling System with Hydraulic Leveling Jacks | Standard |
| (2) Girard® Roof-mounted Powered Patio Awnings with Integrated LED Lighting and Dual Pitch Feature | Standard |
| Side-Swinging Exterior Storage Doors with Gas Shocks | Standard |
| Gold Heat® Dual Zones Heated Tile Floor | Standard |
| Exterior TV with Soundbar | Standard |
| One-piece Molded Gel-coat Fiberglass Front and Rear Caps | Standard |
| All-Electric Coach | Standard |
Deep Dive:
45 FZ Floor Plan
The 2023 Zephyr features 1 reimagined floor plan: the 45 FZ. Let's take a look at why the Zephyr is the pinnacle of Tiffin luxury.
This 45 foot long coach stands out from anything you've ever seen before. Multiple furniture options give you the luxury of choosing exactly what fits your wants and needs. This floor plan features a full bath and a half bath, ample amounts of storage, and an egress exit at the rear of the coach.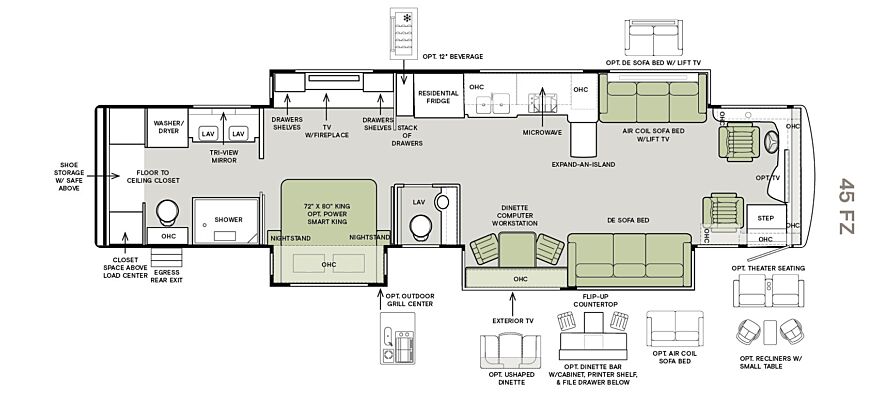 Walking into the 2023 Zephyr for the first time, you'll experience a view like no other through the Zephyr's new bonded windows. Natural light floods in through these large windows, and when you'd like more privacy, shades are brought down to keep some of the light out. Seating is no issue in the 45 FZ. A comfortable air coil sofa bed converts to a bed easily that sleeps two comfortably. Reclinable theater seating is placed across from the sofa bed, and a lift TV slides up and down from behind.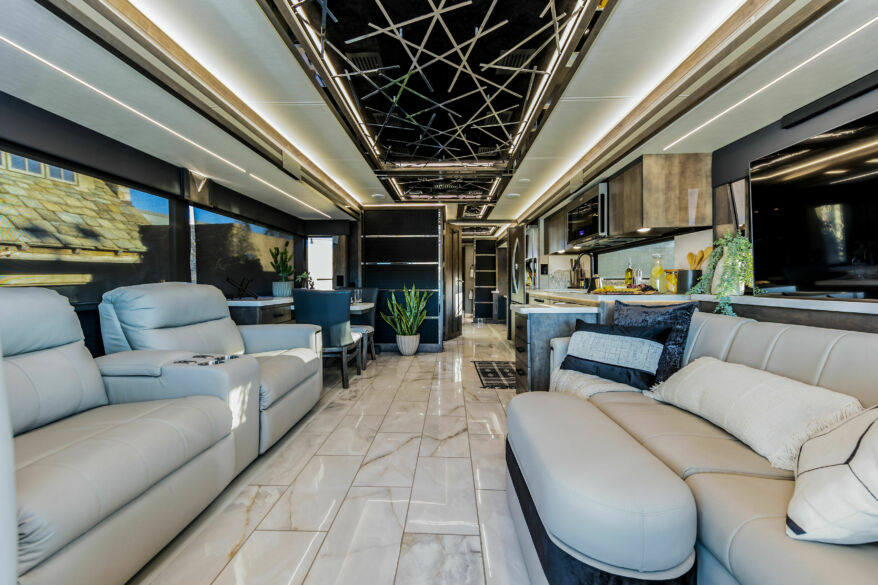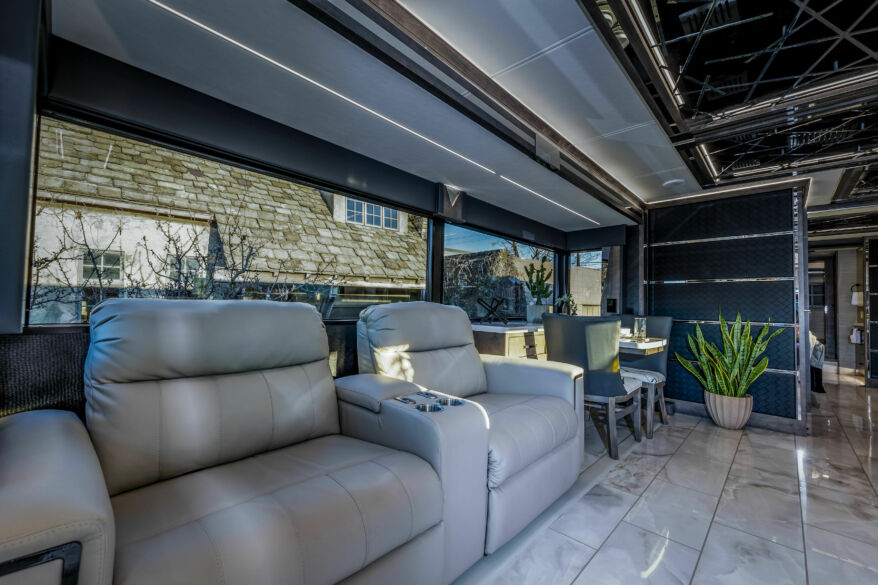 The kitchen is designed for even the most prestigious chefs. Quartz countertops are standard on the Zephyr, and include a sink cover, and cooktop cover for extra prep and serving space. A residential refrigerator provides plenty of space for food, and the InSinkErator® Instant Hot Water Faucet ensures you don't have to wait for hot water. The extend-an-island feature offers you more countertop space when you need it, but slides back into place for more space to walk. A modern update of our hardwood cabinets is also a standard feature with this floor plan.
Featured below is the dinette computer workstation option. This is designed for face-to-face eating, but also those who need to get a little work done. Storage is strategically placed under the countertop, and the slidable tabletop makes it easy to access all the storage.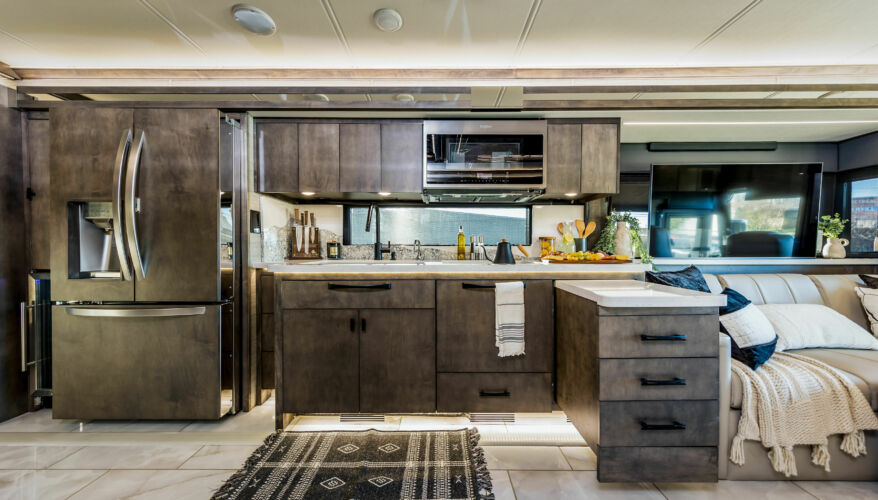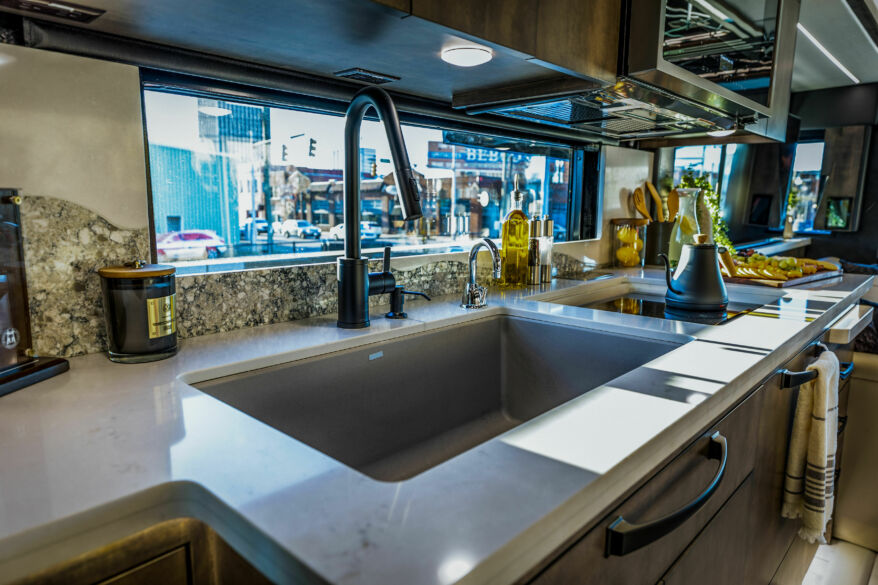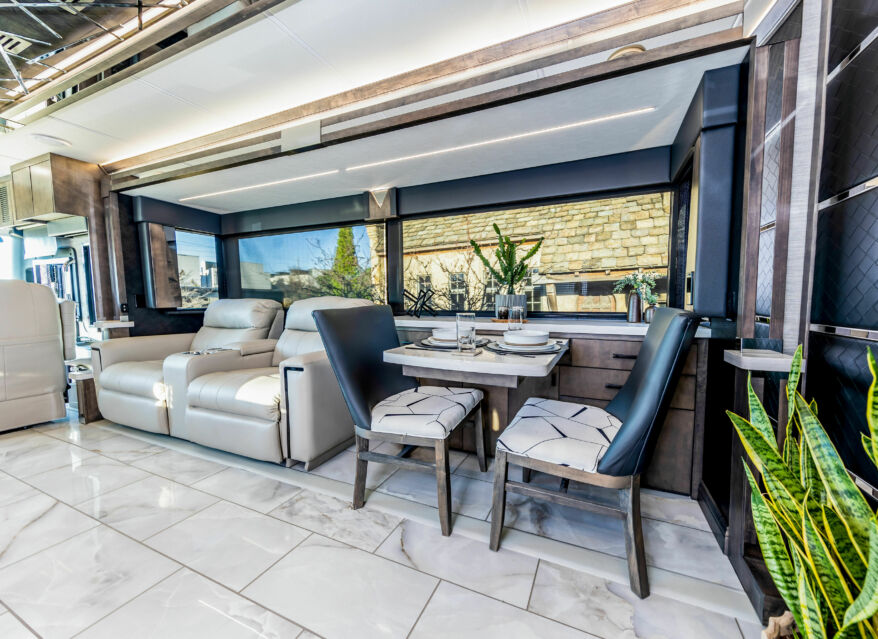 Stepping out of your king-sized bed won't be as difficult in the morning when you step on to the heated tile floors. Across from your bed is your electric fireplace, giving a more cozy feeling of home while on the road. Hardwood overhead cabinets set above the bed, and a window sets at the head of the bed, bringing in natural light when you want it. You'll find plenty of space for your clothes with the floor-to-ceiling closet space, and a safe comes standard in the closet providing extra security for your valuables.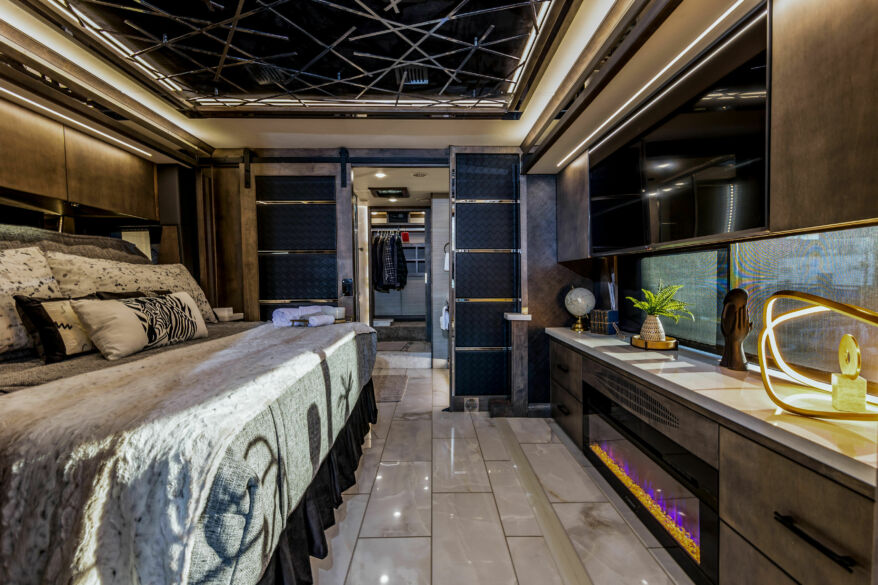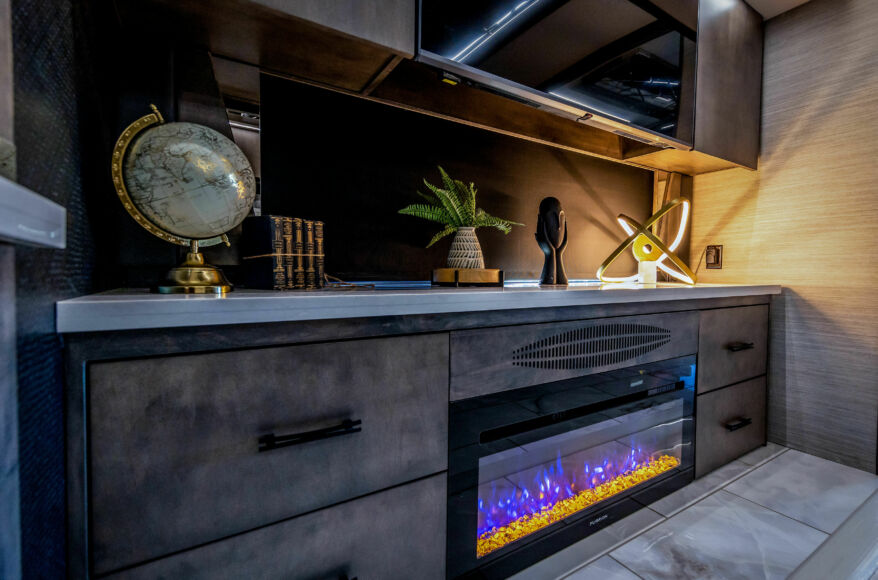 The 45 FZ floor plan features (1) full bath, and (1) half bath. The master bath is located in the back of the coach, and features quartz countertops on your double vanity, a solid surface walk-in shower with inlaid tile accents and a residential glass door, and medicine cabinets behind your mirrors. The shower is integrated with the Aqua View Showermiser™ ensuring you never waste water waiting for it to heat up. A rear egress exit is standard above the toilet, providing an extra sense of security.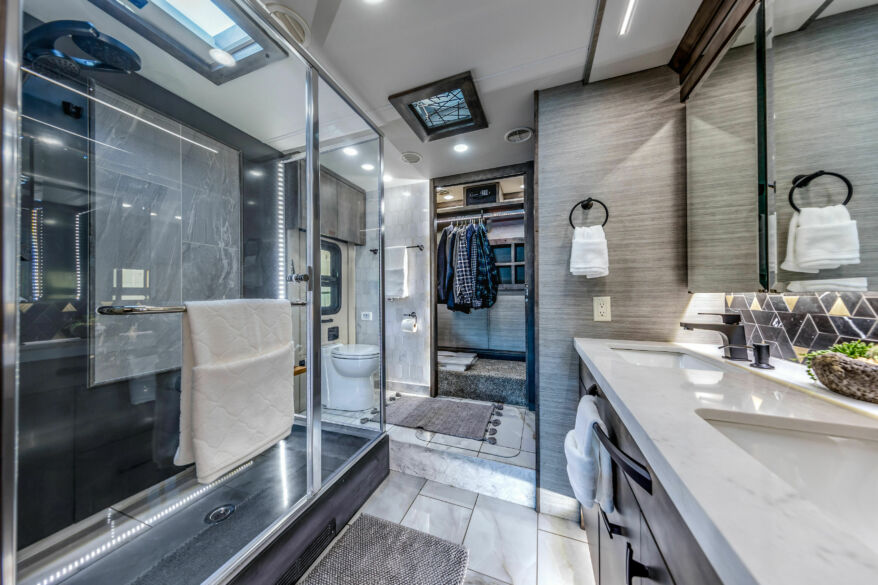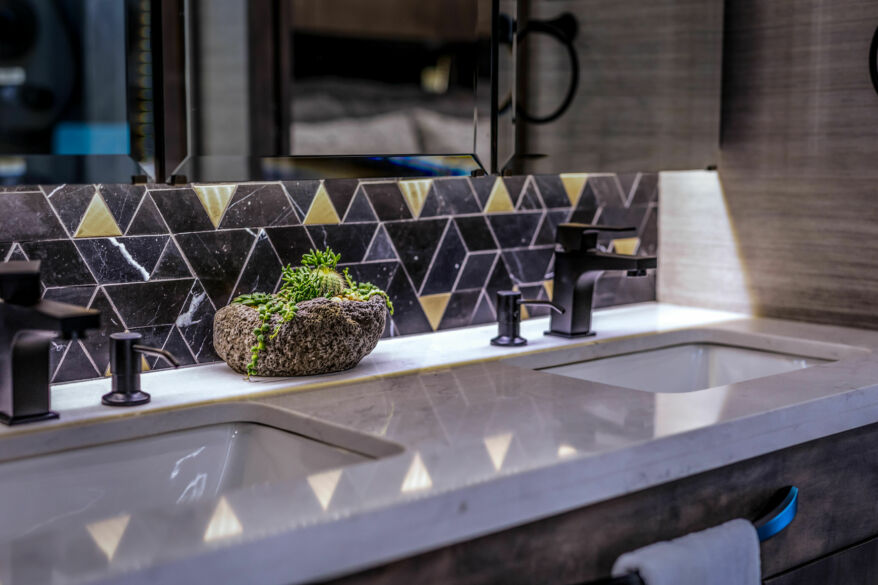 Take a virtual tour of the 2023 Zephyr 45 FZ floor plan. Walk through just as you would if this coach was yours.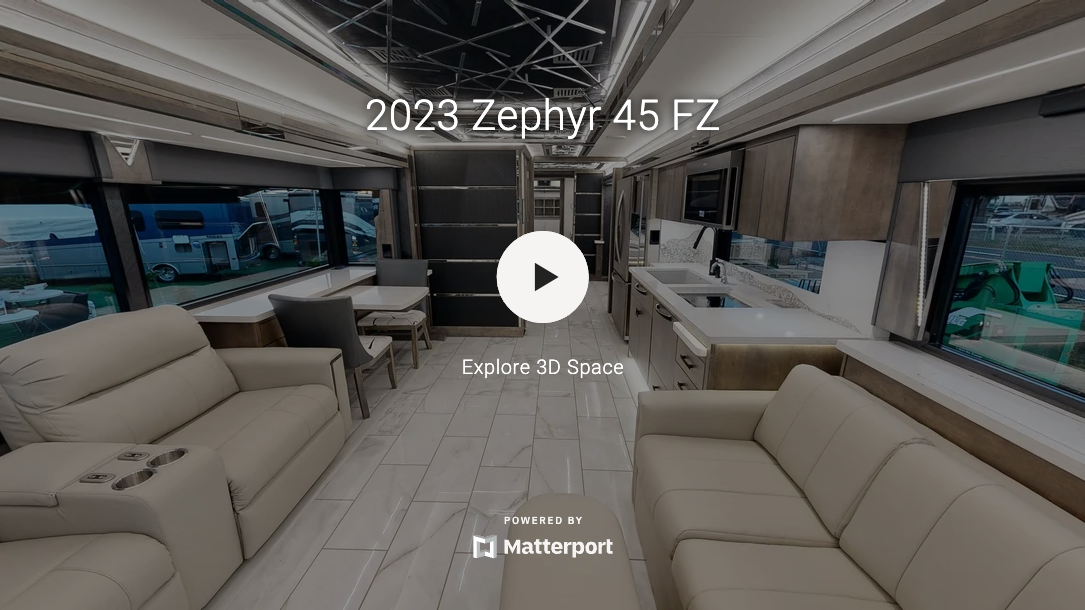 On the road or at your destination, this RV stands alone. Take a trip into luxury. In your new Zephyr.
For more information about this coach, its features, or the 45 FZ floor plan; or to build your own Zephyr, visit the Zephyr model page, or contact Tiffin by calling (256) 356-8661.