2023 Allegro Bus 45 FP Floor Plan Spotlight
Features listed below are based on model year 2023. To view the most current Allegro Bus features, visit the Allegro Bus page or contact Tiffin by calling (256) 356-8661.
One of our most advanced coaches ever, the 2023 Allegro Bus seamlessly blends comfort and elegance with breakthrough technology.
With the combination of its PowerGlide Chassis and robust Cummins engine, you can take all your travels to the next level.
At a Glance:
Allegro Bus Model Features
In the table below, we've called out the Bus's headlining features.
| Notable Floor Plan Feature on the 2023 Allegro Bus | Standard or Optional |
| --- | --- |
| Cummins® L9 450 HP Diesel Engine with 1,250 lb-ft Torque | Standard |
| 10.0-Kilowatt Onan® Quiet Diesel Generator | Standard |
| Combination Valid™ Air Leveling System with Hydraulic Leveling Jacks | Standard |
| (2) Girard® Roof-mounted Powered Patio Awnings with Integrated LED Lighting and Dual Pitch Feature | Optional |
| Side-Swinging Exterior Storage Doors with Gas Shocks | Standard |
| Gold Heat® Dual Zones Heated Tile Floor | Optional |
| Exterior TV with Soundbar | Standard |
| One-piece Molded Gel-coat Fiberglass Front and Rear Caps | Standard |
| All-Electric Coach | Standard |
Deep Dive:
45 FP Floor Plan
The 2023 Allegro Bus features 4 unique floor plans, including the 45 FP. Let's dive in and see what makes this coach one of our most advanced ever.
The 45 FP Floor plan is 45 feet in length, which gives you plenty of space to live comfortably while on the road! Multiple furniture options are offered with this floor plan, including a variety of seating options in the living room area, and different dining table options.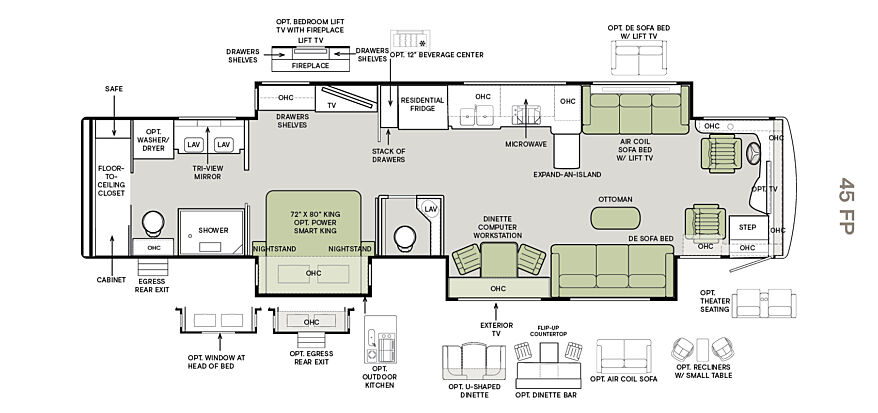 Featured below is the air coil sofa bed, that converts to a bed very easily and can sleep two people. Across from the sofa bed is theater seating. Sit back and relax after a long day on the road with your reclining theater seats. These seats include cupholders and storage compartments to ensure you never lose that remote again. An integrated lift TV sits behind the air coil sofa bed, giving you a perfect view from the theater seats.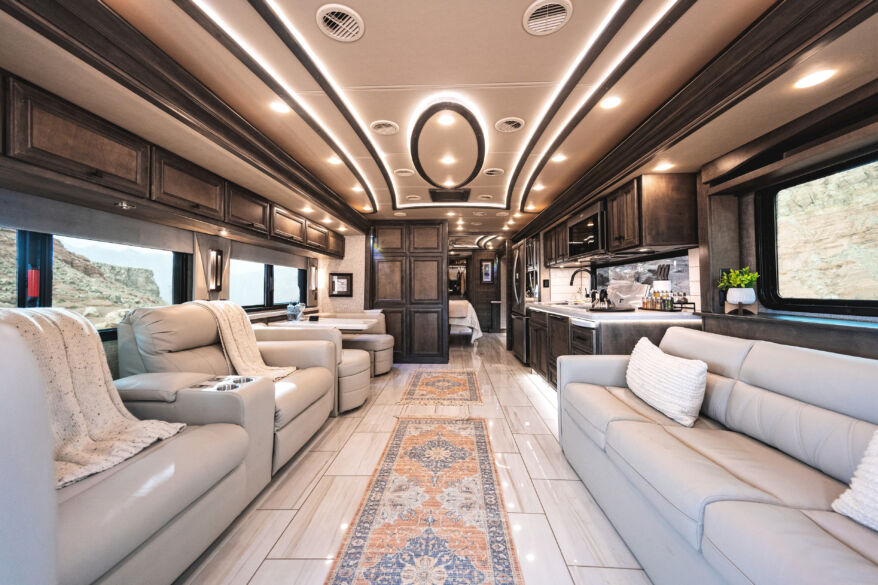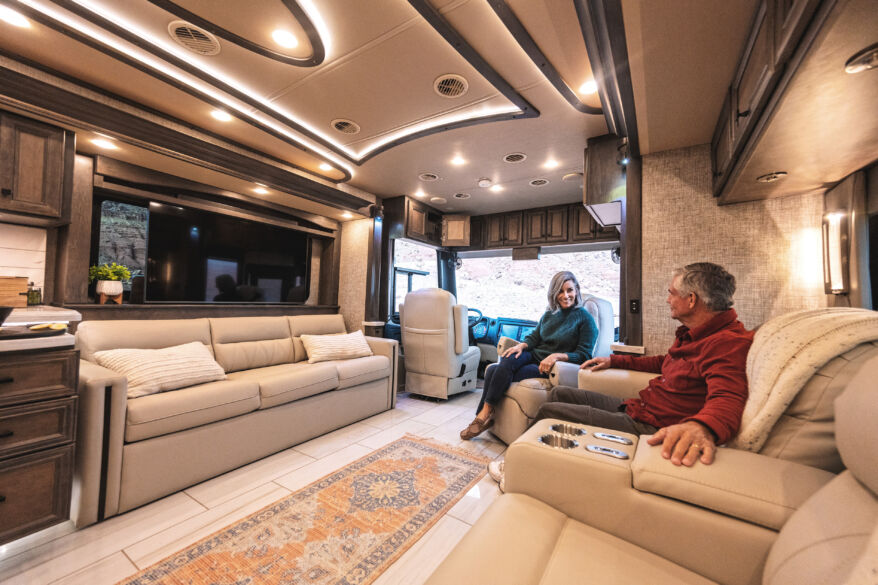 The Spyder Multiplex System is your one stop shop for controlling everything in your Bus. This system is app integrated for your smartphone and can control everything from the lights, to the slide outs, and everything in between. This control panel also gives you insight on your tank levels, and sends error codes if something is off with the coach.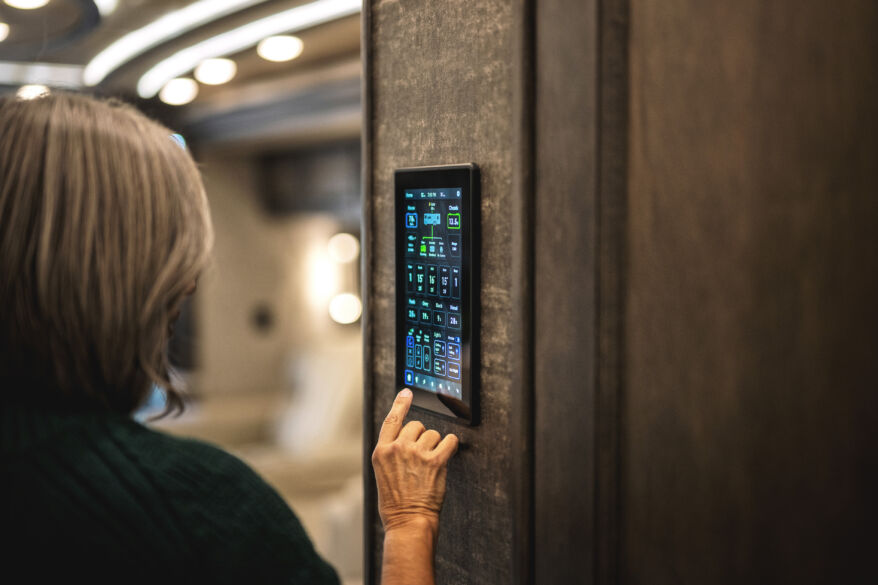 The kitchen area features solid surface countertops throughout, including a sink cover and cooktop cover, giving you plenty of room to prep all your meals. If that is still not enough room, utilize the extend-an-island feature. This pull out island offers you more countertop space, and can be pushed back in when not in use. Overhead galley cabinets provide a place to store kitchen gadgets when you're on the road, and deep storage soft closing drawers give your utensils a safe place to rest when you might encounter those bumpy roads.
Featured below in the 45 FP floor plan is the U-shaped dinette. You'll find this option offers plenty of room for your family to sit and have a meal together. Drawer style storage compartments are offered under the seats, giving you more storage space, and easier access to it as well!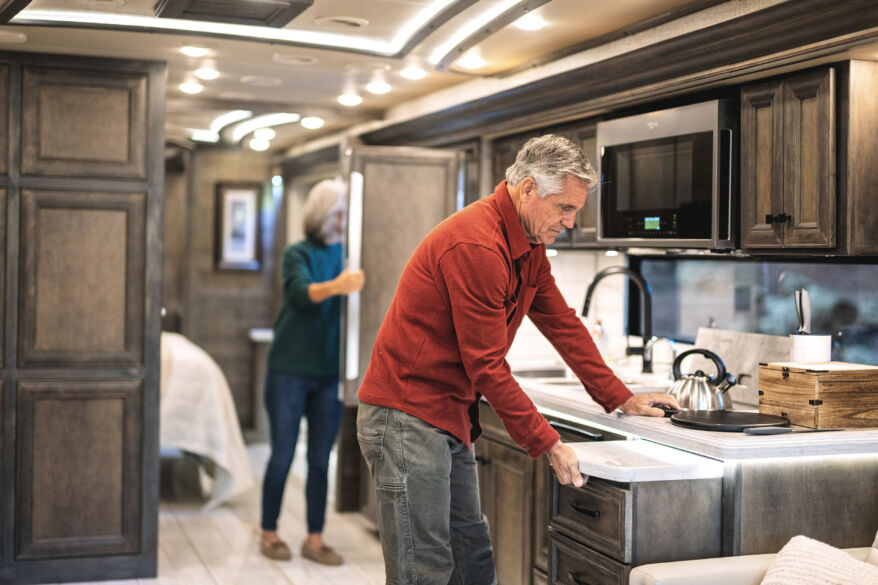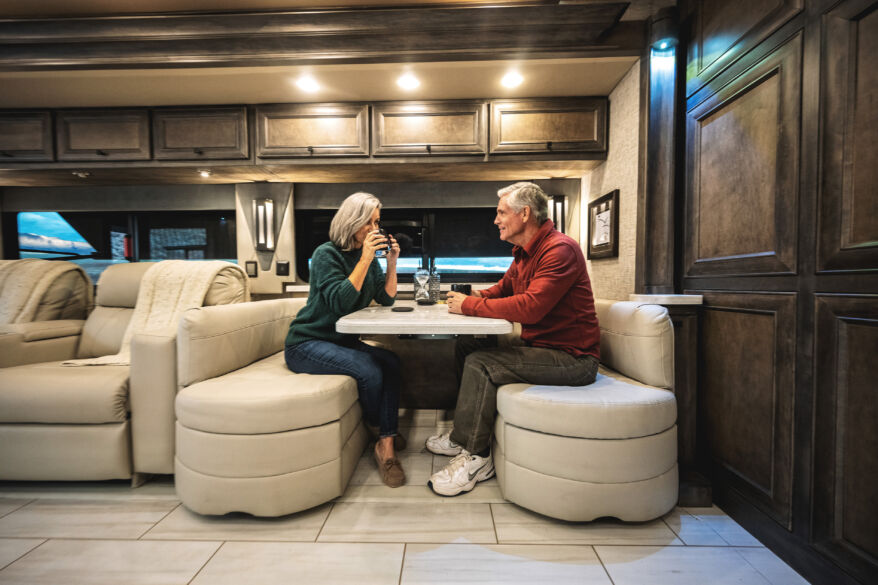 Enjoy your king-sized bed back in the bedroom of the Allegro Bus. Opt in for a window above your headboard (shown below) or choose overhead cabinets instead. Across from the bed is a lift TV in between floor-to-ceiling closet space. You'll find the same hardwood cabinetry in the bedroom that is featured throughout the rest of the coach.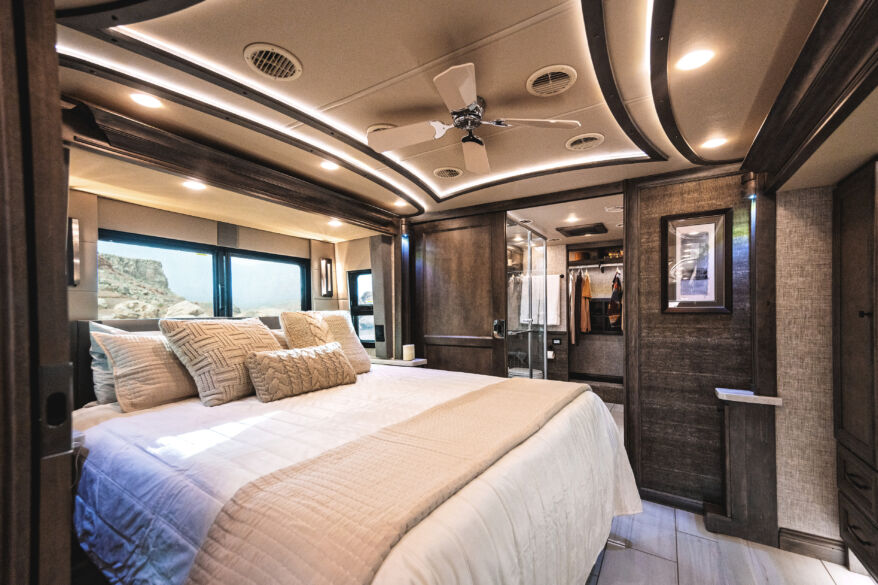 The 45 FP floor plan offers (1) full bathroom and (1) half bathroom. The walk in shower in the master bath features solid surface walls with inlaid tile and a residential glass door. Standard across all models is the Aqua View Showermiser™ that heats up your shower without wasting any water and filling up your gray tank. Standard in the 45 FP is a back engress rear exit, shown right above the toilet.
A double vanity in the master bath provides plenty of space for two people to get ready in the mornings. Also, opt for the the optional washer/dryer to make your stays on the road just a little bit longer.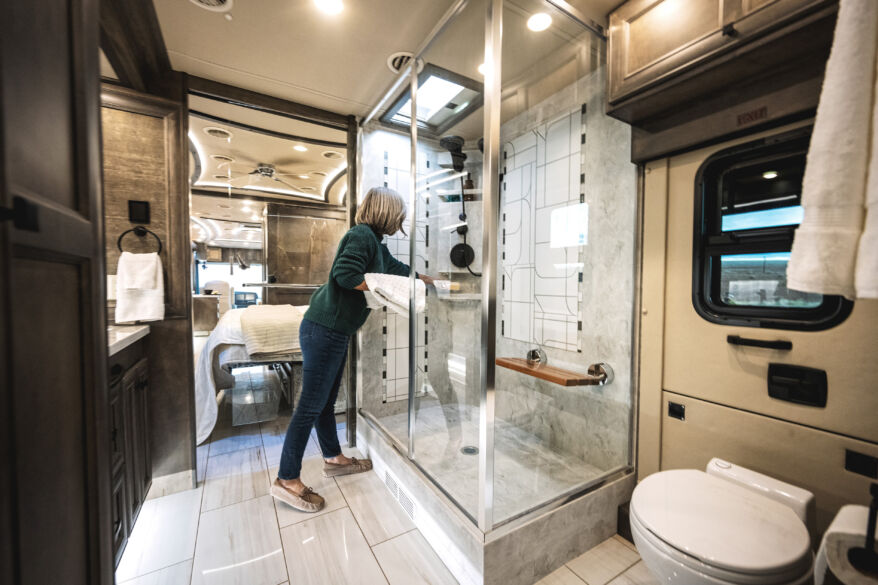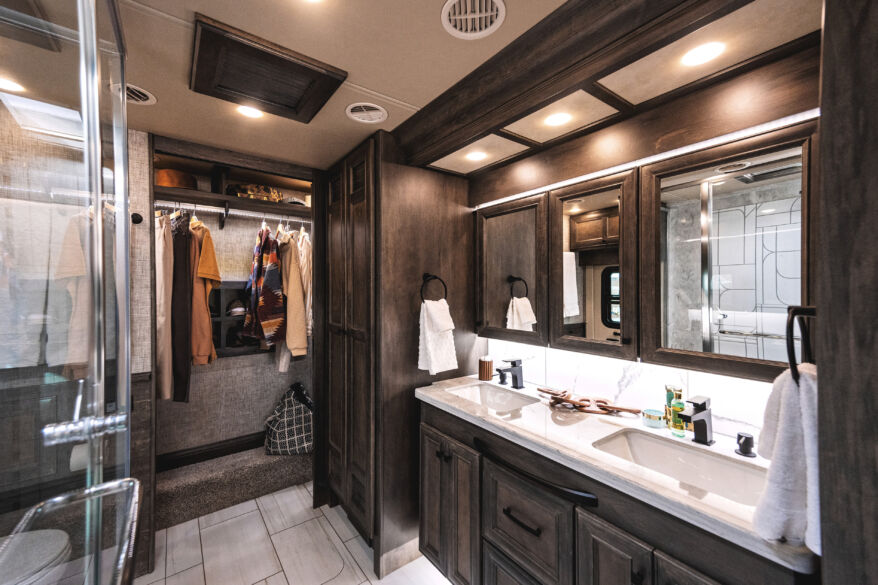 Take a virtual tour of the Allegro Bus 45 FP floor plan. Walk through just as you would if this coach was yours. This floor plan features Pure Linen colored cabinets, Catalina Ice flooring, and the Art Deco 2 fabric suite.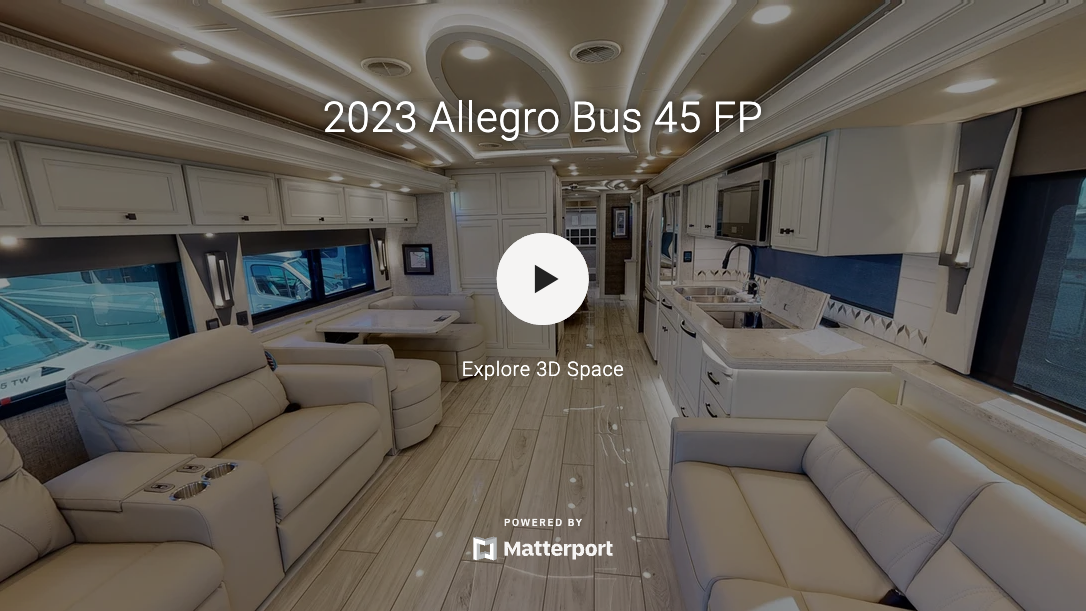 Whether you are exploring natures for a few days, or taking you and your family on a cross country road trip, move ahead in more ways than one in the 2023 Allegro Bus.
For more information about this coach, its features, or its floor plans; or to build your own Bus, visit the Allegro Bus model page, or contact Tiffin by calling (256) 356-8661.