2023 Allegro Bay 38 AB Floor Plan Spotlight
Features listed below are based on model year 2023. To view the most current Allegro Bay features, visit the Allegro Bay page or contact Tiffin by calling (256) 356-8661.
The Allegro Bay is Tiffin's first Super C model. It brings all the amenities featured on most of our Class A models, paired with our Freightliner® S2RV Chassis.
It's powerful 360 HP Diesel engine can tow up to 12,000 lbs, ensuring nothing is left behind on your next trip. The interior is sure to impress surrounding you with luxury entertainment, cooking and safety features designed for maximum comfort and relaxation.
Whether you are hooked up at a luxury campground, or boondocking in the desert, the Allegro Bay is made to move you to your next adventure.
At a Glance:
Allegro Bay Model Features
In the table below, we've called out the Allegro Bay's headlining features.
| Notable Floor Plan Feature on the MY23 Allegro Bay | Standard or Optional |
| --- | --- |
| Cummins® B6.7 360 HP Diesel Engine with 800 lb-ft Torque | Standard |
| Allison® 3000 MH 6-speed Automatic Transmission with Lock-up Torque Converter | Standard |
| One-piece Molded Gel-coat Fiberglass Front and Rear Caps | Standard |
| Spyder Controls Multiplex System Featuring App Compatibility | Standard |
| In-dash Navigation System | Standard |
| 8.0-Kilowatt Onan® Quiet Diesel Generator | Standard |
| Side-by-side Washer and Dryer | Optional |
| Bedroom Egress Door | Optional |
| All-Electric Coach | Optional |
Deep Dive:
38 AB Floor Plan
The 2023 Allegro Bay features 3 unique floor plans, including the 38 AB. Let's dive in and check out Tiffin's first Super C model!
It may look rugged on the outside, but the Allegro Bay is nothing short of luxury when you walk inside. We build our Super C models with you and your family in mind, giving you the maximum amount of space, while ensuring your trip is as memorable as it should be. Natural light floods into this floor plan, making it feel more open and getting you closer to nature than ever before.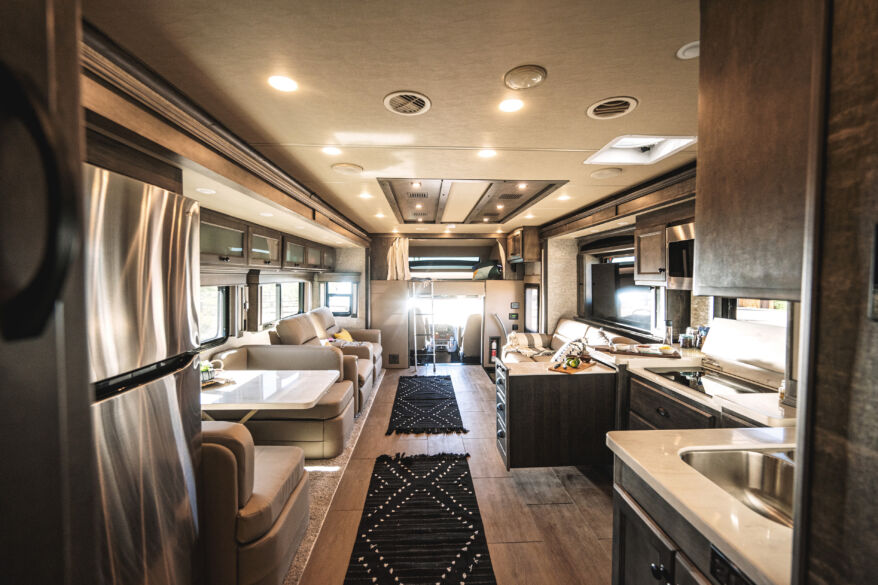 When you walk in the Allegro Bay 38 AB, you'll enter towards the front of the coach. You'll walk right in to the living and dining area. One of the first things you may notice is the large amount of seating room in this area. These pictures below feature the theater seating option on the driver's side. This option can be swapped out for the Ultraleather DE sofa bed that can fold out and sleep one.
Right beside the theater seating is the Ultraleather booth dinette-sleeper. This dinette option is great for families as it provides plenty of room for eating, and can also convert to a bed to sleep one. There are two other dinette options if you prefer a little more flexibility: The dinette bar, and the dinette computer workstation.
Across the coach on the passenger side is the Ultraleather air coil sofa bed. This seating feature can fold out and sleep two comfortably, and also features a lift TV behind it. Raise the TV up when you want to watch it, and lower it down when it's not needed, or when you're moving down the road!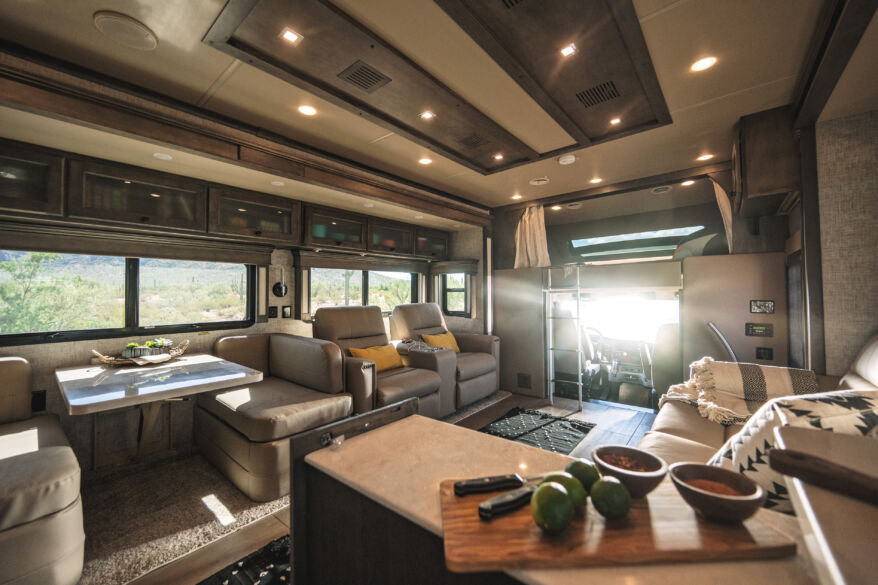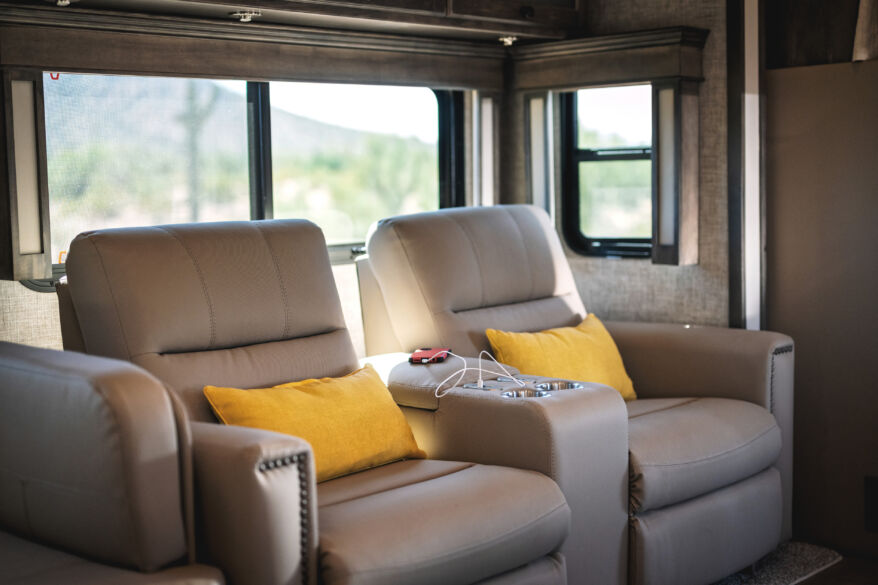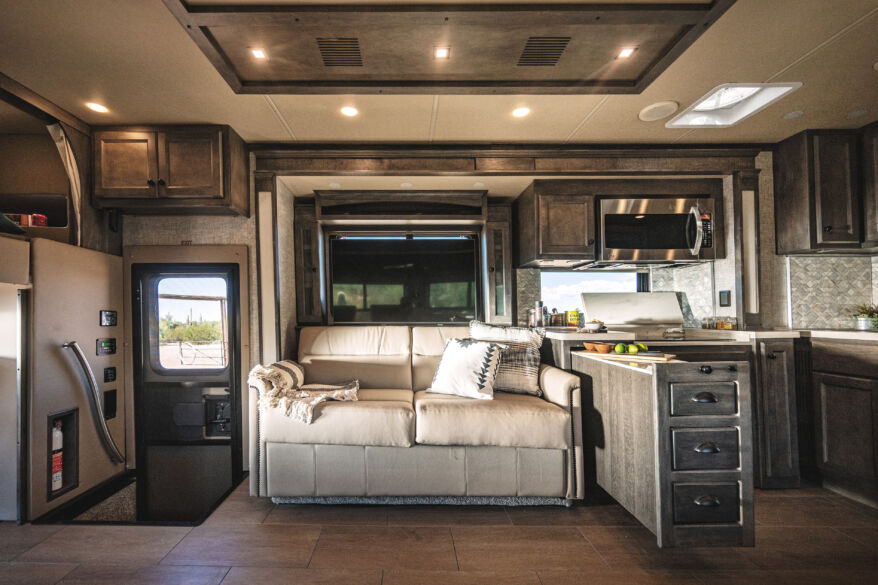 Another sleeping option in the 38 AB is the standard overhead bunk located above the cab. This area can hold up to 300 pounds and includes privacy curtains that can be pulled in and out! This area is also a great space for extra storage when the bed is not needed. The bottom lifts up for easy access down to the cab, ensuring you never have to get out of the coach to go back and forth.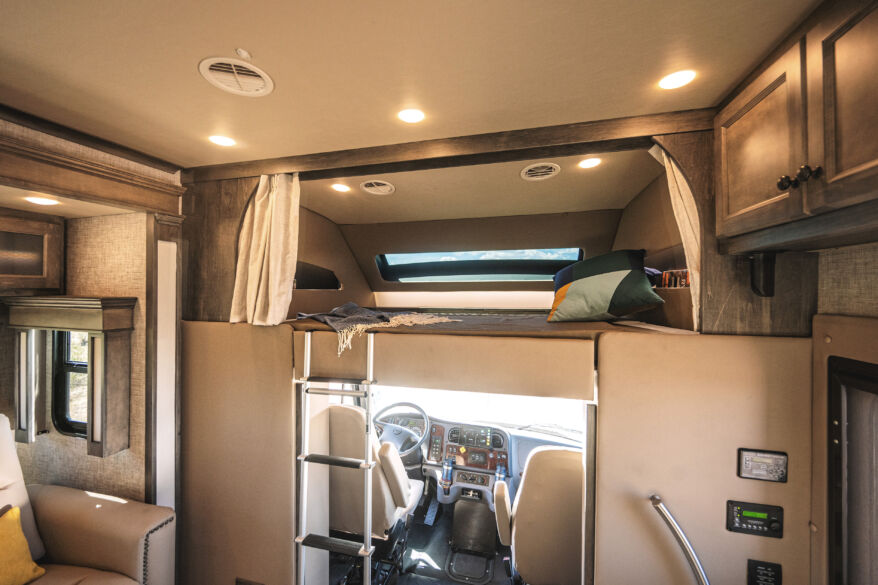 You'll never want to leave the kitchen when you experience how simple and convenient cooking is in the 38 AB. Handcrafted, hardwood cabinets and deep drawers offer plenty of space for dishes and cooking supplies. The expand-an-island feature offers more counter space for whipping up a quick lunch, and a large pull out pantry allows you to bring more of your favorite foods with you on your trips.
You'll love the reliability and space with the stainless steel appliances, and if hand washing dishes isn't your forte, you can choose to include the optional dishwasher. The cook top gives you plenty of room for multiple pots and pans.
(NOTE: If you choose to opt in for the all-electric coach, the cooktop will be a two-burner induction cooktop instead of the three-burner liquid propane cooktop.)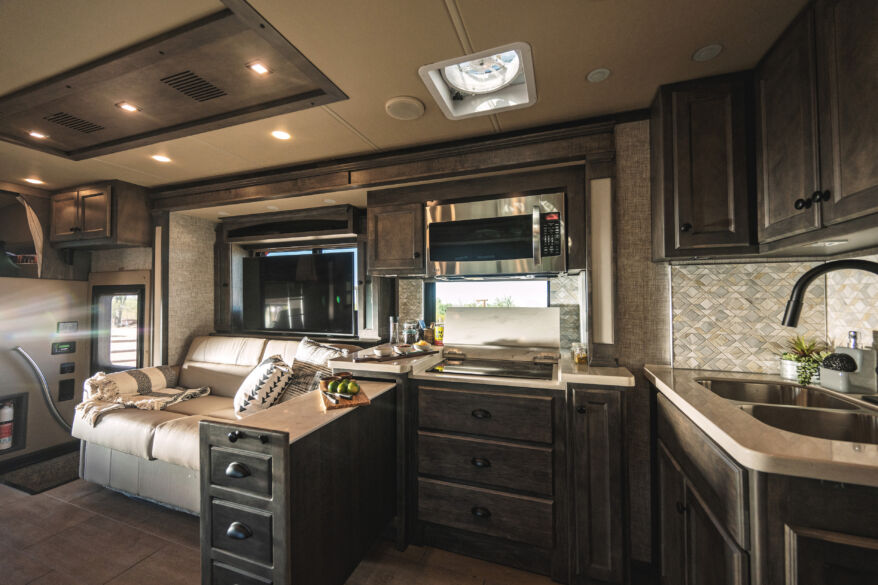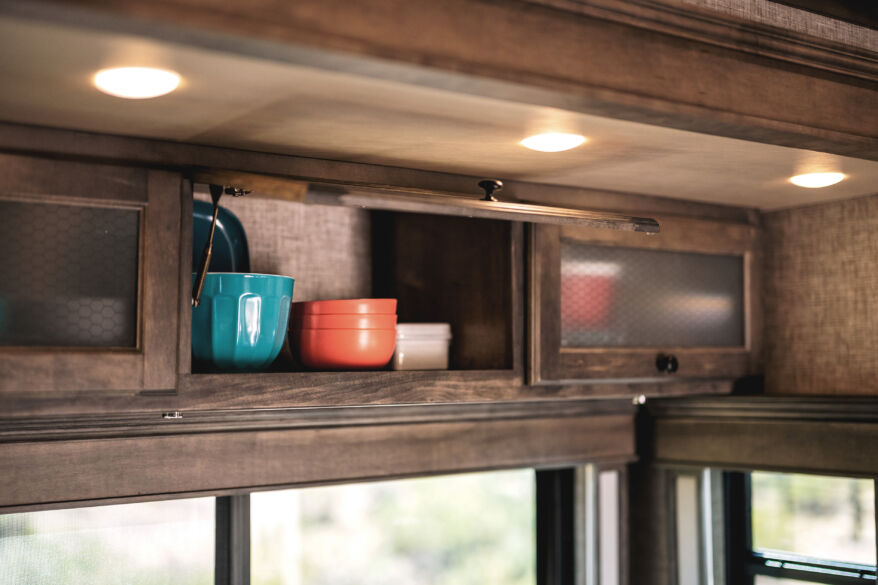 Moving toward the back of the 38 AB, you'll come to your bathroom and shower. A privacy door is placed between the living area and the bathroom/bedroom. The large walk in shower on the driver's side is integrated with the Aqua View Showermiser™ which allows you to circulate your freshwater while it's heating up without wasting any of it. The bathroom is on the passenger side of the coach and features solid surface countertops and plenty of cabinet and drawer space for all of your bathroom necessities.
The bedroom sits at the rear of the 38 AB. A large king-sized memory foam bed is placed in the center of the room with a headboard and overhead cabinets right above. An optional egress exit door can be placed at the head of the bed too, giving you more peace of mind when you're in your bedroom. Across from the bed sits the large wardrobes with drawers underneath. If you have plans to stay on the road for long periods of time, you may find it beneficial to have the optional washer and dryer included, allowing you to wash and dry your clothes anywhere you go!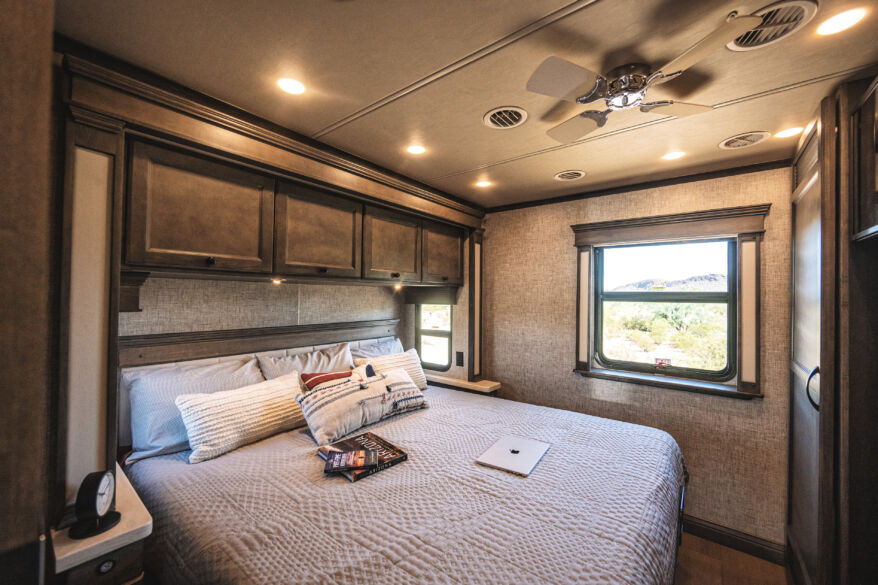 Whether you are exploring natures for a few days, or taking your family on a cross country road trip, the Allegro Bay 38 AB ensures your life on the road is always just like home.
For more information about this coach, its features, or its floor plans, visit the Allegro Bay model page, or contact Tiffin by calling (256) 356-8661.
Take a virtual walk through an Allegro Bay 38 AB. See the details and luxury features just as if you were there in person!
Featured on this model is the Soft Suede fabric suite, Sandstone stained cabinets, and Seagrass Flooring.