Wells Yes! A Guide to Boondocking.
What's the cost of living from your RV full time if most nights are spent boondocking? How many showers can you take on a single tank of fresh water? This blog answers your boondocking questions.
Where's the best place to start a story about boondocking, that off-the-grid style when there's no hookup, no reservation? How about literally on the beach? If you could drive your RV right up to the water, with the ocean a few yards from your doorstep, that'd be nice, right?
I suppose Jared and Rebekah Wells must have reasoned the same. Because when we reached out to them about their life on the road, several other boondocking RVers were parked alongside their Tiffin Phaeton, just steps beyond the point where the high tide extended itself, on Magnolia Beach, near Port Lavaca, Texas.
This beach is a bit of an enigma. First off, there are very few camping opportunities that put you in a spot most people only reach by foot or bike. Beachgoers everywhere are seen pulling little wagons loaded down with a cooler packed with drinks and sandwiches, chairs, an umbrella, and sunblock. That's how it's done. But not for these people. Nope, these boondocking nomads sit on the beach beside their rigs. And when they get thirsty? They grab a cold soda from their frig, just a few feet away.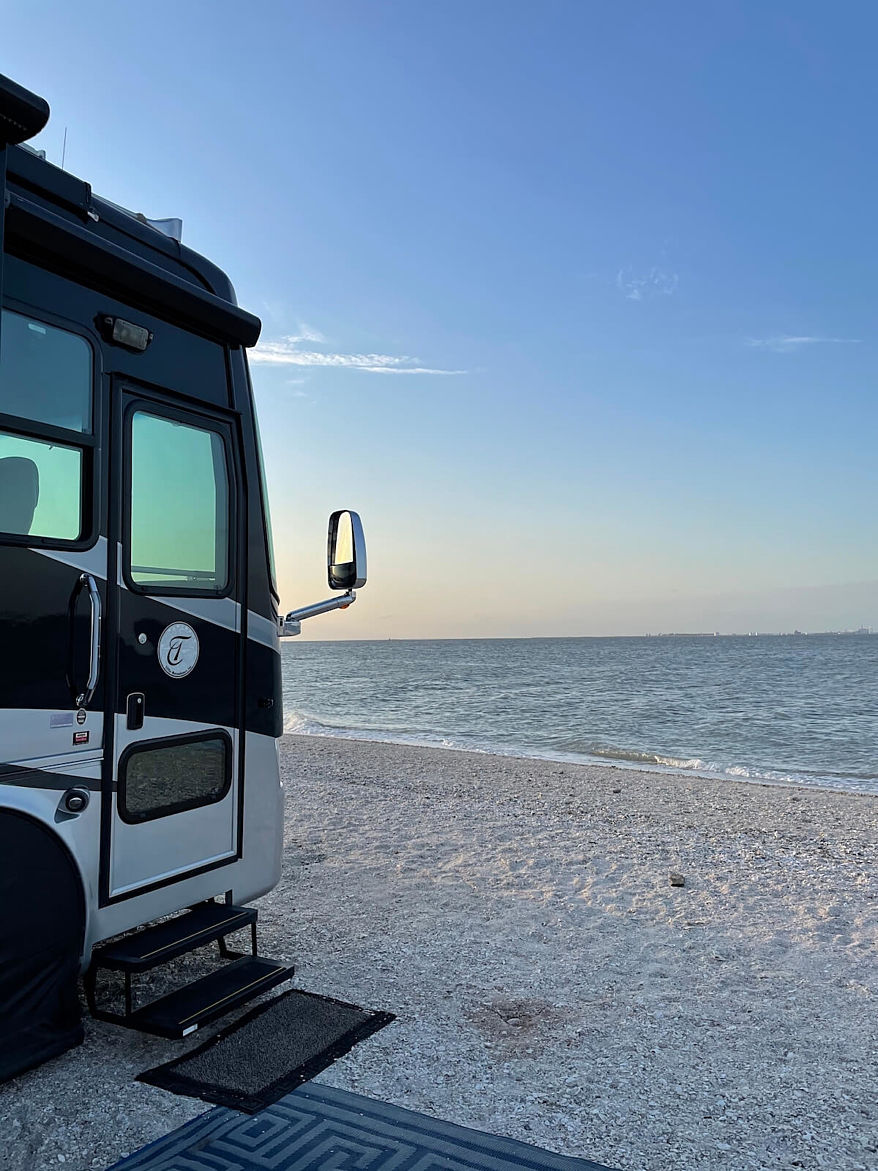 Tiffin owners Jared and Rebekah Wells camped steps from the water in their Phaeton on Magnolia Beach, near Port Lavaca, Texas. Photo: @rebekahandjared

Of course, there is no cement pad or full hookup. You can't pipe cable TV into a port on the side of your RV and, to preserve your motorhome's water supply, you might need to forgo a shower or two and rely, instead, on the ocean's saltwater to wash the sweat away. That's a sacrifice. Sure enough. There are other sacrifices that the boondocking set makes too. So is it worth it?
Why, yes indeed.
Boondocking By the Numbers
At least Jared and Rebekah sure think so. And any one of the boondocking RVers they've met since electing to live fulltime from their Tiffin will tell you the same. The Wells launched from Denver, Colorado, more than a year ago. Rebekah's from Kansas City. Jared's from Los Angeles. A job moved him to Missouri, and that's where the two met. From there, they landed in Denver. But the landing didn't stick.
Ultimately, Rebekah would find a job that allowed her to work remotely from her RV, and Jared would work as what they laughingly call the Estate Manager. Before they purchased their Phaeton, Jared's work kept him on the road, away from Rebekah far too much. Now, he does everything that allows them to keep this dream afloat. He monitors their electricity use and their water supply. He selects where they'll live, and when they'll leave. And he manages all the maintenance on the rig, not to mention a thousand other things that are too involved to mention here.

For them, boondocking was an essential piece of the plan — the thing that would allow them to sell their home and commit to living from the Phaeton year around. If they were gonna do this, they wanted to do it all the way.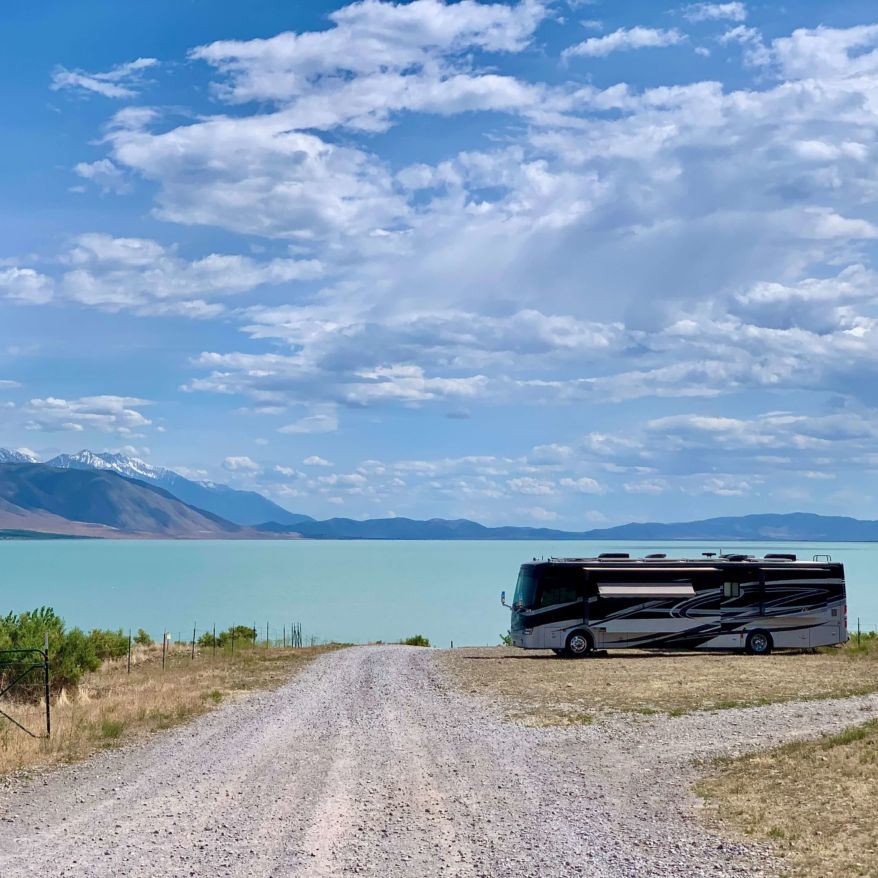 Rebekah and Jared's Phaeton parked on Utah Lake south of Salt Lake City. Photo: @rebekahandjared

"We had the idea of being sustainable and enjoying nature at its core," Jared says. "So that's what led us to boondocking. When we left we could have bought some sort of camping membership type situation and could have just gone park-to-park. And there is nothing wrong with that. Or we could use the money we'd save by boondocking to invest in going solar and being self reliant."
So that's what they chose to do.
294
Free nights.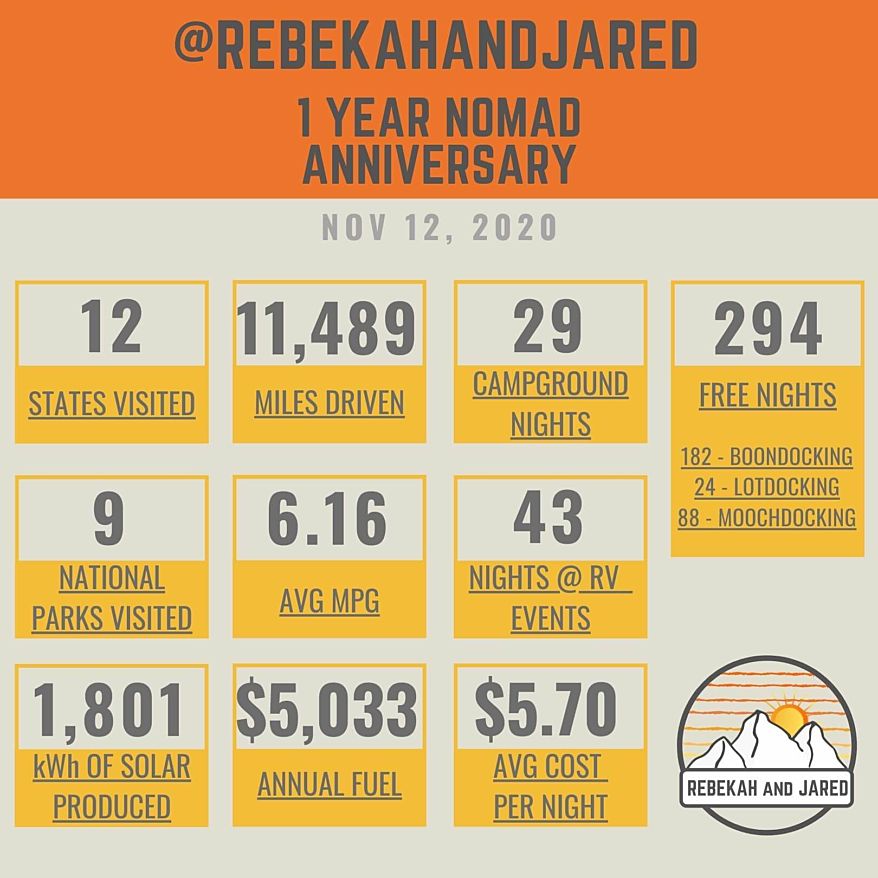 Chart courtesy of @rebekahandjared.
Of the 365 nights Jared and Rebekah were on the road during their first year living in the RV, 294 of those nights were free. Of the free boondocking the Wells did, most of it was on public land managed by the Bureau of Land Management (BLM) and U.S. National Forest land.
To break it down further:
182 nights were spent boondocking.
24 nights were spent lotdocking (camping in parking lots like Walmart or Cracker Barrel).
88 nights were spent moochdocking (camping on the property of friends or family).
$0
The cost of boondocking on U.S. National Forests and public land managed by the Bureau of Land Management.
While there is no cost for boondocking on designated public lands, there are restrictions and guidelines to consider. And those vary. Some BLM areas and public forest land are off limits to camping, and most have restrictions for length of stay. As such, it's important to check local guidelines and research the area before arriving.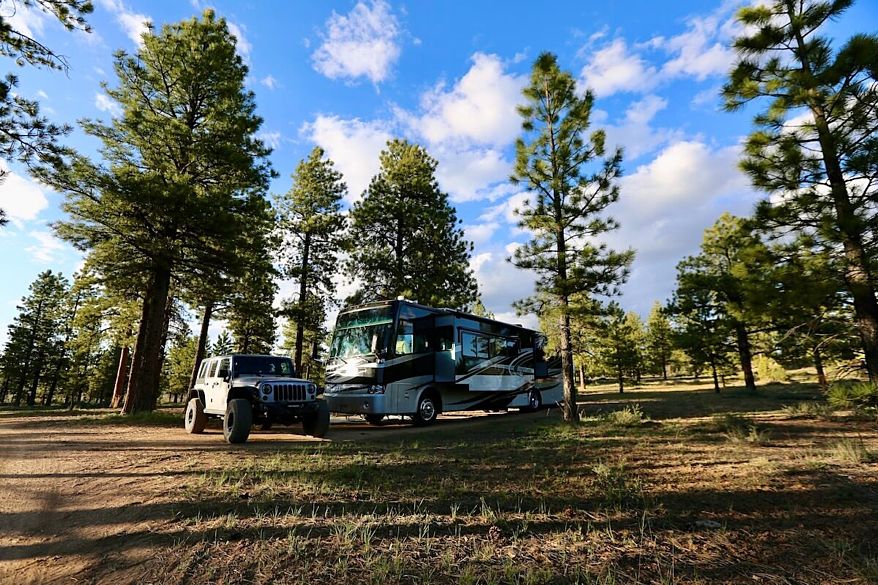 Jared and Rebekah spent some time boondocking last spring at Dixie National Forest in Utah between the Great Basin and the Colorado River. Photo: @rebekahandjared
14
Most BLM lands are located in 14 states.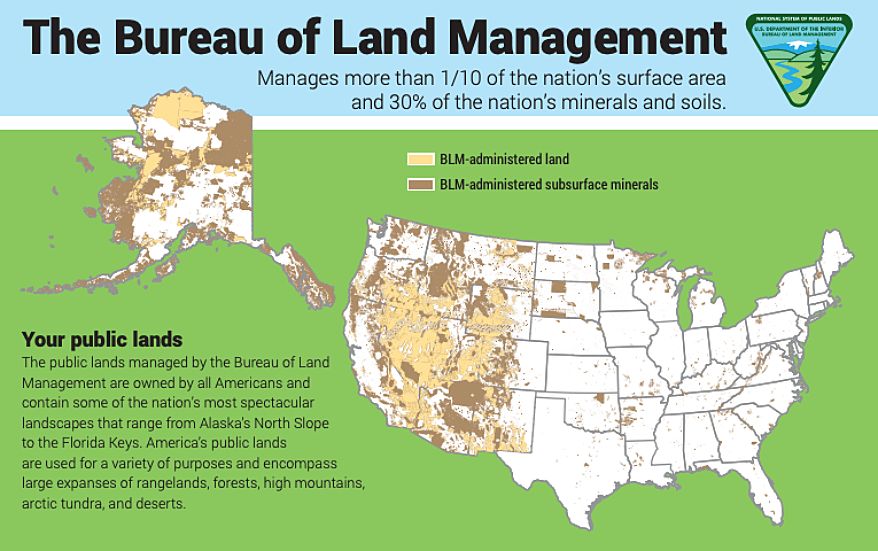 Courtesy of BLM.gov

The BLM manages one in every 10 acres of land in the United States, but almost all of this public land is in these 14 states: Alaska, Arizona, California, Colorado, Idaho, North Dakota, Nevada, New Mexico, Oregon, South Dakota, Utah, Washington, and Wyoming.

154
The number of National Forests in the U.S.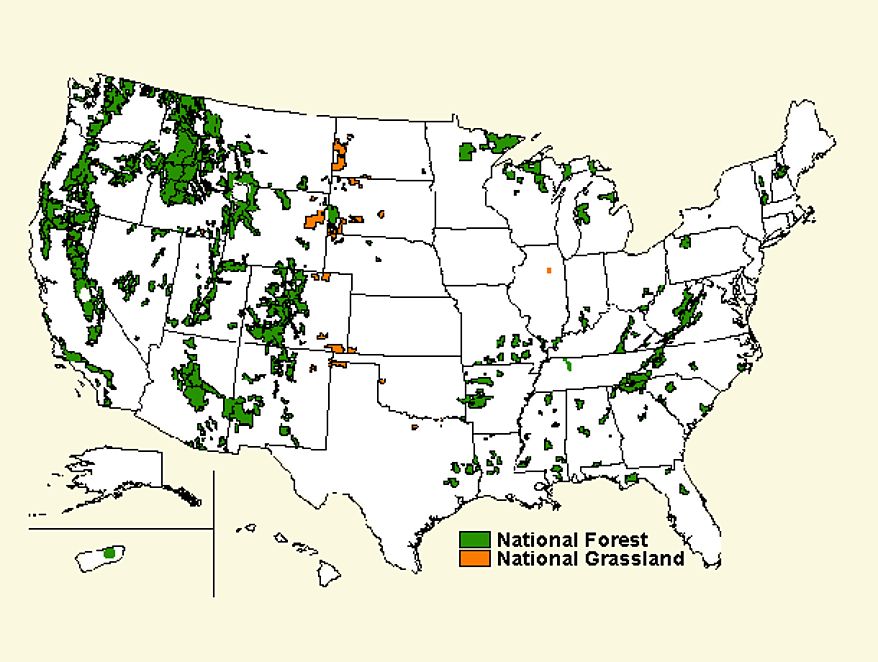 Click the image to use the U.S. Forest Service's interactive map to search National Forests by state.
2
According to Jared and Rebekah, a good starting point for solar is 2 times the watts of solar to the battery capacity you have.
Jared and Rebekah stand atop their Tiffin Phaeton in Monument Valley near the Arizona-Utah border. Photo Courtesy of @rebekahandjared
Jared and Rebekah decided early on to equip their Tiffin with after-market solar panels. That's not to say that boondocking is only possible if one has solar energy. Boondockers can always rely on other energy sources, like a generator. But with Rebekah working remotely from the RV, and both living full-time from the RV, they didn't want to be limited by the amount of energy they used. For them, solar looked to be the answer.
"When we hit the road, we wanted to enjoy our travels without limiting the conveniences we enjoyed at home," Jared says. "We have no problems charging our phones or laptops. We didn't want to say, 'we are going mobile, so therefore we can't enjoy things like streaming music or tv.' And part of all that was having plenty of electricity."
There are any number of places that will help guide an RV owner through the process of going solar. Most solar providers call this process an energy audit. They'll often create a spreadsheet of items that draw on your energy and use that to estimate your energy consumption. But if you've never tracked your energy usage, it's not as simple as a spreadsheet. For the Wells, since they weren't yet living in the RV, they lacked the detail they needed to know for sure how much solar energy they'd need.
"Before someone invests in solar, it's a good idea — when possible — to try boondocking first and see if you like it before you get more invested in it," Rebekah says.
The Wells started off with 1,600 watts of solar when they first hit the road. A couple months in, they added a couple more panels. Today, they have 2,000 watts and feel like they're in a good place.
$5.70
The average cost per night for the Wells to live full-time from their Tiffin.
Remember, 294 nights of Jared and Rebekah's first year of camping were free. However, they spent 29 nights at campgrounds and 43 nights at RV events, which accounts for most of the average cost per night. During their first 365 days of camping, the Wells visited 12 states and nine national parks and drove 11,489 miles.
Q&A With Rebekah and Jared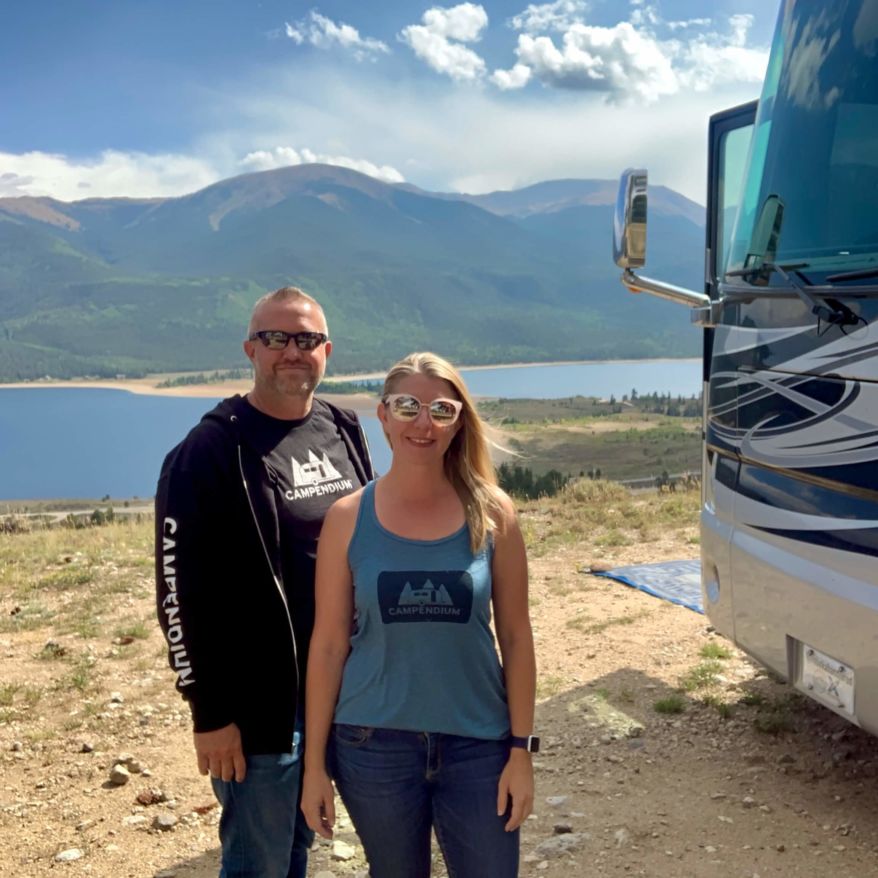 One of Jared and Rebekah's favorite boondocking spots around Twin Lakes Colorado. @rebekahandjared
When it comes to boondocking, we hit some key numbers giving a general idea of where you might camp, how much you'll spend, and what's considered essential to most who do it. The thing is, there's a ton more we can cover. Jared and Rebekah gave us enough information to fill the pages of your average-sized booklet. To share a bit more, here's a Q&A with helpful tips and useful details that offer a glimpse into the lifestyle.
Q.
About the showers. Any chance you guys didn't come clean on the true number of showers you take in a given week?
A.
Rebekah: It just depends on how long you're stretching (the number of days you want to boondock), and how long your showers are. We know we can do two weeks on our tanks if we shower every few days, and our showers are quick. Most RVers should be fine boondocking for a week using whatever water supply they'd normally use if they were in a campground with full hookup.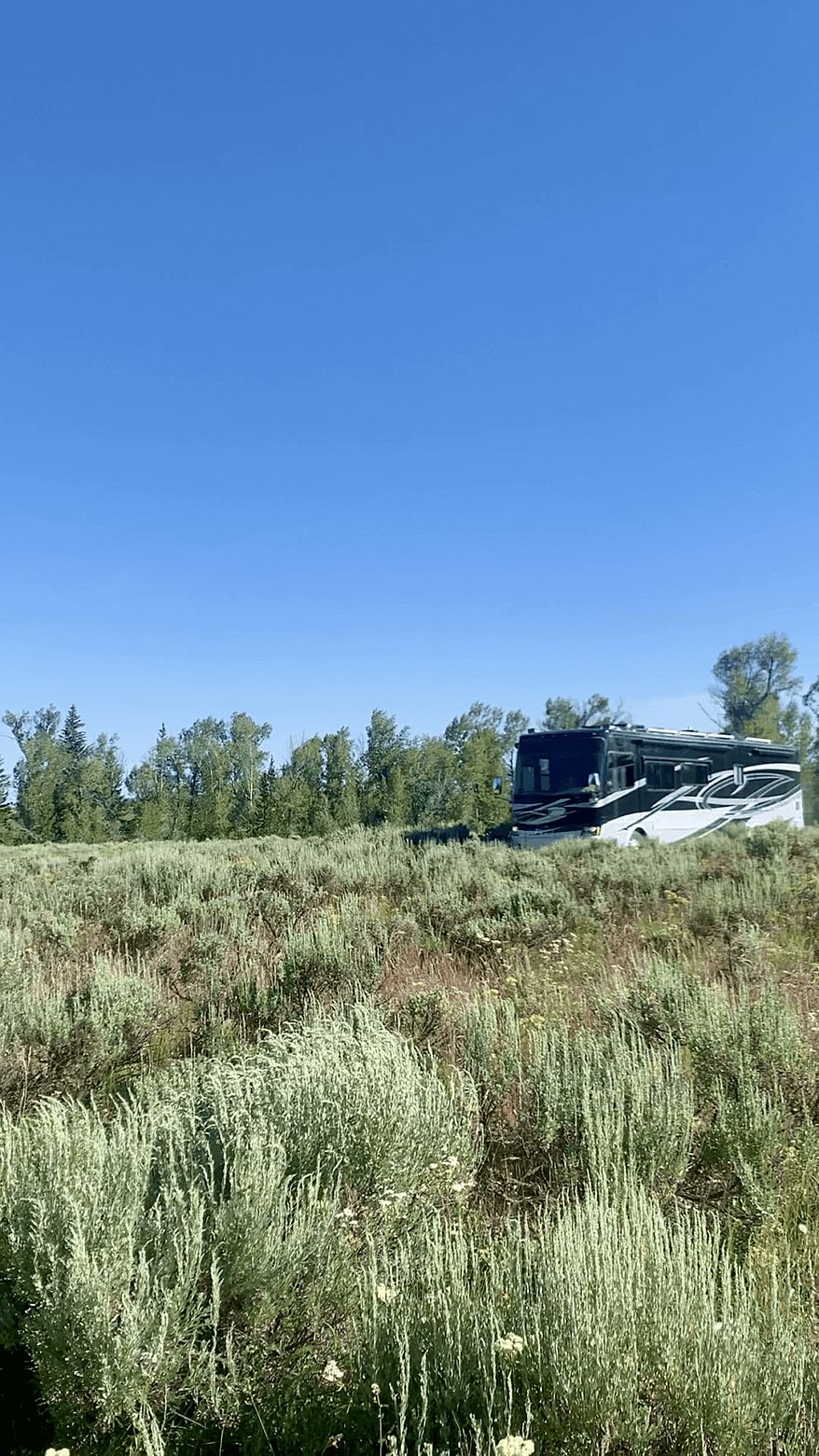 Rebekah and Jared leaving The Grand Tetons in their Tiffin Phaeton. Photo: @rebekahandjared
Q.
What would you say is the one thing that keeps most people from boondocking?
A.
Rebekah: You aren't pulling up to a campsite where you have a number and reservation. One thing about boondocking: You do your research, but you don't know what the circumstances will be until you get there. There have been only a few times when we arrived somewhere and there were no spots available to camp, but that's a possibility. Jared always has three or four options in mind. If you show up somewhere and the place is full, you just drive an hour down the road or so and go to your next option. We also tow a Jeep, and we always unhook the Jeep and go explore the spots available on public land before we drive the RV in. We want to know stuff like, are there hills or steep inclines that would make it impossible for the RV to climb? Are any roads washed out? Things like that.

Q.
What was the intangible thing or things that drove you to adopt this lifestyle: living full-time from your RV and boondocking for nearly 300 nights during your first year on the road?
A.
Rebekah: We talked off and on about full-time RVing for years, and it was a dream that kept popping back up. But jobs and moves would cause us to put it on the backburner. Then there was a season in our lives when we were both working really hard, and Jared was traveling a lot, and we weren't together. We went on vacation and we talked about reprioritizing our lives, the time away changed our mindset, and that kind of sealed it.
Q.
Boondockers have this reputation of projecting a hermit-like vibe. Is it true that a boondocker pretty much wants to be left alone?
A.
Jared: As a community of RVers, people are there to help each other in general. We love this lifestyle, boondocking, and our fellow Tiffin community. We always feel a sense of kinship when we run into fellow Tiffin owners. Same goes for RVers who are boondocking. And, yeh, there's a stigma that boondockers are hermits, they don't talk to their neighbors, they aren't helpful. But in reality, people are very friendly. Like right now, it feels like we're in a campground because there are a lot of RVers here at Magnolia Beach.
Q.
Is there a resource or app that you rely on most often to pinpoint where you'll camp and where it's possible to boondock?
A.
Rebekah: Campendium. It's been a great resource for us.
Jared: It's free, and it's crowd-sourced information. So it helps us really understand the nuances of a place. You'll find comments that offer details like, this public land provides space to camp for free, or it's beautiful, but there is no cell service. So we know we can't stay there, because we need the connectivity.
Q.
Let's say a Tiffin owner has been thinking about boondocking. Not just for a weekend, but for a long period of time. What would you say are the essential things they either a) need, or b) need to know, in order to have a successful first experience?
A.
Jared: Really you just need to know how much resources you use on a regular basis. Water is one. Anyone with a Tiffin has a generator, so you don't have to have solar for boondocking. It's OK to run your generator when you're boondocking as long as you respect the people around you. We've boondocked beside another Tiffin owner, and they ran a generator during the day because the battery can only last for so long. Then they'd have the charge they needed to get them through the night.