Top 10 Southern RV Resorts and Casitas for Snowbirds
Winter is here, and snowbirds will be headed southbound soon. So peruse our list of warm, southern destinations. And find the places that speak to you.
Whether you're a longtime RV owner or you're new to the lifestyle, you can't help but be excited about the growth in both the number of RV parks and campgrounds opening across the country, and the variety of experiences available in these unique and often luxurious parks and resorts.

Over the past 5 years, between 2015 to the beginning of 2020, the campgrounds and RV parks industry has grown 6.4% per year, on average. But 2020 has blown the doors off, largely because of lifestyle changes and renewed interest in camping thanks to COVID-19 and the resulting global shutdown.

When 2020 is said and done, experts expect more than a 10% increase in market size.

That means you guys — our Tiffin owners — have more options than you've ever had. But, for this article, we're focused on primo destinations for snowbirds, which takes us to the milder weather of the southernmost U.S.
Here's our top 10.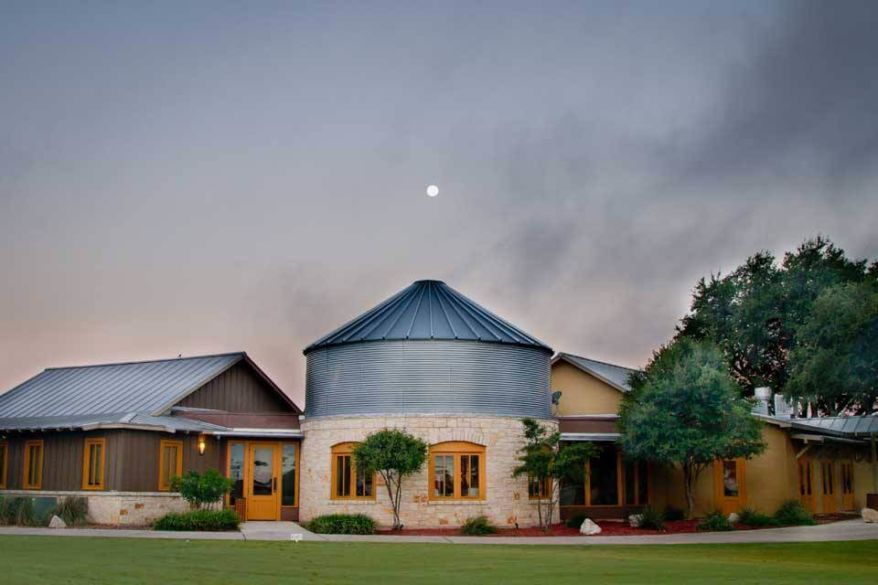 Alsatian is a luxury RV park and golf resort just minutes from San Antonio in Castroville, Texas. At Alsatian, you're convenient to everything San Antonio has to offer. But if you're looking for solitude or outdoor recreation instead, you're within close proximity of several local rivers. There's a top-rated, 18-hole golf course adjacent to the 156-acre RV park. RVers have the option of renting an RV site with a casita, Spanish for "small house," situated on the golf course offering spectacular views. There are 37 back-in sites and 25 long (up to 120 feet) pull-through sites.

Amenities

Located along the golf course, Alsatian's features nine RV sites with casitas. Each casita is equipped with a covered outdoor kitchen and granite countertops. There's a refrigerator, grill, dual, stainless steel sink, and plush, outdoor furniture. Inside, there's a full bathroom, a desk, storage, and heating and air. All casitas are situated on hole No. 14 of the golf course, and within a short walk to the resort's bass-fishing lake.

Other park amenities include an infinity swimming pool with a large hot tub, a large pavilion with outdoor, garden seating featuring wicker furnishings, a fully-stocked bass lake, cable television, WiFi, fitness center, and walking trails.

Around Town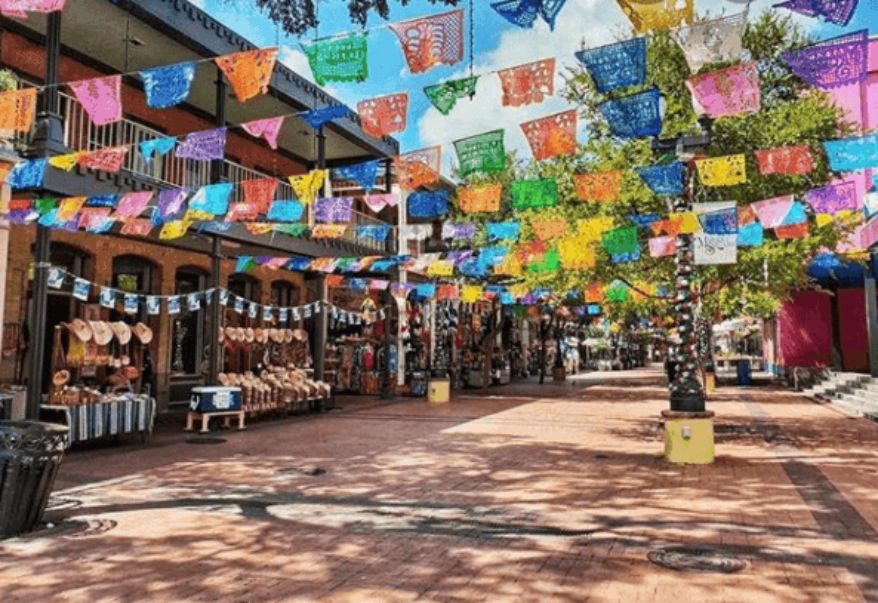 Paradise Canyon is an iconic spot located only 45 minutes north of Alsatian Resort. Known as a "little piece of heaven" on the Medina River, those driving over for a visit can enjoy a swim, picnic or, if you're an angler, fish for river perch. There's also the Medina River Winery nearby and a handful of local shops and eateries like Haby's Alsatian Bakery and Dzuik's Meat Market. Love Creek Orchards is an hour away. The farm offers 11 varieties of apples in the fall and baked goods like apple pies, apple jams, and jellies. Of course, just 30 minutes away in San Antonio, there's everything an urban center has to offer, along with its unique local attractions like the city's famed River Walk. Not to mention the Alamo, which is also in San Antonio.

Rates

Rates range from $40 to $95 a night, depending on site size and features. Monthly rates range from $510 to $1,250. For more information, go to reservations or call (830) 931-9190.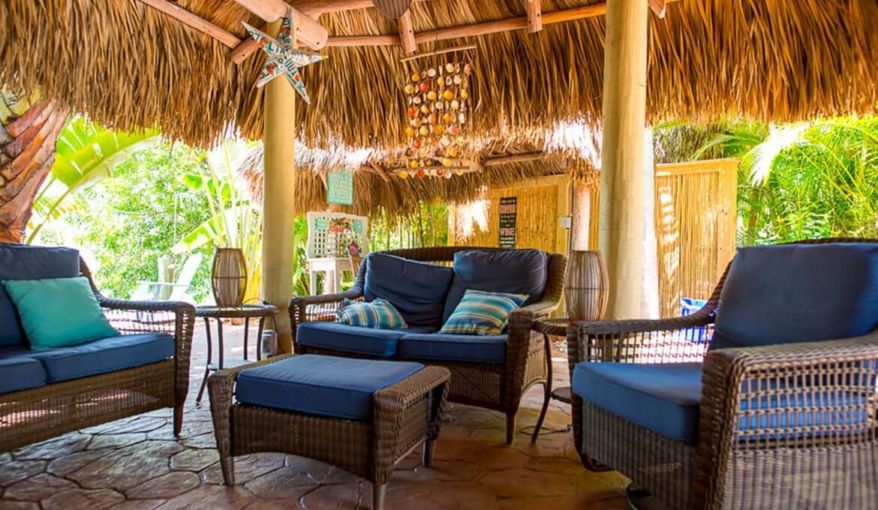 This is a Florida Keys' luxury, RV destination for snowbirds looking for year-round tropical weather right here in the States. Temperatures range from January highs in the 70s to lows in the mid-60s to upper 70s. The hot summer months usually top out in the upper 80s. The resort is 14 miles north of Key West, situated just south of Sugarloaf Key. Here, there are no casitas. What they offer instead is your own personal tiki hut. RV sites, which averages 35 feet wide by 80 feet deep, are landscaped with a variety of tropical plants, shrubs, and trees. You can choose from sites located on the bay or the canal, most of which have private docks. There's also a new 200-foot community dock at the resort.

Amenities

The resort offers high-speed WiFi throughout the park, full hook-ups, and private docks on the Canal and Bay Front lots. There's also a dog park, clubhouse, temperature-controlled, freshwater pool, and laundry facility. The resort is right down the road from Baby's Coffee and Baypoint Market, where you can pick up ice, beer, and staples like milk and bread. There's also a little sandwich shop inside.

Around Town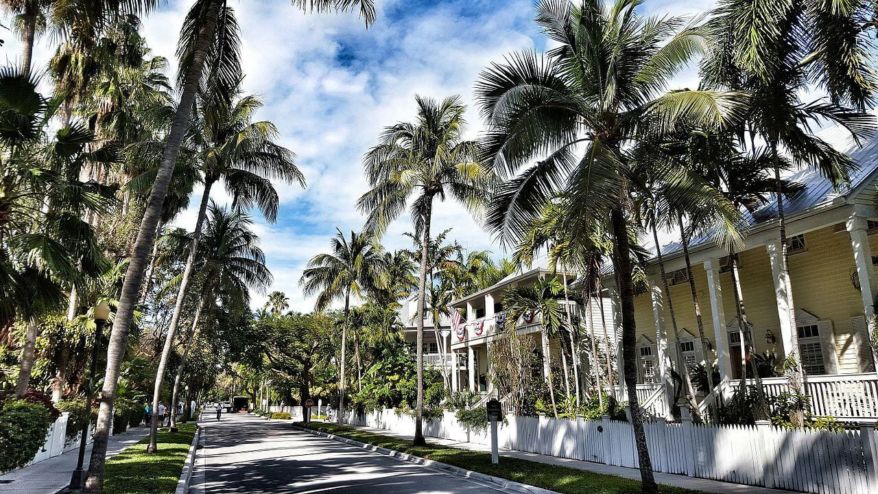 Entire articles and books have been written about what's "around town" here. It's the Florida Keys. You're a short drive from Key West, which is a place that will almost have you convinced you're in an entirely different country. Wild chickens roam the seaside streets and alleys. Known locally as gypsy chickens, they're colorful, a little vocal, and the presence is delightfully bizarre. Many of the restaurants are fish shacks, eateries and bars where the seating and kitchen are nearly entirely outdoors; and it's not uncommon to walk by cigar carts stocked with hand-rolled stogies. In the Keys, fishing opportunities are everywhere. And it's diverse. You can fish the famed reefs, fish the flats with light tackle, or travel off the coast on deep-sea fishing charters.

Rates

Many of the RV sites at Bluewater Key are privately owned and available for rent through the resort's reservation office. 2020-2021 winter rates range from $160 per night to $237 per night. Sites on the higher end of the price range include private docks. You can make your reservations online or call (305) 745-2494.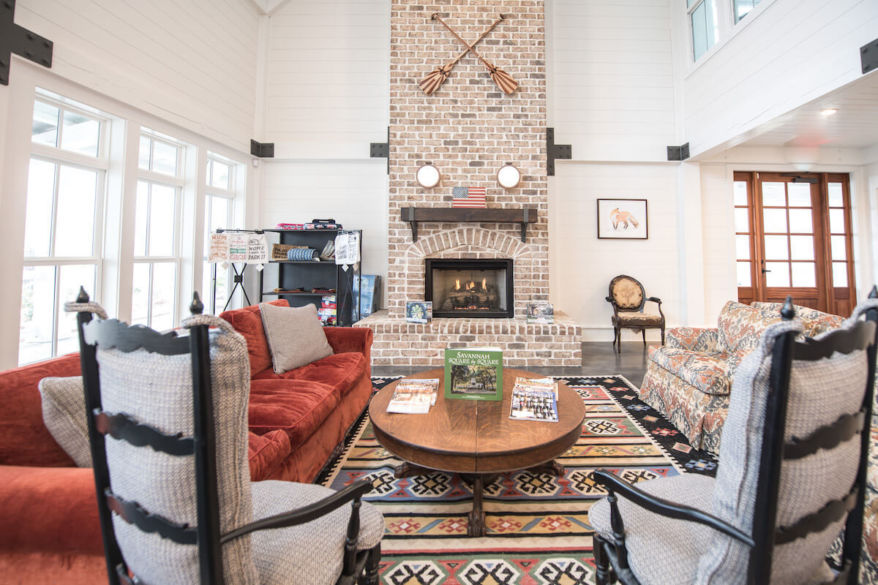 CreekFire Resort is about a 20-minute drive from historic Savannah, Georgia, yet it's a secluded resort that emphasizes ample space in nature. The park and resort offers 105 RV sites. Currently, the resort is in the process of expanding. Additions include 100 new sites, two new pool features, pool bar, restaurant, and gym.

Amenities

The resort is situated around a lake and guests can rent canoes, kayaks, and jon boats. There's also a shuttle service available all year where guests can travel round-trip to Savannah's downtown for $15, or it's $7 for a one-way trip. Departures are scheduled throughout the day. Savannah's Old Town Trolley also picks up at CreekFire's front office every morning. Inside the resort's club area, guests will find tennis and pickleball courts, Bocce Ball, and a retail store. CreekFire also has its own on-site dining: LakeHouse Restaurant serving burgers, sandwiches, and heartier evening meals and weekly specials.

Around Town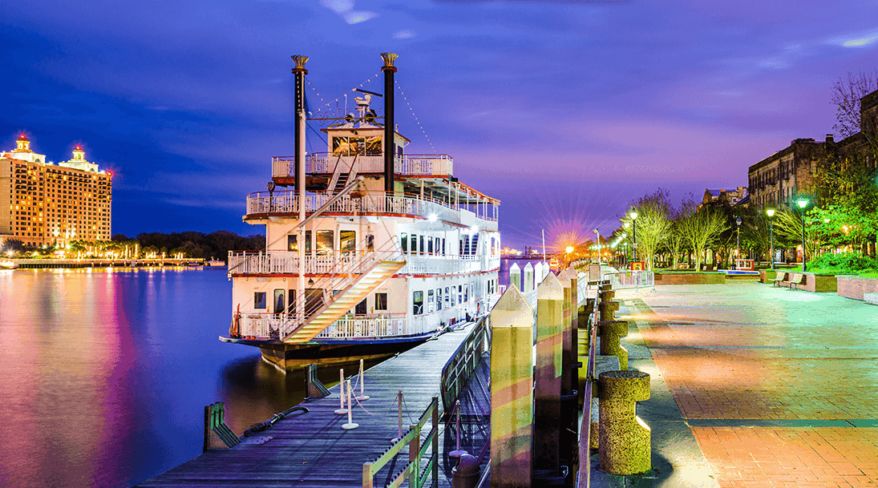 Some who frequent Savannah and Charleston describe Savannah as a smaller, more accessible version of Charleston. Both have rich history, lovely cobblestone streets, and centuries-old oaks draped in Spanish moss. Most come for a glimpse of the past, exceptional Southern cuisine, and ornate architecture. There's also the nearest beach: Tybee Island. It's only a 30-minute drive from CreekFire. At Tybee, The Crab Shack is an institution. Or if you're looking for an upscale experience in downtown Savannah, The Olde Pink House is known for its lowcountry cuisine and 18th century mansion.

Rates

CreekFire's rates aren't listed on the website, but you can go through the online reservation screens to view typical rates for the season. A quick search through the site's reservation pages suggest rates range from $60 to $75 per night in the fall and winter months. If you're booking for winter and plan to stay for a week or more, a 15% discount is available. You can contact the resort by phone at (912) 897-2855.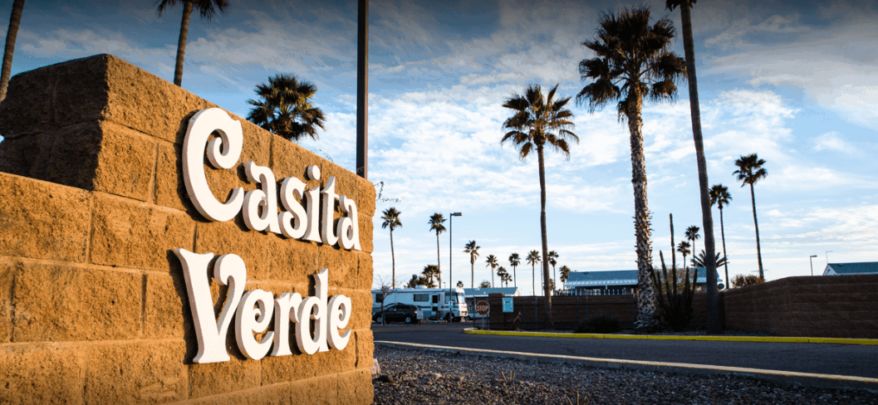 Located between Phoenix and Tucson, Casita Verde offers solitude and a quiet retreat to relax with easy access to the life that awaits in either nearby city. The Arizona desert offers mild temperatures year-round, and Casita Verde has become a popular destination for snowbirds. This resort has a strong sense of community and kinship where guests host weekly potlucks and participate in men's and women's golf leagues.

Amenities

Casita Verde amenities include a heated pool and spa. The clubhouse is an active gathering spot where friendships are made and relationships are built among the resort's guests. There's a cozy library on site, poolside grill, nature trails, billiards, and horseshoes. The resort offers a WiFi hotspot and business center. Guests can also expect regular bingo games and planned activities including live entertainment, jam sessions outdoors around the fire pit, water aerobics, creative arts, and church services.

Around Town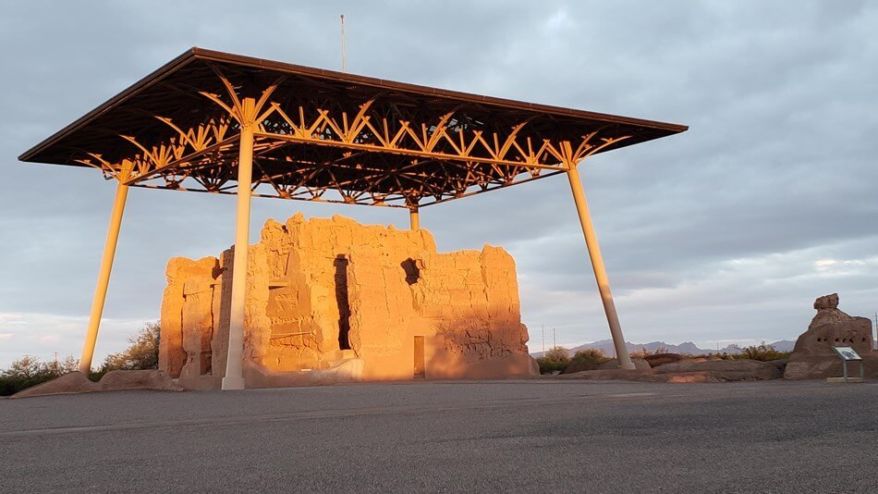 Founded in 1879 during Arizona's mining boom, Casa Grande's Historic Downtown district is a traditional, small-town main street with locally-owned restaurants and cafes, shopping, and arts. "Casa Grande" is Spanish for "big house," and the town is named for the Casa Grande Ruins National Monument, which is actually in nearby Coolidge. Built by the ancestral Sonoran Desert people, the ruins is one of the largest, prehistoric structures ever built in North America. And its purpose remains a mystery.

Rates

This is an age-qualified resort, and you must be 55 years or older to make a reservation. Winter rates for a full-hookup motorhome start at about $600 per month. You can book online or by phone at (877) 570-2267.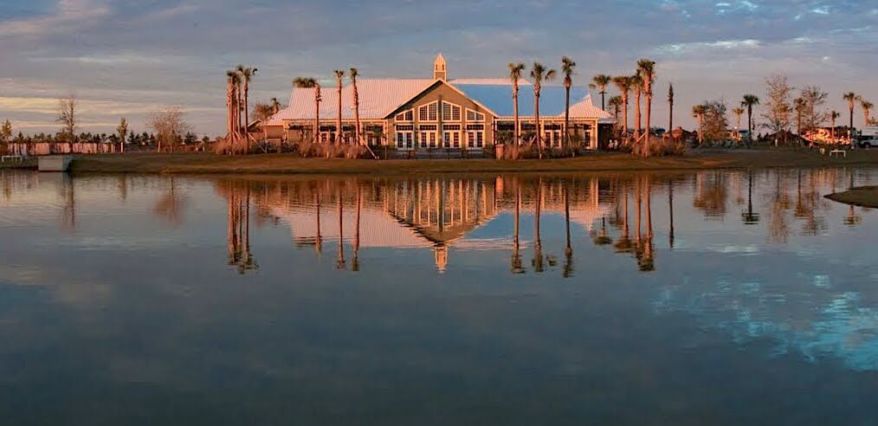 Voted as one of USA Today's 10 best luxury RV resorts in the U.S., Bella Terra is an upscale destination in southern Alabama within close proximity to Gulf Shores, Orange Beach, the coastal city of Foley, and Perdido Key. Bella Terra brands itself as a resort created with the "discerning" RVer in mind. Beach access is convenient, and the resort concierge staff can plan and book chartered fishing trips for its guests. There're also nine, championship-caliber golf courses in the area; and guests are only a short trip from Biloxi, Mississippi, home to some of the South's largest casinos.

Amenities

Bella Terra features plenty of open, green space and a 6,000-square-foot Grand Clubhouse with outdoor firepit and BBQ. For swimming and sunbathing, there's a zero-entry, infinity-edge pool. Amenities also include a jacuzzi and dry sauna. For entertainment, Bella Terra offers a private movie theater that seats 14 comfortably, a putting green, and daily scheduled activities and events. Finally, if you'd like to fish on-site, the RV resort's Center Piece Lake is fully stocked for catch-and-release fishing.

Around Town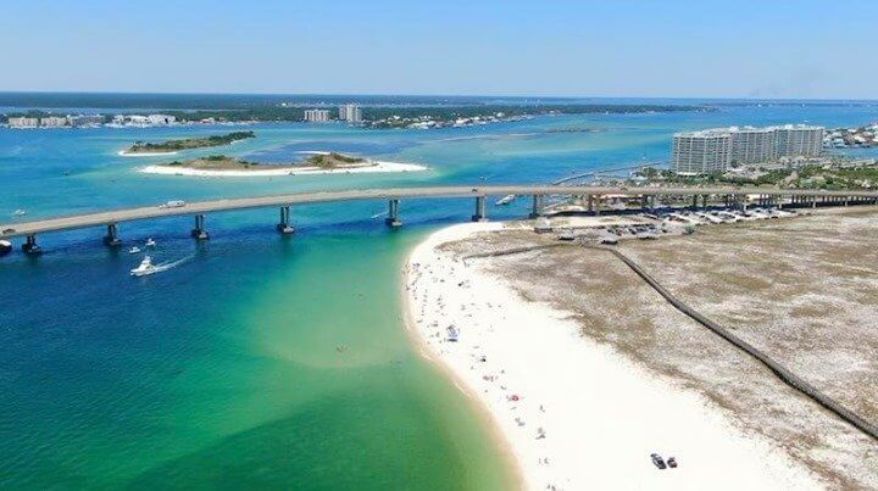 The Wharf retail center, a marina, a 10,000-seat amphitheater, more than 72 holes of golf and white-sand beaches are all just minutes away. While the Intracoastal Waterway is a 5-minute drive away, the Gulf of Mexico is a mere 10 minutes from Bella Terra. And, unlike the marshes and wetlands of the South's eastern shoreline, these beaches are known for their pristine white quartz and blue-green Gulf waters.

Rates

In order to book a site at Bella Terra, RVs must be Class A only, at least 32-feet-long, and no more than 15-years-old. Rates range from about $60 to $90 a night. You can make reservations online or, to inquire about the resort's seasonal and snowbird rental packages, call (866) 417-2416.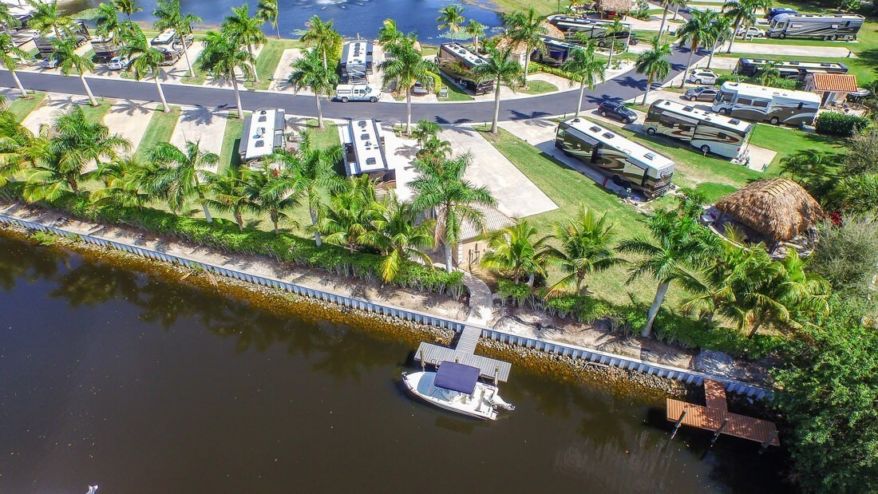 The Naples Motorcoach Resort and Boat Club offers direct access to the Gulf of Mexico on Florida's west coast. Nearby, you'll find beaches, sport fishing, championship-level golf, and boating along the canals. You're also a short drive from the Everglades. Plus, this resort puts you in close proximity to Naples' trendy shopping district and vibrant nightlife.

Amenities

The resort itself was founded on a desire to provide a 5-star resort experience to American RVers looking for luxury and elegance. Naples Motorcoach Resort offers its guests boat storage, and there are several docks on the property with direct access to the Gulf of Mexico. The clubhouse is a 12,000-square-foot gathering place featuring billiards, a private theater, a ballroom, and fully-equipped fitness center. Guests gather for epic card games in the resort's two card rooms; and other amenities include a large infinity pool, spa and sundeck, two additional free-form pools, outdoor spas, pickleball courts, and a dog park.

Around Town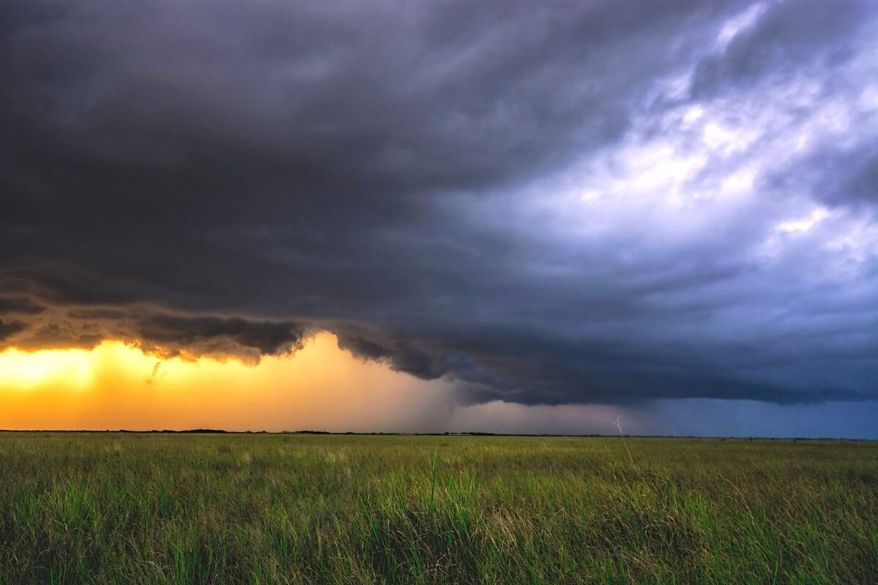 Naples, Florida, was named the happiest and healthiest city in America by NBC's Today Show. The Paradise Coast — which includes Naples, Marco Island, and the Everglades — is a popular destination for golfers. The area's tourism website pens a note to golfers: Come play where the pros play." The area boasts 90 golf courses and three annual professional golf tournaments. Yet, as rich as the golfing culture is, the sport fishing in the area is just as diverse and all-consuming. Anglers can choose from off-shore fishing charters in Naples to backcountry, fly fishing in Ten Thousand Islands.

Rates

For a week's stay in December, rates range from $900 to $1,200. You can make a reservation online or call (239) 530-0535 to inquire about seasonal rentals or ownership.
7. Elephant Butte Lake RV Resort, Elephant Butte Lake, New Mexico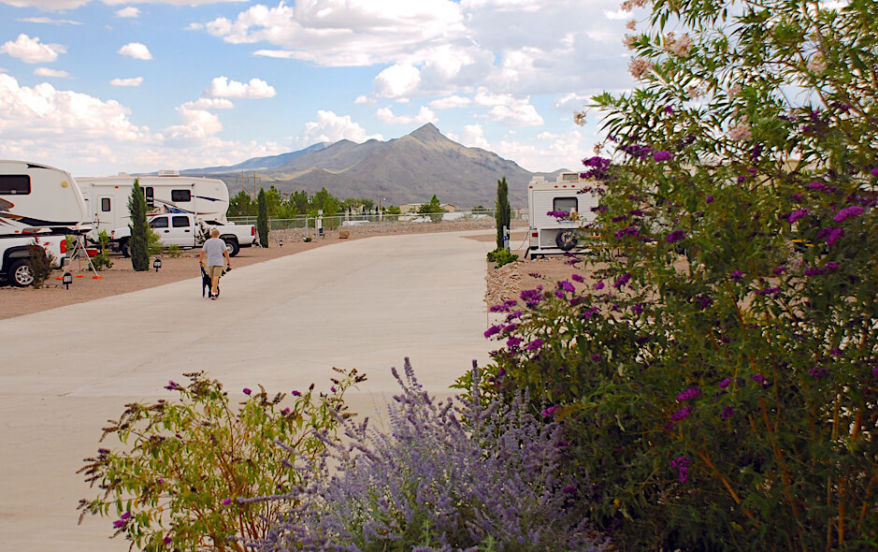 If you've never heard of Elephant Butte Lake, New Mexico, and have absolutely no idea where it is, well, that's sort of the point. It's in the middle of nowhere: 2 hours south of Albuquerque and 2 hours north of El Paso, Texas. And that's the attraction. It's an RV resort in Sierra County, a place that's about as untouched as you can get nowadays. The landscape is unspoiled; the waters pure. The resort offers 140 full hook-up sites.

Amenities

Elephant Butte Lake RV Resort isn't crawling with amenities like some of the pricier, exclusive resorts; but it offers plenty enough to keep you comfortable and engaged throughout the winter months. And it does so at an affordable rate. Guests can enjoy the indoor swimming pool and hot tub. The resort also offers discounts for two nearby golf courses: Sierra Del Rio and Riverbend Hot Springs. On the grounds, there are pickleball and basketball courts, horseshoes, large and small dog runs, a game room, and beautiful landscaping throughout.

Around Town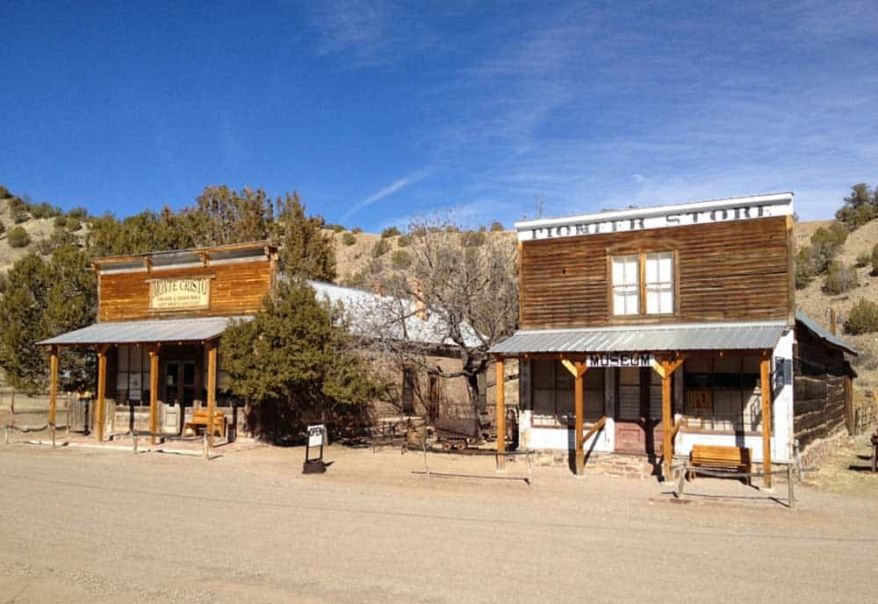 Sierra County offers an awful lot of history. Nearby are ghost towns to visit like Chloride and Winston, hot mineral baths, and historic villages. Guests also enjoy planning day trips around the Geronimo Trail. Of course, the lake is the most frequented spot among the RV resort's guests. Elephant Butte Lake is the largest lake in New Mexico. It's loaded with bass, walleye, blue catfish, sunfish, bluegill, crappie, and trout. You can rent boats of all kinds, and there are three marinas on the lake. For dining, the nearby town of Truth or Consequences is home to Los Acros Steak and Lobster House, the Grapevine Bistro, and the Restaurant at Sierra Grande, which features expansive outdoor, veranda seating. (The town Truth or Consequences, if you're wondering, was named after a popular NBC Radio show of the same name.)

Rates

Rates range from $310 to $548 per month depending on site location and type. You can request a reservation by completing an online form or by calling (575) 744-5996.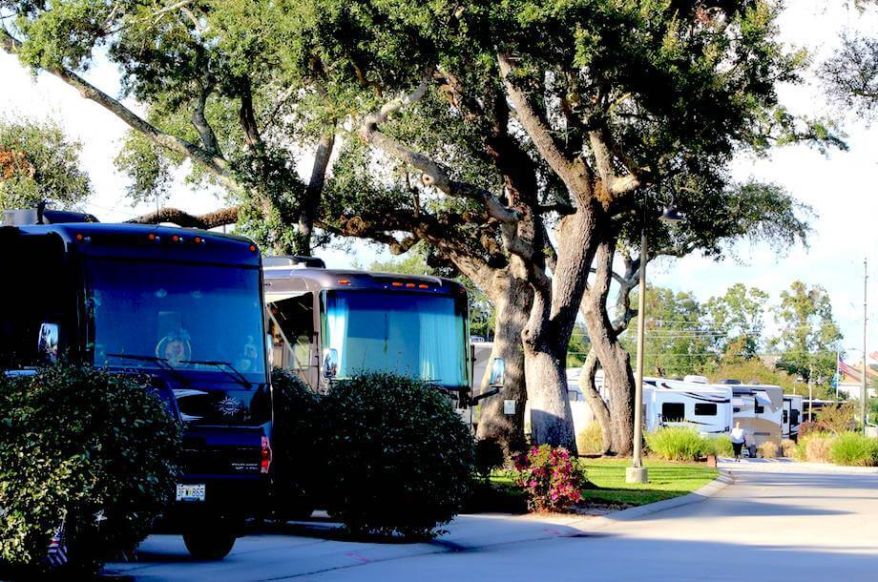 This resort was on the list, then removed from the list, and added back again. We've already highlighted one Gulf Shores location here (Bella Terra). But, ultimately, the Majestic Oaks had to make the list. After all, it made Reader's Digest list of "Best RV Parks in Every State." Plus, it's a beautiful resort with mature landscaping throughout, situated in the shade of centuries-old oak trees. The resort is located in Biloxi, so guests tend to frequent the city's popular casinos. But the resort is also less than a mile from the white beaches of Mississippi's Gulf Coast.

Amenities

At Majestic Oaks you can expect complimentary, free coffee each morning and, in fact, all day long, at the resort's clubhouse. Guests enjoy free cable and WiFi and — get this — free Saturday luncheons. Majestic Oaks provides a shuttle service to the casinos and a concierge service for planning your excursions and day trips. There's an outdoor pool, bathhouse, and Saturday cookouts on the grounds.

Around Town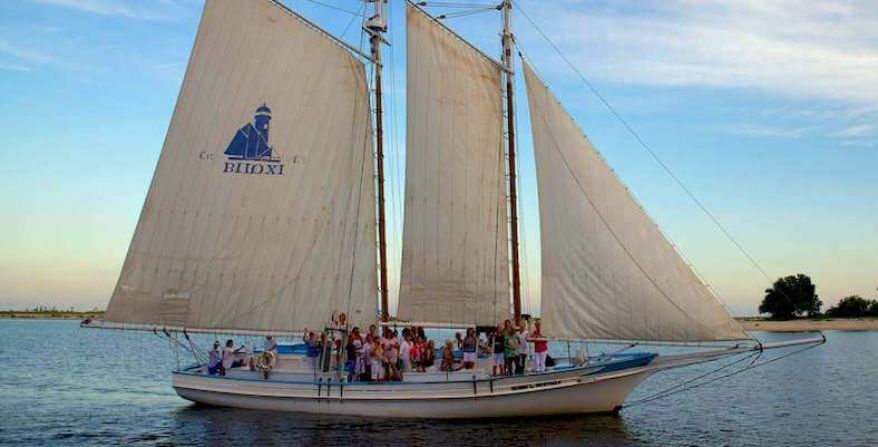 Winter temperatures in Biloxi average highs in the lower-to-mid 60s with lows ranging from mid-to-upper 40s. Biloxi has two entertainment districts: one is in the historic district and the other is along the beachfront. There are 12 casinos in Biloxi, and there's even one that's smoke free. If dining out is your thing, this Mississippi resort should land at the top of your list. There's fresh-caught seafood and tons of Southern BBQ options along with other traditional Southern fare. There's waterfront dining like McElroy's Harbor House and cozy pizzerias like Sal and Mookies. Golf opportunities are abundant, and anglers can find what they're looking for from a long list of fishing charters. And what about shopping? There's plenty of that too.

Rates

Rates for Majestic Oaks back-in sites are $724.99 a month, while pull-through sites are $749 a month. You can make reservations online or call (228) 436-4200.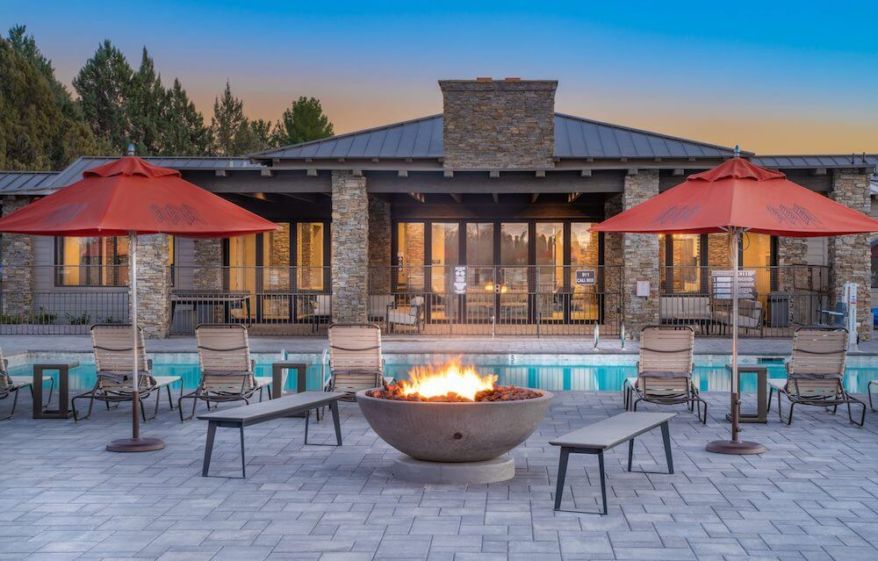 Verde Ranch RV Resort was recently named the top luxury RV resort in Arizona by Outdoorsy.com. There are 399 full hook-up RV sites with 50 amp service. Verde River runs through the resort property, and riverfront sites are available. The RV park is located in Camp Verde, Arizona, which is less than 15 miles from Dead Horse Ranch State Park in Cottonwood. Camp Verde is 30 miles from Sedona, where resort guests enjoy days out in the city golfing on one of the city's many golf courses, shopping, or visiting one of Sedona's wineries.

Amenities

Verde Ranch amenities include a pool and two hot tubs, a clubhouse, firepits, fitness center, pickleball courts, and a dog park. With easy access to the river, water recreation and fishing are steps away.

Around Town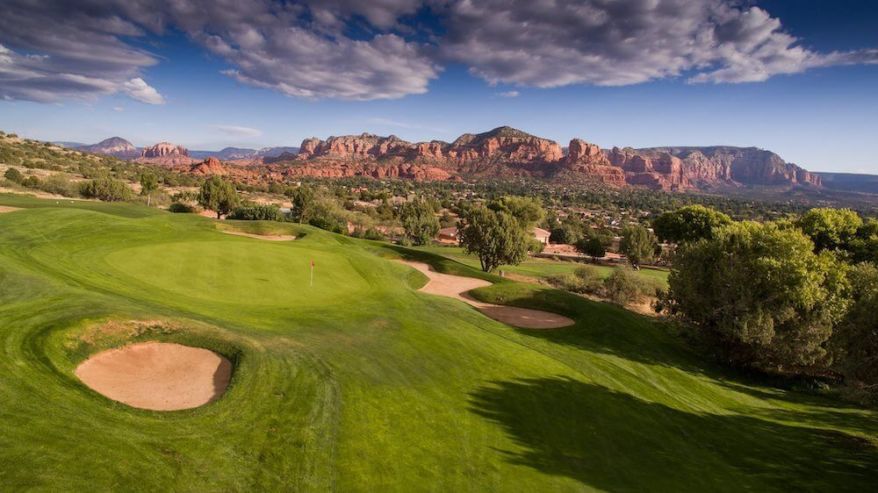 Dead Horse Ranch State Park is just down the road (less than 15 miles), and the 423-acre park provides a number of fishing opportunities for resort guests. Anglers can pursue rainbow trout, largemouth bass, channel catfish, sunfish, crappie, and crayfish. If you're looking for something other than fishing, you're 30 miles from the Sedona Golf Resort, where golfing is a year-around activity. This championship golf course consistently receives a 4-star review from Golf Digest and offers a diverse list of golf packages.

Rates

Snowbirds at Verde Ranch get a premium, 60-foot, back-in site for three months for $2,000. This includes all utilities (50 amp full hook-up, cable, and WiFi). Book by December 31, 2020, stay until April 1, 2021. Use code DESERTDREAMS. Book online or call the resort at (928) 567-7126.
10. Carolina Pines Resort, near Myrtle Beach, South Carolina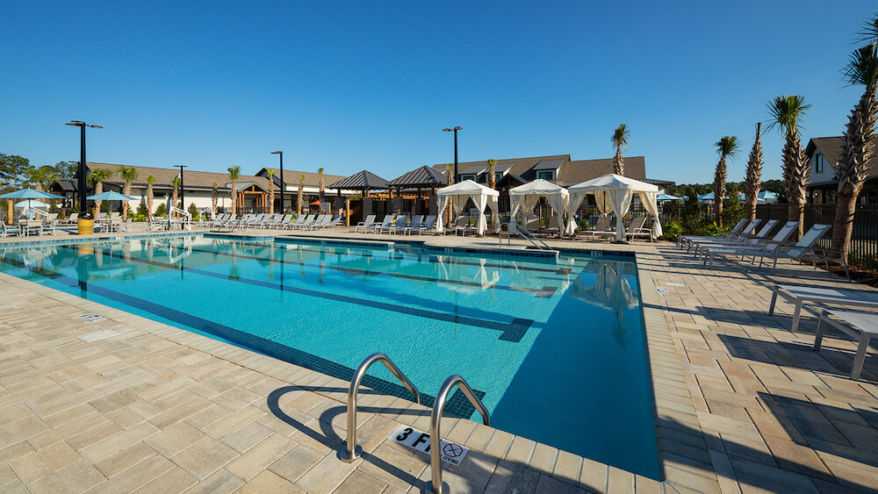 Carolina Pines Resort is a newly constructed RV resort in Conway, South Carolina, just 11 miles from North Myrtle Beach. For snowbirds and winter guests, this is a golfer's playground. Myrtle Beach has been named Best Golf Destination by USA Today, and the area offers 80 award-winning golf courses along 60 miles of coastline. The resort itself offers full hook-ups to accomodate all sizes of RVs, oversized concrete pads, and plenty of room for slide-outs.

Amenities

Guests are about a 15-minute ride to the North Myrtle Beach shoreline where the resort owns a beach club exclusive to Carolina Pines guests. The beach club features a beachfront pool and boardwalk for making the short trek over the dunes to the ocean. Back at the resort, there's an indoor swimming pool to enjoy year-around, basketball, pickleball, cornhole, and volleyball. There's a poolside snack bar, grill, and cabana rentals. For dining out, guests can walk or bike to the resort's centrally-located, full-service restaurant and bar or have the food delivered to your RV site. A general store and gift shop sells firewood, ice, and grocery essentials. For fitness, there's a resort gym and yoga studio.

Around Town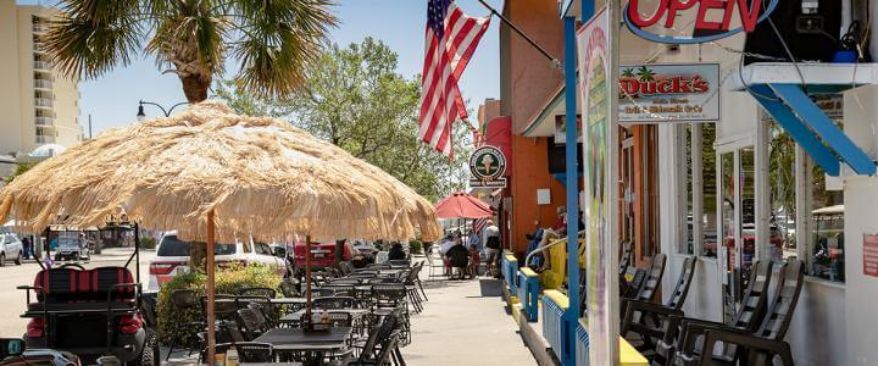 There's a casino nearby in Little River, South Carolina, a waterfront town near the North Carolina state line. Little River is a small fishing village featuring a handful of fish shacks, seafood restaurants, and small eateries. This is a nice alternative if you're looking for very little traffic and a quaint, rustic vibe. If you're interested in fishing offshore, the town has a number of fishing charters. But if you're looking for city lights and nighttime activity, nearby Myrtle Beach has everything from hundreds of restaurants to live entertainment, shows, and concerts. Golf is a year-around activity in Myrtle Beach. Golfing enthusiasts will find themselves playing amid moss-draped oak trees and the natural flora of South Carolina.

Rates

Book a site for any three-month period between December 1, 2020, to April 1, 2021, for $1,800. Electric is included. Make your reservations online or by calling (888) 303-7096.