Tiffin Owner Story: Murphy and Carter, the Golden Retrievers
Two Golden Retrievers and their owners live life on the open road, traveling around the U.S. in their Tiffin motorhome.
Think of something that makes you smile. What are you picturing? Is it a Golden Retriever? Even if it wasn't, it will be after you hear about the life these two Goldens lead.

Murphy and Carter are best friends, traveling around the country with their owners, Kevin and Johnann - pronounced John Anne - in a Tiffin motorhome. Murphy is a classic Golden – a sweet, people-pleasing, follow-the-rules kinda gal. She's 10 years old and partially blind, but that doesn't stop her from loving on people as a certified therapy dog.

Carter, on the other hand, is six, and he's the life of the party. He's been an American Kennel Club (AKC) Championship winner and continues to train and compete in competitions, but he also has a goofy side. He's a happy-go-lucky soul, bringing joy wherever he goes. Carter is also one of the 3,000 selected Goldens that are a part of the research group fighting to cure canine cancer and other diseases, the Morris Animal Hospital's Golden Retriever Lifetime Study.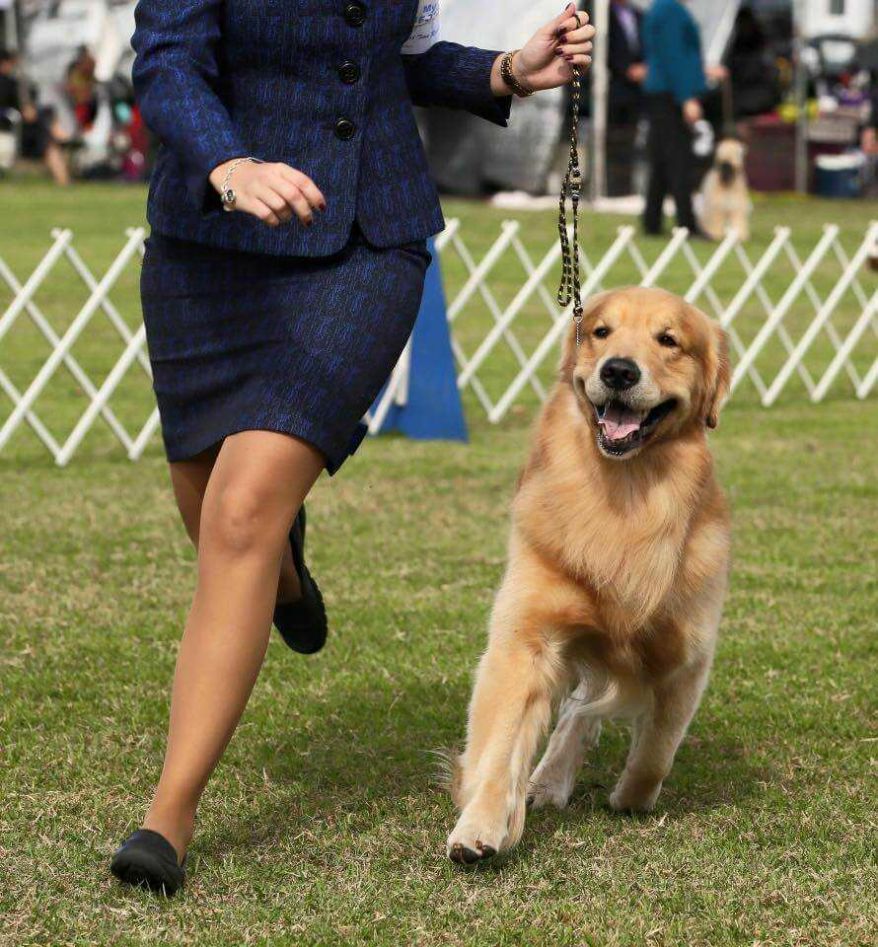 Social media superstars

Between Johnann, Kevin, and the two pups, this family has about 42,000 followers on Instagram. As it turns out, people love to watch happy Goldens living the good life. Johnann created the account originally just to see pictures of her friends and family, but as soon as she started posting pictures of her furbabies, the account exploded.

And believe it or not, the couple has developed long-lasting friendships through the popular Instagram account. After messaging back-and-forth and realizing common interests, some of the followers have become acquaintances who, over time, became friends. Some of them even stop in and visit Murphy and Carter, like doggy play dates.

The decision to buy a Tiffin

The couple's dogs were the original inspiration for purchasing their first RV several years ago. Traveling around with the dogs for competitions required a lot of stuff and a lot of work – loading and unloading the car, and then bringing it all in and out of hotels – it became a chore. Plus, most hotels that allow pets require a $75+ pet fee, regardless of the number of days you stay. They started out with a fifth-wheel, but when both of their jobs allowed them to become remote, they decided to take the opportunity to hit the road and travel the country with their pups full-time. But they'd need to decide on an RV they could live in first.

Johnann started researching the motorhome brands that made the top-rated Class As. After a lot of conversations, joining private groups, and chatting in the different brands' community pages, she felt the most comfortable with Tiffin because of the level of customer service she noticed owners receiving.

"I believe in personal connections, and everyone I talked to spoke volumes about Bob Tiffin and his level of customer service. I don't change vets because I know I can call my vet anytime, and the doctor will call me back. From everything people were saying, I felt like Bob Tiffin and his family were those people you could have a conversation with. They had a quality product and would be willing to have a conversation if something wasn't right," Johnann said.

They landed on the Tiffin Open Road Allegro 32 SA. It had everything they were looking for to be able to travel full time. The layout has a king bed with a back bedroom where Murphy sleeps with them at night. Carter prefers to nestle into the hallway that leads to the bathroom. The walls provide him with security and something to lay against. Johnann says that's the only time there's ever a space issue – getting around Carter at night to get to the restroom can be tricky.

Dog adventures

These all-American pups are more like children to Johnann and Kevin. For the past eight years, Johnann has hosted a 4th of July Puppy Pool Party, where about 10 dogs come together and play games and swim in the water for hours.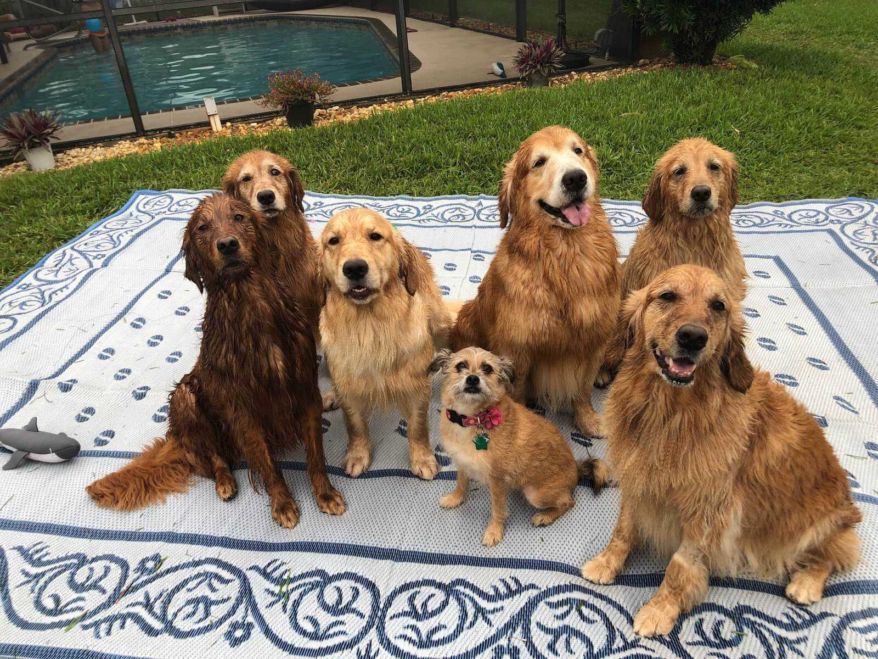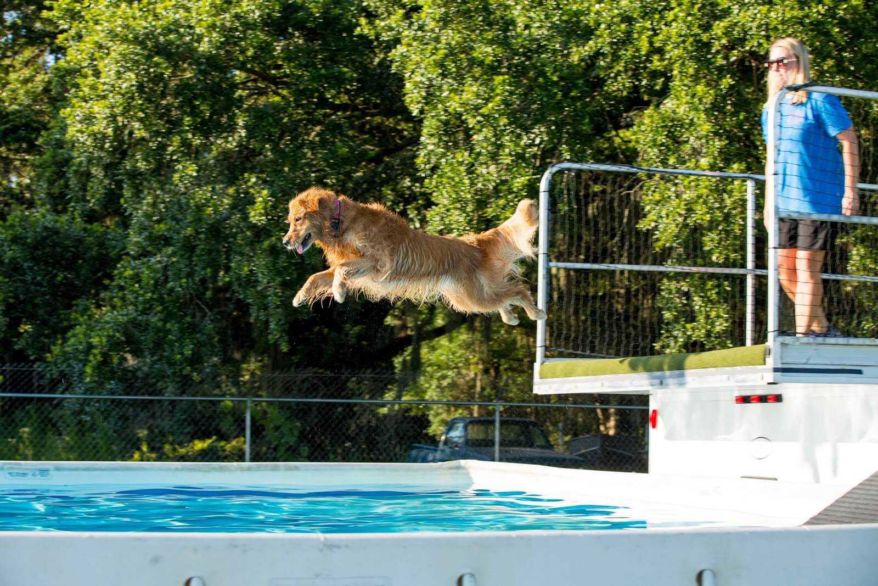 Each year, the couple load up the dogs for a week-long beach trip along the Florida coastline of a dog-friendly beach. Murphy and Carter get to play in the sand, romp in the ocean, and live their very best lives for an entire week of summer bliss. It's a ton of work to clean up after, but according to the fur-parents, it's 100 percent worth it. Their favorite campground for the occasion is in Jacksonville, Florida – Kathryn Abbey Hanna Park. It's walking distance to a pet- friendly beach, and a lot of the sites are well-shaded – perfect for the pups in hot weather.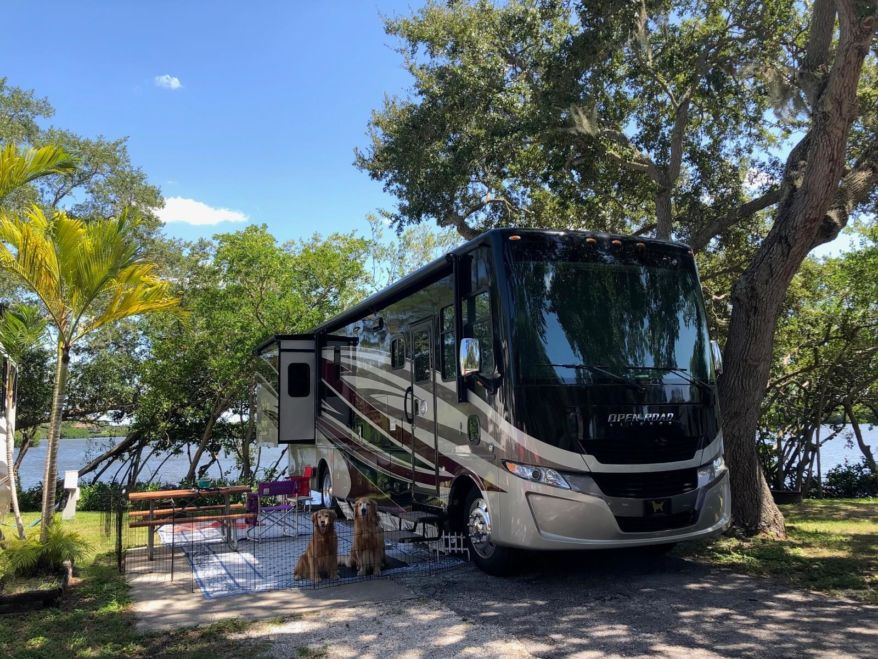 The family of four also recently traveled to a glamping resort in River Ranch, Florida, that hosts a rodeo each weekend and tons of other fun activities like hayrides, pumpkin patches, horseback riding, and the list goes on. And of course, it's pet-friendly.

Traveling in an RV with pets

It's been almost two years since they decided to go full-time in their Tiffin, and it's been working out pretty darn well. The couple can easily take Murphy and Carter to competitions (and vacations) all over the map. And in between shows, they take respite under the shade of the awning of their home on wheels. It's miles better than being cooped up in a dark hotel with little to no grass in sight.

Now that traveling with the dogs is so convenient, Johnann is able to take them on trips without Kevin every time. But at first, she was intimidated to drive the coach without him. She started out taking the pilot's seat for a maximum of 30 minutes at a time. But when her friend's daughter was competing in a horse show in Georgia, she decided to make it a girls trip to attend in the Tiffin. They all drove up together, and she drove 14 hours all the way back home to central Florida solo. Today, she takes the coach out alone all the time, which frees up Kevin to take more boys trips that involve ATVs, hunting, and other things Johnann isn't as interested in. Along the way, she's learned a thing or two about traveling with her pets. Here's a list of the tips she shared for all the other dog-loving travelers.

Tips from Johnann for traveling in an RV with your dogs

1. Take a gallon of water from home for each day of travel for the dogs.
2. Always bring extra leashes.
3. A lighted collar for night walks is super helpful.
4. Have a pet first aid kit on hand.
5. Outdoor pet rugs keep them clean and, in turn, keep the motorhome cleaner.
6. Always have their shot records. Some states and places require it.
7. The Dyson stick vacuum is great for sucking up fur.
8. An outdoor exercise pen is a must. It's fun to hang outside with them, and it's useful for letting them in and out at night. Plus, it keeps your pets safe from other animals. Make sure the campground allows them before you book.
9. Travel with a portable booster bathtub so you don't have to bend over and break your back when bathing them. Find one with removable legs for easy storage.
10. Buy temporary key tags to put on their collars with the campground name and lot number written on them so if they get out, it's easy for someone to return them.
11. Memory foam bath mats work well to place around the motorhome to prevent the dogs from sliding.