Article and Photos by Carolyn Breinich
For the last 15+ years, the Orioles have explored different parts of the world in an RV.
Debbie and Dennis Orioles met in 1973 at a horse show and were married three years later. For their fifth anniversary, which is symbolized by wood, Dennis promised Debbie that he would build her a barn so she could have the horse she always wanted.
"The next day I went and bought a horse. Dennis came home from work to find a horse in the front yard. I didn't have the barn yet, but I had my horse," Debbie fondly recalled.
The Orioles have two daughters, Missy and Courtney, and when they were younger, the family camped with a tent in the backyard.
"We had a timeshare with Outdoor World, and we would take the girls and their friends and camp in a tent. Eventually I got a cargo van with a fold-down bed that we would stay in," Dennis said.
"I hated the van," Debbie quickly chimed in.
Dennis retired in 2005 after years of being a train engineer for Long Island Railroad. Five years later, Debbie retired as a vet technician. "We knew that when we retired, we wanted to stay busy; we are busier now than we ever were before," Dennis laughed.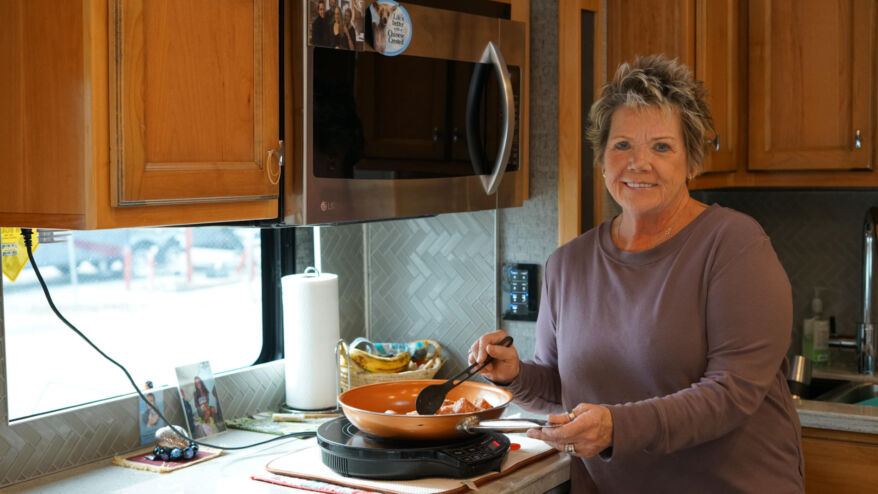 Exploring the Last Frontier
For years they contemplated getting an RV, and in 2007, Dennis told Debbie, "It's your job to research what we are going to do and see." They decided to go on a 15-day adventure with Great Alaskan Holidays, which provides customers with a brand-new Class C, sample itineraries, lists of what to bring, recommended campground and mobile apps to use. The trip starts in Iowa and customers drive whatever route they wish to Alaska, and after exploring the 49th state, customers leave the RV at a dealer in Alaska and fly home. "The company we used was fantastic. They took care of all our needs," Dennis stated. When this trip was over, they had time to kill before their flight home, so Dennis and Debbie walked around the RV dealer. They enjoyed driving the Class C all over Alaska, so they decided to look at Class A motorhomes with a little more room. They had just enough time to take one on a test drive before they had to get to the airport. Before they left, they put a deposit on their first -motorhome. "We flew back a few weeks later to pick it up," Dennis commented. The floor plan was ideal; it had bunks so their two grandsons could travel with them. Over the years, the Orioles have traveled to every state (except Hawaii) at least once. They have journeyed to Alaska six times with Great Alaskan Holidays. "We love traveling through the Yukon to get to Alaska. You get to go on adventures no one else has," Dennis stated. The Orioles now meet up with the rental company in Forest City, Iowa, and help prep the RVs while spending time with friends.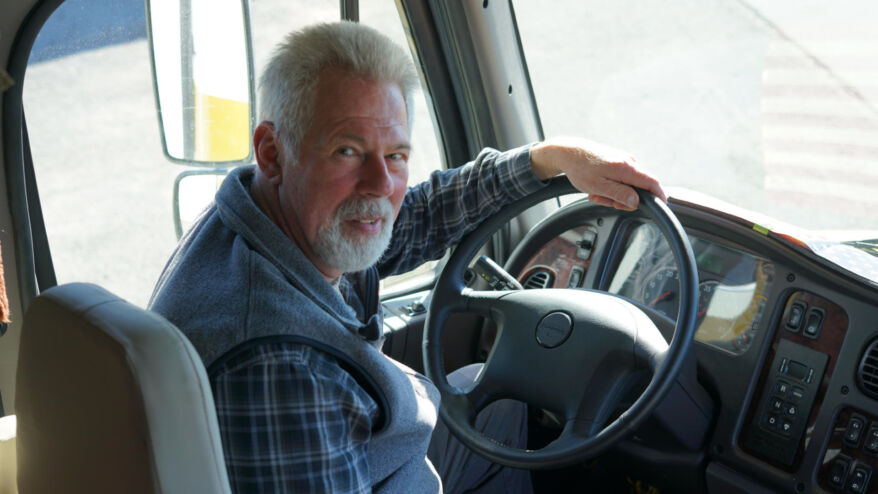 Seeing the World
The Orioles have even traveled internationally, renting an RV in Australia twice. Both times, they used Maui Motorhome Rentals, which allows people to rent a Class C or camper van to explore Australia.
A few of the many highlights of their trips include driving the Great Ocean Road, seeing the Apostles Stone Cropping, spending time in the city of Broken Hill to get a true sense of the outback, experiencing the rainforests at Dorrigo National Park and visiting the Australia Zoo (Steve "The Crocodile Hunter" Irwin's zoo). Dennis commented that, "seeing and exploring Australia in an RV, is an amazing adventure. We got to do so much more, and the locals were so kind to us."
One thing we all can learn from the Orioles is to not limit yourself. RV rental companies are all over the world. If you can RV across the United States, you can RV in other countries as well. Often these rental companies provide you with help in knowing what to pack, things to see and other helpful tips for seeing their beautiful countries.
In three years, Debbie and Dennis plan on renting an RV in Norway to celebrate their 50th wedding anniversary. "We have learned that traveling by RV in other countries gives you experiences you never would have had if you stayed at hotels," Debbie mentioned.
The Orioles also enjoy the occasional cruise, and recently got back from one that took them to Hawaii, New Zealand and Australia, but "each time, we couldn't wait to get back to our RV." Debbie mentioned.
Traveling with Pets
In 2016, their daughter Courtney passed away, and they started caring for her Chinese Crested dog, Iffy. "We are able to bring a piece of Courtney wherever we go because we have Iffy with us," Debbie said with a smile. They have pictures of their family in the RV, but having Iffy brings them comfort. Debbie says, "Iffy will always be Courtney's dog, so we are Omie and Pop to the dog."
Dennis and Debbie always had pets, but they never travelled with them. "Courtney used to take Iffy everywhere she went, so Iffy was used to being in a car and traveling, so transitioning Iffy to RV life was easy," Debbie continued.
Iffy is a hit wherever she goes. She has her own wardrobe since she gets cold easily, and Debbie dyes the little bit of fur she has with nontoxic dog fur dye, which makes the uniqueness of Iffy stand out even more.
Debbie and Dennis also have a tortoise named Winnie. "He has traveled with us, but it depends on the time of year," Debbie commented. Iffy and Winnie get along well and "we have a picture of Winnie crawling up on Iffy while Iffy is sleeping, nothing bothers Iffy when she sleeps," Debbie laughed.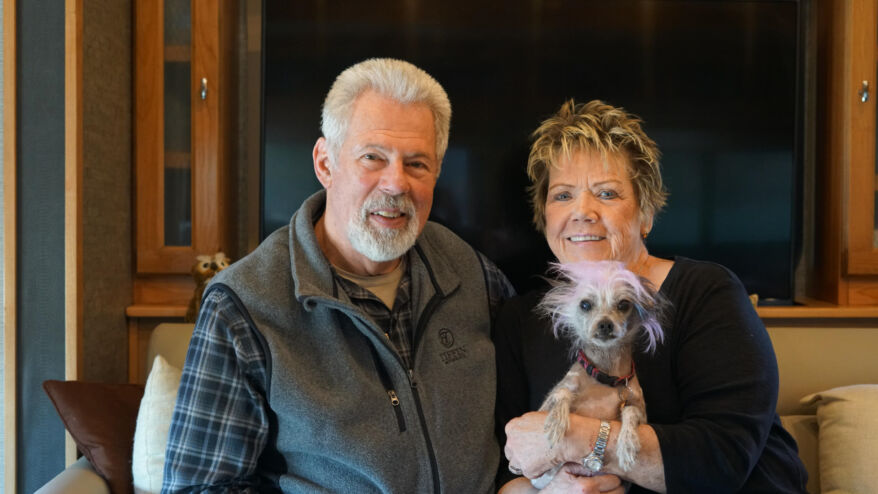 Tiffin's A+ Customer Service
After three Class A motorhomes the Orioles finally bought a 2017 Open Road, their first Tiffin. While driving it over the Rocky Mountains, their check oil light came on. As Dennis was checking the oil, the hood fell off. "We were in the middle of Kansas, and it was a Sunday night. On Monday morning, I called Tiffin to see if they could help us find a repair shop. We knew we were out of warranty but had heard good things about Tiffin's service." Debbie stated.
When Debbie called Tiffin, she asked to speak with Bob. She recalls her conversation with him, "He said, 'Good morning, this is Bob Tiffin.' I explained our situation, and he apologized for what happened. He found a shop 200 miles away in Salina, Kansas, gave us directions and told us to arrive today and use their electric while there."
When they arrived, the RV dealer said, "You must know someone." Bob had taken care of everything and even gave them his credit card information. "We called Bob and told him that wasn't necessary and wasn't why we called him in the first place. While I had him on the phone, I asked if he had any plans to build a Super C. I told him that Newmar had one, and that I would be interested in buying one from Tiffin if they made one. Sadly, at the time Bob had no interest in building a Super C," Debbie said.
Both Dennis and Debbie loved their Class A motorhomes, but Debbie always had her eye on a Super C. On December 17, 2021, the preview of Tiffin's Allegro Bay Super C was released. "I played that video 30 times," Debbie stated. "Try 100 times," Dennis chimed in laughing.
Super Times in Their Super C
At the Tiffin 50th Anniversary Rally in Rock Springs, Wyoming, in 2022, the Allegro Bay Super C was going to be showcased. "We arrived early, and on the first day I walked up to the salesman and told him that this Super C is going to be mine," Debbie recalled. On June 16, they bought it. "We own Tiffin's first limited edition Super C and the only one that is this mustard color," she said proudly.
They love how it drives, so much that Debbie wants to drive it. "It is a sturdier drive," Dennis said. "We now pick a route we haven't taken and stop at different places along the way. We wing it instead of making plans."
"Whenever you buy the first of anything, there will be a few kinks. Tiffin has been great working with us to sort those kinks out," Dennis said. They removed the booth and added a workstation for more space and asked Girard to make a custom door awning as well.
"We don't like glamping, we prefer dry camping at state and national parks or on BLM land," Debbie said. They prefer the peace and quiet these campgrounds offer. "We build a fire and watch everyone arrive in the afternoon with a cocktail," she continued.
The Orioles are members of the Elks. "While we stay at their campgrounds, we socialize and meet so many people, many of whom we are still friends with after all these years," Debbie said.
They are also members of the local Long Island Allegro Club, and when they are home, they join in club outings. "Over the years, we have made so many lifelong friends traveling the country. Our Allegro Bay is our home away from home," Debbie said with a smile.