6 Best Aftermarket Grills for Motorhome Cookouts
Enjoy the cooler fall weather from your motorhome with the perfect portable grill.
The motorhome lifestyle is all about the freedom to get up and go. But what's life on the road without a grill-out? And how are you supposed to lug around a big, bulky grill!? Especially during the fall as a chill starts to appear in the air and all you want to do is hang outside, it's critical to have the right portable grill on hand.
So, we asked around on Facebook to all the savviest motorhome enthusiasts we know (Tiffin owners, of course), and here are the grills they take with them on the road. We've listed them in no particular order of popularity, but instead, from most expensive to least.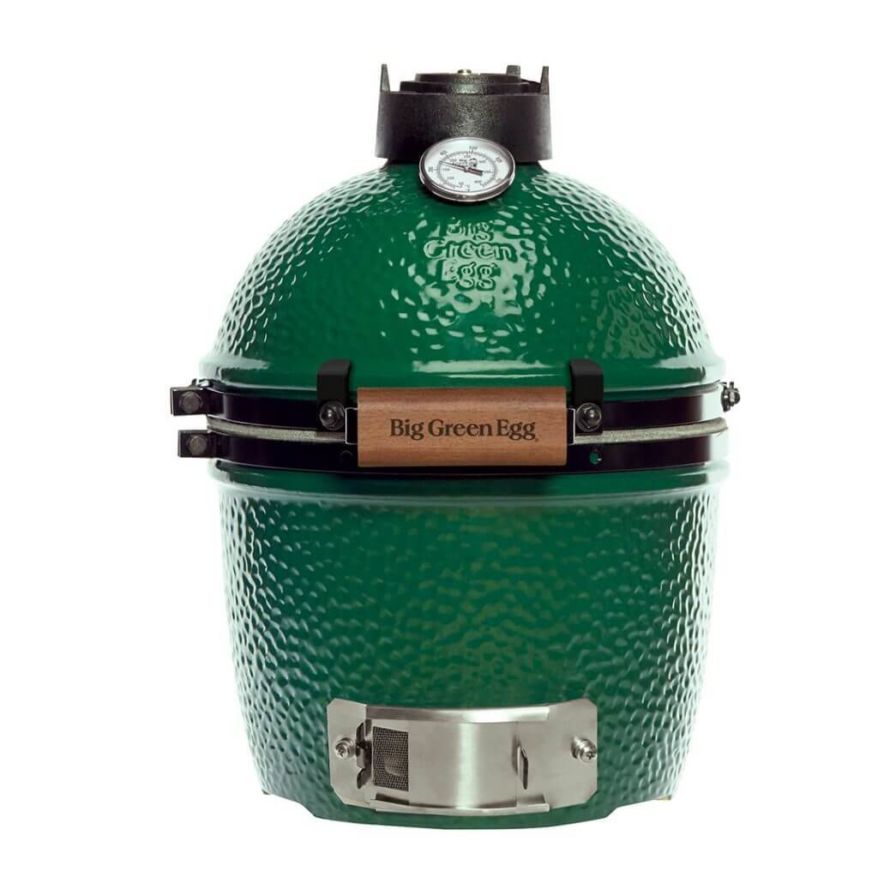 MINI Big Green Egg
At just under 40 pounds, this tiny version of the Big Green Egg smoker will provide you with the ability to perfectly cook two chicken breasts, two pork chops, and one steak at one time. It cooks like an oven, a grill, and a smoker – you choose. And because it's made with ceramic, if you're standing nearby, you won't be melting from excess heat.
$400.00
Pro tip: Check out all the accessories. With a few extras, you can bake pizza, cook a rotisserie chicken, and more.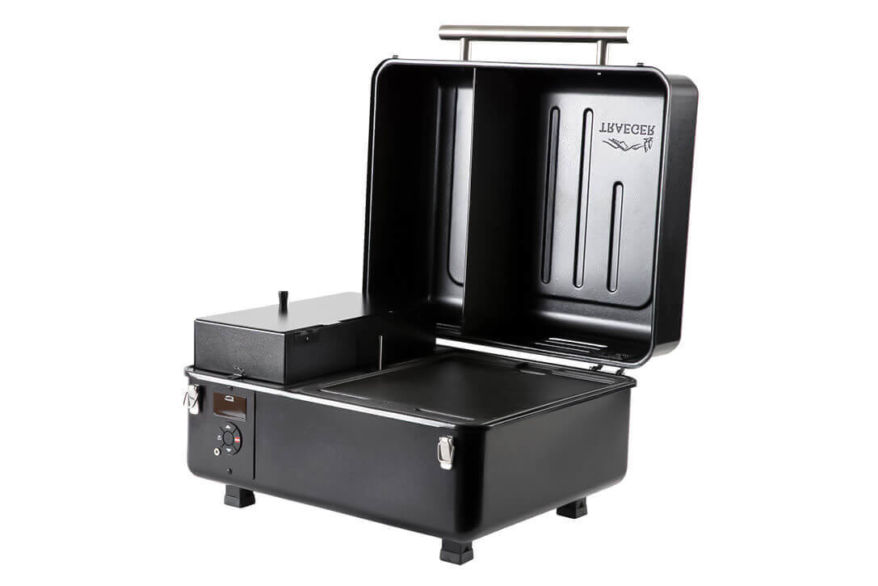 Traeger Ranger Pellet Grill
It's like the magical secret suitcase of tailgating – anyone who shows up with one of these in hand is the party winner. Great for slow cooking, grilling, baking, roasting, braising, and good old fashioned grilling. It's steel, so it's undeniably durable, with a cast iron griddle for optimum flavor enhancement. The digital control panel allows you to easily adjust the temperature without ever needing to open it. And the 184 square inch grill surface allows enough space for six burgers or about 10 hotdogs. But be careful handling alone, it's not as light as it seems – 60 pounds.
$399.00
Pro tip: You do need a place to plug it in. It runs on 120 current.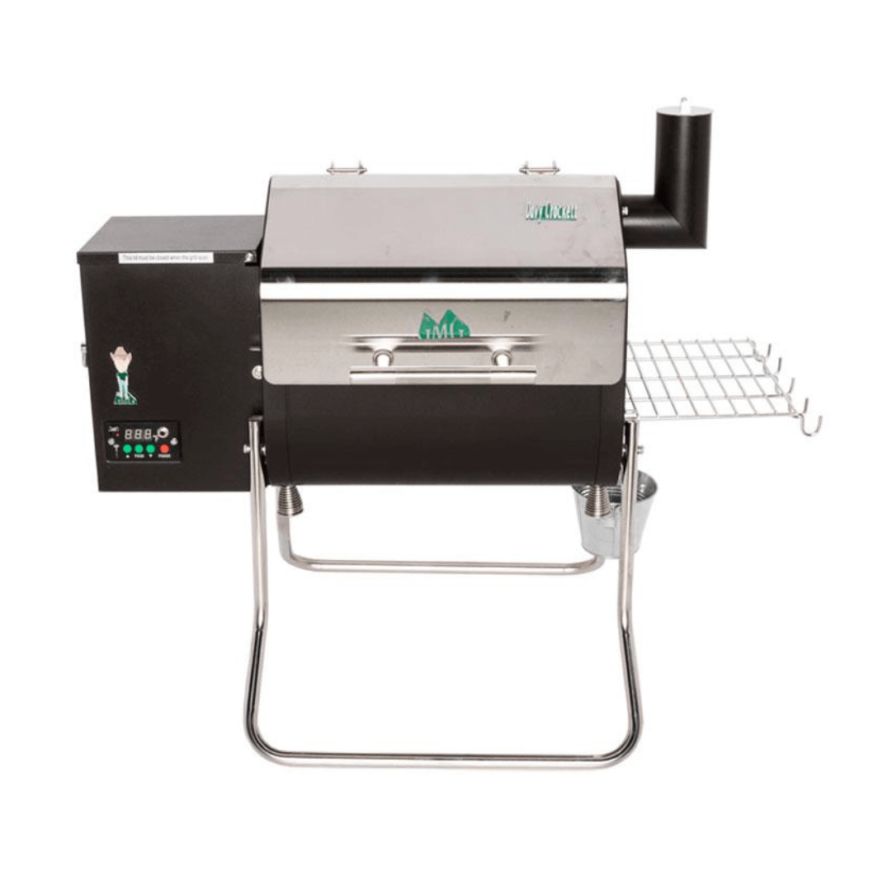 Green Mountain Davy Crockett Pellet Grill
Designed to be a portable grill, it weighs 68 pounds and has foldable legs so you can easily pack it up. You'll be able to cook 4-6 steaks or a whole heap of burgers from pretty much anywhere, and it runs on a 12V or 120AC. Plus, it comes equipped with a wi-fi controller that allows you to check the temperature inside the grill and the meat from an app on your phone.
$329.00
Pro tip: Moving this grill is a two-person job. Don't try to do it solo.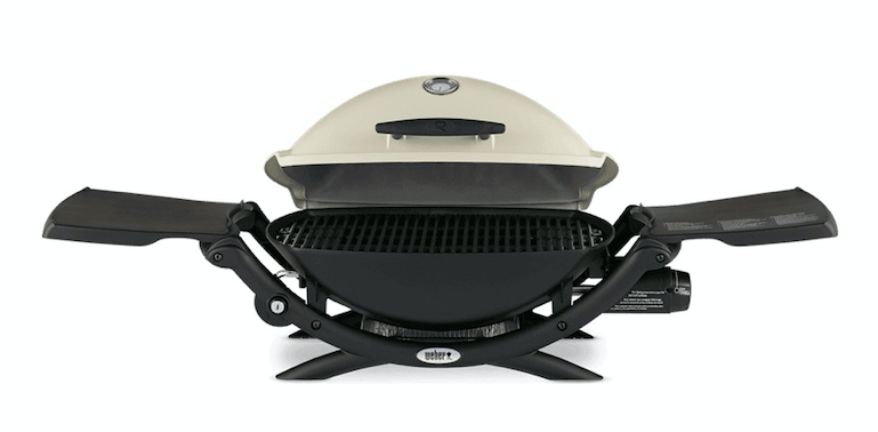 Weber Q 2200
At just over 42 pounds with a built-in lid thermometer, the Weber Q 2200 truly is an all-in-one grill that's made for anywhere you want to stop on the road. It's a super portable, foldable propane gas grill with split grates, so you can grill on one side and cook with the griddle on the other.
Purchase the rolling cart accessory for easy mobility to any picnic area or to roll on over to your neighbor's tailgate patio.
$269.00
Pro tip: Any of the Weber Q series is great. But look for the one that is made out of heavier steel, not thin metal. Oh, and get the stand.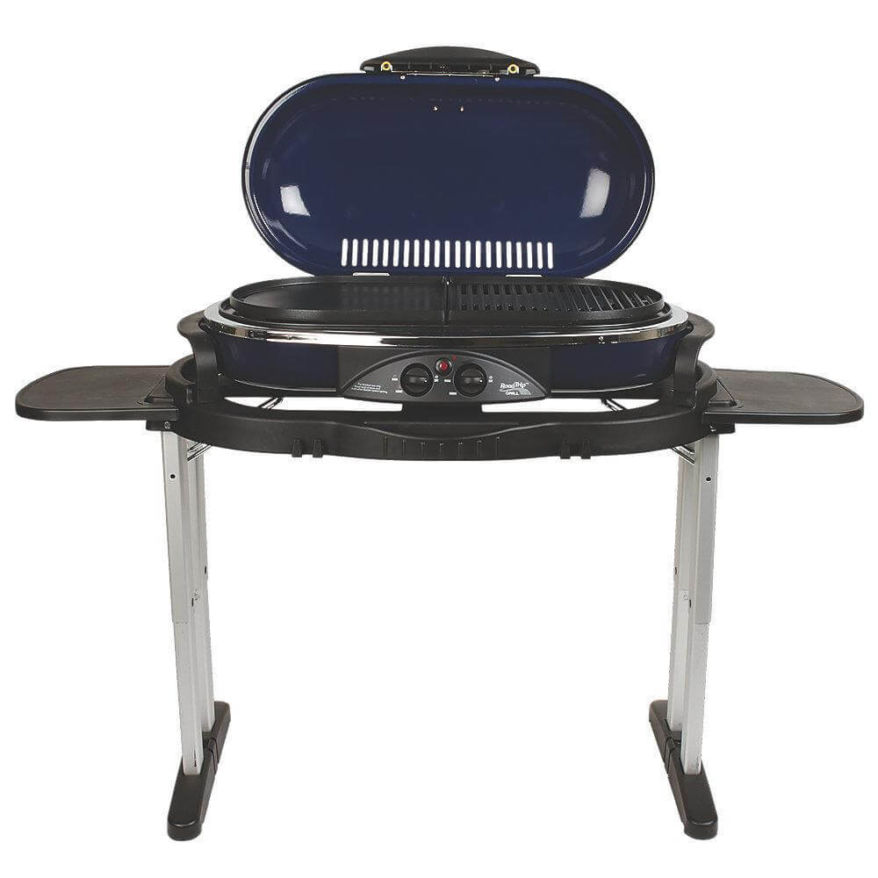 Coleman Roadtrip LX Grill
It's a propane grill with burner, stovetop, and griddle options. Weighing in around 50 pounds, it's easy to move around, but durable. There's also a version with wheels.
The LX comes with a fold-up stand, or, you can opt to simply place it on a picnic table or any safe surface.
$281.65
Pro tip: It doesn't come with a thermometer. So, you'll need to be prepared.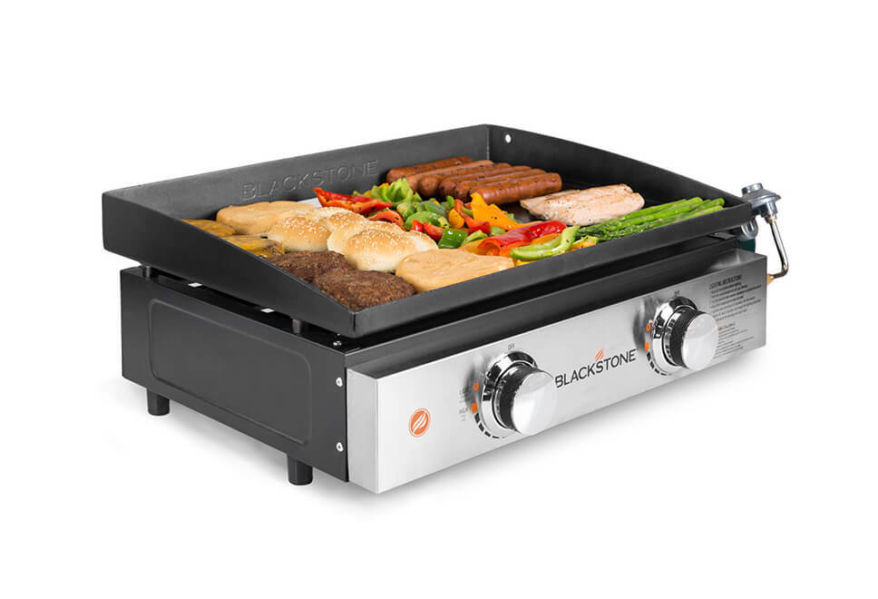 Blackstone Griddle, 17 - 22 Inch
This is not what you think of what you hear the word "gas grill," but it's so easy to take along with you on the road, you won't care what it looks like. The versatility Blackstone offers with this griddle is a huge perk – whether you want to scramble some fluffy eggs or perfectly sear steaks, it can handle both without a problem. Plop the griddle on the ground, stick it in a truck bed, or set it on any table. It uses 1 pound propane tanks, which last around two hours, but you can purchase an adapter hose for a regular 20 pound tank.
$99.00 +
Pro tip: Season the griddle top before use, and get the hood accessory for less cleanup and to keep the heat in.