Lake Wales, Florida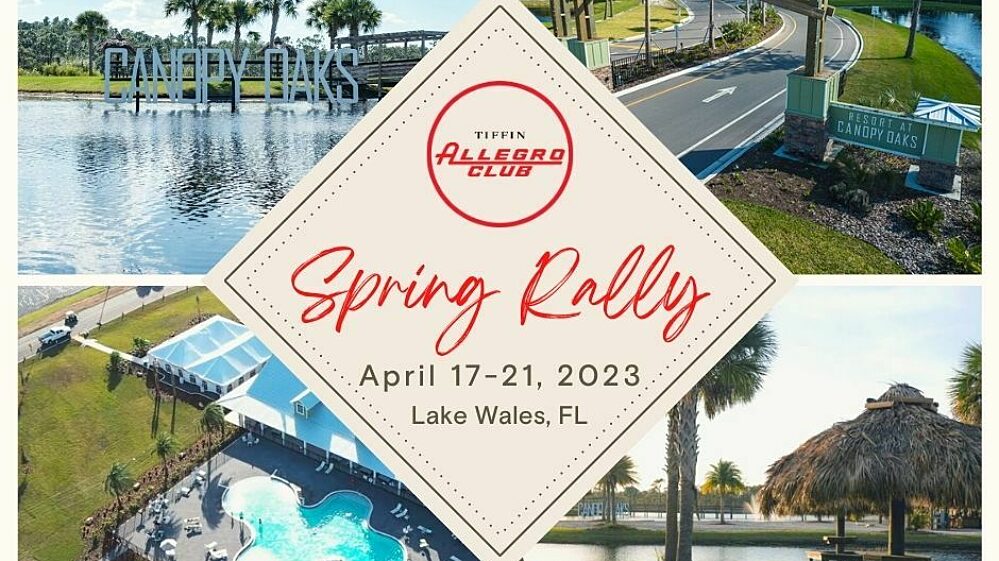 Lake Wales, Florida - Resort at Canopy Oaks


Applications for the April 2023, Lake Wales, FL rally will be accepted from 10 am - 2:30 CST, Wednesday, Jan. 4, 2023.
April 17-21, 2023, with checkout on Saturday, April 22, 2023.
*This rally is for Tiffin Class A and Super C coaches.

Please read the instructions before you begin the application!
Given the limited number of spaces and high volume of interest, we will handle rally registrations through a lottery process. Only one lottery application is allowed per coach; if records indicate you have submitted multiple applications, you will be ineligible to participate. Our lottery process is based on a fair and randomized distribution system to manage access and ensure equitable participation.
Your Allegro Club membership number will be your unique identifier. Once the application process has closed, applications will be selected via the lottery process using a random distribution system. All applicants will receive an email within 24-48 hours indicating whether they were selected or not.
Please add the following email addresses to your contact list to ensure communication from us does not go into your spam or junk folder:
Please note: We will not be accepting calls or emails regarding status during this time.
Selected applicants will be contacted by email for payment and further information to finalize their registration. Payment must be made within the specific time frame listed in the time-stamped email from the Tiffin Allegro Club office. Failure to pay within the allotted time frame will result in the forfeiture of your registration, and a new selection will be made. No exceptions.
Rally Highlights:
Join the Tiffin Allegro Club for FIVE nights of fun! We have many exciting things planned for you. Your rally fee includes the following:
All of your overnight camping/RV resort fees during the 5 nights/5 days of the Rally
Several meals & ice cream socials
Event App to stay up to date with daily activities and events with push notifications to your cell phone
Welcome bag with gifts
Social gatherings
Educational Seminars
Access to Vendors
BBQ cook-off
Veterans Parade
Teatime with Judy Tiffin
Site, Golf Cart, and Jeep decorating contest
Live entertainment and dancing
One Mile Color Run
Cosmic Pickleball
Outdoor Movie
Scavenger Hunt
…and so much more!
And best of all, our Tiffin Service Technicians will be on-site to perform minor services and repairs. These trained technicians are a great resource and offer a wealth of information.
PLEASE NOTE: Owners will be parked as they enter the resort. If you want to park with friends, you must enter the resort together, no exceptions. A staging area is available on the property to wait.
Registration Fees:

2 people per Tiffin Coach SUNDAY Arrival $750

2 people per Tiffin Coach MONDAY Arrival $675

1 person per Tiffin Coach SUNDAY ARRIVAL $650

1 person per Tiffin Coach MONDAY Arrival $575
Additional Guest(s) NOT included in the above package fee but staying on-site as a guest in your coach. $275 per person. No additions will be allowed once the rally application closes! No exceptions.
Cancellation: If, for any reason, you need to cancel, a $150 cancellation fee will be charged. No refunds in part or whole will be given after the refund deadline of March 1, 2023. We encourage you to check with your insurance agent for trip cancellation insurance.