Get a sneak peek at what's new for Tiffin's 2022 RV models from a broad overview of the headliners to new innovations unique to each model.
The marketplace is constantly introducing new tech, and Tiffin's adoption of the latest innovations has been critical to the brand's popularity among RVers. For 2022, Tiffin is rolling out a hefty list of such innovations — features that make RV life easier, décor that heaps on the comfort, and engineering that ensures each passenger's ride is safe and smooth. Sign up for our newsletter if you want to stay up to date!

First, let's take a look at the new innovations RVers can expect in nearly every Tiffin model released for the 2022 model year. This isn't an exhaustive list of everything that's new, but it previews the big headliners for the coming year. We'll also preview innovations and new décor options by model.
Driver's Assistance Package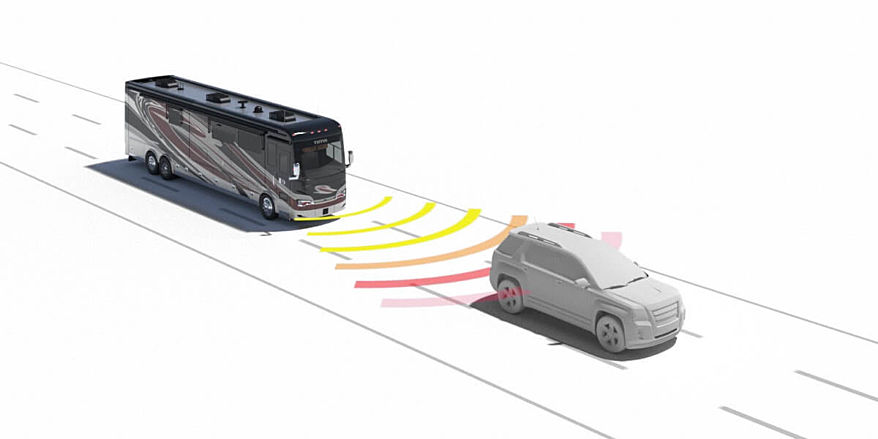 Tiffin's Driver's Assistance Package now comes standard for all rear-engine diesel models. These systems aid in driver safety and RV handling. Systems include:
Adaptive Cruise Control
No other motorhome manufacturer offers this feature as a standard option on nearly every model, and that's notable because the Adaptive Cruise Control (ACC) is a sophisticated tool that changes the way you drive. ACC works in conjunction with a vehicle's conventional cruise control to maintain the set cruise speed when the lane ahead is clear and will automatically adjust your RV's speed when a vehicle is detected ahead.
Collision Mitigation
The collision mitigation system is a radar-based active safety system that detects objects ahead and measures the vehicle's position and speed in relation to others on the road. It warns drivers of a possible rear-end collision by providing alerts. When appropriate, the system will apply the brakes to help mitigate a collision. The system monitors the road and provides warnings and active braking even when cruise control is not set.
Electronic Stability Control With Roll Stability Support
Electronic Stability Control (ESC) is at play when your motorhome encounters a slippery curve or while taking an evasive action. It's in these moments that the ESC reduces the risk of vehicle instability through select braking. So if stability is lost, vehicle speed is automatically reduced through engine control and application of service brakes. There's also the Roll Stability Support (RSS), which monitors conditions that may lead to a rollover. In these situations, the RSS automatically intervenes if rollover risk is high.
Automatic Traction Control
Traction is stability, and this technology recognizes low-friction surfaces by detecting if one wheel begins to spin at a different speed than the others. Once detected, the Automatic Traction Control (ATC) momentarily applies the brakes until traction is regained. This innovation also accounts for unstable situations on a poor traction surface. In this case, the engine power is reduced to optimize tire-to-road traction.
App Compatibility for The Spyder Multiplex System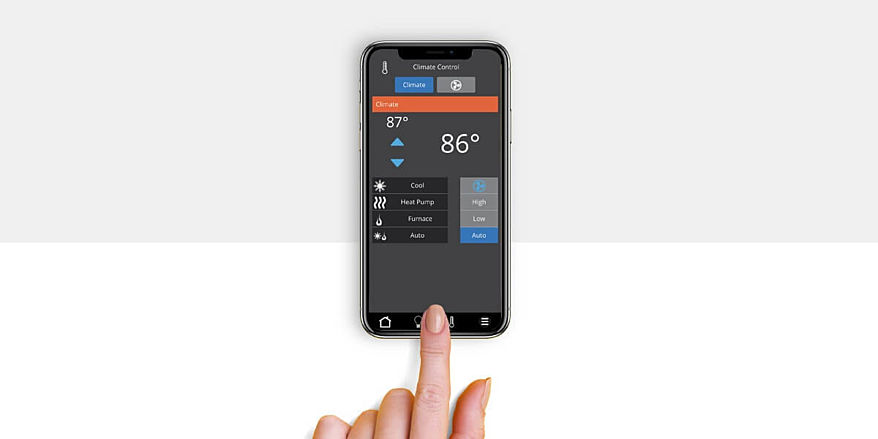 For 2022, all Tiffin coaches — with the exception of the Allegro RED 340 and Class C Wayfarer — will come with app compatibility for The Spyder Multiplex System. Tiffin owners are well versed in the advantages of our Spyder system, and now those tools go where your smartphone goes thanks to Spyder's app compatibility.
This multiplex system allows Tiffin owners to access a variety of controls and monitors associated with your motorhome including levels for fresh, grey, and black holding tanks. The Spyder also gauges your LP gas levels and the condition of your RV's battery, and it acts as the control center for opening and closing your vehicle's slide-outs and LED lighting.
AquaView ShowerMiser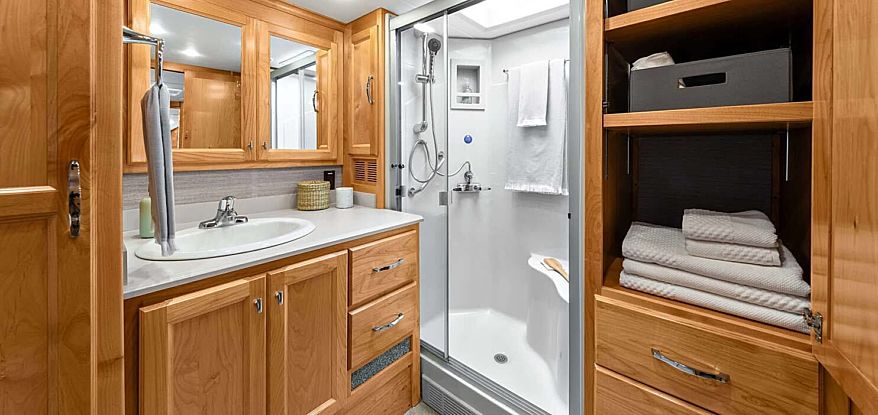 The AquaView ShowerMiser reinvents how effective you can be with your water usage, and it's standard on all Tiffin models except the Wayfarer. By flipping a small lever, you can redirect the cold water back into the fresh water tank, before it even comes out of the showerhead. Normally, this water goes down the drain, filling your gray water tank, while you're waiting for your shower water to warm.
The ShowerMiser's color-changing ability indicates within 4 seconds when hot water has reached your showerhead. Just flip the small lever back to release the water and step into a nice warm shower without wasting a drop.
New Shadow Cabinet Finish
Now available on all Tiffin RV models except the Allegro RED 340 and Wayfarer, this new cabinet finish is gray-brown in color. It's not as grey as Tiffin's Sterling option, but not as deep brown as the Glazed Canyon Cherry or Mocha finishes.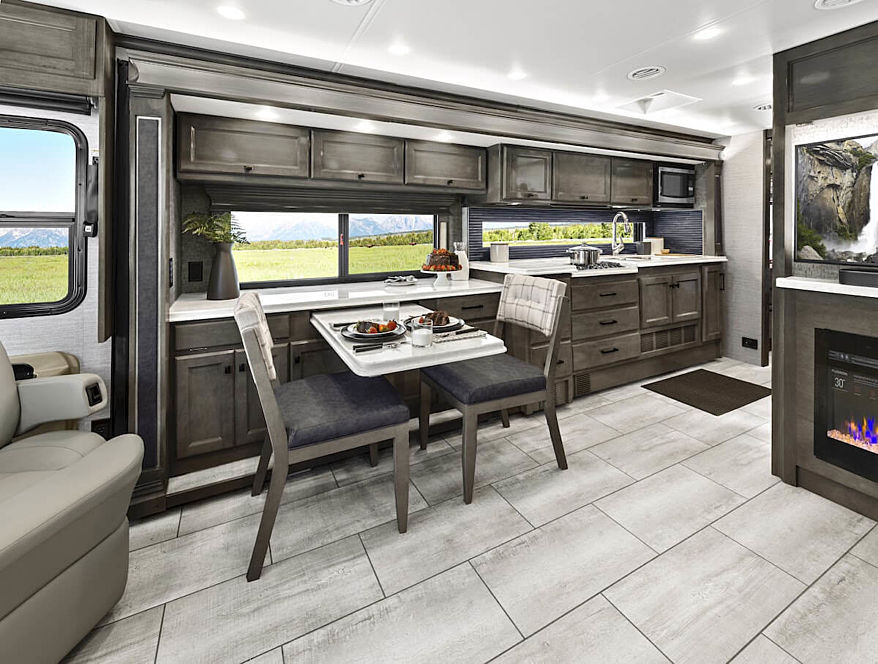 What's New: By Model
Every 2022 model will introduce new tech, accessories, or décor that's either standard or optional for the new model year. We've highlighted a few notables for each model, but if you'd like a full list of specs and features, visit our model pages or contact your local dealer.
New Exterior Paint Schemes
New Cabinet Color: Sandstone
New Décors
Visit the model page to get details.
New Exterior Paint Schemes
Updated Interior Slide-out Fascia
Visit the model page to get details.
New Exterior Paint Colors
Updated Interior Slide-out Fascia
Visit the model page to get details.
New Topless Slide-out Toppers
Visit the model page to get details.
Formerly known as the Allegro RED, this 2022 coach has undergone a full life cycle change. As a result, it's been renamed the Allegro RED 360. New features include:
New Exterior Body Styling
New Dash Control Center
Updated Interior Slideout Fascia
Updated Window Treatments
Tile Now Extends to Bedroom
Visit the model page to get details.
New Floor Plan: 36 SH
Basement Grill Option for 40 IH and 44 OH Floor Plans
3-stage Engine Compression Brake on Freightliner Chassis
44 OH Floor Plan Now Available on a Freightliner Chassis
Waste Elimination System Macerator Pump Option Now Available
Visit the model page to get details.
New Exterior Paint Scheme
New Insinkerator Instant Hot Water Option
New Floor Plan: 45 FP With a Large Shower and Tile in Slide-outs
Beverage Center Option Now Available on 35 CP, 45 OPP, and 45 FP Floor Plans
Waste Elimination System Macerator Pump Option Now Available
Visit the model page to get details.
New 20 K Front Axle Rating
New Exterior Paint Scheme
Quartz Countertops
Outdoor Kitchen Option
Waste Elimination System Macerator Pump Option Now Available
New Insinkerator Instant Hot Water Option
Visit the model page to get details.
If you'd like to learn more about what's new for Tiffin's 2022 models, you'll find each model's floor plans, features and options, paint systems, and décor options on Tiffin's model pages. Or go see and drive a 2022 Tiffin RV at your nearest Tiffin dealer.