Parked In A Tiffin Waiting for A Grandchild to Be Born
When Tim and Mendy Palmer's only daughter, Kennedy, was due to have her first child, no one could have predicted it would be happening in the middle of a viral pandemic.

The week before the due date, the Palmers and their daughter realized they wouldn't be allowed inside the hospital, let alone in the delivery room to be with her like they'd planned. It was devastating news.

Kennedy is a recent graduate from the nursing program at the University of North Alabama, and after graduation, she was immediately hired at the hospital as an ER nurse. The family was hoping Kennedy's close connection to the hospital might allow them special access during the birth, but the seriousness of COVID-19 wouldn't allow for exceptions.

The closest the grandparents would get to the delivery room would be the parking lot of the hospital. Of course, it's impossible to know the time a baby will arrive. The Palmers needed a plan for how they would be able to stay close, no matter what time their new grandson made his appearance. They drove by the hospital to see what their options might be. People were parked outside, sleeping in their cars in the parking lot. It didn't look appealing.

The plan
Tim started doing some digging online to see where he could rent an RV on short notice, but the closest locations he could find were in Birmingham or Nashville – long drives from Florence, Alabama, with a baby due any moment. So he decided to make a Facebook post asking for ideas from his friends and family. And a hero emerged – a generous owner of a Tiffin Allegro Bus.

The owner offered Tim and Mendy his RV for the entire birth week. Immediately, they got to work planning how they could get within view of their daughter's hospital room.
Tim's mentality is to ask for forgiveness rather than permission, so they pulled up in the closest lot they could find to her room, and started setting up. Unsurprisingly, hospital security had questions. But ultimately, the administration granted them permission to camp out where valet parking would normally be since COVID-19 had eliminated that service need

.

The grandparents made signs and placed them outside the RV with blue balloons.
At night, their son-in-law, Dylan, would signal down with a flashlight from Kennedy's hospital room window to show the Palmers they were focused on the right room.

And when the time came, there they were, outside with the RV decked out, cheering on Kennedy.
Go-time
Mendy was able to FaceTime with her daughter and coach her through contractions during labor. And the doting grandparents were also in the room on FaceTime during the cesarian birth. They even got to see the baby just moments after he was born. Cheers were roaring from the parking lot when Eli Grey Montgomery was born at 10 pm on Tuesday, April 21. He was 5 pounds, 11 ounces, and as healthy as can be, as was his mother, Kennedy.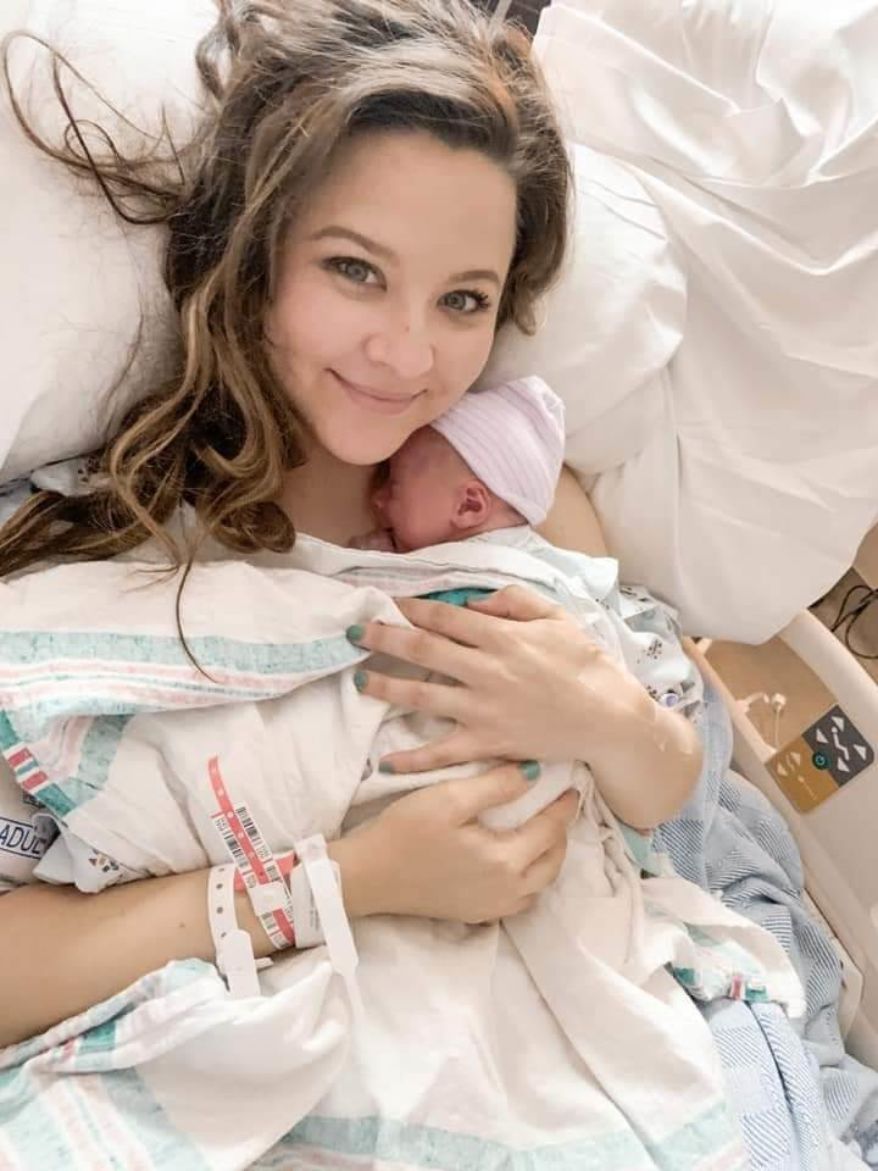 "Kennedy wasn't nervous, or at least she acted like she wasn't," Mendy said about her daughter's strength leading up to the birth. "She's an ER nurse, so she's used to the pressure."

Tailgating in an RV in a hospital parking lot wasn't how the Palmers expected to support their daughter during her first birth. But cheering on Eli and Kennedy from outside their hospital room window will go down in Palmer history as a birth to remember. Welcome to the world, Eli Grey Montgomery.