How to Use Tiffin's Build Your Own Configurator
Tiffin's Build Your Own Configurator helps you spec out your coach by choosing the features that meet the needs of your lifestyle.
Build Your Own tools are common enough now that many have used some online version of these tools to build a vehicle. You can even build your own John Deere tractor or build your own home.
Then, there's Tiffin's Build Your Own Configurator. It's different in various ways, but it's also unique in this important way: Those who build a Tiffin motorhome are building both a vehicle and a home.
So, selecting the options available that help personalize your motorhome is critical to those looking to own a Tiffin vehicle. Afterall, a motorhome is where you'll spend your time when you're on the road, and it's where you'll spend your time when you're not on the road. It's where you'll be when you've reached a destination, when you're settled in and living in our kitchens and living areas. And it's also where you'll sleep.
With Tiffin's Build Your Own tool, the user experience is easy. And the time you spend building your uniquely appointed motorhome isn't lost. Once you've selected each detail, download a PDF highlighting the options you've chosen for your dream motorhome and take it to your closest Tiffin dealer for pricing and purchasing information.
For an overview of what you can expect from our Build Your Own tool, let's walk through each step.
Step 1
From Tiffin's homepage, you'll find our Build Your Own (BYO) configurator by selecting "Shopping Tools" from the main menu. Then click on "Build Your Own."
Once you're there, you'll be asked to choose from a list of Tiffin models for which we're currently accepting orders.
For the purposes of this blog post, we've selected the 2022 Open Road Allegro.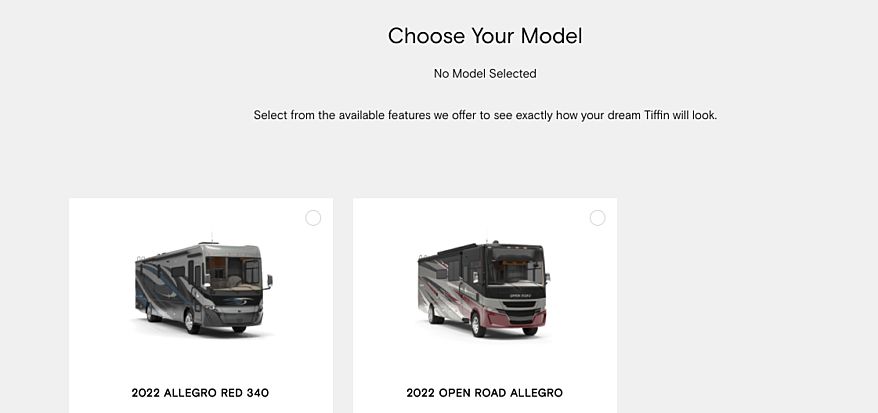 Step 2
Next, you're taken to a second screen, where you'll be prompted to choose your exterior paint scheme. You'll notice this page features an image of the model selected. Once you select your paint scheme, the model image allows users to view the paint scheme selected as it appears on the vehicle.
Users can also use their mouse to drag and rotate the vehicle image to view the paint scheme from various angles.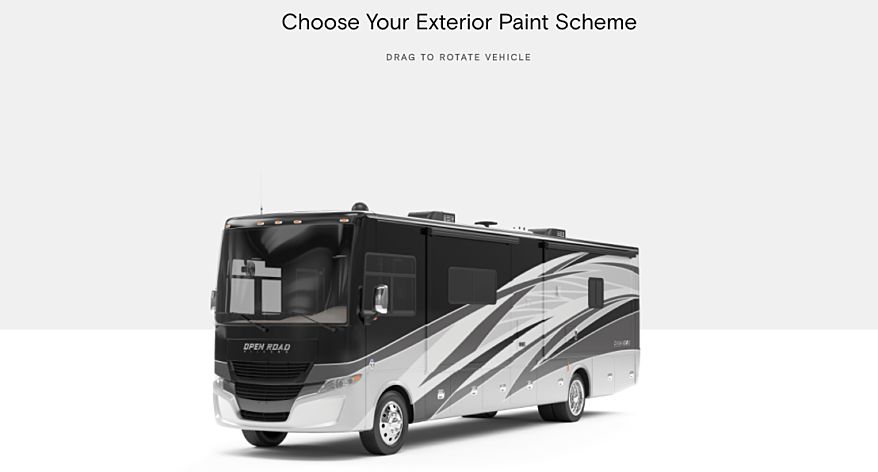 Step 3
Once an exterior paint scheme is selected, users will choose from the model's available floor plans. Each floor plan listed includes an image of the plan and bulleted details highlighting distinguishing features of each floor plan. By clicking the "View Large" link under each floor plan's name, users have the option to view larger images of each plan so details are visible and easier to discern.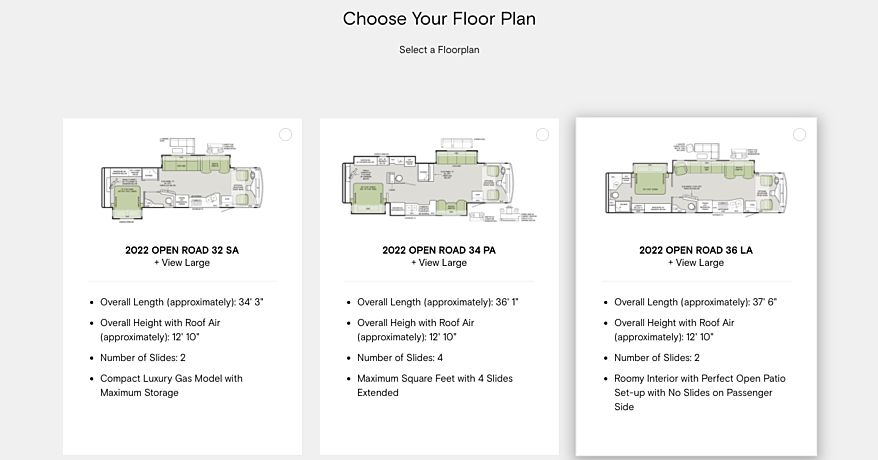 Step 4
The next step allows users to choose their motorhome's décor, cabinets, and floor tile.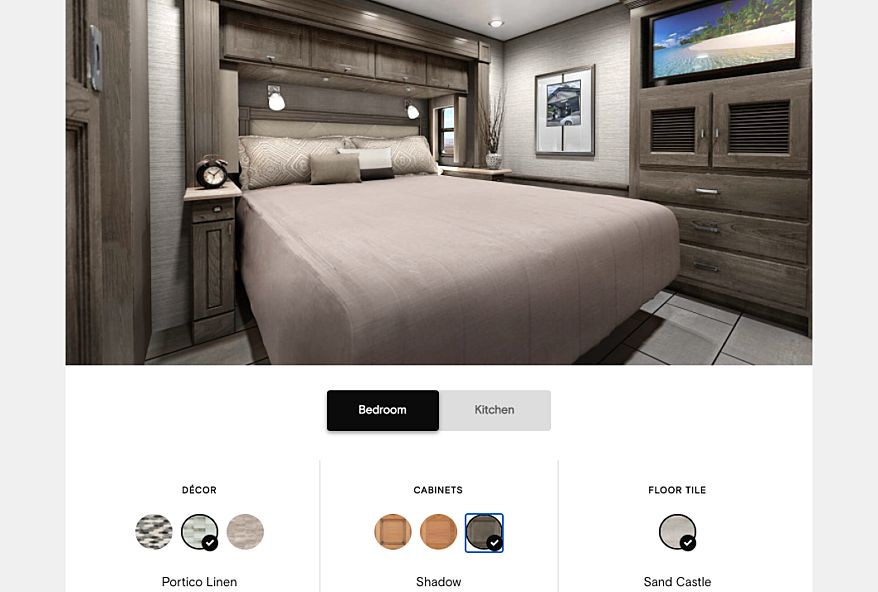 Step 5
The final step lists the add-on options available for the model selected by the user. You'll choose from available, optional features under various vehicle categories including plumbing and electrical, interior, driver's compartment, driver side living area, passenger side living area, kitchen, and bedroom.
On this screen, you can also select to view a full list of the model's specifications. (The specifications will open in a separate window, so no need to worry about losing the build you're working on.)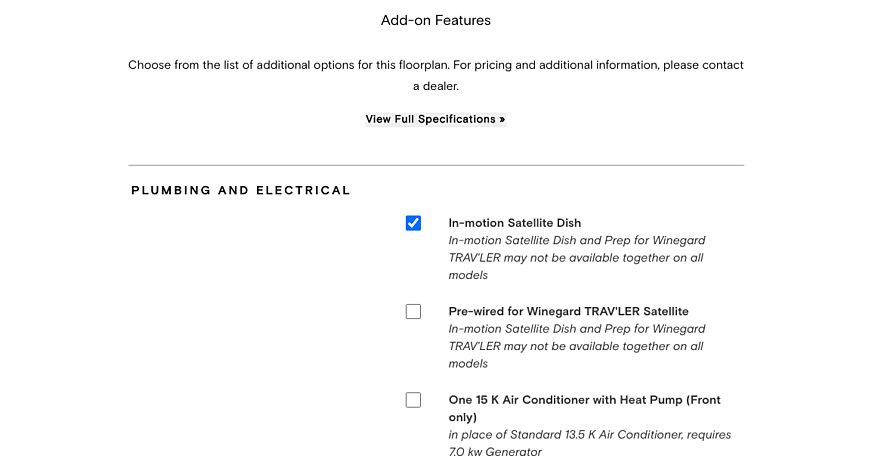 BYO Configurator Summary
Once you've selected each option for your Tiffin motorhome, the configurator will end on a summary page featuring an image of the model with the exterior you've chosen and a listing of each of the available choices you selected. On the final page of the BYO tool, users can download a PDF of their dream Tiffin motorhome. Use the model summary by taking it to your closest Tiffin dealer for pricing and purchasing information.
The page also features quick links to Tiffin's Find a Dealer page and a link to request a printed brochure of the model you're interested in learning more about. Please note, model year 2022 coaches will be available on the Build Your Own Configurator as they're released. As of this writing, all 2022 coaches aren't currently available on the tool.