How to Avoid Getting Scammed on Facebook By Fake Tiffin Motorhomes Giveaways
Over the last month, you may have seen Facebook pages surfacing promoting Tiffin Motorhome giveaways. Sadly, these are all a scam and in no way connected to Tiffin. We want to address these fake pages head on and share everything we know so you can avoid them.
What we're doing to shut fake Tiffin Facebook pages down
We are currently taking every measure possible to shut these fake pages down; however, the power lies with Facebook to completely remove and prevent these pages and their posts. It's very possible that these kinds of "Tiffin Motorhomes Giveaway" pages will continue to be created. Unfortunately, all we can do is continue to report them.

As soon as we catch wind of a fake Tiffin Giveaway page, we immediately report the page and posts to Facebook. We are also working with Facebook reps to have the fraudulent content taken down so that you and others don't get scammed. We are also actively trying to identify who is behind these scams, and if we do, we will be insistent on Facebook taking action to prohibit these scammers from further taking advantage of our community and friends.
How you can help: report fake Facebook pages
We urge you to protect yourself from these scammers. Keep a watchful eye out when it comes to content you see posted, shared, or tagged that's related to a Tiffin Giveaway. And if you come across one of these pages, you can help by taking action too! Here's what you can do:
Step 1: Check to see if Tiffin's official Facebook page has promoted the giveaway. If we're supporting a giveaway, we will promote it through our official channels. Even if the Facebook page the giveaway is posted on says "Tiffin Motorhomes," shows the Tiffin logo or images of Tiffin motorhomes, or in any other way claims to be Tiffin, if it's not our official Facebook page, it's not us.
Step 2: If you're not sure if it's real, before engaging with the Facebook post or page in question in any way, don't message that page. Email [email protected] and ask us.
Step 3: Once you're confident the post and page are fraudulent, do not engage with the post or page in any way, except to report the post and page.
Here's how to report a fake Facebook page.
1. In the middle of the Facebook page, there is an ellipsis. Click on it, and select "Report Group" or "Find support or report Page."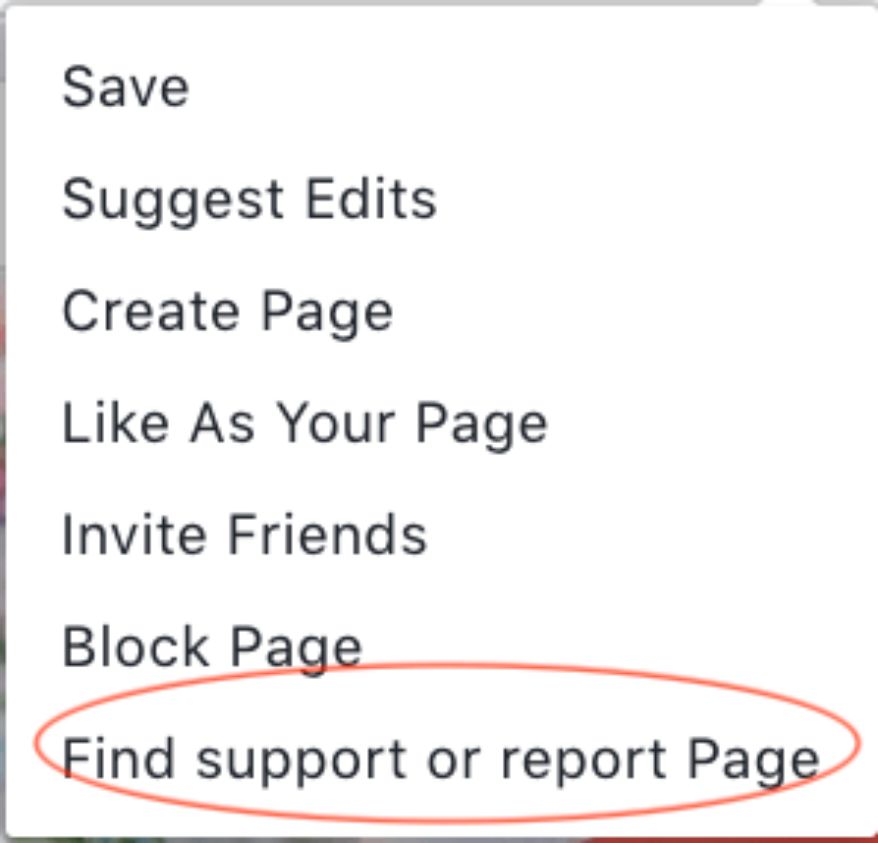 2. Then, explain to Facebook the reason why you are reporting the page by selecting "Scams and Fake Pages."
3. Once you've selected what's happening, you can further explain to Facebook that this page is impersonating Tiffin by selecting "Pretending to Be Another Business" and hitting next.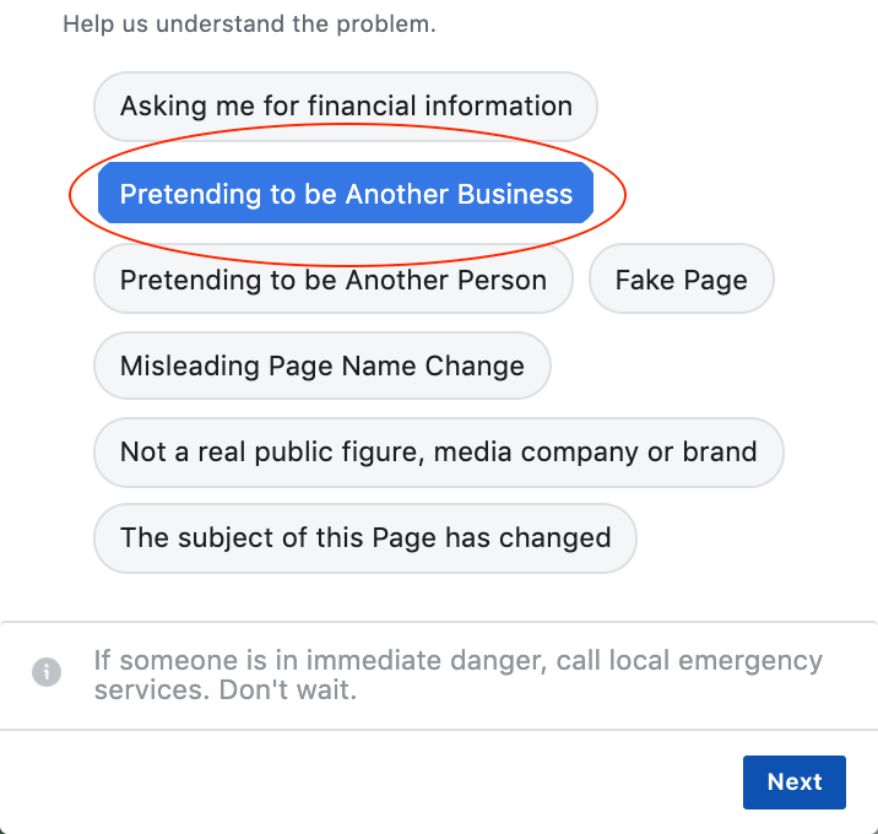 4. From there, Facebook will ask which business the page is pretending to be. You will need to select the official Tiffin Motorhomes Page as pictured here. Finally, hit "Send" to complete filing a report of the Page to Facebook.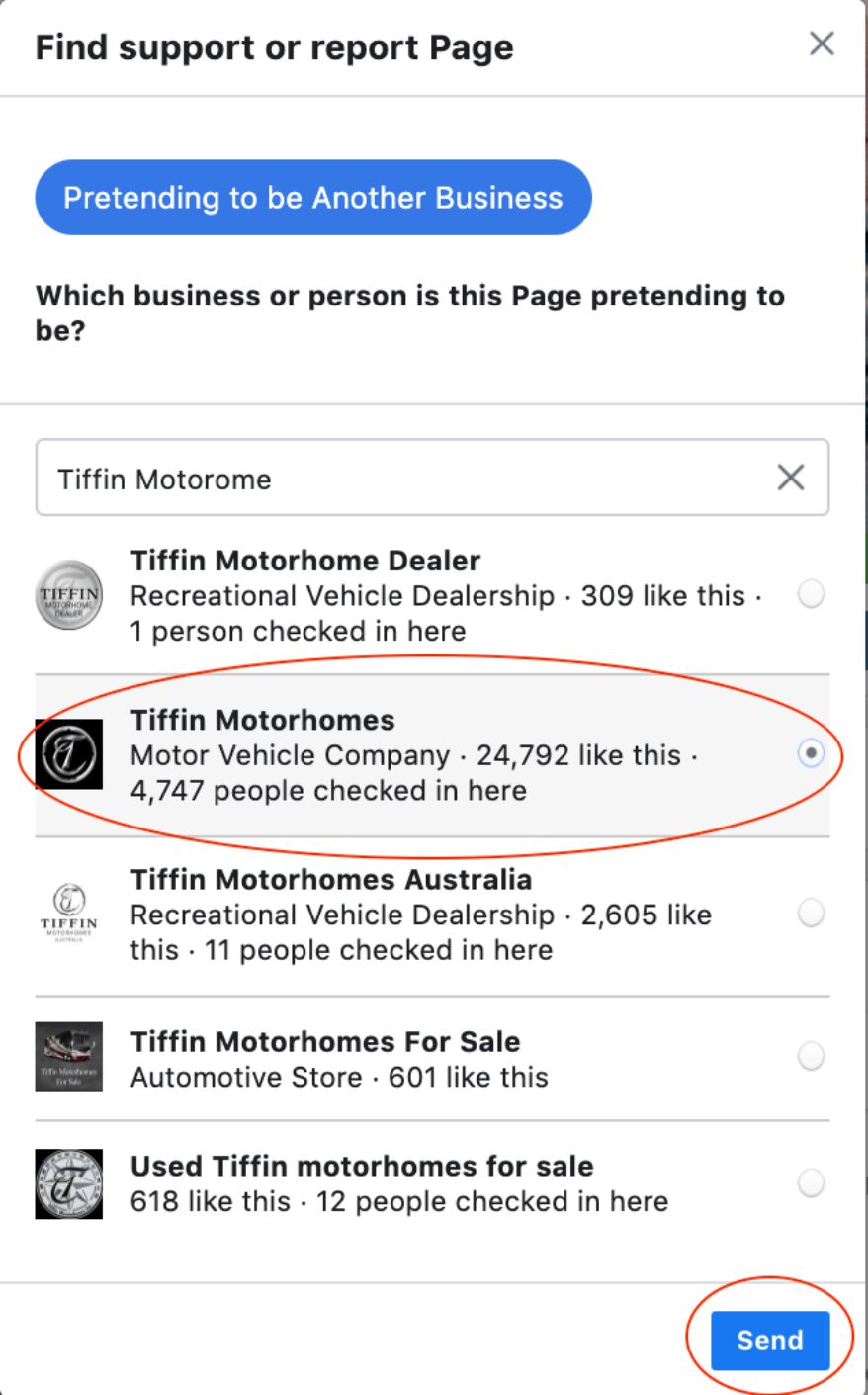 If you have come across an individual post that's promoting a fake giveaway, you can also take action against it.
Here's how to report a fake or scam Facebook post:

1. At the top right corner of the post, click on the ellipses. Then select "Find support or report post."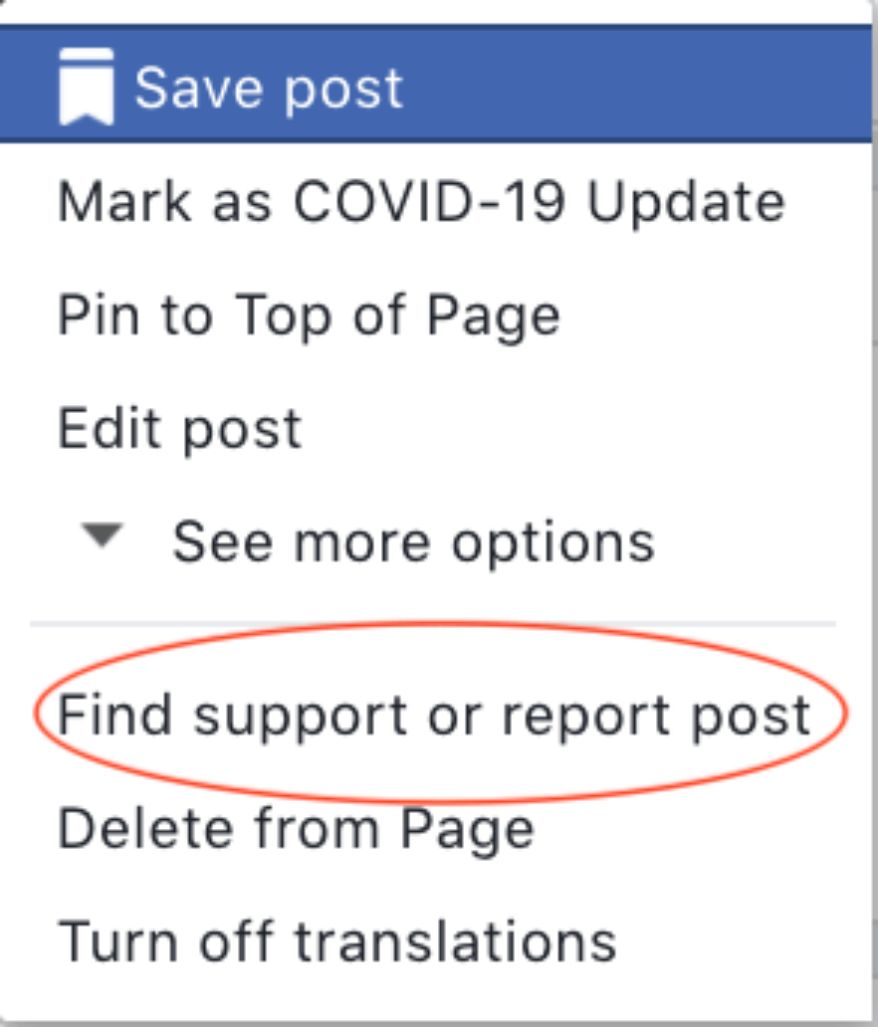 2. Next, when Facebook asks you to select the problem, choose "Something Else."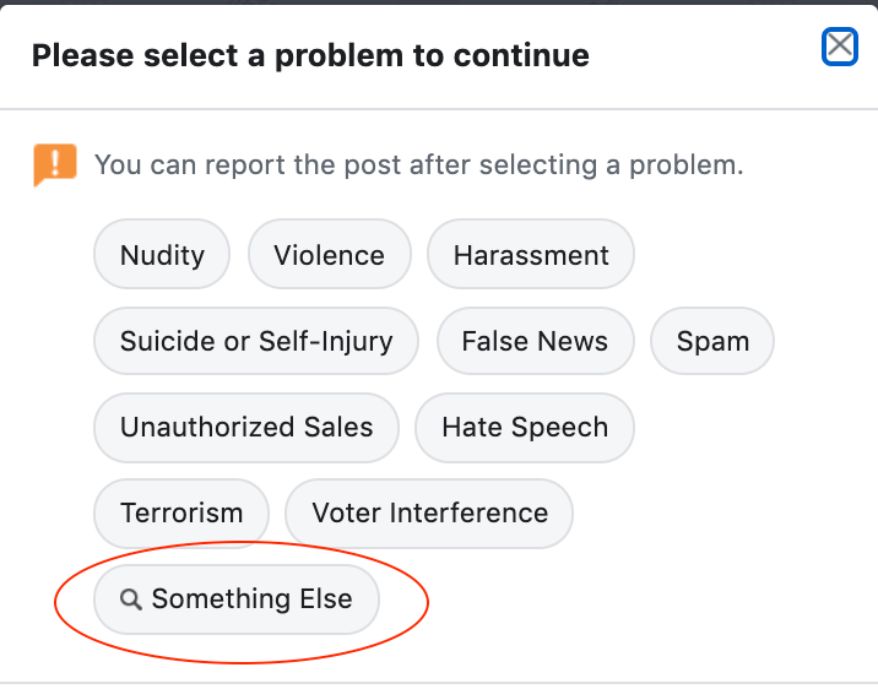 3. And finally, select "Fraud or Scam" as the example of the problem you are reporting. Then click "Send."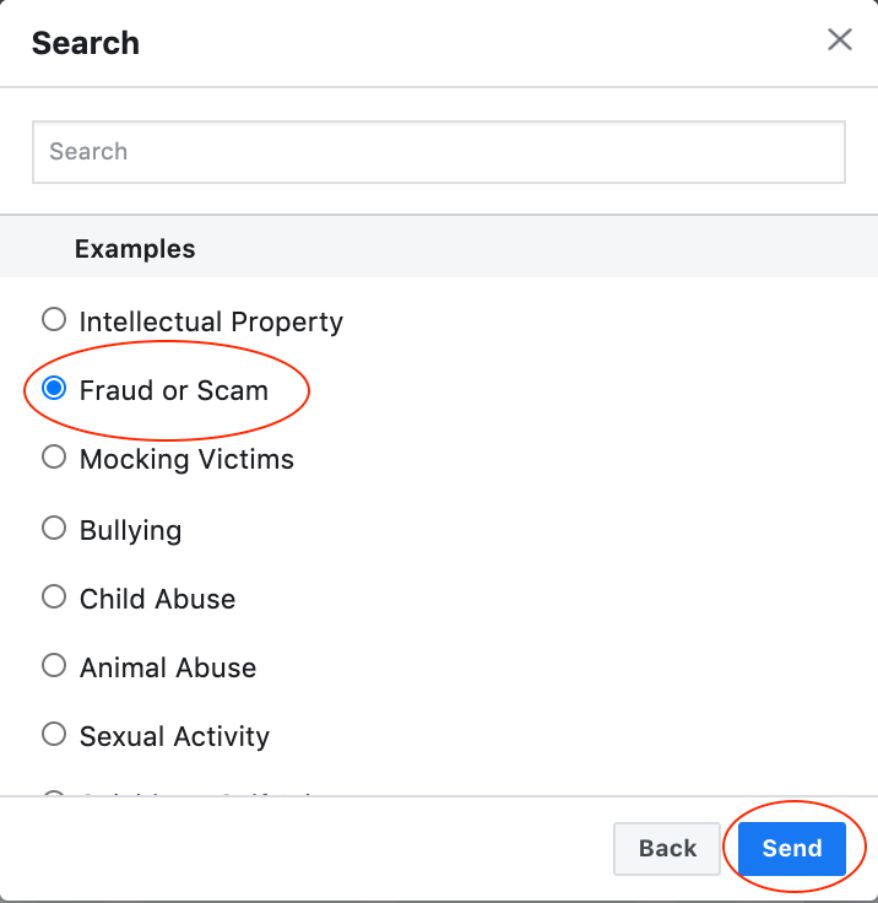 How to avoid being scammed on Facebook
There are a few best practices we recommend following in order to avoid giveaway scams. First things first, do not click on any links or share or comment on any Facebook posts unless you are absolutely sure that they are not a scam. Verify that they are really being posted by us by checking Tiffin's official Facebook page or contacting us via email.
If you have clicked on a link found in a post that you discover to be part of one of these scams, Facebook provides several resources in order to address each unique concern. Take a look at the actions they recommend taking if something does happen. If you have clicked on a phishing link, this blog has some helpful information to consider.
Finally, do not share the nonsecure link on Tiffin's official Facebook page. We understand that you may want to point out to us that it is a scam and make other users aware. However, posting the link to Tiffin's Facebook page, on your own page, or in a private group will only serve to continue promoting the fraudulent contest. And if someone else sees the post and doesn't read the full explanation, they may end up clicking through and becoming a victim of the scam. The best way to combat these scams is, again, to report the account or post as shown above.
We always appreciate the helpful insight we get from our fans, especially our Facebook users. Sometimes, it's you who first make us aware of these fake contests. If you would like to make sure we know about these scams or confirm that they are fake, please email us or call us at (256) 356-8661. Before you contact us, check to see if we have already addressed the issue on our Facebook page. We promise to continue to actively post a notice there that calls out any fake giveaways.
It's our goal to create a safe place on Facebook for our Tiffin community to communicate and enjoy each other as well as garner any exciting brand news and updates we have to share. Together, by reporting these pages and watching out for each other, we can work towards removing any content that harms that mission. Thank you for your help and support!