A Sturdy Girl Named Pearl
The 1990 Tiffin Allegro named Pearl on its maiden voyage with seven young men from Florence, Alabama. Photo: @PearlTheAllegro (Facebook).
Seven young men from Florence, Alabama, are piled in a 31-year-old Tiffin Allegro Class A motorhome named Pearl. They're having a snack in the parking lot of a Trader Joe's in San Francisco, 2,400 miles from home, waiting for the Giant's ballpark to open so they can go watch some baseball.
They're fresh-faced and their energy is infectious. A raw, unguarded joy presses against the walls of the RV and makes the space cheerful. You wouldn't know that these guys are victims of a con artist's con. But they are. That's why they're in California. That's why they've got Pearl. It's why six of the seven travelers have been all over the country this summer with stops at the Gateway Arch in St. Louis, Rocky Mountain National Park in Colorado, Grand Teton National Park in Wyoming, and Crater Lake in Oregon. They've hiked Cascade Canyons and Jenny Lake, watched Old Faithful erupt, scored three free saucer-size cinnamon rolls at Clark's Fork in Spokane, Washington, and drove a borrowed Lincoln Town Car to Pike Place Fish Market in Seattle.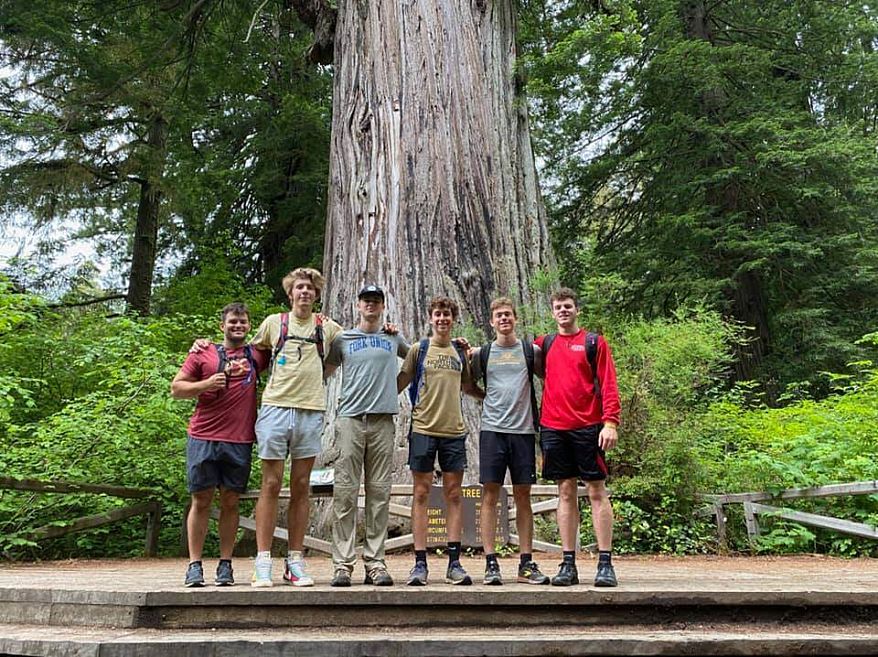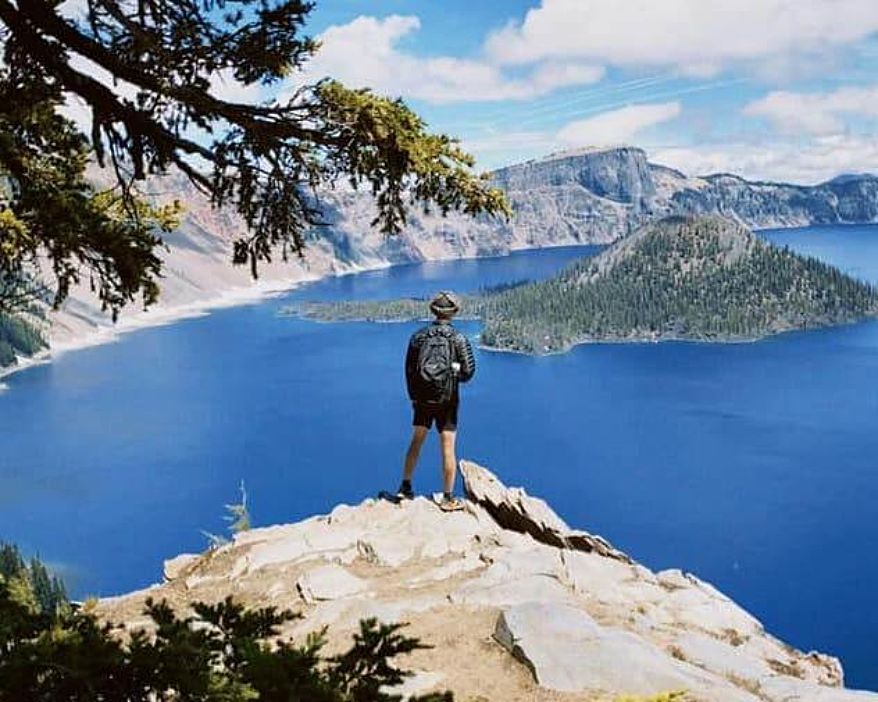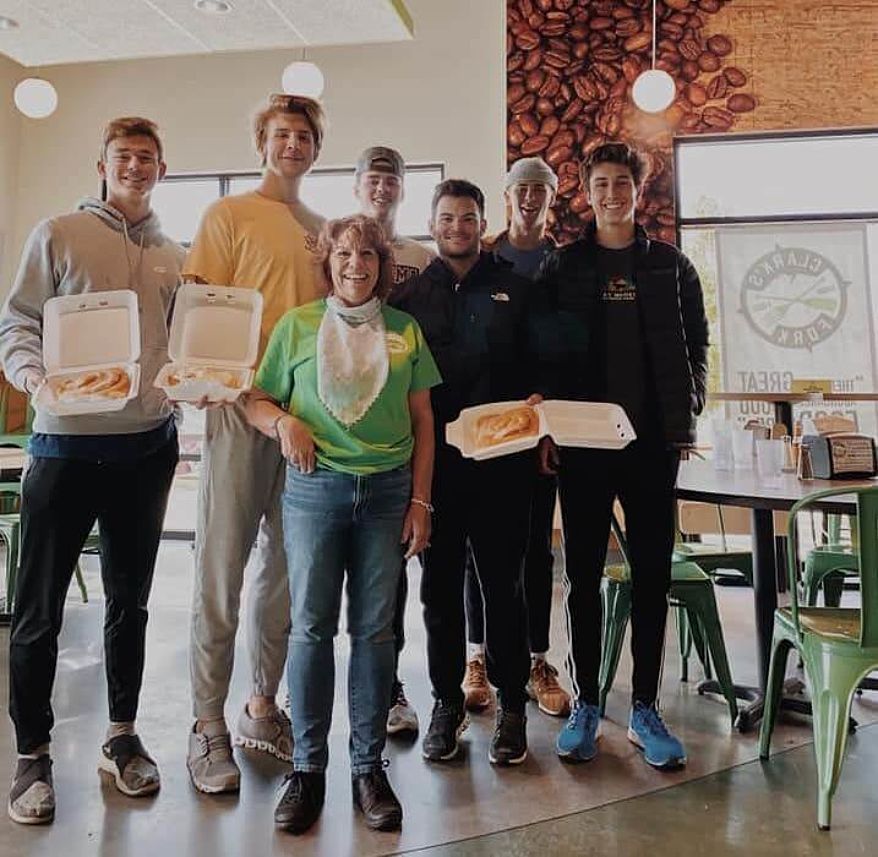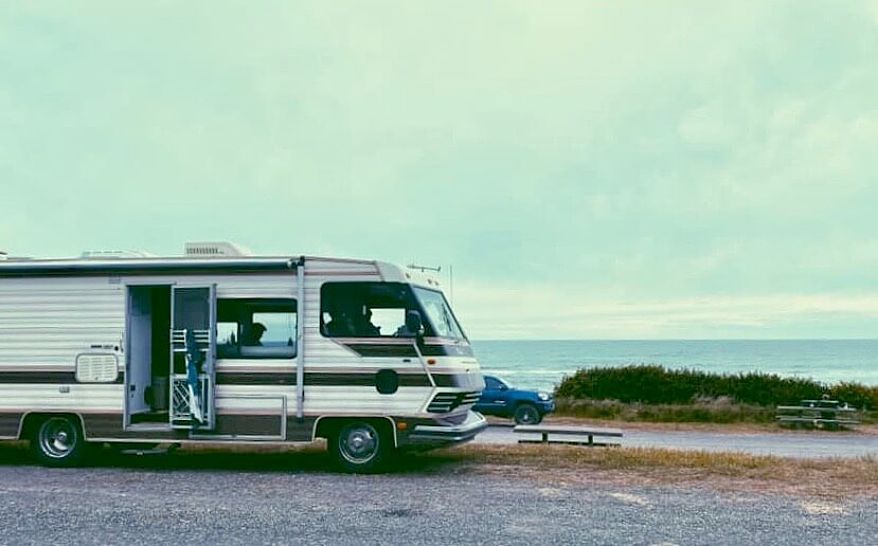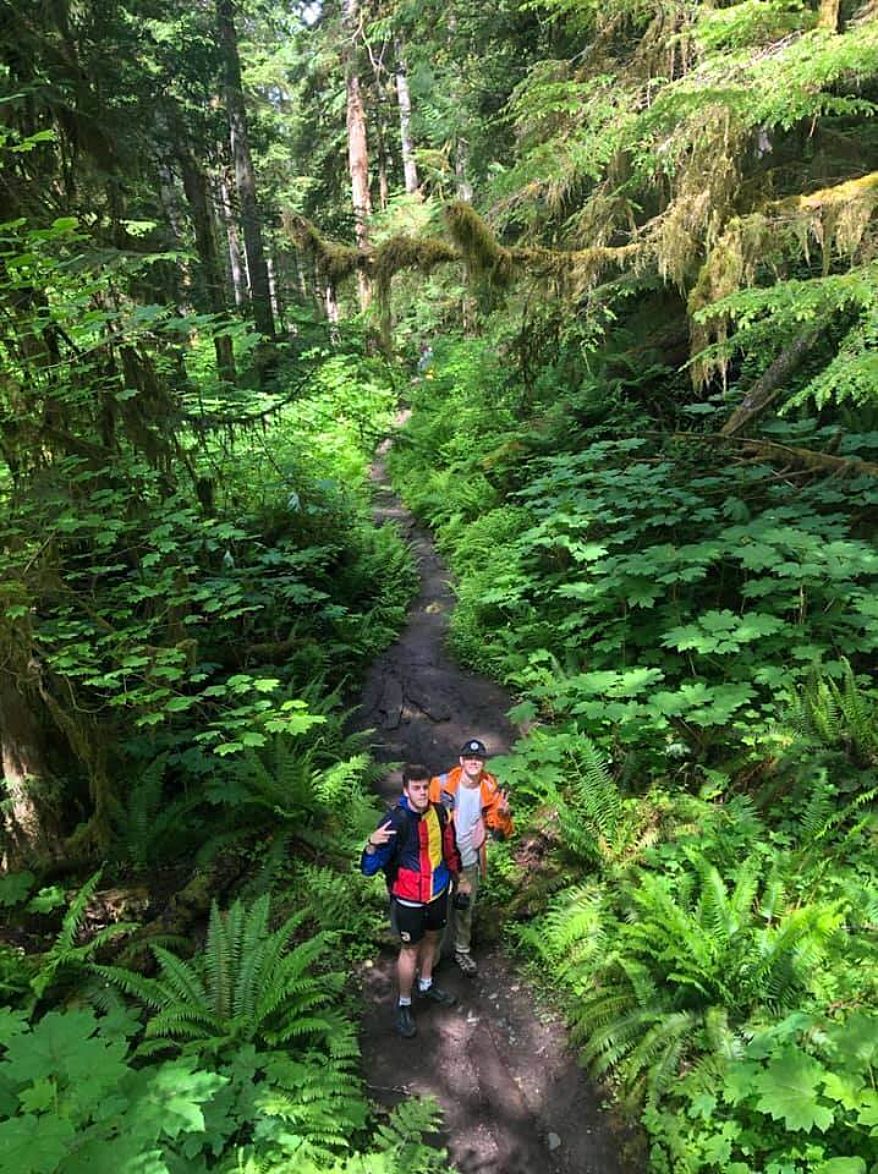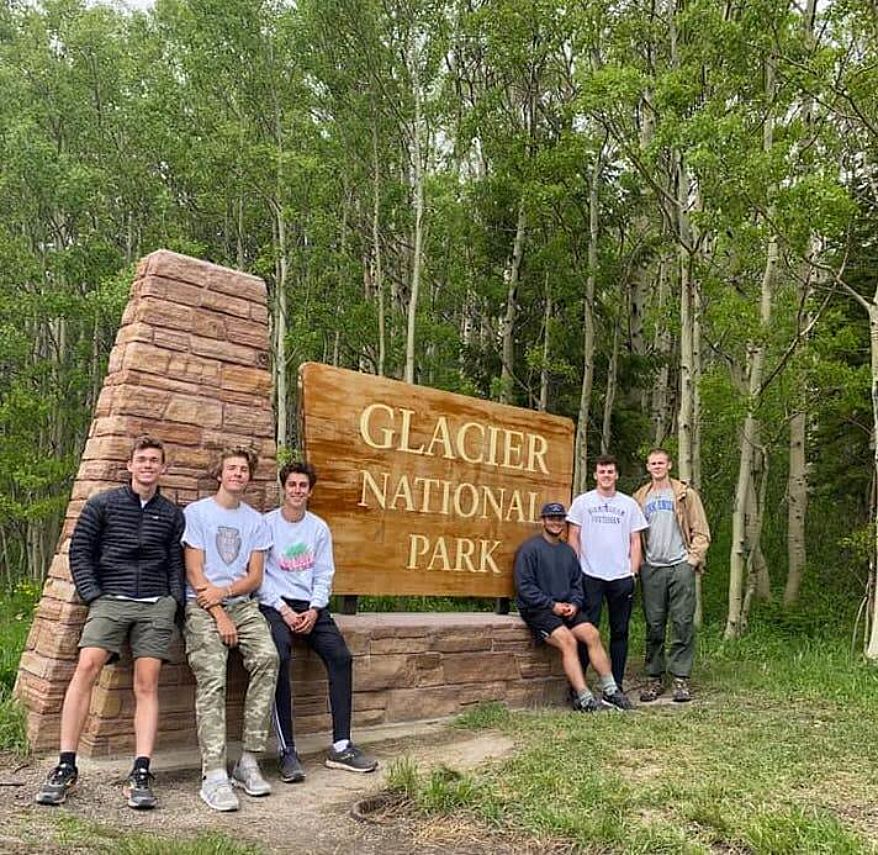 The seventh traveler Grant Taylor just joined the other six. The only places he's seen so far are the San Francisco International Airport and Trader Joe's parking lot. Grant, a baseball player and this year's Class 7A Player of the Year in Alabama, will join the LSU baseball team in July, and he needed a couple of weeks in June to get things in order.
So Pearl the RV did what Pearl does. She showed grace. She inched her way through the congested passenger pickup area of the airport. Grant was her beacon. Heads turned. Amused bystanders gazed at big Pearl. They watched as the 31-year-old Allegro, loaded down with six dudes, crept closer. Then the guys saw him. There were fist pumps, clapping, laughing. Charlie Champagne, who was driving, pointed at the door. "Unlock that door! Unlock that door, and let that boy in!"
Life With Pearl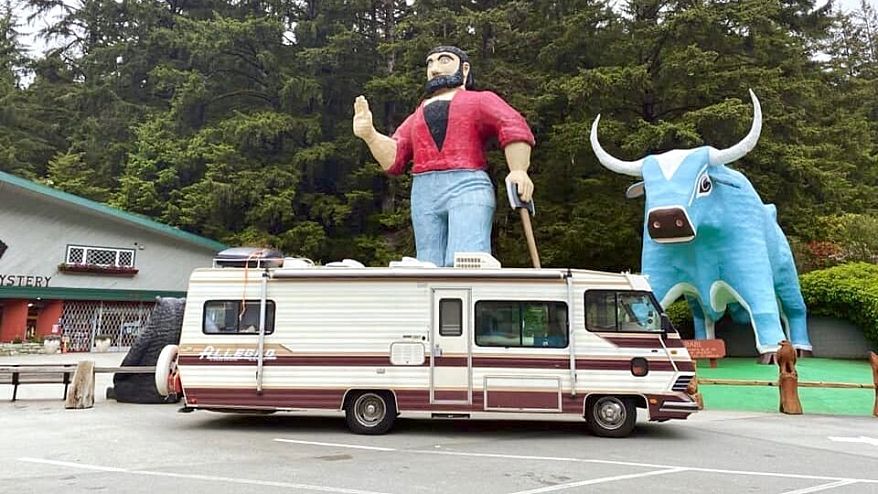 One can only hope Grant likes PB&J sandwiches because, so far, the group has been eating an insane number of PB&Js, over and over again, for nearly every lunch meal for just about every single day of June.
"PB&Js are just reliable," says Will Champagne. He runs the group's Instagram account, "Pearl.the.rv." He drives Pearl a lot too, especially through the night when the highways are empty, and he can challenge himself to make good time. He wants the guys to wake up to a landscape they didn't expect.
Today, Will's wearing a gray bandana around his forehead. It's folded like a headband, and it's doing an admirable job of keeping a dazzling head of hair in order. Will stands a towering 6'7 (if you include his hair in the measurement). It's easy to imagine how he'd have to fold himself down with the efficiency of a collapsible storage bin to fit into the motorcoach, despite the roominess and size of Tiffin's Allegro. Factor in the other six travel mates, most of them quite tall, and this has to be the 8th wonder of the world.
Will's also wearing a graphic tee with the words "Go West Young Man" printed on the front. And, in fact, all of the guys are wearing the same shirt. "My mom did the shirts," says Charlie, Will's brother. They're the only brothers on the trip. The rest of the guys aren't related. Charlie stands 6'3 and plays basketball for Christian Brothers University in Memphis, Tennessee. "She's very artsy," he says of his mom Anna. "We figured it was fitting to wear the shirts today when Grant showed up. She did the pillow too."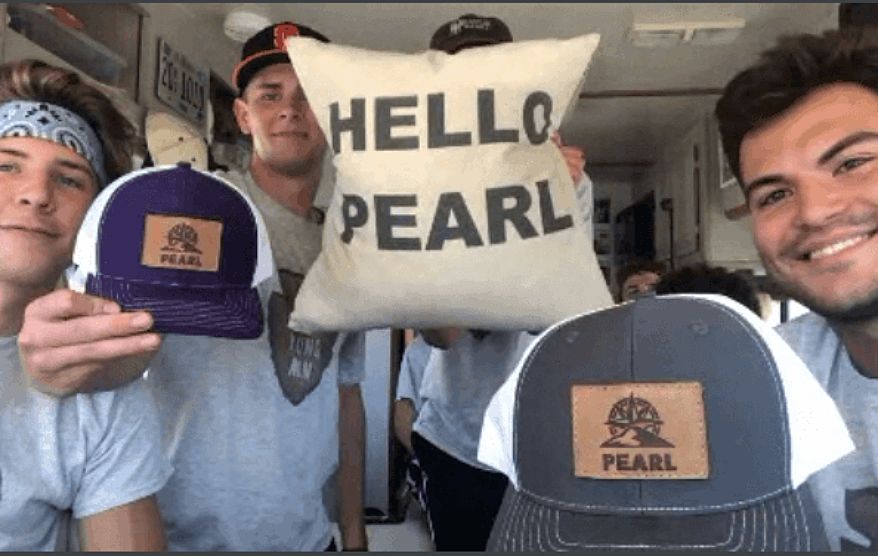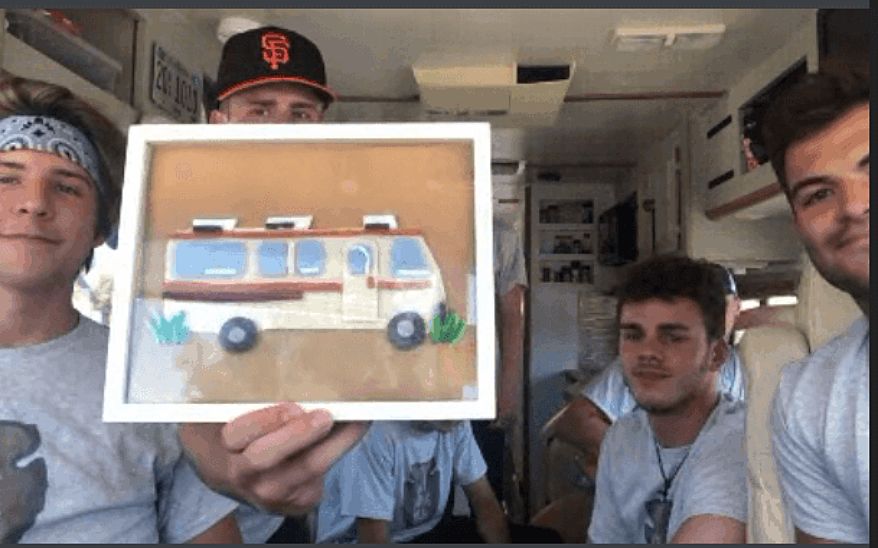 The guys quickly grab a large, aptly-stuffed throw pillow so the words printed on its face are readable: "Hello Pearl." They're genuinely proud of the pillow. Next, the boys start prying a framed piece of felt art off the wall of the RV to show another of Anna's creations. It's a spot-on, felt-art image of Pearl.
Anna also gets credit for coming up with the Allegro's name, Pearl.
"We knew immediately she was a girl," says Will.
"Yep, she was always gonna be a girl," says Collin, who runs Pearl's Facebook page and is the designated chef for the group. He plays college baseball too, and is enrolled at Southern Tennessee to play next season.
Pearl's Origin Story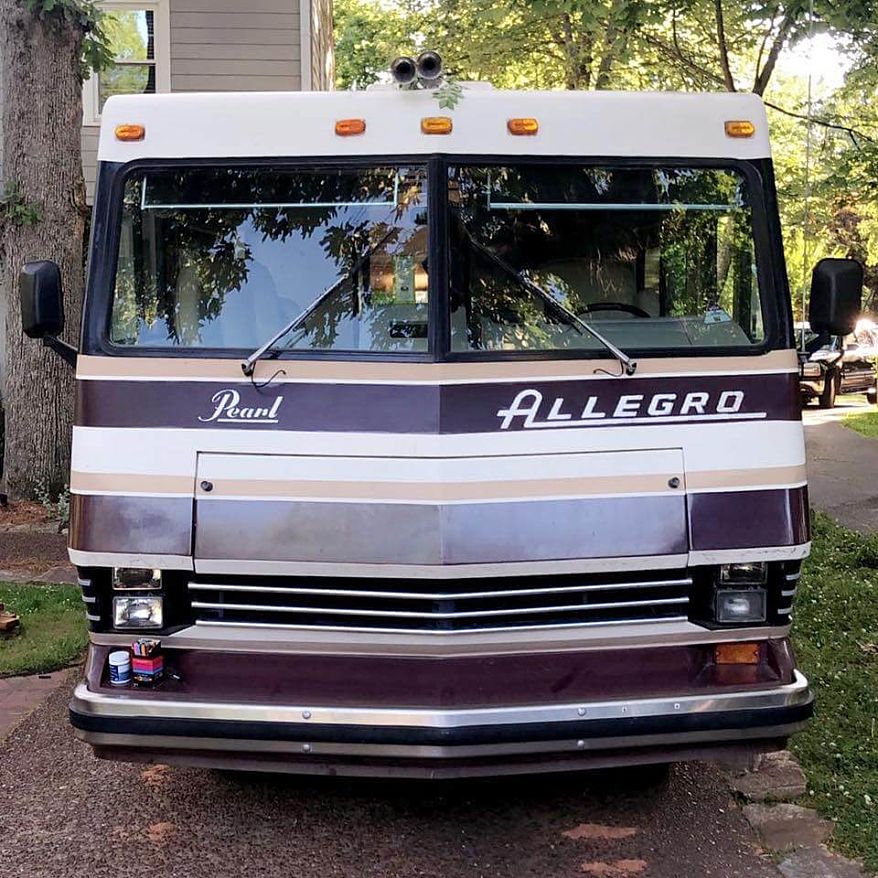 You might remember — these guys are the victims of a con. Well, this is where the con comes into the story: a con, a con artist, and a touch of religious framing. Because those who rely on their faith to navigate the highs and lows of life will tell you that God can take a crummy situation and mold it into something good. The guys think maybe that's the case here. Because it was the con that set the boys on the path they're on.
"As a group, we wanted to buy a boat right before quarantine," says Charlie. "But we got scammed out of our money, and the boat didn't exist. So, if we were able to get the boat, we'd probably be back in Florence right now, on the water."
From the back of the coach, one of the guys — Connor Bergeron — chimes in. "I'd like it to go on record that Connor Bergeron was not involved in the boat."
Everybody laughs.
Connor, who's considered the crew's handyman, wedges in this factoid too: He's the only Eagle Scout on the trip. So that needs to be in print as well, on the record. He just graduated high school and is set to start college at Auburn University this fall. He and another recent high-school grad Henry Tomlinson are the youngest guys on the trip. Henry's enrolled at Auburn too, and he'll be rooming with Connor when school starts.
So this adventure is their senior trip. Which means they've foregone the typical summer trip many graduates choose: white sands and teal-green saltwaters opting for baseball games and some of the most scenic natural landscapes the U.S. has to offer.
"I wouldn't trade this trip for any other senior trip we could have taken," Connor says. Grand Teton National Park is Connor's favorite stop so far. "We hiked Cascade Canyon, we walked a total of 17 miles that day," he says. "And they were some of the most beautiful hikes you'll ever go on."
The guys have all fallen pretty hard for Pearl. "We bought the RV thinking we'd take a trip and sell it," says Will. But that ain't gonna happen. The guys say Pearl isn't going anywhere, except for the future trips she'll take them on.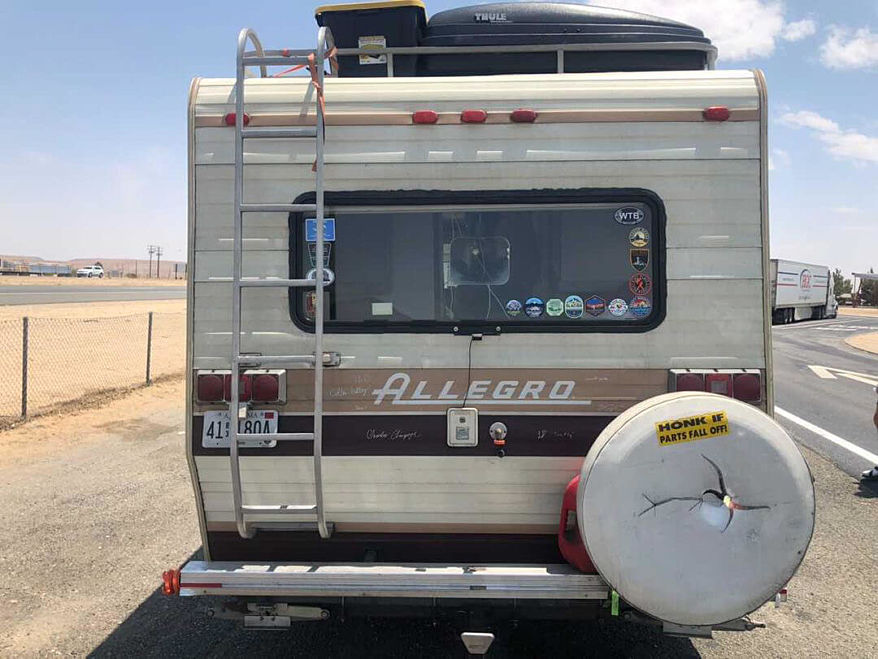 In Pearl's first act, she was a reliable party bus. Her original owners drove to and from Alabama football games. And that's pretty much the only place she went. When the guys bought Pearl, the 1990 Tiffin Allegro only had 13,000 miles on it. That's right: 13,000 miles in 31 years.
Very little automotive work was required in preparation for this summer's cross-country trip. The guys painted over a patchwork of neon interior walls: blue, green, pink, purple. They toned it down to a clean gray and white.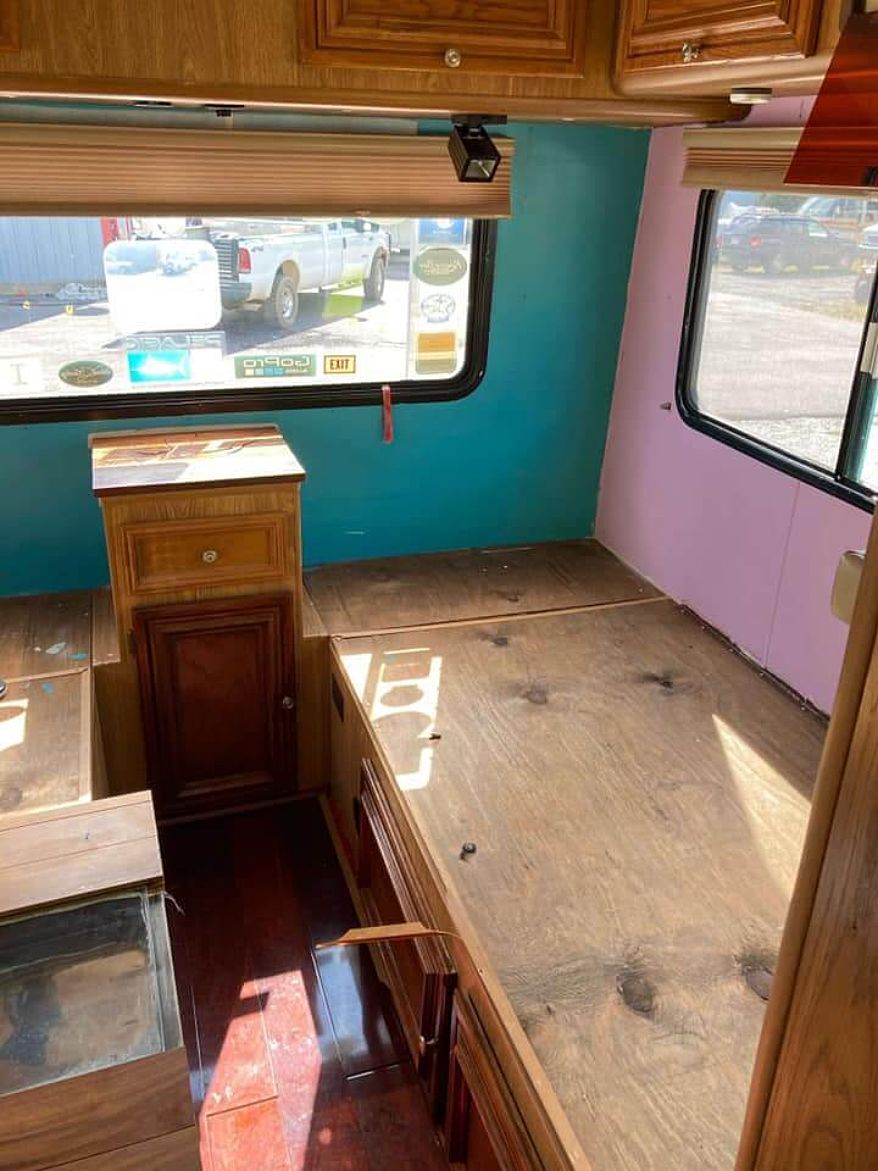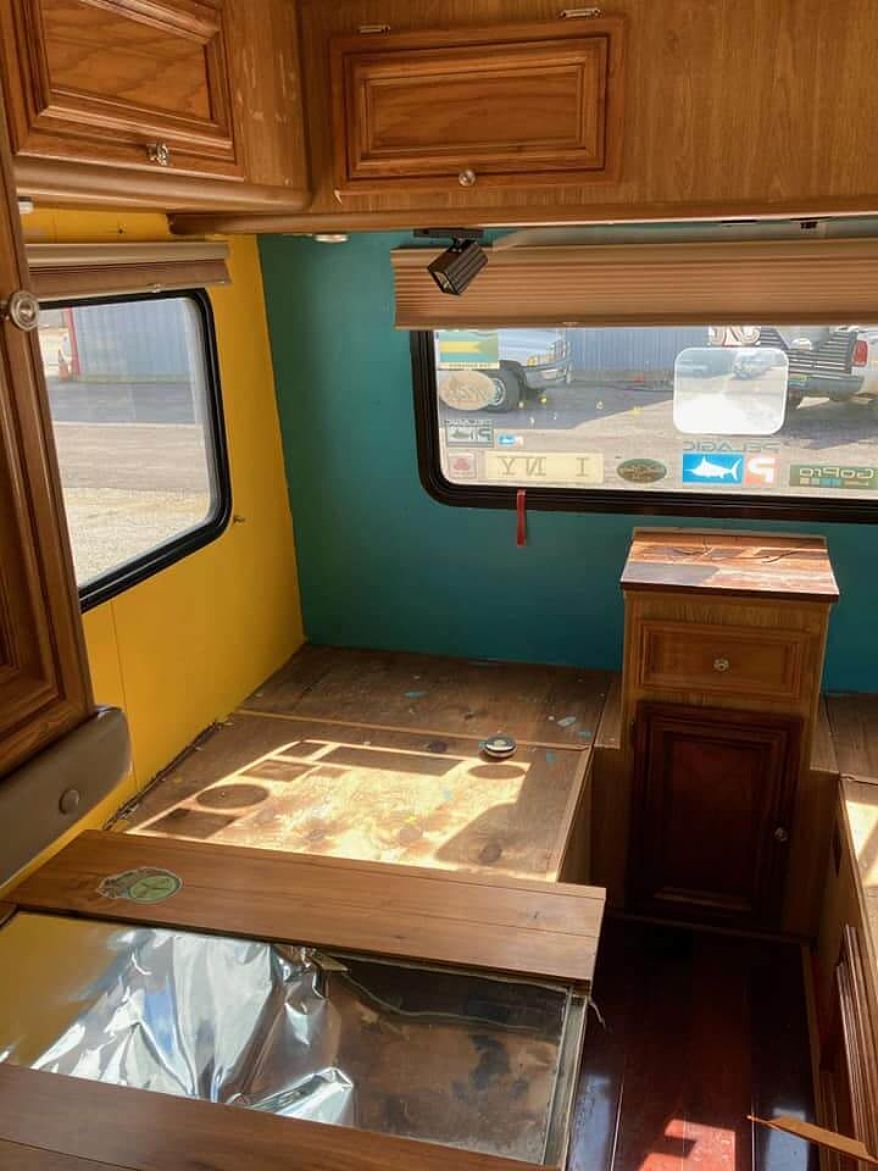 Landon "Too Fly" Dawson, the group's designated photographer, didn't technically help purchase Pearl. Instead, his equal share went toward Pearl's six new tires. Collin says the guys did the work they could do on their own. They replaced the spark plugs and changed the oil, but they paid professionals to give the brake system a good once-over and upgrade.
"Driving it hasn't been as bad as we thought it would be," says Charlie. "Henry and I made the purchase and drove it home. I think our parents were a little surprised at how big it was."
Big is good. There's a lot of guys on board. Adding Grant in San Francisco will require a creative sleep configuration they haven't quite figured out. So far, with the six guys, here's how it works: There are two twin beds in the back, and the dinette turns into a bed. So that sleeps three. Above the front seats, a bed drops down. That's four. The couch turns into a bed, and two guys have been sharing that spot. That makes six. Grant may be on the floor. Or they're hoping they'll end up at some campsites where using their ENO hammocks will work.
But there is an upside to this many RV passengers.
"Driving is easier when you have six sets of eyes taking inventory of what's behind you," says Henry.
Gang of Seven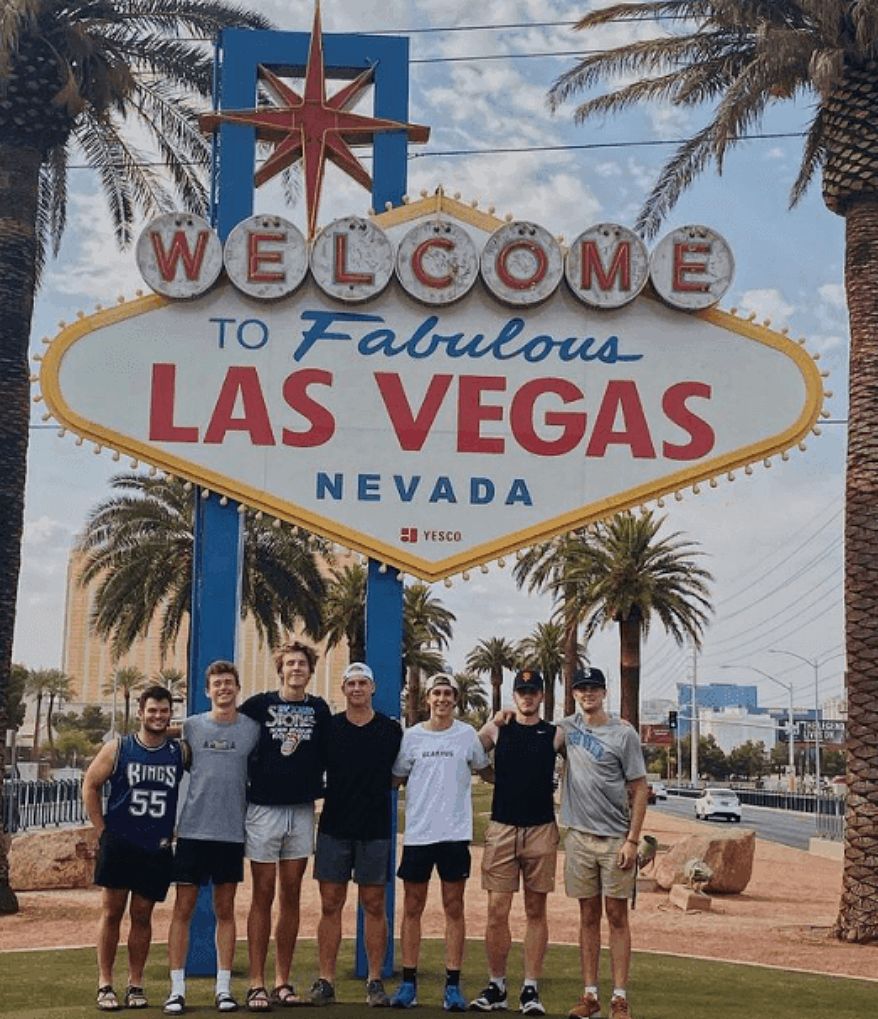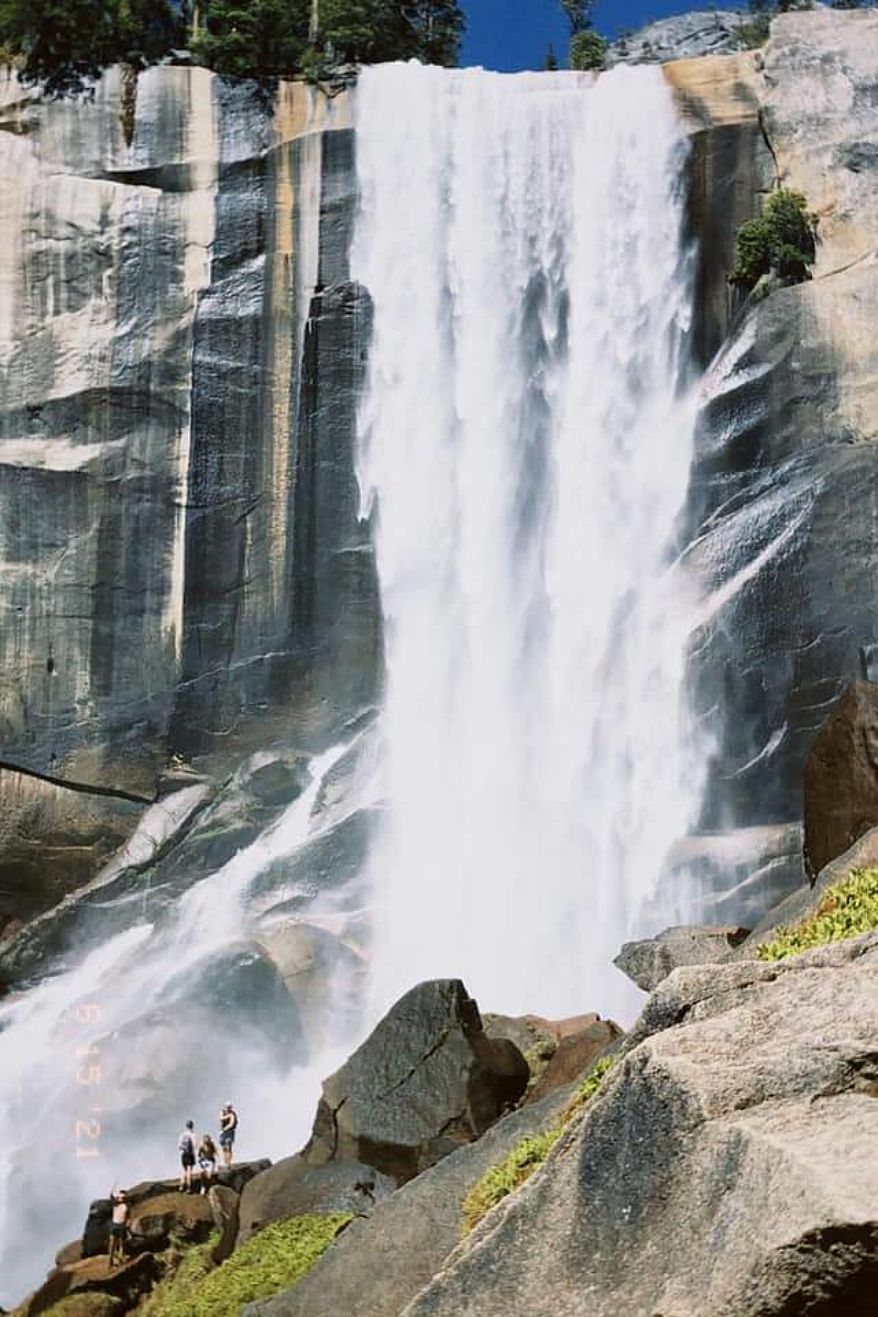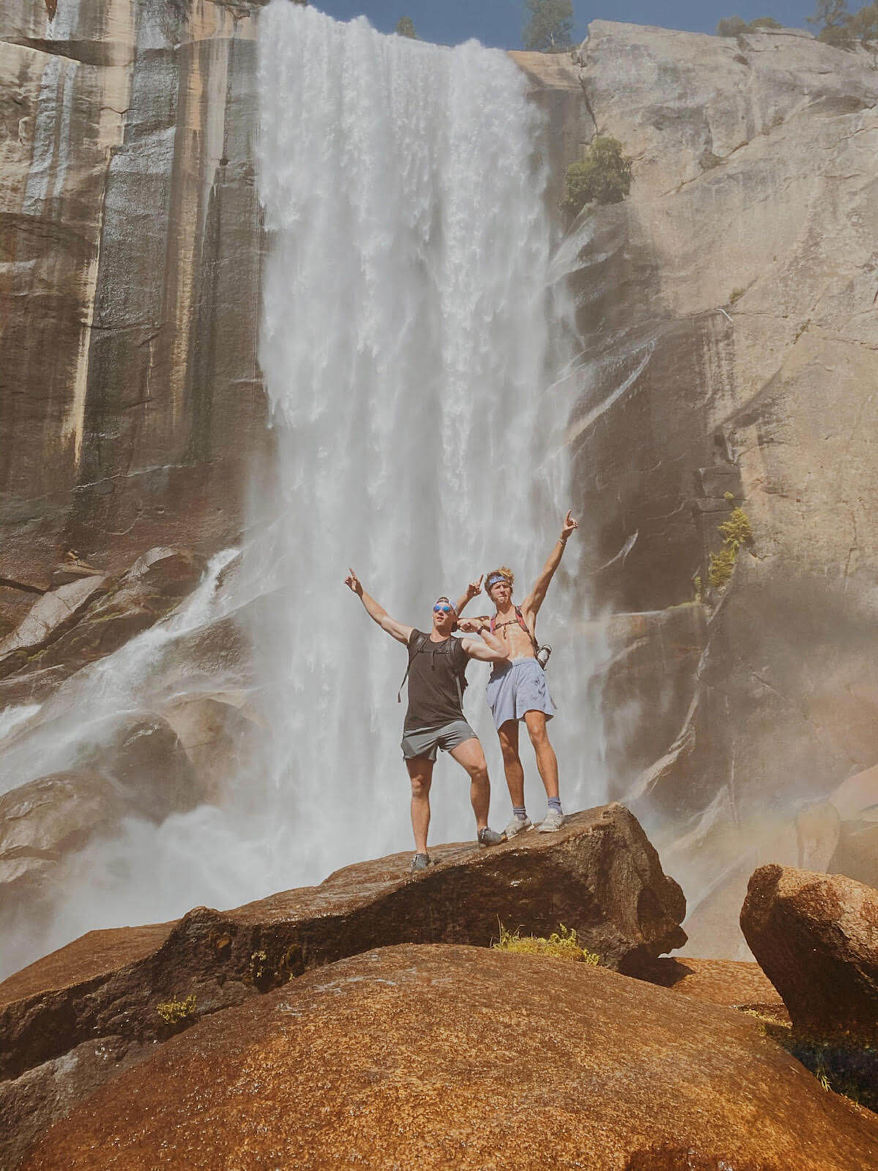 This trip is special because most of these guys have known each other since elementary school. Those who don't go back quite that far have known each other since middle school. When Landon, who's a man of few words compared to the rest of the crew, is asked how he blends in so well with all of these chatterboxes, he speaks with resolve and experience. "It's easy," he says. "I'm a listener. I've known Will, Charlie, and Collin since I was five years old. We all went to the same elementary school."
Talking isn't required. They know each other. Even more, they hardly remember the years when they didn't know each other. The guys understand these kinds of enduring friendships are rare. They understand this trip is one they'll remember decades from now.
When they talk about what made the trip possible, they all become uncharacteristically serious and focused. Hard work is a factor. All the guys worked odd jobs to raise money to buy Pearl. Grant did DoorDash, Landon worked at Lowe's, Henry refereed soccer games, and Charlie made masks during quarantine. Savings and graduation money subsidized the bulk of Connor's travel expenses. Collin started a successful little landscaping business named Mudcat, where several of the guys also worked mowing lawns, doing mulch installations, and even putting in a couple of paver patios.
"I was playing college baseball, and we got shut down in the middle of the season (due to COVID), so I came home and we started our own landscaping business," says Collin. "We used income from that to fund the trip."
Will got paid to drive someone to the airport once. Some did demo jobs. "We did anything someone would pay us to do," says Charlie. "We never said, 'no.'" But the work isn't what the guys want to talk about.
"Florence is a tight community, and the amount of love that we've gotten and the support we've gotten from everybody, it's been a blessing, and it's something we'll probably never forget," says Charlie.
So many people from the boys' hometown and surrounding community wanted to donate money to help fund their trip that they set up a GoFundMe account, and it's made a huge difference, offsetting the cost of gas, food, and other travel expenses.
"I think a lot of people wanted to do a trip like this when they were younger and it just didn't work out for whatever reason, so they invested in our trip," Charlie says.
The guys started Facebook and Instagram accounts dedicated to Pearl and their summer trip. They wanted a central location where family and friends could keep up with where they were each day, plus they'd have a space to compile their photos, observations, and memories. But the Facebook page recently reached 1,000 followers. The Florence community is having fun following along. Berenda Quesenberry, of Sheffield, Alabama, commented on one of the Facebook posts featured on Pearl's page. She wrote:
"We all agree that we are blessed by this group and the adventures you all are sharing with us! Many of these posts bring back memories of when I lived in Wyoming for 6 months in 1976 … I know so much has changed, but the beauty created by our master artist is the same! Be safe and thank you for sharing!"
Before flying out to San Francisco to meet up with Pearl and the guys, Grant was back home in Alabama. He experienced the support that was playing out through donations and social media during the first weeks of the cross-country trip. "I've had people talk to me about it — men, women, and even kids," he says. "They've kept up with the trip, all the posts, day in and day out. And some of the people who are out there keeping up with us are people we haven't heard from in a long time, and it's all been really unexpected, all the people who are supporting us."
There are too many to name, but the guys name a few anyhow. There's Henry's dad, David Tomlinson, who charted a similar path on a solo trip he made as a young man. He helped Henry map out Pearl's maiden voyage for the group, and he was the one who found the 1990 Tiffin Allegro when the RV was for sale. The Champagne brothers' dad, Bobby, drove the guys and Pearl to Denver to get them started on their trip before flying back home. He also reconnected with an old coaching colleague Big Bo Bohannon, who lives out in Seattle, one of the boys' destinations.
"He was just the nicest guy," says Charlie. "He let us hang out at his house, we got to tour Baden Sports and Axe Bat Headquarters," where Bohannon has managed the sports manufacturer's key accounts for more than 20 years. "We tested out some of their bats on their pitching machine, he gave us a Baden football, and he gave Collin a Mookie Betts Axe bat," he says.
Then the guys wanted to go check out downtown Seattle. But they couldn't drive Pearl into the city. It was too tight. They figured they'd have to Uber. Nope. Big Bo Bohannon lent them his Lincoln Town Car.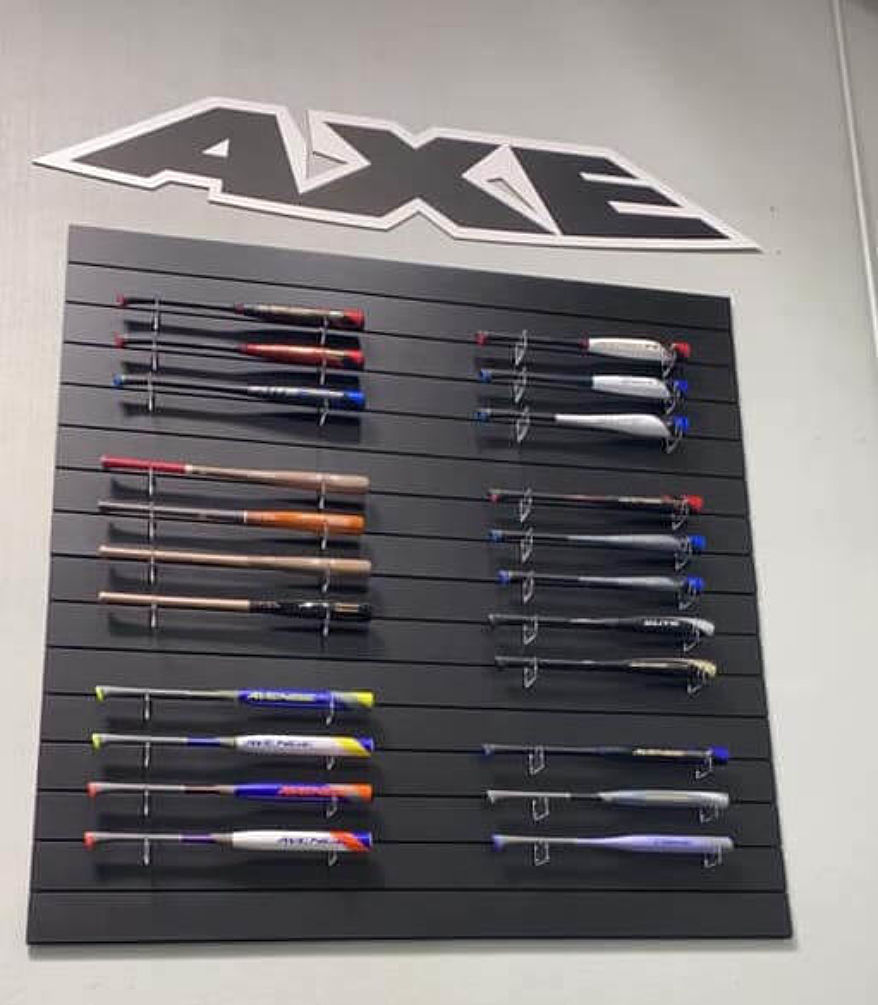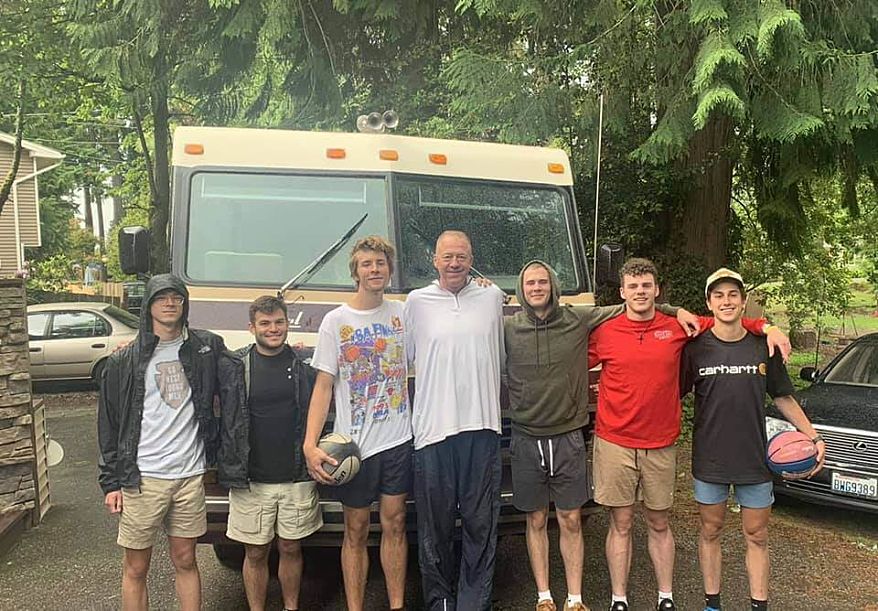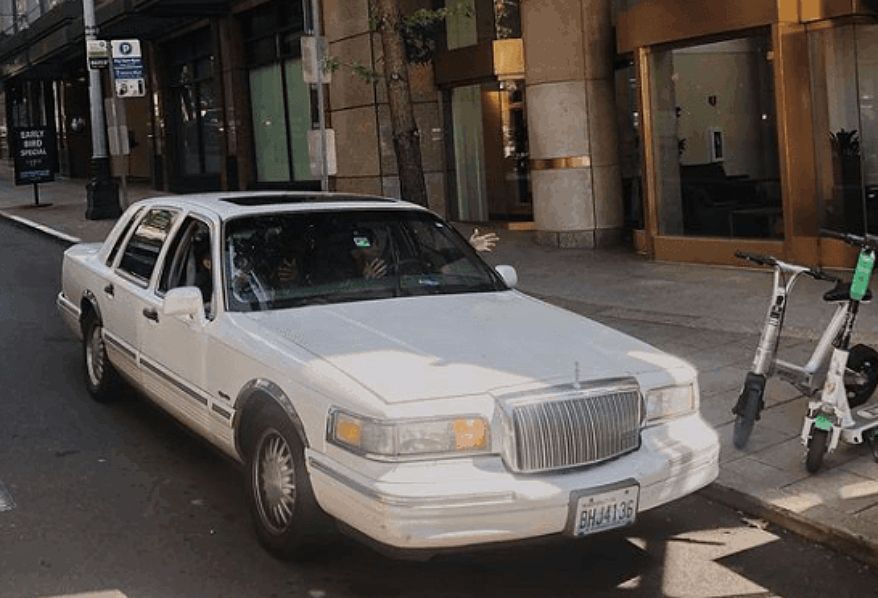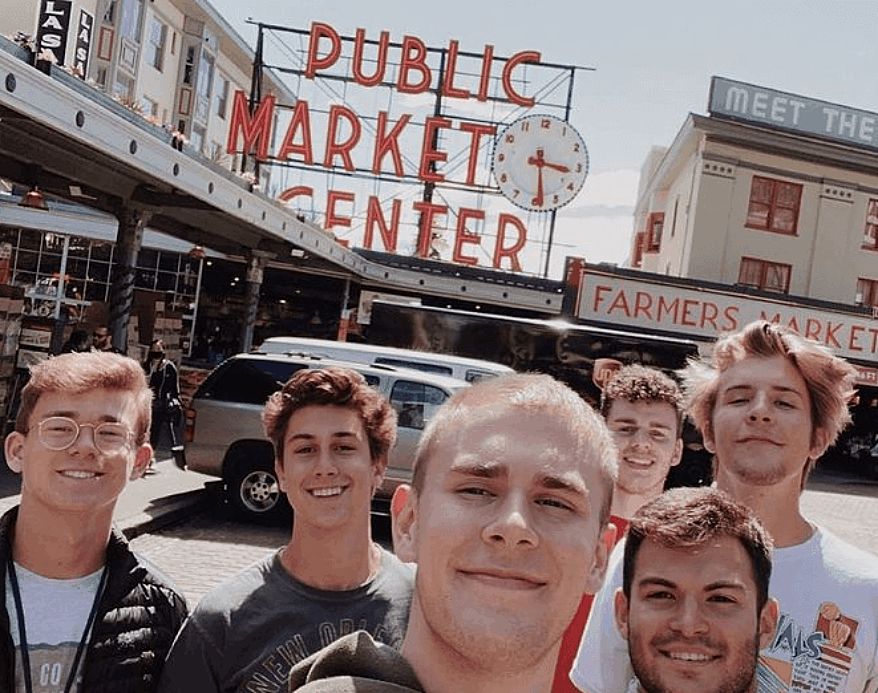 Each time there's been a little hiccup on the road, something small to overcome, it seems something unexpected happens, like the Lincoln that eased the way. Beyond that, the trip has benefited from thoughtful planning. Before leaving home, Henry put the finer points on the route he and his dad had mapped out. His buddies have designated him the "National Park Wizard."
Henry and the guys planned each stop around recommendations on how long it would take to visit a national park or city. Usually, spending three or four days in one spot was the norm for most visitors. But the guys found they were knocking some stops out in a single day.
"At one point, it was getting late, but we decided we'd drive from Rocky Mountain National Park to Grand Teton National Park," Henry says. "That's about an 8-hour drive. We were prepared to stop halfway and sleep at a rest stop."
But when Pearl made it to the rest stop at 2 a.m., they realized it was still open inside.
"So we woke Collin up, went inside, bought energy drinks, and busted out the rest of the drive instead of going to sleep," Will says. "That's the moment Shake 'N Bake — me and Collin — were born!"
Because, you know, it's Talladega Nights and Shake 'N Bake rhymes. They're both verbs. It's awesome!
But wait. What about sleep?
"I sleep good after we get to where we're going," Will says. "That's some real good sleep. But we'll sleep next month when we're home."
Home is in the rearview mirror now, but Pearl will bring them back, Florence. Because these guys have nested their youthful, restless spirits in an older man's respect for home. Before summer's over, you'll see them coming. Just look for a gang of seven, fanning out across the backyards of their neighbors, landscaping tools in hand, under the moniker of Mudcat.