2023 Wayfarer 25 JW Floor Plan Spotlight
The Wayfarer 25 JW offers everything you want in a Class C, along with the luxurious styling and amenities synonymous with Tiffin.
Editor's Note: Features listed below are based on model year 2023. To view the most current Wayfarer features, visit the Wayfarer model page or contact Tiffin by calling (205) 487-4710.
The 2023 Wayfarer offers more of everything you want in a Class C, along with the luxurious styling and amenities synonymous with Tiffin. Designed inside and out with your every need in mind, it features a spacious interior, industry-standard safety features, and high-performance handling with the Mercedes-Benz® chassis.
Spontaneous adventures and exploring nature are what the Wayfarer is all about. All four Wayfarer floor plans are ingeniously engineered with ample storage room for all the gear you need on your journey. With the Wayfarer, you can get close to nature without leaving all the comforts of home behind.
At a Glance:
Wayfarer Model Features
In the table below, we've called out the Wayfarer's headlining features.
| Notable Floor Plan Feature on the MY23 Wayfarer | Standard, Optional, No Charge Option |
| --- | --- |
| Mercedes-Benz® 3.0-Liter V6 Turbo 188 HP Diesel Engine with 325 lb-ft Torque | Standard |
| 3.2 kw Diesel Generator | Standard |
| BigFoot® Hydraulic Leveling System | Standard |
| (1) Girard® Side-mounted Powered Patio Awning with Integrated LED Lighting and Built-in Speakers | Standard |
| Easy Access Side Swinging Cargo Doors | Standard |
| Mercedes-Benz Chassis Safety Features | Standard |
| Exterior TV | Optional |
| One-Piece Molded fiberglass front and rear caps | Standard |
| All-electric coach | Optional |
Deep Dive:
25 JW Floor Plan
The 2023 Wayfarer offers you 4 custom floor plans, including the 25 JW. Let's take a look at 5 Interior options that our customers love!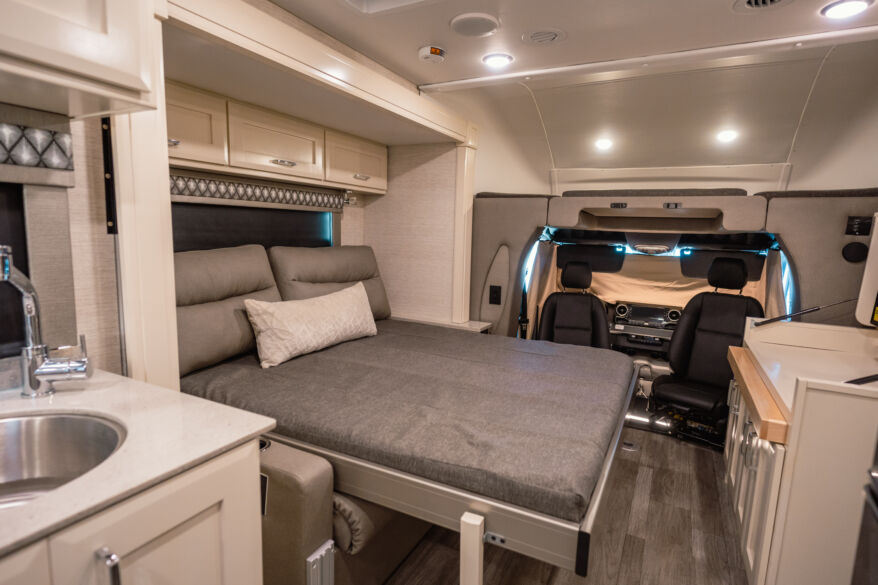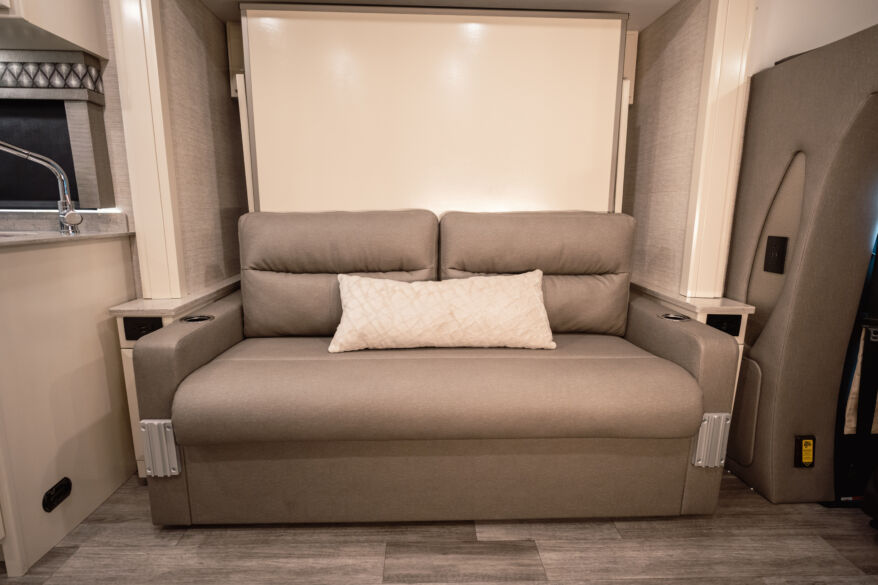 Walking into the coach, you'll notice the large queen sized Murphy bed in the living area, giving you the sleeping comforts at night, but folding up into a couch during the day, saving you tons of space! With overhead cabinets build in about the bed, you'll have room for all your necessities, day or night. Conveniently, your dinette with under-mounted television is right in front of you the whole time.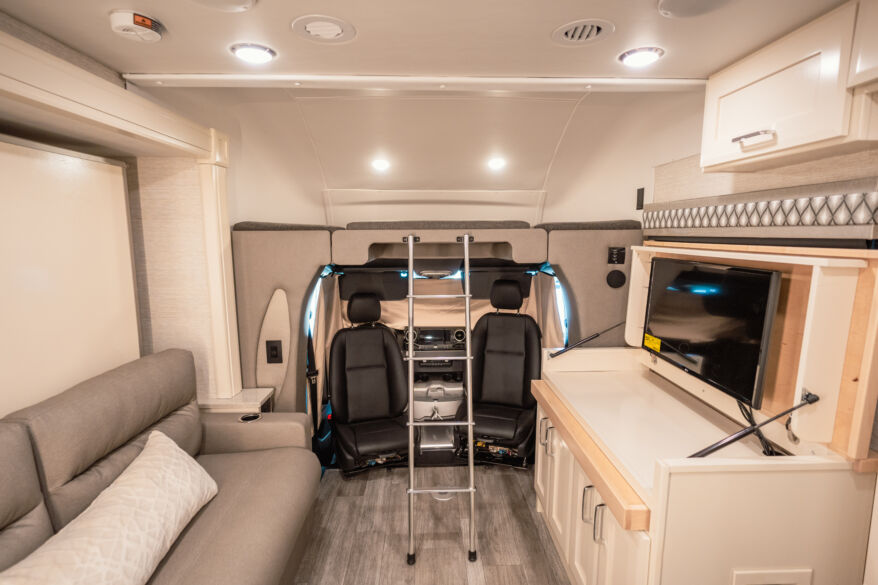 Strategically placed across from your Murphy Sofa Bed is the dinette area equipped with a sliding dinette bar, giving you extra room for eating, remote working, or decorating! The television is mounted underneath the dinette table giving you the ability to pull it up when you're watching TV, and put it down when you don't need it. Two folding chairs are also provided and can be stored when you need a little more space. You will surely love the large amount of storage underneath the dinette table!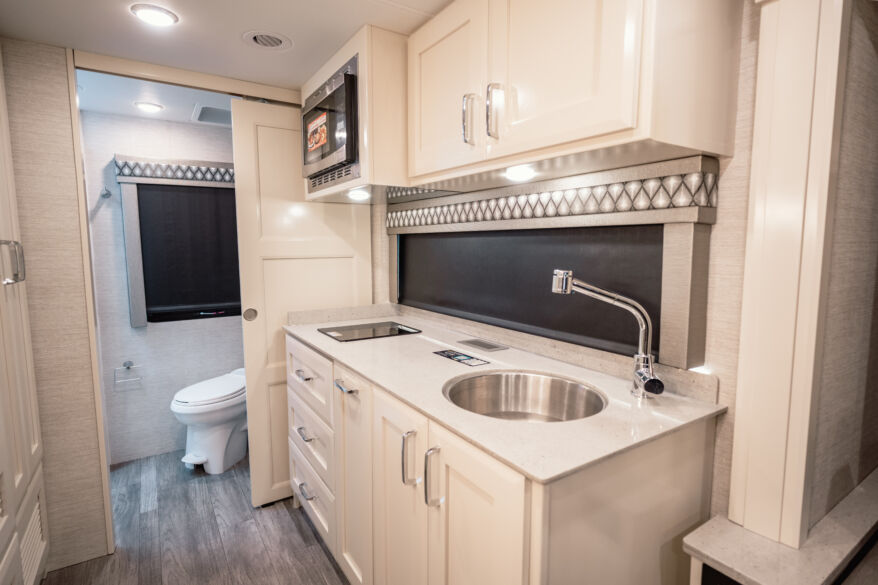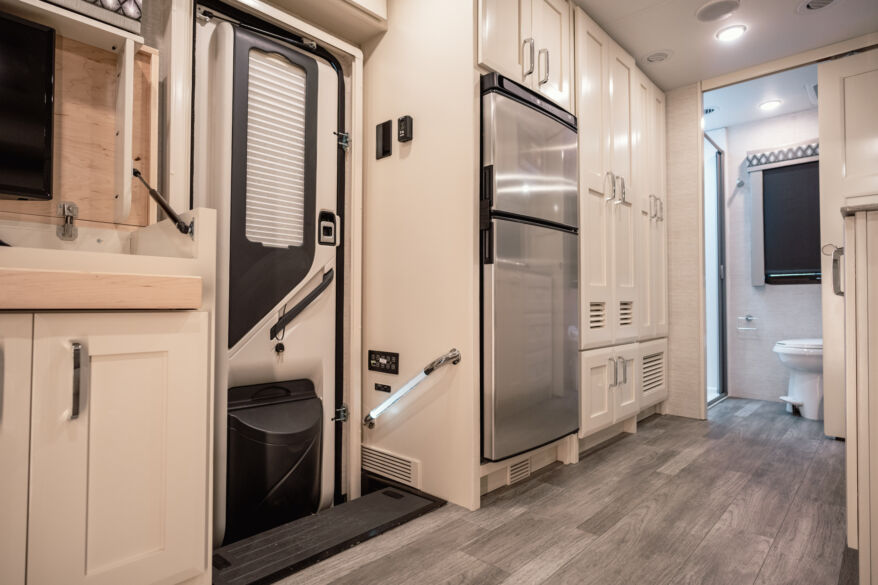 Making your way to the back of the coach, you'll notice the large galley area that comes standard with lots of countertop and storage space, including a hidden countertop extension. A 3-layer pantry gives you all the storage you'll need on the road, and the 6.5 cubic foot refrigerator will keep all your food and drinks nice and cold.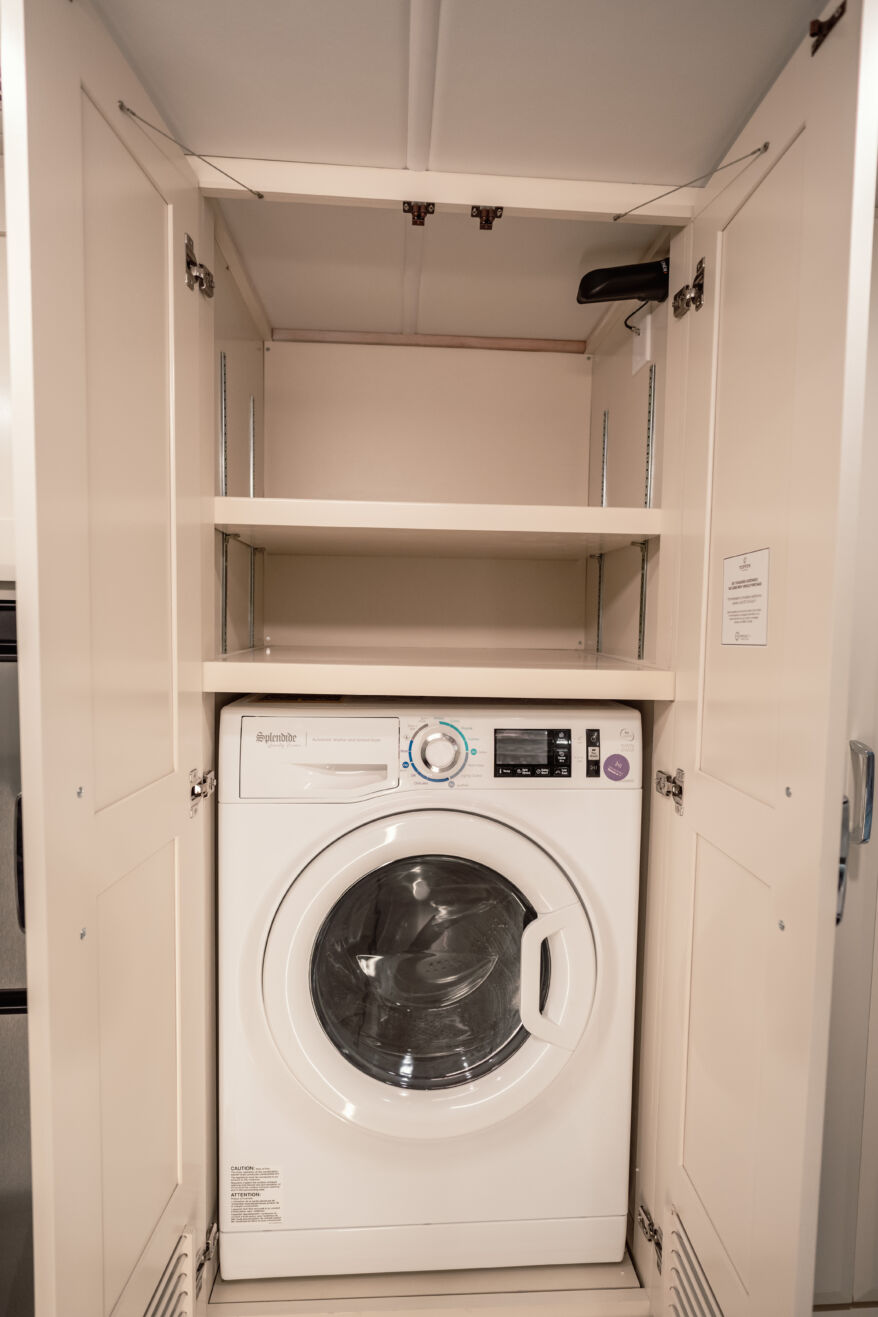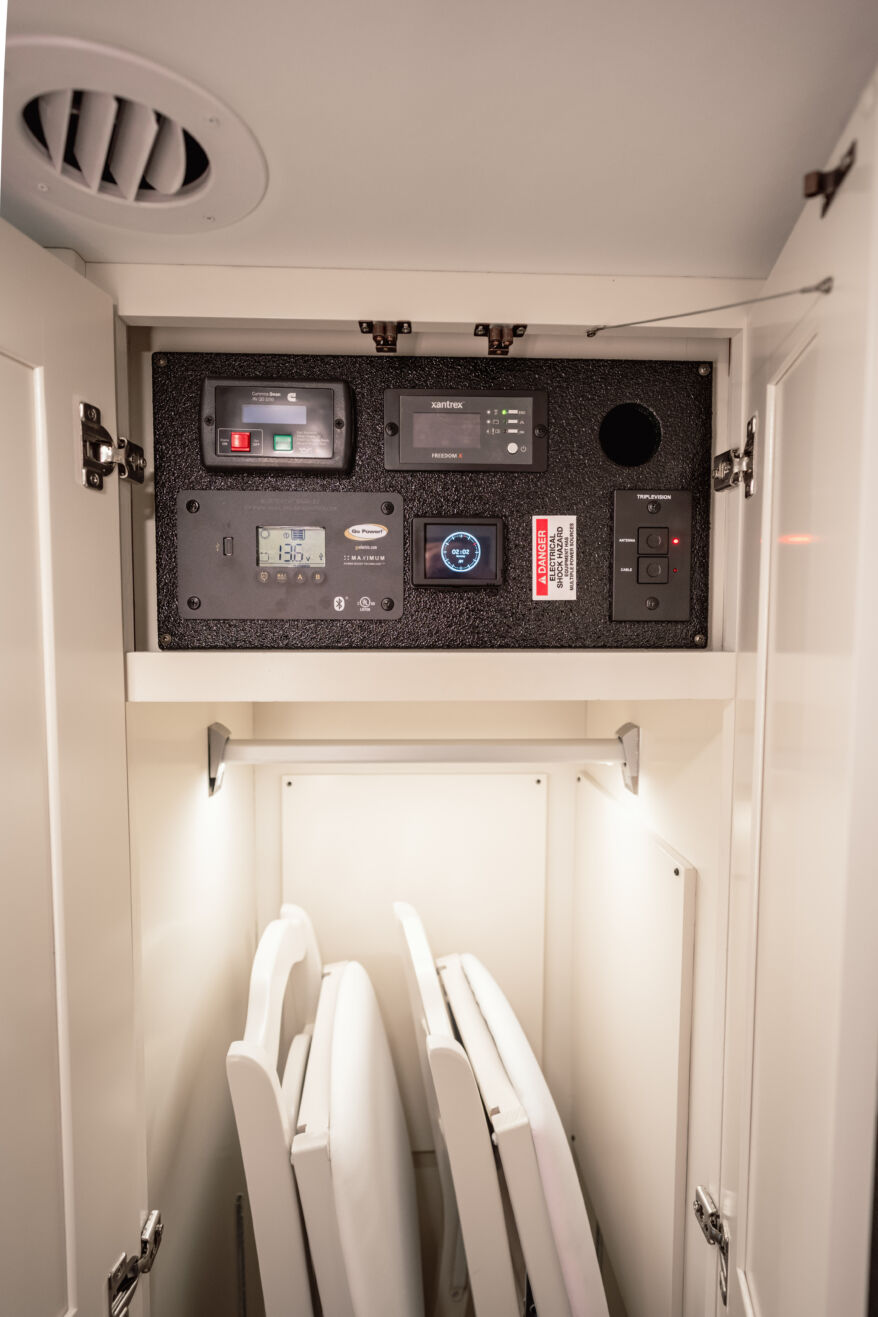 The washer-dryer combo is optional for the 25 JW. An all in one machine lets you wash and dry your clothes without having to take them to the cleaners! If you elect to not have the washer-dryer combo in your coach, you'll have more storage space in this area instead.
Beside your washer-dryer combo, you'll notice a space that houses more storage (a good place to put your chairs when you're not using them) and your control panel used for utility components.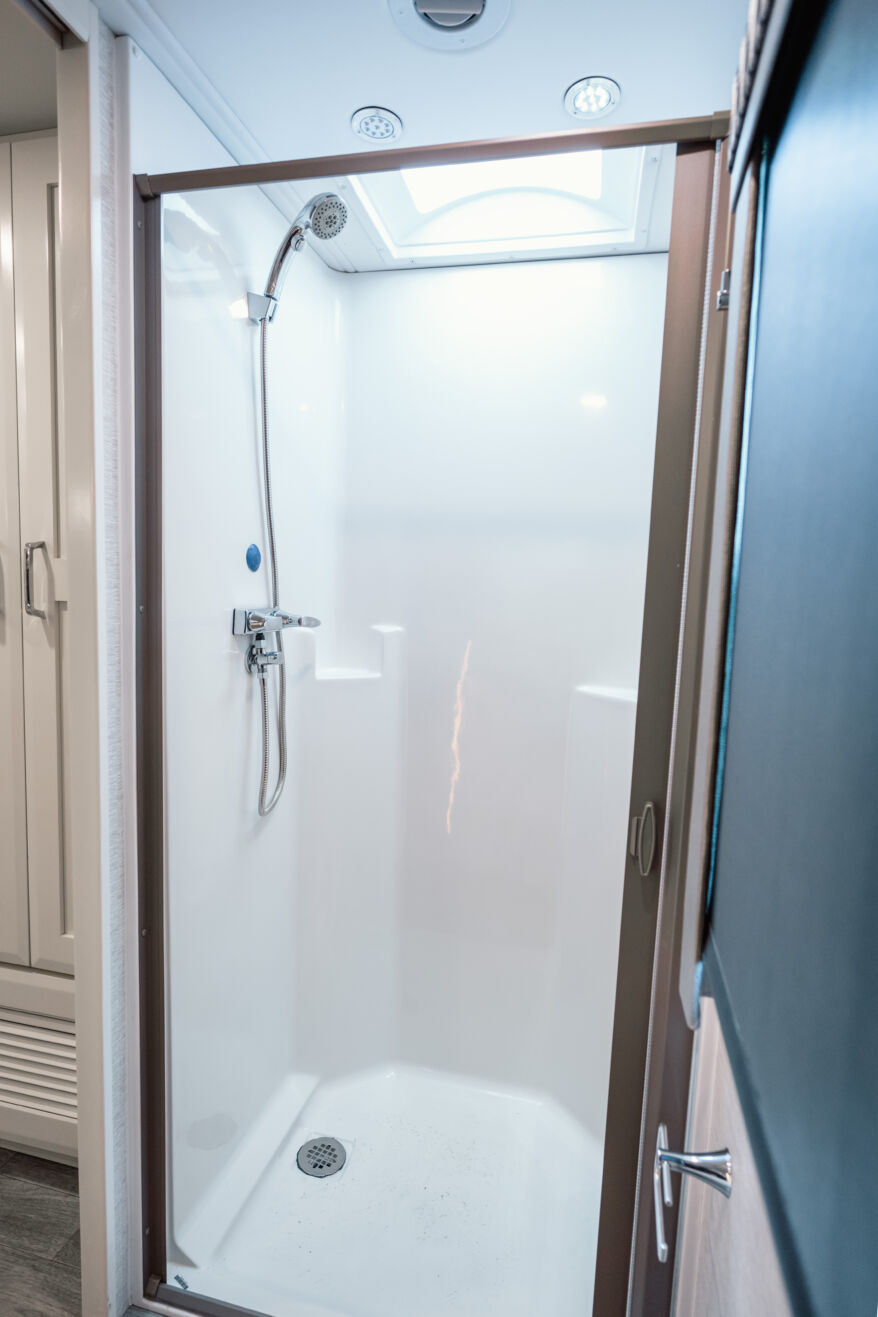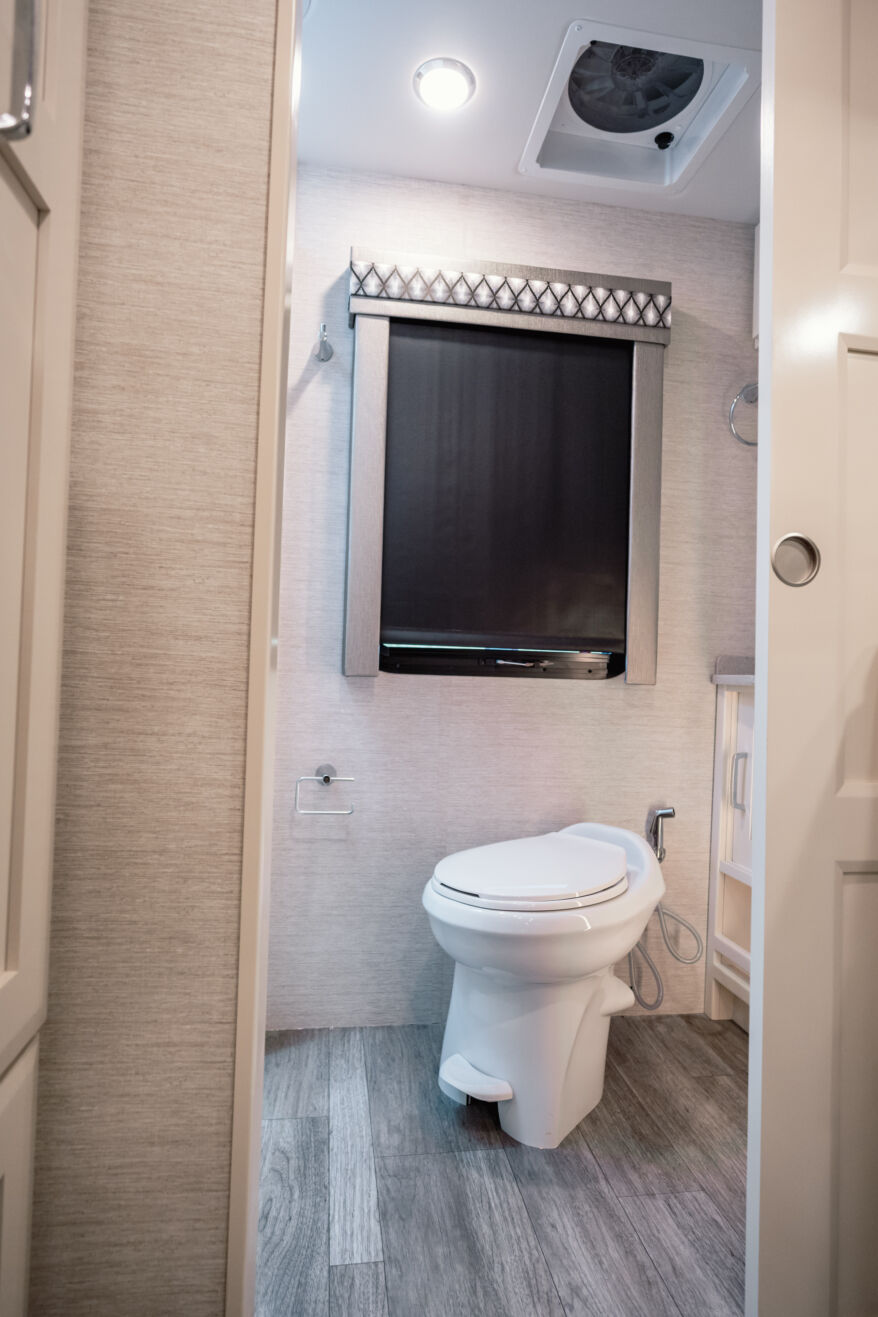 At the back of the 25 JW is your bathroom. The first thing you might notice is the angled toilet. This was designed so that you have maximum leg room when sitting down. The 24"x32" one piece fiberglass shower sits across the way from the toilet. The shower also features the AquaView ShowerMiser, a standard feature on all 2023 models. The ShowerMiser heats up water without wasting it, reducing the time you spend filling and dumping water tanks.
Looking to get closer to nature? Or further away from the everyday? The Tiffin Wayfarer can take you there. For more information about this coach, its features, or its floor plans, visit the Wayfarer model page or give us a call at (205) 487-4710.