2022 Wayfarer 25 RW Floor Plan Spotlight
This floor plan spotlight features the Wayfarer and the flexibility of 25 RW. It's a roomy layout designed for comfort and luxury, along with innovative efficiencies.
Editor's Note: Features listed below are based on model year 2022. To view the most current Wayfarer features, visit the Wayfarer model page or contact Tiffin by calling (205) 487-4710.
Spontaneous adventures are what the Wayfarer is all about. On the road or off the grid, this luxury coach is equipped with everything you'd ever want in a Class C and more.
On the road, you'll revel in the smooth handling and advanced safety features of the Mercedes-Benz® chassis. When docked, you'll appreciate the ingenious spatial engineering that ensures roomy, relaxing living spaces with ample storage for all your gear. And, anywhere and everywhere, you'll luxuriate in the upscale styling and high-end amenities synonymous with Tiffin.
Take a closer look at the 2022 Wayfarer. It might just be your perfect getaway vehicle.
At a Glance:
Wayfarer Model Features
In the table below, we've called out the Wayfarer's headlining features.
| Notable Floor Plan Feature on the MY22 Wayfarer | Standard, Optional, No Charge Option |
| --- | --- |
| 3.2 kw Diesel Generator | Standard |
| Hydraulic Leveling System | Standard |
| 16 ft Girard Power Awning With Integrated Speakers | Standard |
| Seamless Slideouts | Standard |
| Easy Access Side Swinging Cargo Doors | Standard |
| Mercedes Benz Chassis Safety Features | Standard |
| Exterior TV | Standard |
| One-Piece Molded Fiberglass Front and Rear Caps | Standard |
*Indicates a new feature for Model Year 2022
Deep Dive:
25 RW Floor Plan
The 2022 Wayfarer presents you with four impressive floor plan options, including a returning favorite, the 25 RW. First introduced in 2019, this layout is popular with Tiffin customers looking for a little extra elbow room. As you'll see, thanks to innovative spatial planning, there's plenty to be found. Let's take a closer look.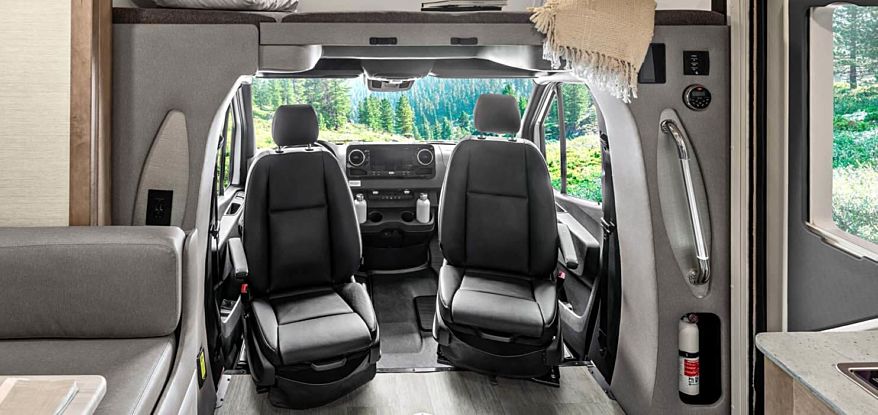 From the Wayfarer cockpit, you'll see the open road as never before. Wonderfully nimble, this sporty Class C coach is fun to drive. Plus, you'll navigate every journey with extra confidence, courtesy of the built-in safety innovations on the Mercedes-Benz® chassis. These features act as an attentive co-pilot, issuing visual or audible warnings with HighBeam Assist, Traffic Sign Assist, and Attention Assist, which monitors for signs of drowsy driving.
An intelligent cruise control system, Active Distance Assist Distronic scans the road to keep your coach at a safe distance from vehicles ahead. If a collision seems likely, Active Brake Assist issues a warning followed by autonomous braking. On narrow mountain roads, you'll appreciate Active Lane Keeping Assist that keeps the coach safely within lane markings.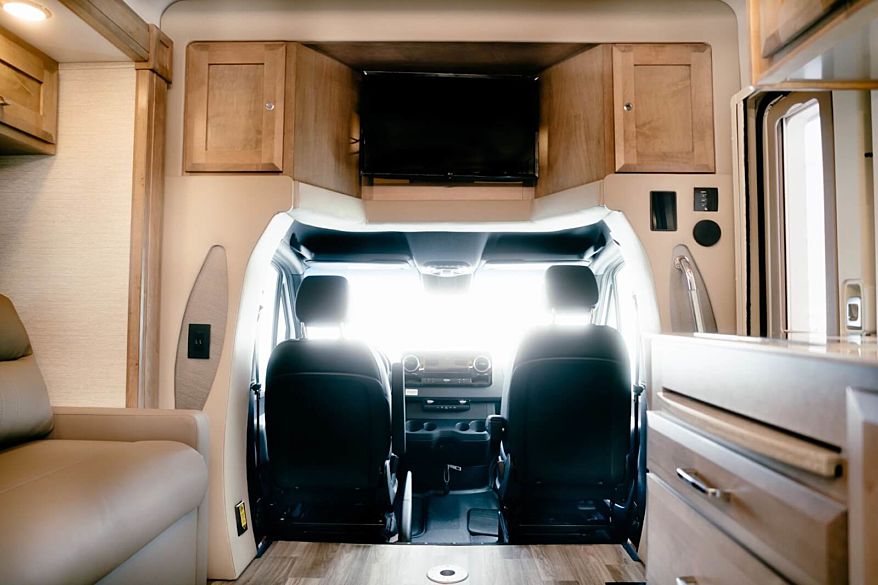 When the coach docks for the day, it's time to transition from driver to resident. Simply lift the hinged panel in the overhead bunk for easy access between the cockpit and the main cabin. Perfect as a sleeping loft or extra storage, this overhead area can also house an optional entertainment center.
Airy and bright, living areas are a masterpiece of spatial engineering, with every square inch maximizing comfort and convenience. In fact, one of the first things you notice in the main cabin is all the great storage. A continuous bank of handcrafted cabinetry lines the wall on the passenger's side. With a multitude of deep drawers, spacious upper and lower cabinets, and a vertical closet, living areas can stay neatly organized and clutter-free.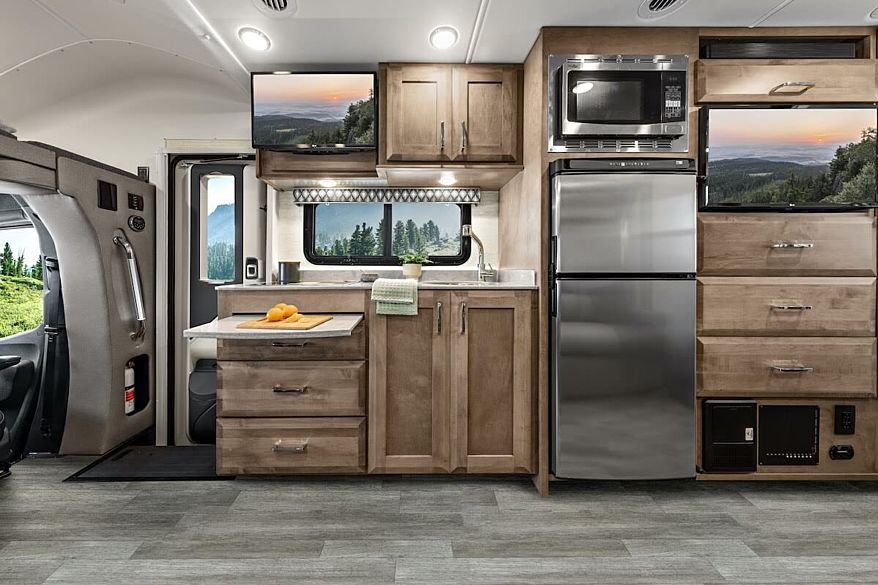 On-the-go chefs will love the smartly equipped kitchen galley. Designed with all the amenities you'd expect on a luxury Class C, it even includes a hidden countertop extension. Across the way, a cozy dinette is ready for mealtime, game night, or a workday at your remote office. A standard feature, the four-seater booth converts to a bed for extra sleeping space.
If you'd prefer a different layout, consider this: Add an optional TV in the galley's overhead cabinet and opt for the two-person theater seating. A popular upgrade, these plush, deep-cushioned recliners are designed for extreme relaxation. Press the power button to lay back, lift your feet up, and stretch out. Cup holders on the arms keep beverages within easy reach.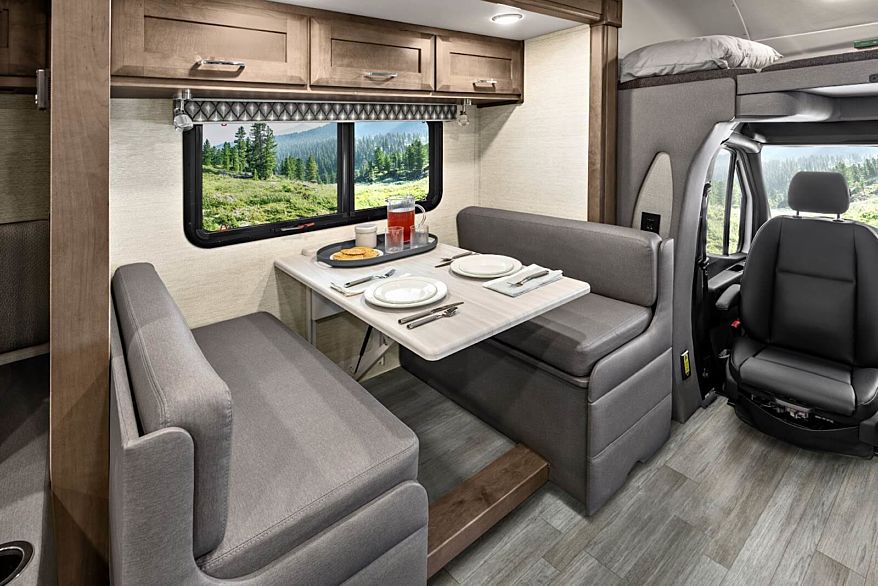 Just past the galley is an area that does double-duty, a true game-changer for anyone who wants a spacious and flexible layout. The 25 RW is the only floor plan to replace built-in sleeping bunks with an electric Murphy bed. This space-saving innovation frees up floor area, giving the entire cabin the feel of open-plan living.
By day, an inviting two-seater sofa sits against the driver's side wall, directly across from a standard Smart TV with a soundbar. By night, a comfortable queen bed lowers into place with the touch of a button. Unlike a sofa bed, the Murphy bed mattress doesn't fold. Instead, it rests on a hinged platform, allowing sheets to remain tucked into place when stored. Plus, this set-up creates space on each side of the bed, enabling your partner to get up without waking you.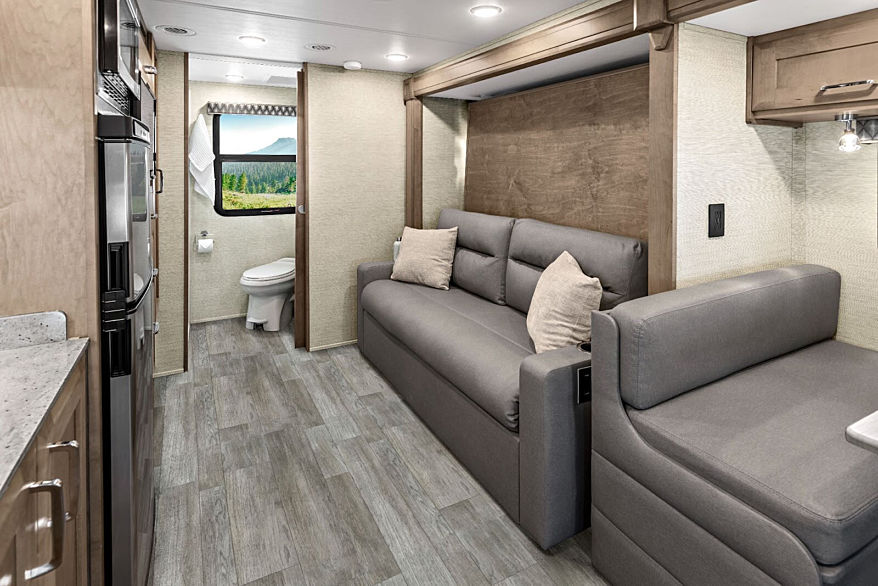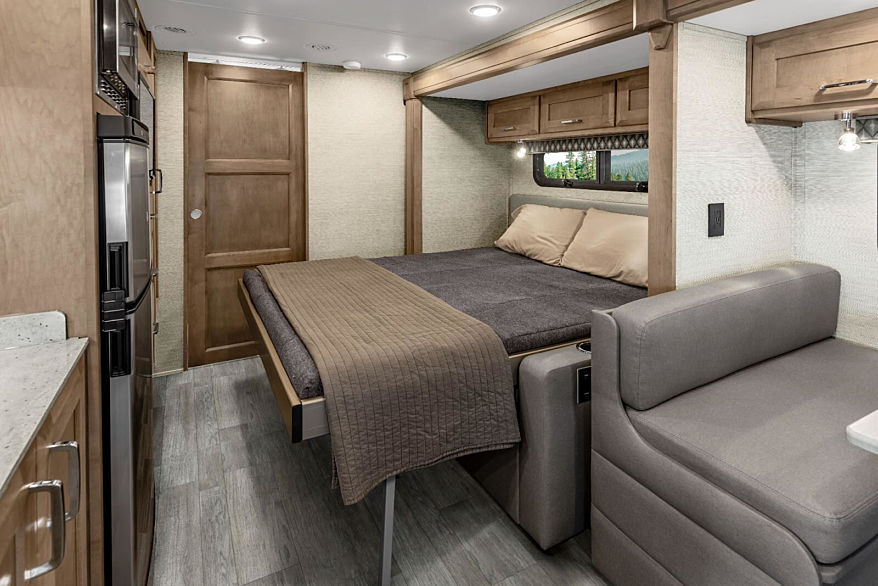 The last area is certainly not the least. Remarkably spacious for a Class C, the 25 RW bath compartment stretches the entire width of the coach. On one side, there's a well-appointed vanity area and porcelain toilet. On the other is the star of the show, a residential-sized shower stall measuring an impressive 30" x 36." With an adjustable showerhead and hot water on demand, this spectacular shower might become the most popular place on the coach.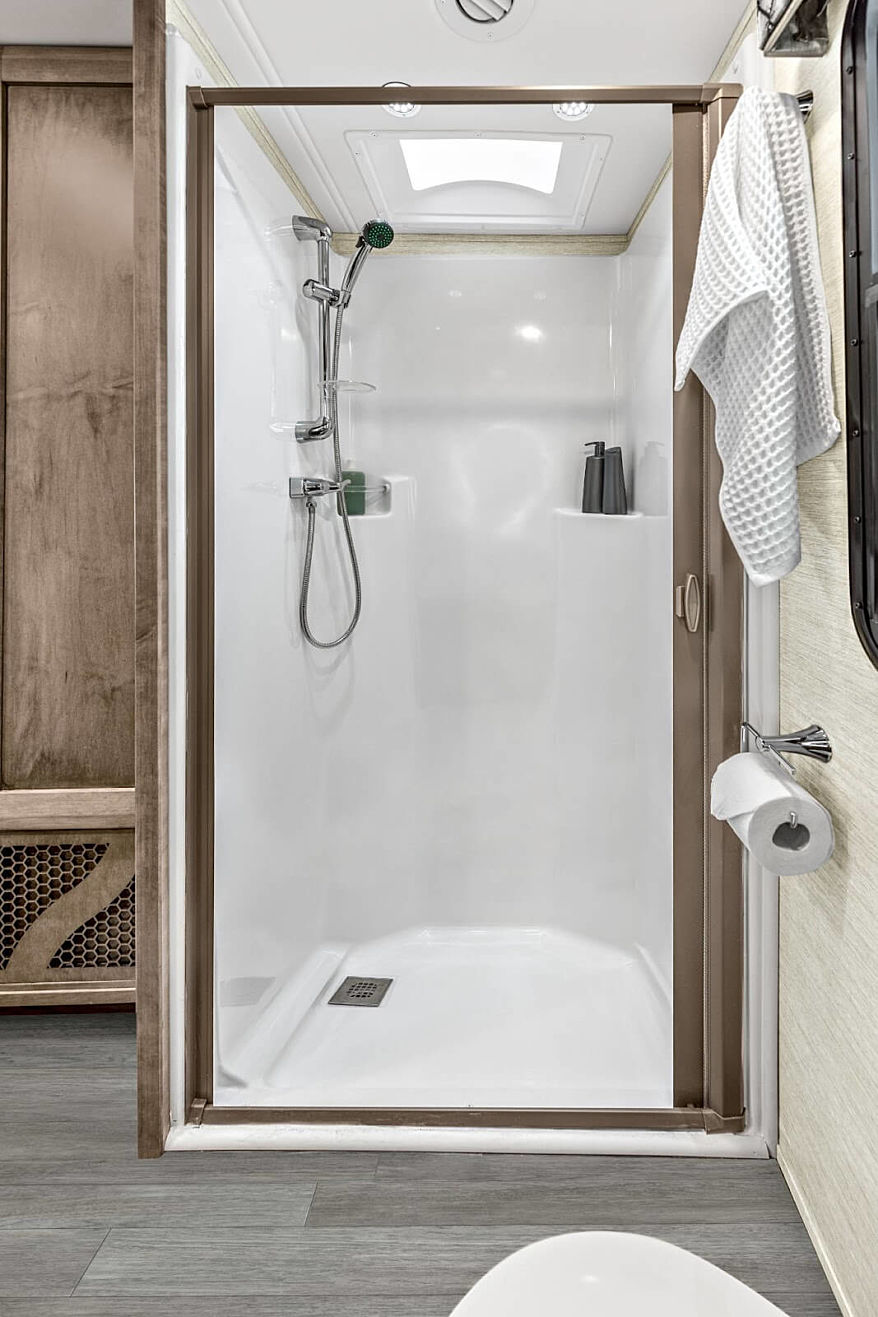 Looking to get closer to nature? Or further away from the everyday? The Tiffin Wayfarer can take you there. For more information about this coach, its features, or its floor plans, visit the Wayfarer model page or give us a call at (205) 487-4710.