15 Best-Rated RV Parks Near Red Bay, Alabama
If you need a place to park your RV in the Red Bay area, here are 15 options that are sure to meet your needs.
When you're driving your motorhome to Red Bay, Alabama, to visit the Tiffin Service Center or experience the red clay and Southern charm, you may need to find a place to camp.

Whether you're just looking for basic hookups or hoping for activities and amenities galore, there's an option on this list that will meet your needs. Each campground has been reviewed by the Tiffin Allegro Club team and its club president Sally Moore to ensure our list is up-to-date and useful. Also noteworthy: Some campgrounds are first come, first served. And local campgrounds in Red Bay and Belmont, Mississippi, do not offer laundry or showers. Still, there are two public laundromats in Red Bay, along with laundry facilities at the Tiffin Service Campground. Finally, there's one more thing: Rest assured, all local campgrounds are pet friendly!

In no particular order, here are 15 of the best-rated RV campgrounds in the Red Bay area, along with contact information and a few details.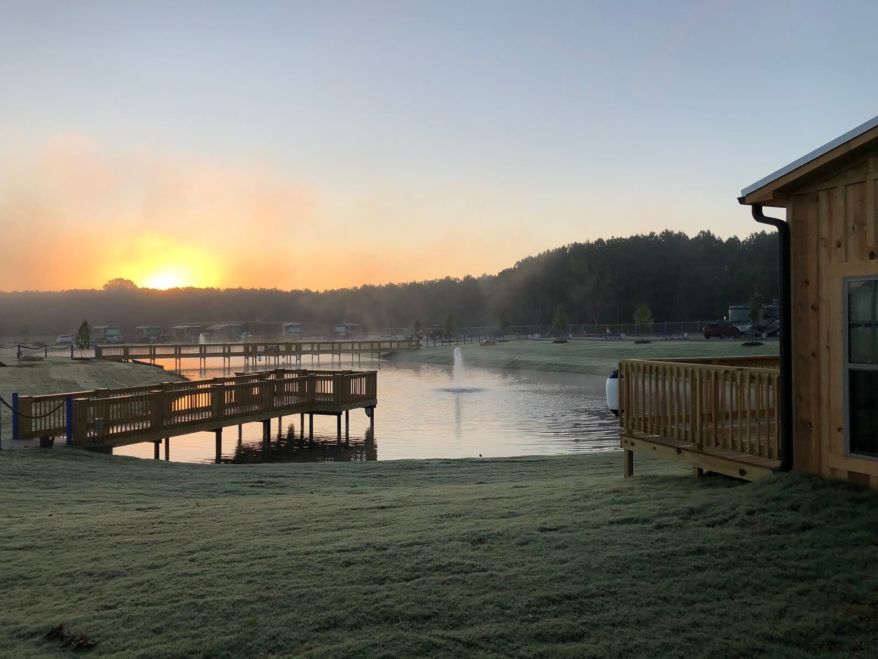 1. Red Bay Acres RV Resort

On your next trip to Alabama, check out one of Red Bay's newer motorhome destinations, the Red Bay Acres RV Resort. Bring along your pups (limit of two) and take them for a stroll through the fenced-in dog area. The resort also has a general store on-site where you can pick up the supplies you need or even a few souvenirs. During your stay, learn to play Pickle Ball or cast a line into the picture-perfect fishing lake. And if you get hungry, grab a seat on the deck of the Red Bay Yacht Club lakeside restaurant, where locals and visitors alike gather to enjoy the view of the water and have a bite to eat. Live entertainment is often available during dinner! Check their Facebook page for current hours of operation! The club is closed on Sundays.

996 9th Street W
Red Bay, AL 35582
(256) 333-4438
www.redbayacres.com


2. Red Bay RV Park
If you're looking for basic amenities while in town waiting for service at Tiffin, check out Red Bay RV Park. They are a self-service site with full hookups. $25 a night or $140 a week. Cash or check only. Visitors recommend spending time at the Tiffin Hospitality Center, also on 4th Avenue just down from the RV park. There you can hang out while your motorhome is being served, shop, and have a coffee while you wait. There's lots of Tiffin apparel to choose from.

820 4th Ave SW
Red Bay, AL 35582
(256) 668-0526

3. Detail Depot

If you're in town for service, you can't beat Detail Depot's proximity to the Tiffin Service Center – this place is directly across the street. They have wifi, a grilling area, and full hookups but no cable. While you're there, get your motorhome detailed on-site. It's $25 per night, and everyone raves about the staff and customer service. But don't forget to call ahead! Spots are limited.
1102 Golden Rd
Red Bay, AL 35582
(256) 356-2060


4. Bunkhouse RV

Bunkhouse RV is a walkable .25 of a mile from Tiffin Service Center. There's water, electric, and sewer. Rates are $35 per night, and $210 per week, and they also have an RV repair service on the grounds, Bunkhouse RV Repair.

315 Hospital Road NW
Red Bay, AL 35582
(256) 356-8634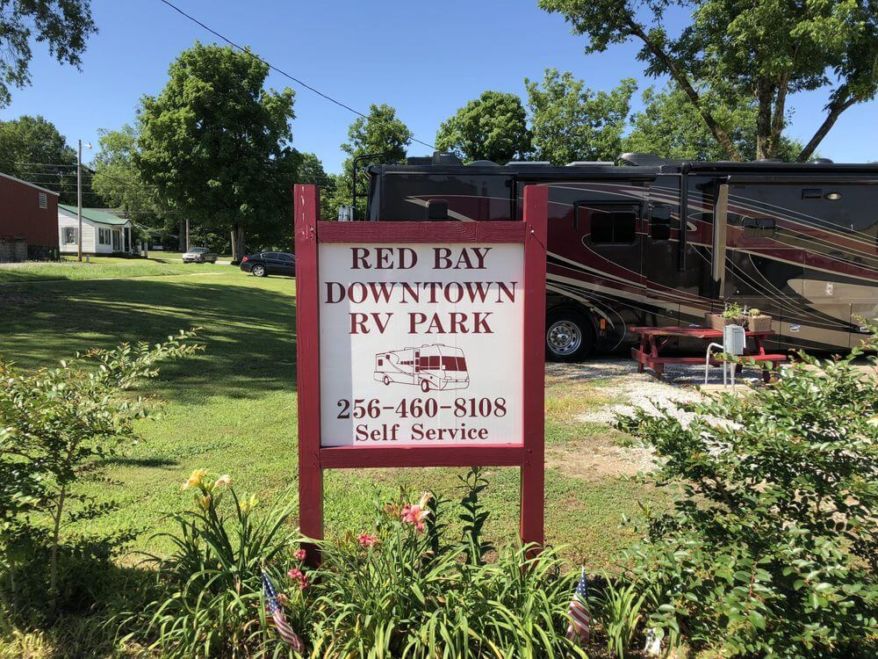 5. Red Bay Downtown RV Park
Red Bay Downtown RV Park is located in a quiet, historic neighborhood lined by trees. Visitors enjoy the shopping nearby, proximity to groceries, restaurants, and more. They also rave about the park's ownership and customer service. The park offers guests concrete landing pads, full hookups, and wifi. The rate is $25 per night, $140 per week, and $500 per month. It's a short 10-minute walk to Tiffin Motorhomes.

254 5th Ave. S
Red Bay, AL 35582
(256) 460-8108

6. Red Bay Self-Service RV Park
For a simple, affordable place with full 50-amp hookups to park your motorhome, check into the Red Bay Self-Service RV Park. It's close to the Tiffin Service Center, so if you're in town waiting for your turn in line, it's a convenient place to set up. Parking spots are gravel, but dust is minimal. And here's one insider tip: It's not too noisy, but if you can get a site on the backside of the park, it's quieter. Rates are $25 per night, $140 per week. Cash or check only.

717 4th St W
Red Bay, AL 35582
(256) 668-0526

7. McFarland Park Campground
This campground is on the banks of the beautiful Tennessee River, which is one of the campground's biggest draws for both its outdoor recreation and scenic appeal. But the river also puts the campground in a flood zone, making it important for campers to call and ensure the park is open before arriving. The campground has full hookups, including waste stations, on-site bathrooms, showers, and laundry facilities. Currently open year-round, their 60 RV sites are first-come, first-serve. McFarland Park offers a variety of activities for its visitors including a driving range, covered picnic areas with fireplaces, fishing piers, boat ramps, baseball and soccer fields, restaurant, marina, and playground. It's located about an hour from Red Bay but offers more amenities than most RV parks in close proximity to Tiffin Service Center. Rates are $25 per night, but if you are age 60 or older, it is $20 per night.
200 James M Spain Dr.
Florence, AL 35630
(256) 270-8817


8. Heritage Acres RV Park Full Service
Although it's located in Tuscumbia, Alabama, about 35 miles from the Tiffin Service Center, this park is just a short drive to Helen Keller's childhood home and other interesting places to visit in the area surrounding Red Bay. Heritage Acres is big-rig friendly with lots of grass around for walks. The campground's RV sites are equipped with water, sewer, 50/30 amp hookups, and a propane station onsite. It's also one of the few RV parks in the area with laundry and bathroom facilities. Unlike most of the parks in Red Bay, past visitors note that this park has trouble accessing satellite TV due to the wooded area and mature tree canopies. But they do have cable with access to 48 channels. Wifi is also available. Daily rates range from $35 to $54 depending on site location and amenities. For veterans and seniors age 60 and over, discounts are available.

1770 Neil Morris Rd
Tuscumbia, AL 35674
(256) 383-7368
www.goheritage.us


9. Whitten Park Campground
This campground is known to some as the Fulton Campground. Located in Fulton, Mississippi, it's maintained by the U.S. Army Corps of Engineers. The park is popular for its water recreation on Tennessee-Tombigbee Waterway. Camp sites feature an impact pad, grill, picnic table, lantern post, and electric and water hookups. The campground is equipped with showers and laundry facilities, sanitary dump station, boat docks, and beach area. Fulton is 23 miles from Red Bay, Alabama, and only 15 miles from Tupelo, Mississippi, the birthplace of Elvis Presley. For reservations, call the Whitten Historical Center at (662) 862-5414. To reach the campground, call the gatehouse at (662) 862-7070.

100 Campground Road
Fulton, MS 38843
(662) 862-5414
(662) 862-7070

10. Convenient Camping RV

If your goal is to be as close to the Tiffin Service Center as possible, this campground is another sound option. It's right across the street from the Tiffin Allegro Club where you'll find Tiffin apparel and gifts, and access to Tiffin's guest wifi from the club's patio. According to visitors, the camping sites are "wider than most" in the area and easier to back into. Each site has full hookups and rates start at $25 per night.

903 Gates St.
Red Bay, AL 35582
(662) 255-5470


QUICK FACTS: About Tiffin Allegro Club
If you're not familiar with the Tiffin Allegro Club, it's a stop you'll want to make while visiting Red Bay. The Tiffin Allegro Club is the official membership organization of Tiffin owners. At the Allegro Club facility, you'll find brochures for things to do, see, and eat. You'll also be able to get local recommendations, and camping discounts are available to Tiffin Allegro Club Members! Plus, don't forget to do a little shopping while you're there. The Tiffin Allegro Store carries a selection of shirts, caps, and jackets with our embroidered Tiffin logo at discounted prices. Stainless steel mugs and all-weather carpets are also available. The Allegro Club membership itself is popular among Tiffin owners for its social benefits and outdoor recreation opportunities like the club's popular rallies. From coast to coast, rallies offer entertainment, seminars, prizes, games, and factory technicians providing minor repairs. Nationwide, local Tiffin Allegro Club chapters plan campouts and other get-togethers.

902A Gates Street
Red Bay, AL 35582
(256) 356-8522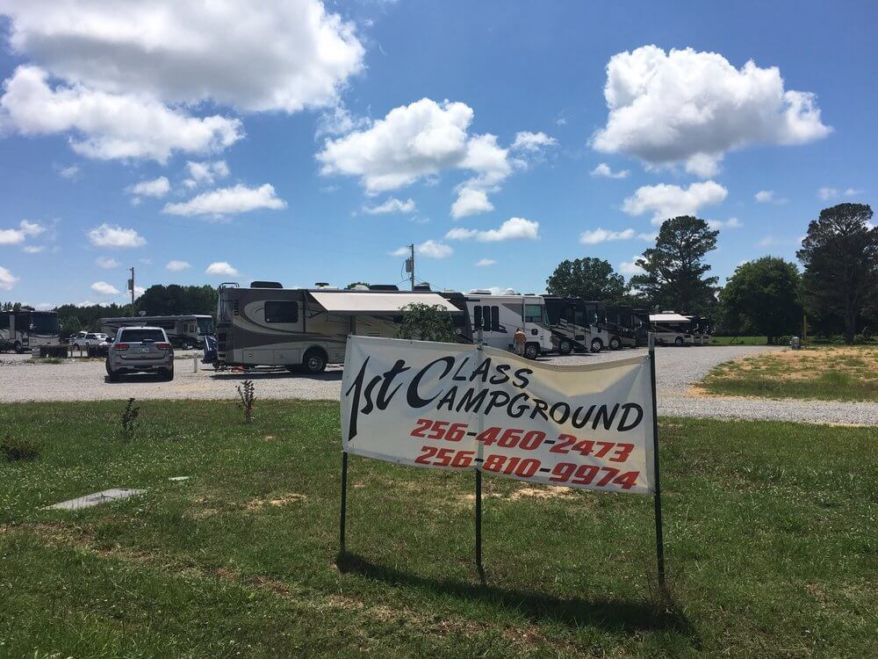 11. 1st Class Campground
Located just around the corner from the Tiffin Service Center, this campground offers full hookups, 10 pull-through sites, and rates starting at $25 per night. If you get the right spot, you may even wake up to the sight of cows and horses in the fields nearby.

901 Gates St.
Red Bay, AL 35582
(256) 460-2473
(256) 810-9974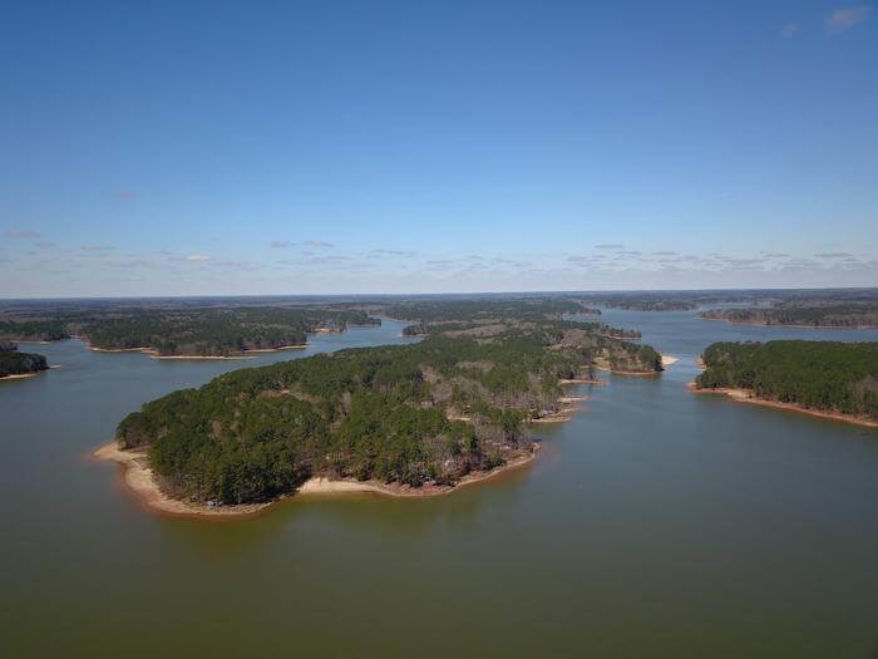 12. Piney Grove Campground on Bay Springs Lake
Located along the Tennessee-Tombigbee Waterway, this site won't leave you wanting for outdoorsy fun. There are a variety of water activities ranging from boating and fishing to swimming. There's also 180,000 acres open to you for hiking and biking. According to Recreation.gov, each of the 141 sites is equipped with electrical hookups, lantern post, impact pad, campfire ring, and picnic table. The park also has a playground, two multi-use courts, laundry facilities, showers, and ice machine. Be sure to check availability, as this campground is open seasonally. Nightly rates range from $22 to $24 per night, and the campgrounds are about a 40-minute drive from Tiffin Service Center.

County Road 3550
New Site, MS 38859
(662) 728-1134
(877) 444-6777
www.recreation.gov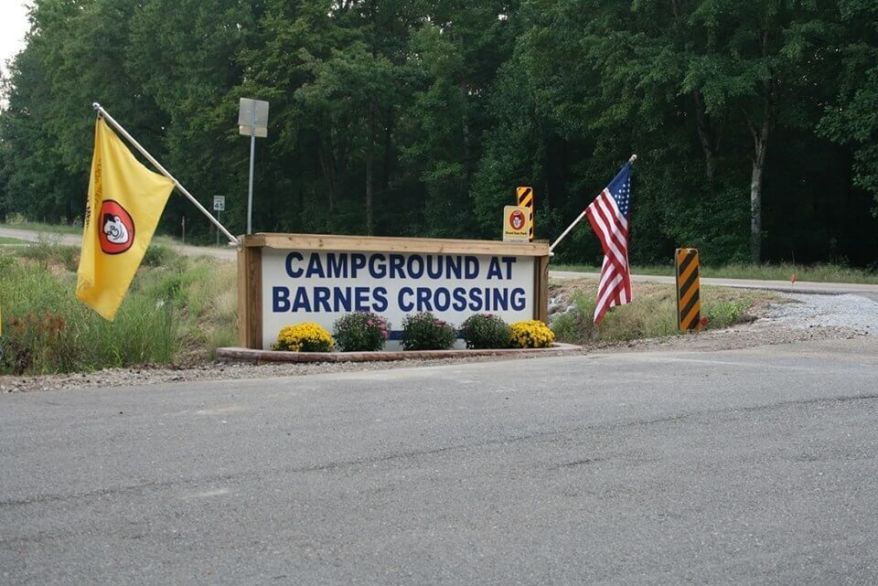 13. The Campground at Barnes Crossing
First things first, the Campgrounds at Barnes Crossing is about an hour away from the Tiffin Service Center, but what it lacks in proximity to Tiffin, it makes up with recreation and "big city" amenities. You'll be steps away from nature trails, hiking, biking, fishing, and wildlife viewing, as well as a designated dog-walking area. There are 54 sites equipped with full hookups, wifi, cable, picnic tables, grills, and fire circles. On the grounds, visitors have access to restrooms, showers, and laundry facilities. Nearby, you can visit Elvis's birthplace, or take part in some southern history by visiting the Tupelo National Battlefield and Brices Crossroads National Battlefield. The nightly rates start at $45, or $40 with Good Sam Discount. Cash or check only.

125 Campground Road
Tupelo, MS 38804
(662) 844-6063


14. Xplore Liquidations RV Campground
At Xplore Campground campers can expect full hookups, pet-walking area, and concrete parking pad. There's also a shaded pavilion, free firewood, and grills. It's a short 10-minute drive from the Tiffin Service Center. Rates are $20 a night, plus sales tax. Or $100 per week, plus sales tax.

16 Industrial Rd.
Belmont, MS 38827
(662) 279-2794 mobile
(662) 676-9917 landline


15. Belmont RV Park
Belmont RV Park is only 5 miles from Red Bay, Alabama. It's another great option if you're looking to stay close to the Tiffin Service Center. Rates are $25 a night. Ask about weekly rates.

8 Air Park Rd.
Belmont, MS 38827
(662) 424-5886
BONUS: Hotel Red Bay

If you find yourself without your home on wheels, there's a beautiful, historic hotel that recently reopened downtown. First opened in 1924, Hotel Red Bay is right across from the Tiffin Hospitality Center. Each guest room in the two-story, red-brick hotel is furnished with antique pieces and decor meant to honor the hotel's history.

107 Fourth Avenue, S.E.
Red Bay, AL 35582
(256) 668-0181
(256) 356-9912